• Cassie Elizabeth Ventura is a 32 year old actress, singer, model and dancer, best known for songs "Long Way 2 Go" and "Me & U"
• She has modeled for Calvin Klein, Forever 21, and ASOS and has acted in several movies, including "Step Up 2: The Streets" and "Honey 3: Dare to Dance"
• She was in a long-term relationship with P. Diddy and is now married to fitness coach/bull rider Alex Fine with whom she has two daughters.
• Her estimated net worth is around $8 million.
• She is active on social media, using her platform to share her opinion on racial injustice and political themes.
Who is Cassie Ventura?
Cassie Elizabeth Ventura is an actress, singer, model and dancer, perhaps best recognized for her hit songs "Long Way 2 Go" and "Me & U". She is additionally known for appearing in "Step Up 2: The Streets" and "The Perfect Match". Cassie was born under the Zodiac sign Virgo on 26 August 1986, in New London, Connecticut, USA, so as of 2021, she's 32 years old. holds American nationality, but her ethnic background is very diverse, a mix of West Indian, Mexican, Filipino, and African-American.
Early life and Family
Cassie was born to Stacey Hobson, while the name of her father name remains unknown, but that he's of Filipino descent.  Cassie attended the private school Williams School.
Career as a Model
Cassie began her modeling career very young, at the age of 14, appearing in ads for department stores.
At the age of 16, she was featured in the popular Seventeen magazine and Delia's fashion catalog, and the same year of 2002 she appeared in the music video entitled "Just a Friend 2002", by the popular R&B singer, Mario. Two years later, she matriculated from high school, and moved to New York to pursue her career more professionally.
Taking the advice from the producer Rockwilder, Cassie enrolled at the dance school Broadway Dance Center, and hired a vocal trainer. After landing various modeling gigs and commercial deals, she was signed by Wilhemina Models, the modeling and talent agency. From that point, her modeling career skyrocketed. Her most notable modeling gigs include for Calvin Klein, Forever 21, and ASOS, and Cassie also appeared in various commercials for Adidas, Clean and Clear, and Abercrombie and Finch.
Career as a singer
Besides her successful modeling jobs, in 2004 she met the American producer and singer Ryan Leslie who noticed her talent for singing. Later they co-wrote the song entitled "Kiss Me" and recorded it; hoping to land Cassie a record label deal, Leslie played the track for the music executive and producer Tommy Mottola, and Cassie subsequently scored the deal and was signed to the music-media company NextSelection Lifestyle group.
Known for making and producing hit songs, Leslie wrote Cassie's biggest single "Me & U", which became a huge banger in Germany. The producer, rapper, and entrepreneur Sean Combs, professionally known as P. Diddy, heard it, recognized her potential, and Leslie convinced him to collaborate on releasing her debut album under NextSelection/ Bad Boy Records.
After working for over a year on her music, Cassie finally released her self-titled album in 2006, while Leslie took the credit for producing and mix-mastering.
Her track list features different types of songs, best described as a mix of hip hop, R& B, and pop. Talking to a media outlet, Cassie said:" I rap, I sing, I do my R&B, I do my slow songs and stuff that the girls will love, I have a down South joint, I have a rock song that I did with my girls this band called Pretty Boys."
Her debut album garnered success, as she sold over 300,000 copies in the US, while the lead single "Me &U" peaked as number three on Billboard Hot 100. As a part of the promotional campaign for the album, Cassie made several performances, including Total Request Live and 106 & Park: Bet's Top Live. However, these were met with disapproval and a hail of negative comments, aiming at her lifeless presence on stage and flat and rocky vocals. Diddy attributed it to her inexperience as a singer and entertainer, and assured the public that she was still developing her skills.
Cassie also took to her MySpace page, and said that she had had serious stage fright and that she was aware of how bad it had been.
Despite her unfavorable performances, she wasn't dropped from the label, and Diddy disclosed the second album was in the works, with superstars such as Pharrell Williams and Kanye West working on it.
In 2009 Cassie announced her second album "Electro Love", and subsequently released three feature singles – "Official Girl", "Must Be Love", and "Let's Get Crazy". Unlike her tracks from the first album, these songs flopped, failing to chart in the US. However, while fans were waiting for the album, the news about her new deal with the Interscope Record came to light. In various interviews, she anticipated the album, claiming that she had recorded over fifty songs, and that she had been taking her time with the track selection. In the meantime, she appeared in the music video "Roll Up" by Wiz Khalifa.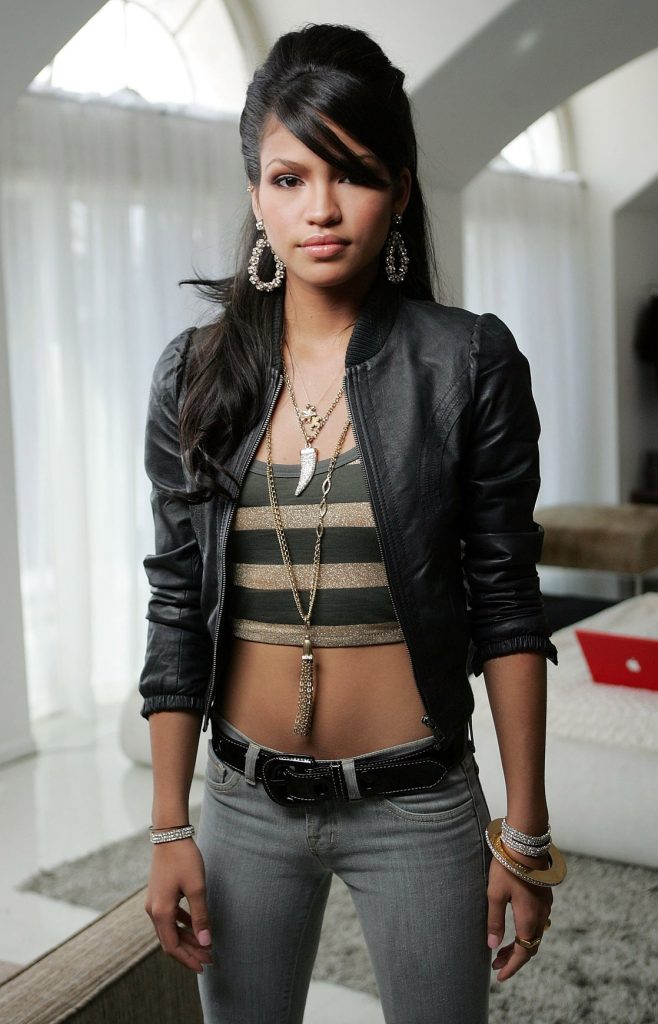 In 2012 she released the music video for her single "King of Hearts", and performed the track live on the 106 & Park Bet music show. This time her performance garnered positive reviews, briefly trending all over Twitter. She followed it up with another single entitled "Balcony", featuring Young Yeezy. During the same year, Cassie collaborated with Nicki Minaj on her debut single "The Boys", released as the track from Nicki's "Pink Friday: Roman Reloaded".
In 2013 she released her mixtape entitled "Rockabyebaby", which was later rated the best mixtape by Dazed and Confused, the British Style magazine. Two years later, Diddy came forward and announced Cassie's second album, however, it never saw the light of the day, but she did release two singles in 2017 – "Love A Loser" and "Play It Safe". In 2019, Cassie ended her association with Bad Boy Records and started working with producers and songwriters Chris, Teeb, and Ro James.
During the same year, she released other singles, including "Hungover", Don't Let Go", and "Simple Things" under her own Ventura Music Label.
Acting Career
A quadruple talent, Cassie also tried her luck as an actress, making her movie debut in 2008 as Sophie Donovan in the second installment of the popular dance movie "Step Up 2: The Streets". Her next role came in 2016 when she landed the lead role in the romantic comedy movie "The Perfect Match", opposite Terrence J. During the same year, she appeared as the main character in the third installment of the "Honey" series entitled "Honey 3: Dare to Dance" with Kenny Wormald. Her latest roles include the 2020 action comedy movie "Spenser Confidential" with Mark Wahlberg and Winston Duke. In October 2020, she was a member of the "Self Projection Series: Subject 003: Cassie" by Solmaz Saberi, the L.A.-based photographer and director.
Personal Life
When it comes to her dating history, Cassie was in a long-term relationship with her producer P. Diddy from 2008 to 2018.
Their relationship was highly publicized, so many fans were in disbelief when they learned that the couple separated, long before one of Cassie's representatives disclosed that they parted ways. Even though neither of them disclosed any information, numerous media outlets debated the reason for calling it quits after 11 years of being together; many thought that the real reason for their separation was Diddy's unwillingness to settle down and pop the question.
Not long afterwards, it was revealed that Cassie was dating the fitness coach/bull rider Alex Fine. Alex rose to fame as a celebrity coach, who has trained various superstars such as KJ Apa and Peter Berg.  According to reports, while Diddy was in the relationship with Cassie, he hired Alex to be her personal trainer, an insider saying: "Then Cassie and Alex started hooking-up, before her relationship with Diddy was over."
Obviously, they hit it off from the start – in June 2019 Cassie announced her pregnancy, and two months later their engagement, marrying on 28 August 2019. The video entitled "Cassie and Alex Wedding" was posted on her YouTube channel, and features a small romantic ceremony in Malibu, with their close friends and family members. In December 2019, they welcomed their first child together, a daughter the couple named Frankie Stone Fine. In 2021 they welcomed another girl they named Sunny Cinco Fine.
What is her net worth?
Her estimated net worth is around $8 million, which she's earned through her career as a singer, actor and model.
Physical stats and hobbies
Cassie is 5ft 6ins (169cm) tall, while her weight is unknown. Her natural hair is dark brown, and her eyes are light brown. Back in 2010, she shaved half of her head, unintentionally starting a trend that became popular internationally.
Even though it seemed far from her lovable girl-next-door style, she pulled it off and sported it with confidence. When it comes to her physical stats, she recently talked about losing weight, after giving birth to two girls. During her pregnancies, she gained a lot of weight, but managed to lose it with rigorous training and activity, saying 'I started to work out when I had a goal of 30lbs to go and when my doctor cleared me to. I went pretty hard at first. By mid-March, I was down another 15 and feeling pretty good.'
However, after her second pregnancy, she began inexplicably gaining weight, which prompted her to visit a doctor. Later it was determined that she had postpartum thyroiditis– a condition that causes a wide range of symptoms, including gaining weight and depression.
cassie by me pic.twitter.com/sQEKDRqurS

— amber (@amberasalyy) September 23, 2020
After a long struggle with working out regimes and diets, she managed to get to her previous physique, and credited her husband for designing a workout program, saying "Today I'm in better shape than I was before the baby. I honestly don't think I've ever been in this good of shape. Working out has given me a place to get rid of any negative energy and emotions that I might have, boost my serotonin, and practice discipline. "
Cassie is very active on social media. Her Instagram account has nearly eight million followers, while her Twitter counts over 500,000 fans. She usually posts photos of her daughters, husband, and upcoming projects.
As a member of the African-American community, she doesn't shy away from using her social media platform to share her opinion about racial injustice and political themes, especially in the case of Breonna Taylor, fatally shot by Louisville police in 2020.