Chandler Kinney is an American dancer, actress, and taekwondo first degree black belt holder.
• Trained in ballet, pointe, jazz, and hip-hop.
• Appeared in "Company Town", "Battlefield America", "The Haunted Hathaways", "Gortimer Gibbon's Life on Normal Street", "Girl Meets World", "K.C. Undercover" and "Lethal Weapon".
• Has a net worth of $1.5 million.
• Mental health advocate and charity worker.
• Loves reading teen romance novels, skincare and mascara, and is inspired by Zendaya's makeup aesthetics.
Chandler Kinney is an American dancer, actress and taekwondo first degree black belt holder. She is perhaps most famous for her role as Riana Murtaugh in "Lethal Weapon", the television series which had a successful run of three seasons from 2016 to 2019.
For fans curious about Chandler Kinney, this biography was written for you to find out all you need to know about this celebrity.
Early Life, Family, Educational Background
Chandler Kinney was born under the zodiac sign of Leo on 3 August 2000, in Sacramento, California USA, into an Afro- American family. She has two older brothers; a few years after her birth, the Kinneys' moved to Los Angeles, where she and her siblings were raised. The move was good for her, as it granted her easy access to some great institutions where she received training, fundamental to her career.
𝑰'𝒎 𝒕𝒉𝒆 𝒂𝒍𝒑𝒉𝒂, 𝑰'𝒎 𝒕𝒉𝒆 𝒍𝒆𝒂𝒅𝒆𝒓, 𝑰'𝒎 𝒕𝒉𝒆 𝒐𝒏𝒆 ⠀⠀⠀⠀⠀⠀⠀⠀𝒕𝒐 𝒕𝒓𝒖𝒔𝒕 #ZSelcaDay pic.twitter.com/lysM3kfKh6

— cah 🪐⚢︎ (@wolfmxr) May 15, 2021
Chandler Kinney wears many hats. At a young age, she showed interest in dancing, and at age three, she was taking dancing lessons towards becoming a professional dancer, attending Los Angeles Ballet Academy, Kirov Academy of Ballet, and the Debbie Allen Dance Academy on a scholarship.
Chandler's older brothers influenced her to take up martial arts; growing up with boys, she had to learn self-defense, so that she could stand a chance against her brothers during play fights.
She started training in martial arts at age 10 and received her first black belt at 13. After she appeared in her first commercial, she trained at the prestigious Marnie Cooper School of Acting.
While pursuing her dreams, Chandler didn't leave formal education behind, however, it was tough to keep up – during the production of "Lethal Weapon" she was partially home-schooled, meeting with her teacher once a week to catch up on school work or do her assignments right on set. Her efforts weren't in vain, as she matriculated in May 2018, and was accepted by the University of California, Los Angeles (UCLA) in the same month.
Career
Chandler broke into Hollywood through her dance, by auditioning for spots in commercials and performing as a dancer. During her time at the Debbie Allen Dance Academy, she landed her very first professional gig, appearing in "Talk To The Moose", a commercial for GAP, the largest apparel retailer in the US, at Sony Pictures Studios, Culver City.
After that, she appeared in some national commercials, which brought her some level of fame.
It was not until Chandler turned 12 that she made her acting debut, playing Chantel in "Battlefield America" (2012), a musical directed by Chris Stokes. The following year, she landed the role of Ally McKinley in the TV drama "Company Town" (2013), directed by Taylor Hackford.
Chandler is now an accomplished dancer, at ballet, pointe, jazz and hip-hop. Her skills gave her an edge over other child actors in the industry, and in April 2015, her dance team qualified for the Youth America Grand Prix finale, held in New York City.
Since her first appearance in films, Chandler has continued to deliver stellar performances.
Other films and TV series she's appeared in include "American Horror Story" (2013), "90210" (2013), and playing Mirabelle, a nice girl from the ghost world  in six episodes of "The Haunted Hathaways" (2014); she had to leave the show soon after because of her role in "Gortimer Gibbon's Life on Normal Street" (2014-2016), playing Catherine Dillman, the intellectual in 22 episodes of the TV series. She also appeared in "Girl Meets World" (2015), "K.C. Undercover" (2017) and "Lethal Weapon" (2016-2019).
In recent times, Chandler's demand in the film industry has increased. She played Willa in "Z-O-M-B-I-E-S 2", a film directed by Paul Hoen for Disney Channel, and a few months later she was cast in its sequel, "Zombies 2: Wolf Tales".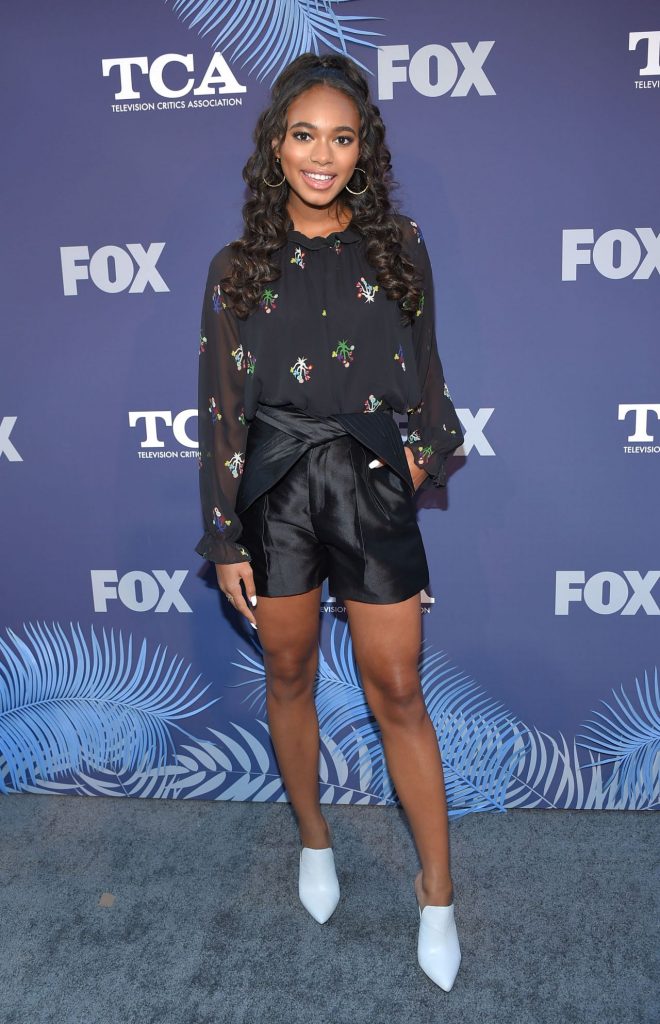 Producers have also hinted that she will also appear in "Z-O-M-B-I-E-S 3', however, the film is still in production, yet to be released.
Chandler says her acting is driven by the need for representation. To Sesi Magazine, she says, "there's not a ton of representation in the media for girls like me. I love acting because I get to be that someone".
Personal Life, Relationship
Thankfully, Chandler Kinney has maintained a great career free of controversy. In an interview with PopHearts, she mentioned that she'd love to work with Lupita Nyong'o in the future because 'she's beautiful and eloquent'.
She and her co-stars on set end up becoming friends; behind the scenes, they play pranks on each other to keep the mood light at work.
When she's not acting, Chandler writes in journals to stay sane. She has social media pages on which she often shares pictures and video content. Once in a while, Chandler showcases her taekwondo moves on Instagram, much to the delight of her 235,000 followers.
Chandler is a model for other young people, when it comes to charity. For the Christmas celebration of 2018, her organization, "Chandler's Friends" partnered with Hasbro, a toy brand, giving wrapped toys to 300 disadvantaged children.
She has a pen-pal in Ethiopia whom she supports with healthcare. She and her friends also make no-sew blankets which they deliver to children in foster care.
The young woman is yet to share any information about her romantic relationships at this time.
Appearance, Clothing Style
Ms. Kinney is 5ft 5ins (1.7m) tall and weighs about 120lbs (55kgs). Her eyes and hair are of the same color – dark brown.
Apart from red carpet events where Chandler has to dress formally, in elegant gowns, her clothing style is simple. Every other day, she falls back on comfort clothes – boots, pants and fancy jackets.
Hobbies, Favorite Things and Interesting Facts
She lives with her German Shepherd puppy.
To clear her head, she takes walks in a garden.
Kinney is big on skincare.
She is also a mental health advocate.
Chandler prefers other forms of exercise to the gym, but still goes to the gym sometimes.
Her favorite make-up product is Mascara; she's inspired by Zendaya's makeup aesthetics.
She loves cleaning, especially when upset.
Her favorite vacation destination is Tokyo, Japan.
She loves reading teen romance novels when traveling.
She teaches young people to consider their future selves when making major decisions.
Net Worth and Salary
From Chandler's years of acting and dancing, as of mid-2021, Chandler has accumulated a net worth estimated to be $1.5 million, including revenue from collaborations with brands, commercials and personal projects. Any property owned by Chandler Kinney remains undisclosed to the public.