• Emilija Baranac is a Canadian-Serbian actress, born in Vancouver, British Columbia, Canada in 1994.
• She is possibly best known for her roles in "Riverdale" and "To All the Boys: P.S. I Still Love You".
• Her parents immigrated to Canada from Serbia in the '80s.
• She starred in the popular American teen drama series "Riverdale" and the romantic drama "To All the Boys I've Loved Before".
• She is active on Instagram, where she posts photos of herself, her boyfriends, and outfits.
Who is Emilija Baranac?
Emilija Baranac is a Canadian-Serbian actress, born on 4 August 1994 in Vancouver, British Columbia, Canada. She is possibly best known for her roles in "Riverdale" and "To All the Boys: P.S. I Still Love You". Her star sign is Leo; she holds Canadian nationality, and as of early 2021, she's 26 years old.
Early Life and Family
Given the fact the Emilija is fairly new to the acting scene, there isn't much information about her family and siblings. It's known that both her parents came from Serbia in the '80s in search of better possibilities. Her mother is Mira Baranac, and a teacher of math, while her father's name remains unknown, but he allegedly owns a moving company.
It appears that Emilija doesn't have any siblings. Emilija's first language is Serbian, even though she was born and raised in Canada. In an interview, Emilija said that during her elementary schooling she had trouble understanding other kids, so her parents enrolled her into an acting class as a way to raise her self-esteem and confidence, and which were the needed push as Emilija soon felt free to express herself and explore character. The acting classes she took when she was nine years old landed her a first talent agent, set the course of her life path, and made her fall in love with acting.
Even though which high school she attended isn't listed anywhere. she certainly matriculated, given that she's now working to get her degree in psychology. During her high school days, she had psychology classes and thought it would be an excellent field to study, and improve her acting skills. In a letter for Luna-Nectar, she wrote: "For example, as I learn more about why humans are the way that they are. I am learning more about myself as an individual, which subsequently can be applied to my ability to tap into a different character. "
Emilija is best known as an actress, but she also modeled back in the day. However, that career was short-lived because she was often asked to lose weight, which she didn't want to do.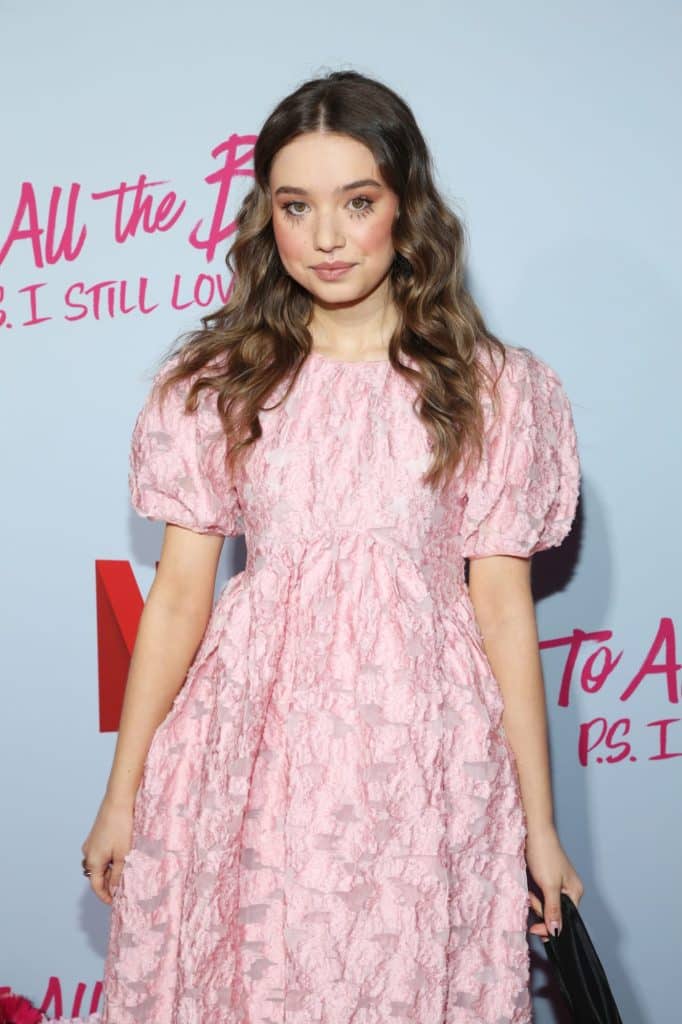 Career
Emilija began her acting career appearing in short movies such as "Gratuitous", "Wash Your Hands" and "Inversion/Invasion". She made her TV debut in 2013, as Sophie in an episode of "Aliens in the House". Two years later she made a guest appearance in "Supernatural" as Crystal Thorson, followed by more appearances in minor roles in TV films and series such as "Love You to Death", "Deadly Sorority", and "STI". In 2017 she starred as Jamie in four episodes of the American science fiction series "Beyond", and in the same year, she landed the recurring role of Midge Klump in the popular American teen drama series "Riverdale", which given the colossal success of the TV show, shone the spotlight on even minor characters.
Now many recognize her as Midge from Riverdale, even though she only appeared in 14 episodes from 2017-2019, when her character was killed by the Black Hood. In 2018 she portrayed Genevieve in the popular romantic drama "To All the Boys I've Loved Before". The movie received overwhelmingly positive reviews, and was set for a possible sequel. In 2019 Emilija got minor parts in TV Shows such as" Charmed", and "Chilling Adventures of Sabrina", then in 2020, she starred in the second installment of "To All the Boys: P.S. I Still Love You", which again garnered positive reviews. Her Latest appearances include the slasher movie "There's Someone Inside Your House", and the second sequel "To All The Boys: Always and Forever", which significantly augmented her net worth and brought attention to her name.
Personal life
Judging from photos on her social media accounts, it seems that the actress is romantically involved with the music producer Issey Lamb (Issey Taylor). The couple posted their first photo on Instagram in October 2017, but it's not certain how they met or when they began dating.
Would you like to know her net worth?
Her estimated net worth is around $200,000, which she's earned through her active acting career; it's reported that she earns up to 45,000 for starring in TV shows. Given that Netflix does not operate like other movie production companies, its success isn't measured in the usual box office. Having in mind that Netflix has 160 million subscribers in over 190 countries, it's not surprising that the actors cast in Netflix's productions rise to stardom quite quickly. For example, Emilija's co-star Noah Centineo started with 800,000 followers on Instagram, while now he has 13 million.
His role in the movie earned him the title of the latest "internet boyfriend". It's also possible that Emilija gets additional earnings from her affiliated posts on Instagram and through promotions.
Physical stats and hobbies
Emilija is 5ft 5ins (165cm) tall and weighs around 115lbs (52kgs), with vital statistics of 33-24-34. Her natural hair color is dark blonde; her eyes are brown.
When she is not working, she likes to tuck into bed and watch YouTube videos, movies, or TV shows.
Emilija is a major coffee lover, and in her opinion, there is nothing like a cup of good coffee to wake you up and prepare you for the day.
Communicating in person with people or talking over the phone clears her mind and brightens her day.
When she feels burnt out from work she usually takes a break and indulges in something she loves, such as coffee and watching TV.
She adores going to auditions, and wrote in her letter to Luna Nectar:" When I'm hustling for something I love, like an audition for example, I absolutely love it. I almost always stressed and complain about how much work I have to do but honestly I love the process so much and am always so grateful to be doing something I love – even if it's just auditions."
When she's not acting, she is usually browsing Instagram or Tumblr in search of lifestyle and fashion inspiration. As a very musical person, she plays piano and loves to sing opening songs to her favorite TV shows, especially when no one is home.
Emilija is very active on Instagram, which counts 320,000 followers, and usually posts photos of herself, her boyfriends, and outfits.
As a true fashion enthusiast, she enjoys arranging clothing pieces, searching for inspiration, and posting it on her Instagram – a closer look revealed that she often collaborates with brands, probably as a paid promoter; she recently collaborated with a fashion brand called "One of a few". Her other posts include OMW bags, Tae Park, Memorial Day, etc. It appears that Emilija doesn't use Twitter or Facebook.
What is her inspiration in life?
Emilija is always quick to mention her mother as her biggest inspiration in life. She values her mother's tenacity and readiness to venture into new possibilities, which she did when she decided to move to Canada, to an unknown land and leave her homeland behind. Emilija said: "She has taught me patience, compassion, and how to love and appreciate the people in my life. She inspires me to go out into the world and make things happen for myself and most importantly to do the things that make me happy."