Gabrielle Moses Wiki Bio
Gabrielle Moses was born in Missouri, USA, on 6 April 2000 – her zodiac sign is Aries and she holds American nationality. She's a YouTuber and a social media star, who's probably known best for her Instagram account which is followed by close to 650,000 people, while she's uploaded more than 400 pictures onto it, most of which have her attractive body in focus, especially her breasts and buttocks.
Early life and education
Gabrielle was raised in Missouri alongside her twin sister Madalyn and her younger sister Cassie by their parents, about whom nothing's known as Gabrielle respects their privacy.
Thank you so so much❤️❤️ https://t.co/0jD3UC2eC2

— Gabrielle Moses⚜️ (@gabrielle_moses) April 6, 2020
She grew up being interested in modelling, and dreamed about becoming either a famous model or an actress. Upon enrolling at Springfield Catholic High School, Gabrielle became interested in sports, and began playing for her school's soccer team and also became a cheerleader. She was into various other activities too, as she practiced dancing, singing and acting.
Gabrielle matriculated in 2018, and then chose not to pursue a college degree but to focus on her career on the internet.
Gabrielle's even more popular on TikTok than on Instagram, as she's followed by over 1.1 million fans and has amassed over 30 million likes of all her videos combined.
She mostly uploads comedy content, and can be seen pulling pranks on her boyfriend, dancing and lip syncing.
She launched her Twitter account in August 2014, but has since gathered only around 14,000 followers, and hasn't tweeted since 29 October 2020.
Gabrielle's a YouTuber, having launched her channel on 22 February 2017 which is today subscribed to by close to 850,000 people, and numbers more than 82 million views of all her videos combined. She uploads diverse content, and her most popular video – "First Things Girls Notice about Guys" – has been viewed over 6.6 million times since 29 July 2017.
Love life and boyfriend
Gabrielle's very open when it comes to her love life, and she and her ex-boyfriend Jack Brinkman helped one another become more popular on the internet, as they were featured in many of their Instagram pictures and TikTok and YouTube videos.
They also ran together the YouTube channel "Jack & Gab", which was launched by Jack on 16 May 2015, but in 2020 when the two broke up, he renamed it to "Jack & Jaycee", and is today running it with his new girlfriend. It's subscribed to by over 1.8 million people, and numbers close to 360 million views of all videos combined.
Gabrielle has also moved on, and since the summer of 2020 has been in a relationship with Luke Hollingshead, who's also a YouTuber and a social media star. The two have begun collaborating, and can be seen featured in the content they've uploaded onto their social media networks.
As of May 2021, Gabrielle's dating Luke Hollingshead, hasn't married and doesn't have children.
Hobbies and other interests
Gabrielle's physically highly active, and sometimes exercises every day of the week. She's also following a very strict diet, and has given her fans advice on what to eat and how to exercise.
She likes to do make-up, and has produced various tutorials for her fans on YouTube.
Gabrielle's a dog lover, and has recently adopted a pet dog she calls Jack, which can be seen featured in many of her Instagram pictures..
She's keen on travelling, and has been to various US states for both work and pleasure, while her dream travel destination is Miami in Florida.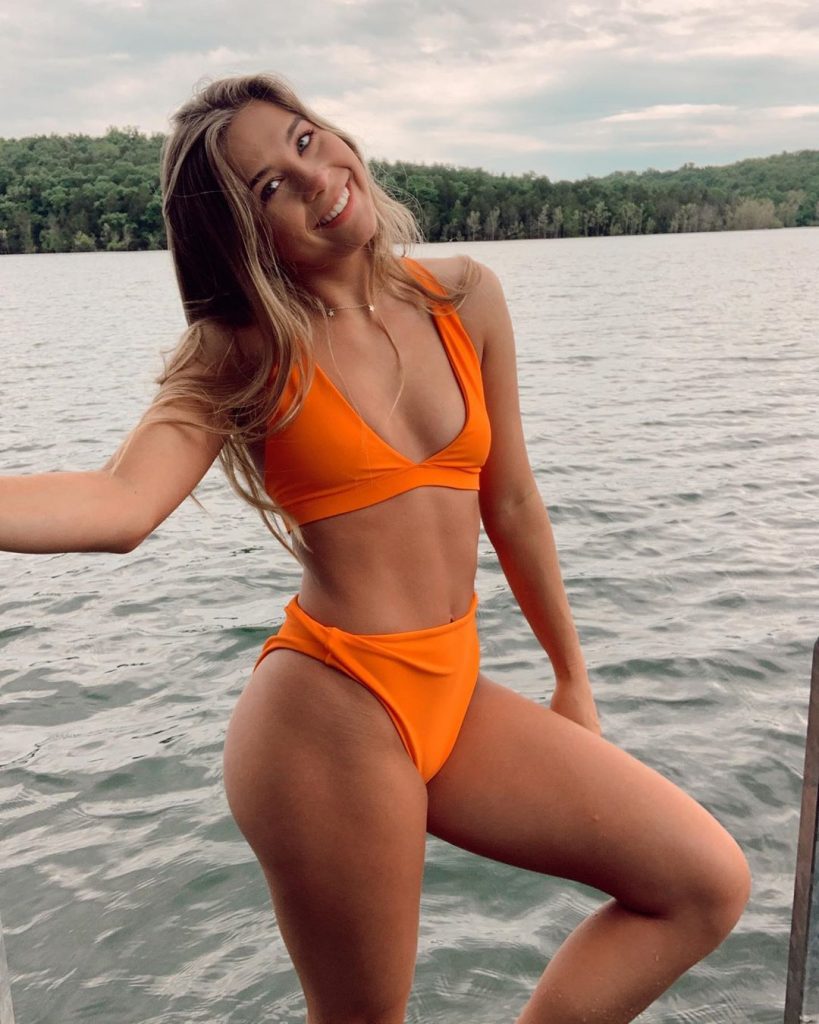 In her spare time which is usually late at night, Gabrielle likes to watch movies starring her favorite actor and actress Leonardo DiCaprio and Julia Roberts, such as "Inception", "Titanic" and "The Runaway Bride".
Age, measurements and net worth
Gabrielle's age is 21. She has long brown hair and blue eyes, her height is 5ft 5ins (1.65m) and she weighs around 121lbs (55kgs). As of May 2021, her net worth has been estimated at over $2 million.
Who is her former boyfriend Jack Brinkman?
Jack Brinkman was born in Missouri on 25 June 1999 – his zodiac sign is Cancer and he holds American nationality.
He's a YouTuber and a social media star, who's probably known best for his Instagram account, which is today followed by close to 350,000 fans, while he has uploaded over 360 pictures, most of which have been taken during his everyday life.
Jack was raised in Missouri alongside his sister, who can be seen featured in many of his YouTube videos; they also had a pet dog called Molly. Their parents prefer to be left out of media. He attended a local high school at which he was very sporting, as he played baseball and soccer and upon matriculating in 2017, Jack enrolled at Chowan University on a baseball scholarship, obtaining his Bachelor's degree just recently in early 2021.
Jack launched his eponymous YouTube channel in 2015, and began by uploading videos featuring himself playing the video game "Outlast".
After attracting some attention, he started uploading "How To" videos, then on 9 September 2016 Jack announced that he was dating Gabrielle, and changed the name of the channel to "Jack & Gab". The most popular video on the channel – "HOW TO KISS.. *TUTORIAL*" – has been watched over 4.6 million times since 13 November 2019.
Jack's today in a relationship with Jaycee Cabasi, who's a model and a social media star, probably known best for her and Jack's collaborative channel, as well as for her Instagram account which is followed by close to 100,000 people.
It has been revealed that Jack had a crush on Jaycee for a while before he asked her out on date, while some claim that he secretly went out with her while still in a relationship with Gabrielle, however, this hasn't been confirmed.
Jack spends the majority of his spare time working out at the gym, mostly focusing on his abs and biceps. He likes to show off his body, and numerous pictures of him shirtless can be found uploaded onto his Instagram account.
Jack is 21 years old. He has short brown hair and brown eyes, his height is 5ft 10ins (1.78m) and he weighs around 163lbs (73kgs).
As of May 2021, his net worth has been estimated at over $800,000.