Jackie Guerrido:
• Born in San Juan, Puerto Rico, September 24th 1972
• Raised in San Juan by her mother, attended a local high school and University of Miami for meteorology
• Worked at various radio and TV stations before landing her current role at Univision's Primer Impacto
• She has two children, Thomas and Adieny, but their father's identity is unknown
• Was married to Don Omar, Puerto Rican reggaeton record producer and actor
Jackie Guerrido Wiki Bio
Jackie Guerrido was born in San Juan, Puerto Rico, on 24 September 1972 – her zodiac sign is Libra, and she holds Puerto Rican nationality. She's a TV weather forecaster and a journalist, who's perhaps known best for the work she has done for the Univision's program Primer Impacto.
Early life and education
Jackie was raised in San Juan alongside her sister, mostly by their mother. The girls' mother was abused by their father, which is why they all hid from him at Casa Protegida Julia de Burgos when Jackie was seven years old.
Jackie attended a local high school in San Juan, and it was during her four years there that she became interested in journalism.
She was also into various other activities, such as playing volleyball and soccer, practicing acting, playing the guitar, and writing articles for the school's newspaper. Upon matriculating in 1990, she moved to The Bronx, New York City with her mother and sister.
Several years later, after being offered work as a meteorologist, Jackie enrolled at the University of Miami, from which she obtained her Bachelor's degree in meteorology.
Jackie's career
She launched her career not long after arriving in New York City, when invited to work on "El Vacilon de la Manana" ("Good Times in the Morning"), a show which aired on the radio station WSKQ. After close to a year, Jackie was invited to move to Miami, Florida, to work at the radio station WRMA.
She was soon invited to start working for the station Romance, and after a year, Jackie joined the HBC Radio Company. She was made a co-host of several programs for the first time, and her responsibilities included broadcasting traffic conditions, and occasionally news. Upon joining the radio station WRTO, Jackie got to host her own music show, and she then began working for WSCV, as both their radio and TV co-host.
Jackie was then invited by Univision to become the meteorologist on their show "Al Amanacer de Noticias 23" ("Morning News at Channel 23"), and following this job, she spent a couple of years presenting the weather on the morning show "Despierta America" ("Wake Up America").
Since the mid-2010s, Jackie has been co-hosting the news program "Primer Impacto" ("First Impact") together with Pamela Silva Conde.
Love life and husband
Jackie's highly secretive when it comes to talking about her love life, and only a couple of details regarding it are known. She was 17 years old when she gave birth to her son Thomas Ramirez, and was 18 when she gave birth to her daughter Adieny Nunezn. Jackie hasn't spoken of their father's identity, but it's widely believed that he was her high school sweetheart.
It was revealed in August 2007 that she was engaged to Don Omar, a Puerto Rican reggaeton record producer and actor.
The two exchanged vows on 19 April 2008, and the ceremony was attended by Jackie's two children, as well as Don's sons Dereck and Daniel. In 2011, Jackie and Don divorced for unknown reasons.
As of July 2021, Jackie appears to be single, was once married, and has two children.
Hobbies and other interests
Jackie's a philanthropist, and has worked with various charity organizations. In 2004, she served as the Good Will Ambassador of the New York City's Puerto Rican Day Parade. In 2010, she competed in the reality show "Mira Quien Baila!" and placed second, thus winning $10,000, which Jackie donated to Casa Protegida Julia de Burgos.
She's very active on Instagram, as she enjoys the attention she's receiving from her 900,000 followers.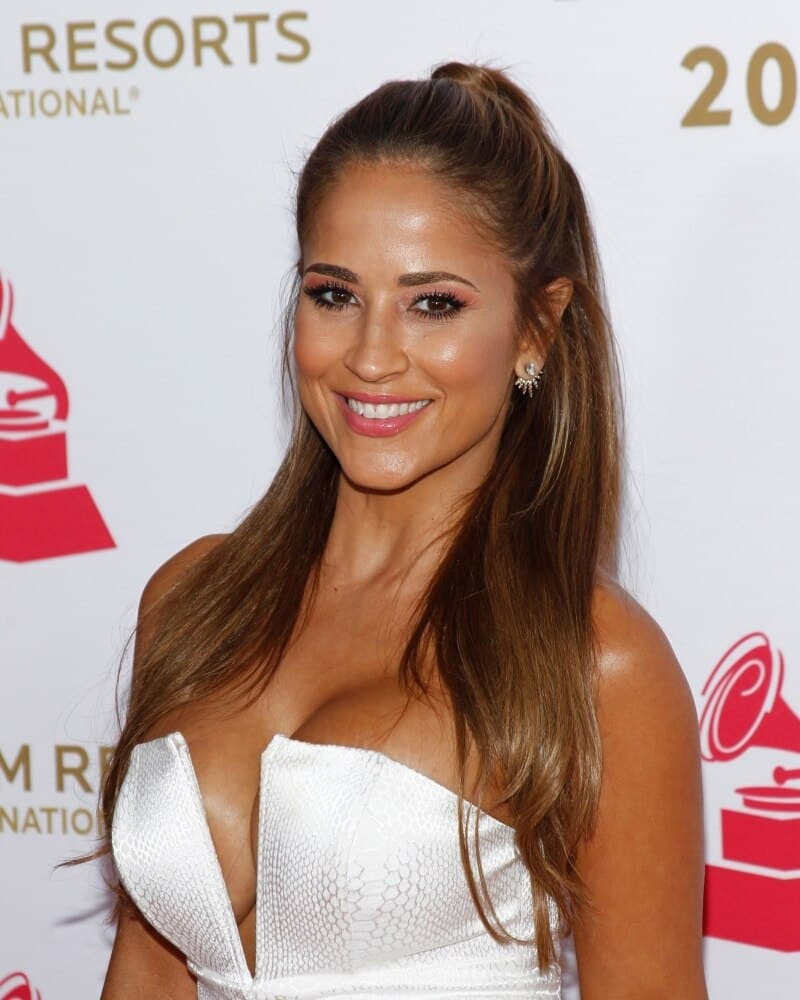 Jackie has uploaded more than 2,700 picture, most of which have been taken during her everyday life.
She's physically highly active, and has a couple of training sessions at the gym every week, thus her slim figure.
Summer's Jackie's favorite season, mostly because she likes to show off her body at the beach.
She likes to watch movies late at night, and her favorite actor and actress are Benicio del Toro and Rosario Dawson, while a couple of her favorite movies are "Sicario", "The Usual Suspects" and "Seven Pounds".
Age, height and net worth
Jackie's age is 48. She has long brown hair and brown eyes, her height is 5ft 3ins (1.6m) and she weighs around 112lbs (51kgs).
As of July 2021, her net worth has been estimated at over $10 million.
Who is her ex-husband Don Omar?
William Omar Landron Rivera was born in San Juan on 10 February 1978 – his zodiac sign is Aquarius, and he holds Puerto Rican nationality. He's known as King of Kings and El Rey, and gained recognition in 2009 with his portrayal of Rico Santos in the movie "Fast & Furious".
Don was raised in San Juan alongside his brother Luis Landron, by their father William Landron, and their mother Luz Antonia Rivera. Don grew up being interested in music, mostly influenced by Brewley MC and Vico C. He attended a local high school, and upon matriculating in 1996, Don focused on music, and didn't enroll at college.
His first performance was alongside the disc jockey Eliel Lind Osorio at a night club, and upon gaining recognition, Don was invited by various DJs and music producers to be featured on their compilation albums. Some of the most notable musicians with whom he collaborated at that time included Luny Tunes, DJ Eric and Hector & Tito. In 2003, Don's debut album was released, entitled "The Last Don", and it won him a couple of awards, including two Billboard Latin Music Awards for New Artist & Latin Rap/Hip-Hop Album of the Year, and Latin Pop Album of the Year. His second album – "King of Kings" – was released in May 2006, peaking at #1 on both the Billboard Latin Rhythm Radio Chart and Latin Sales Chart; it won Don a Billboard Latin Music Award for Reggaeton Album of the Year.
His third album was released on 28 April 2009, entitled "iDon", while his fourth album "Don Omar Presents: Meet The Orphans" followed on 16 November 2010.
On 1 May 2012, Don released the album "Don Omar Presents MTO2", followed by "The Last Don 2" in 2015, and "The Last Album" in 2019.
On 18 September 2007, Don was detained by the border police in Santa Cruz de la Sierra, Bolivia, after a concert promoter sued him because he cancelled a concert. Don claimed that he had cancelled it because he wasn't provided with flight tickets in time, and after appearing before a judge, the two sides came to an agreement.