• Lala Baptiste is an Instagram model, social media personality, and vlogger associated with famous rappers such as Rubi Rose, DDG, and Lil Tjay.
• Lala Baptiste runs her own brand, Nyela Collection, which she designed, funded and launched in December 2020.
• Lala Baptiste has had a messy and complicated dating life, including a relationship with Ian Connor and collaborations with Playboi Carti and Lil Tjay.
• Lala Baptiste has 1 million Instagram followers and over 370,000 YouTube followers.
• Lala Baptiste has an estimated net worth of over $500,000.
Who is Lala Baptiste?
Lala Baptiste is known for being an Instagram model, social media personality, and vlogger. She is also known for her associations with famous rappers such as Rubi Rose, DDG, and Lil Tjay. Keep reading to discover her age, height, biography, and more.
Lala Baptiste's Early Life
Lala Baptiste was born on 16th May 1999, in Atlanta, Georgia USA, of Trinidad, Puerto Rican and European descent. She's 5 ft 8ins (1.7m) tall and weighs around 120lbs (55 kgs). Her birth name is Nyela, but she shortened it to Lala because her little sister couldn't pronounce it.
Lala Baptiste's Career & Business Ventures
Lala Baptiste is part of Wilhelmina Models' agency, modelling mostly for online fashion brands such as Fashion Nova, Pretty Little Thing, and Revolve.
However, Lala is also very business-minded with an entrepreneurial streak, and has started her own brand, named Nyela Collection, which sells hand-made clothing items, and prides itself for being "luxury with a twist". The first clothing collection was released in December 2020; Lala stated that she sketched, designed and funded the collection all by herself, and promised her fans that she would have more collections coming soon.
Lala Baptiste's Dating Life
Lala has frequently appeared in online teen blogs, due at times to a messy and complicated dating life.
Coincidentally, she has shared a few casual relationships with her ex-best friend Rubi Rose, as both of them dated Ian Connor and Playboi Carti before forging a friendship.
Lala casually dated stylist and model Ian Connor in 2017, but no details of their relationship at the time came out, except a couple of photos that are still on the internet. However, Ian is a controversial figure – the streetwear stylist, who was once Kanye West's creative consultant, has been accused of rape by six women, with the first allegation coming in 2016 and the rest in 2019. A few months after the claims, Connor was sentenced to 12 months in jail in June 2019 over gun-related charges.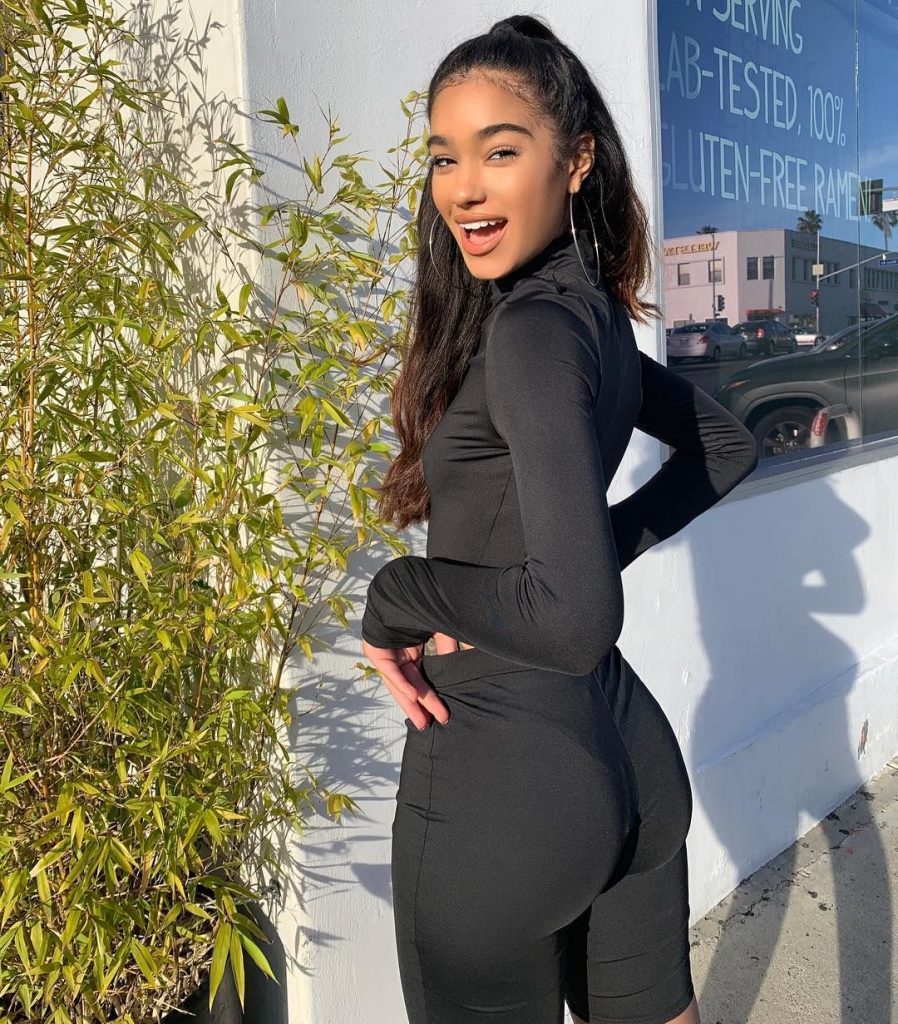 In June 2019, several versions of rapper Playboi Carti's song "Shawty In Love" were leaked. The songs were love songs, and Lala collaborated on them in the intro.
In 2020, there were several rumors of Lala dating rapper DDG, after the pair made several flirtatious YouTube videos together. In February 2020, DDG uploaded a YouTube video in which he told Lala he liked her, but she said she wouldn't date him because of his prior relationship with Rubi Rose, her best friend at the time.
In September 2020, Lala fell out with Rubi Rose due to her budding relationship with Lil Tjay. Rubi previously had a fling with Lil Tjay which ended up with the rapper leaving her stranded out of her state without paying for her flight back home.
Rubi Rose insulted the couple on Twitter, and called Lala a backstabber and a snake.
It's unknown how long Lala and Lil Tjay had been dating for when they went public, but in September 2020 Lala uploaded a YouTube video tour of her new house, which she said was bought by her boyfriend. The incident between Rubi Rose and Lil Tjay had occurred just four months earlier, in May 2020.
A few weeks later in October 2020, Lala appeared playing the part of Lil Tjay's girlfriend in his music video for "Mood Swings", the New York native's successful collaboration with late rapper Pop Smoke. The video currently has 33 million views.
Lil Tjay didn't seem bothered by the criticism or Rubi's reaction, and later uploaded a photo with Lala on Instagram of the pair hugging on a private jet. However, that wasn't the end of the drama, because rapper Legendary Rella came out days later saying she was also with Lil Tjay, and uploaded photos of them together on Instagram. It appears that the relationship between Lala and Lil Tjay fizzled out soon after this incident, as they no longer acknowledge or post each other.
Lala Baptiste's Social Media
As an Instagram model and vlogger, social media is Lala's main source of income, and she has an active presence on platforms such as Instagram and YouTube.
Lala has an impressive one million Instagram followers and over 370,000 YouTube followers, using these outlets to promote her business ventures, upload her lifestyle and fashion vlogs, and communicate with her fans.
Lala's popular YouTube channel has a variety of videos, including Q&A sessions, clothing hauls, and mukbangs. To date, her most viewed video is of the blind date she set up between close friend DDG and Rubi Rose, which was uploaded on Valentine's Day 2020 and has been seen 1.6 million times.
Lala has also been posted several times on gossip blogs with millions of followers, mainly due to her tangled dating life and personal drama.
After the love triangle between Rubi Rose, Lil Tjay, and herself, Lala was heavily criticized, and turned to YouTube to tell her side of the story in a video entitled "My Truth", which has been viewed almost 600,000 times.
In the video, Lala stated that she was only friends with Rubi for business purposes, because Rubi's music label insisted that they stay friends. Lala says she was hurt when she found out but decided to go along with it. It also turns out that Lala and Rubi once shared the same manager, who was the one to suggest the friendship. Originally, the two girls were enemies because they were seeing the same guy, and it looks like they won't be talking anytime soon.
Net Worth
According to sources, as of early 2021, Lala has an estimated net worth of over $500,000, earned through her modelling and entrepreneurial activities in just a few years.
In the past, Lala also did a YouTube interview with DJ Smallz Eyes in which she touched on many personal subjects such as her possible plastic surgery and her first time getting drunk. One of the interview clips was viewed 580,000 times, so it's safe to say Lala knows how to use social media to get herself noticed and get fans talking about her.