• Leena Xu is a gamer, social media star and business executive, most known for being president of Team SoloMid (TSM)
• She is active on various social media networks, and is credited with producing the 2015 reality TV series "TSM: Legends"
• She dated Andy Dinh and later Yiliang Peng, but is currently single
• Her hobbies include playing video games, travelling, cosplay, and watching movies
• Her net worth is estimated at over $700,000
Leena Xu Wiki Bio
Aileena Xu was born in the USA on 17 April 1993 – her zodiac sign is Aries and she holds American nationality. She is a gamer, social media star and a business executive, who might be known best for being the president of Team SoloMid (TSM), an eSports organization.
Childhood and education
Leena was raised alongside her siblings in the US by her Asian parents, but she hasn't shared any details concerning her family with the public.
Leena became interested in playing video games at quite an early age, but after she enrolled at a local high school and spent more time with her peers, she began dreaming about becoming either an actress or a model.
Leena was physically quite active at school, as she played various sports including soccer and tennis, while some sources claim that she was also a cheerleader. She matriculated in 2011 as one of the best of her class, and then enrolled at De Anza College in Cupertino, California, but dropped out after only a semester to focus on her career.
Leena's career with Team SoloMid
Leena is known mostly for the work she has done with TSM. It was launched by Andy 'Reginald' Dinh, Leena's ex-boyfriend, in September 2009 as a website onto which people could learn about the video game "League of Legends" (LoL), including how to play it and all the latest news related to it.
By 2011, TSM had its own team of professional players and they began entering LoL tournaments, while their main setup back then was Reginald, Chaox, SaintVicious, Locodoco and TheOddOne. In 2013 as TSM grew bigger, Reginald announced that he would stop competing to focus on running the business.
On 25 January 2015, TSM bought Team Dignitas competing in the video game "Counter-Strike: Global Offensive", and it was later reported that the new deal made Team Dignitas the highest-paid players of the game in the world.
The team went on to win the Intel Extreme Masters World Championship held in Katowice, Poland on 15 March 2015, and in April of the same year, Leffen joined TSM as their first player of a fighting game ("Super Smash Bros. Melee") while they welcomed their second fighting game player ZeRo on 1 August, and he went on to achieve 56 consecutive tournament victories. ZeRo retired on 12 January 2018.
On 16 June 2019, TSM bought the team Excelerate Gaming competing in the video game "Rainbow Six Siege", and it was announced on 22 May 2020 that TSM would start competing in the multi-player tactical hero shooter video game "Valorant".
They also began competing in chess on 27 August 2020, when they welcomed the Grandmaster Hikaru Nakamura to their team.
Leena's presence on the internet and other business ventures
Leena is quite active on various social media networks. She has gathered over 240,000 followers on Instagram, while she's uploaded more than 300 pictures, most of which feature her attractive body with the focus on her breasts. She launched her Twitter account in July 2012, and has since gathered over 150,000 followers, while she tends to tweet at least once a week.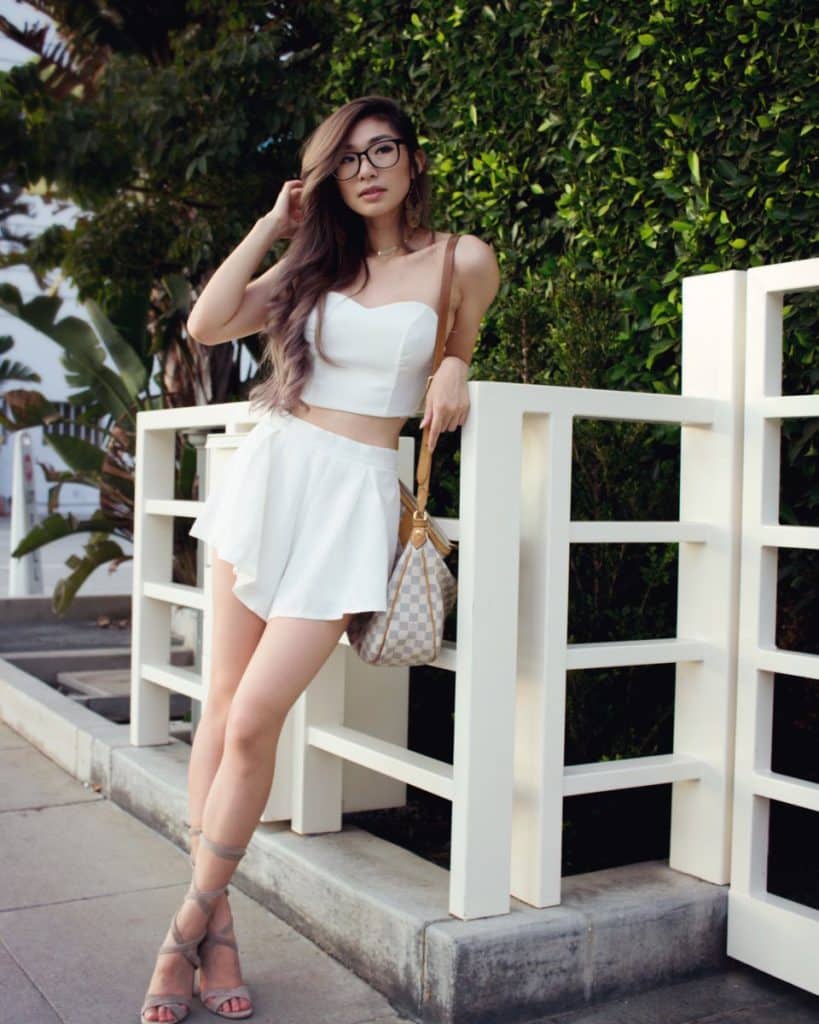 Leena has been credited with producing the 2015 reality TV series "TSM: Legends", created by Max Olivo, and which counts 148 episodes. It starred Soren Bjerg, Yoonsup Choi and Andy Dinh, and follows the lives of the members of TSM.
Thanks to her wealth, Leena has been featured in the list '30 Under 30' compiled by the magazine "Forbes".
Love life and boyfriend
Leena met Andy Dinh in 2012 when they were introduced by a mutual friend at a party, and they went on to date for several years. They could often have been seen playing videos games and streaming on Twitch together, while Leena also helped Andy run TSM, and provided advice and support.
Leena and Andy kept the fact that they had separated a secret for several months, before announcing it on their social media accounts, however, it is still not known what led to their split.
Leena then started dating Yiliang Peng, who is also a gamer better known as DoubleLift. They started dating not long after DoubleLift joined TSM, and this led to many TSM fans criticizing the two for going out together. Leena and Yiliang were quick to respond that they weren't really dating but were only close friends, however, few people believed them.
Leena hasn't talked about any other men she might have dated, but there are rumors circulating the internet that she might be dating a mysterious man today, as some of her fans have claimed to have seen them spending time together on various occasions.
As this hasn't been confirmed, Leena is single as of January 2021, hasn't married and doesn't have children.
Hobbies and other interests
Leena spends most of her spare time playing video games – her favorite is "League of Legends", and some others include "Fortnite", "Mortal Kombat" and "Counter-Strike: Global Offensive".
One of her main hobbies is tasting new cuisines. Leena has travelled to various USA states and several Asian and European countries, sometimes even only to taste new foods. Even though she loves to eat, she is still careful about her diet as she wants to maintain her weight.
She has several training sessions at the gym each week, thus her fit body.
Leena likes to do cosplay, and has attended many cosplay events, and some of her costumes can be seen in her Instagram pictures.
She is keen on watching movies, and some of her favorite actors and actresses are Hiroyuki Sanada, Osric Chau and Jamie Chung, and a couple of her favorite films are "Crazy Rich Asians", "The Handmaiden" and "In the Mood for Love".
Age, height and net worth
Leena's age is 27. She has long brown hair and brown eyes, her height is 5ft 6ins (1.67m) and she weighs around 115lbs (52kgs).
As of January 2021, Leena's net worth has been estimated at over $700,000.