• Dylan Minnette is an American actor and singer, best known for his role in the movie Prisoners with Hugh Jackman and Jake Gyllenhaal.
• He was born in Evansville, Indiana, USA in December 1996.
• He became interested in acting at a very early age, and made his debut TV series appearance aged eight.
• His most recent movie appearance was in 2018, and he has also written songs for movies.
• He is currently 24 years old and has an estimated net worth of over $3 million.
Who is Dylan Minnette?
Dylan Christopher Minnette was born in Evansville, Indiana USA, on 29 December 1996 – his zodiac sign is Capricorn, and he holds American nationality. He's an actor and a singer, who's been credited with appearing in more than 60 movies and TV series, while he's perhaps known best for his portrayal of Ralph Dover, in the 2013 mystery crime movie "Prisoners". Written by Aaron Guzikowski, directed by Denis Villeneuve, it starred Hugh Jackman and Jake Gyllenhaal, and follows Kellen Dover who's investigating the disappearance of his daughter and her best friend; it won 10 of the 49 awards for which it was nominated, including an Oscar nomination.
Early life and education
Dylan was raised an only child by his father Craig, and mother Robyn Minnette. The family moved frequently, but Dylan spent the majority of his childhood in Champaign, Illinois, and Los Angeles, California.
He became interested in acting at a very early age, mostly because he watched TV with his parents nearly every night. Dylan began appearing in school plays as soon as he enrolled at a local elementary school, and made his debut TV series appearance aged eight, in the 2005 episode "I Always Wanted a Shaved Monkey" of the comedy "Two and a Half Men".
He was already a sought after actor in the following year, as it saw him appear in five episodes of the critically acclaimed action crime series "Prison Break", while he also made his debut film appearance, with his portrayal of Iggy Thistlewhite, in the family fantasy comedy "The Year Without a Santa Claus".
Dylan attended a local high school in Los Angeles, and upon matriculating in 2014 he focused on acting, and didn't enroll at college.
Roles in movies
The year 2007 saw Dylan appear in two movies: the drama "Game of Life", and the family fantasy comedy "Fred Claus". He gained recognition in 2010, with his portrayal of Kenny, in the fantasy horror drama "Let Me In", written and directed by Matt Reeves, and which starred Kodi Smit-McPhee, Chloe Grace Moretz and Richard Jenkins, in the story of a bullied boy who befriends a female vampire; the movie won 14 of the 42 awards for which it was nominated.
it's been a year… pic.twitter.com/Ufy96ONW2U

— Dylan Minnette (@dylanminnette) June 6, 2021
A couple of Dylan's following roles were in the 2013 romantic thriller drama "Labor Day", the 2014 family comedy drama "Alexander and the Terrible, Horrible, No Good, Very Bad Day", and the 2015 family adventure comedy "Goosebumps". In 2016, he was cast to play Alex, one of the lead characters in the critically acclaimed crime horror thriller "Don't Breathe", written and directed by Fede Alvarez, and which also starred Stephen Lang and Jane Levy. It follows three thieves who have broken into a house of a rich blind man, who isn't as helpless as they believed; the movie won seven of the 28 awards for which it was nominated.
Dylan's most recent movie appearance has been in the 2018 horror thriller "The Open House", written and directed by Suzanne Coote and Matt Angel, and in which he starred alongside Piercey Dalton and Patricia Bethune.
It follows a teenager and his mother who have just moved, and have learned that their new house is home to threatening forces.
Roles in TV series
In 2010, Dylan was cast to play David Shephard in the fantasy adventure drama "Lost", which is often rated one of the best series of all time. It follows a group of people whose 'plane has crashed, and who have now found themselves trapped on a deserted tropical island. The series aired from 2004 to 2010 and won 123 awards, including 10 Primetime Emmys, while it was nominated for 398 other awards.
Dylan starred concurrently as Clay Norman, in the fantasy drama "Saving Grace" from 2007 to 2010, which also starred Holly Hunter and Leon Rippy, then the early 2010s saw him make a guest appearance in an episode or two of various series, such as the crime fantasy drama "Medium", the mystery crime drama "Lie to Me", and the crime drama "Against the Wall".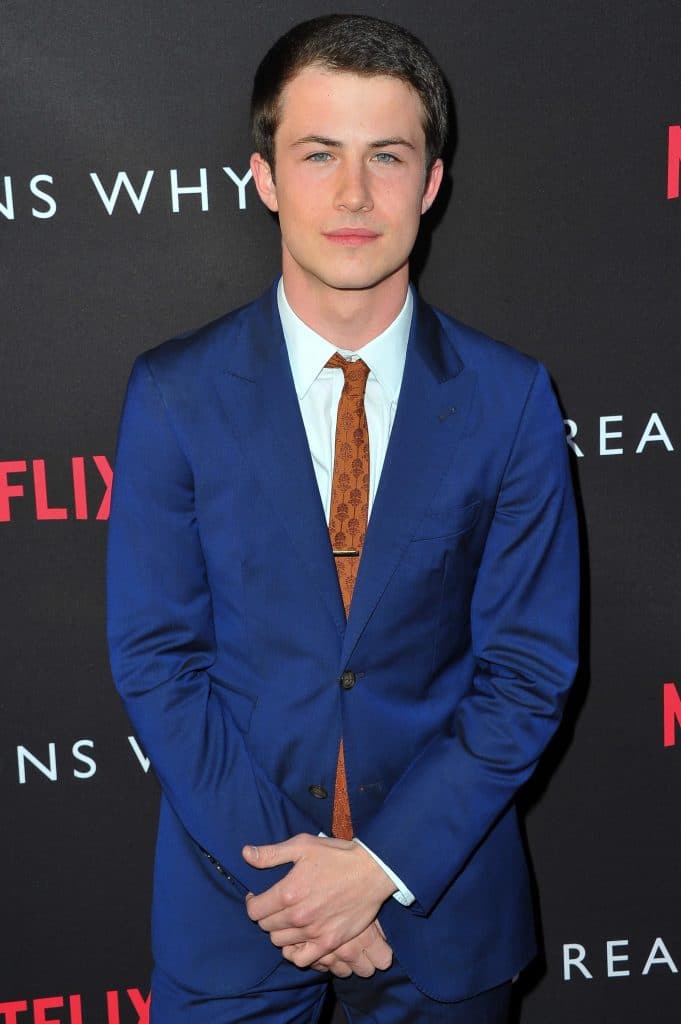 In 2012, he portrayed the lead character Rex Britten, in the mystery fantasy drama "Awake", which follows a police detective who, after his wife and son are in a car accident, starts living two parallel lives: one in which his son is alive, and the other in which his wife is alive.
Dylan's most recent TV series role has been his portrayal between 2017 and 2020 of the main character Clay Jensen, in the mystery thriller drama "13 Reasons Why". Created by Brian Yorkey, it also starred Katherine Langford and Christian Navarro, and follows Clay, who wants to find out why his crush Hannah committed suicide. The series won four of the 20 awards for which it was nominated.
Other credits
Dylan wrote the song "Surf Surf Don't Drown" featured in the 2014 movie "Alexander and the Terrible, Horrible, No Good, Very Bad Day". The song "Pulling Leaves Off Trees" he wrote featured in the 2018 video game "NHL 19", and most recently the song "Scrwany" featured in the 2019 episode "Let the River Run" of the fantasy horror series "Castle Rock".
He has been featured in a number of documentaries, such as the 2011 series "The Joey & Elise Show", the 2016 short video "Don't Breathe: The Sounds of Horror", and the 2018 short video "13 Reasons Why: Bringing the Book to Life".
Dylan has made a guest appearance in numerous talk-shows, including "Jimmy Kimmel Live!", "Live with Kelly and Ryan" and "Good Day New York".
Awards and nominations
Dylan has won two of the eight Young Artist Awards for which he has been nominated: in 2008 for Best Performance in a TV Series – Young Actor Ten or Under, for "Saving Grace", and the other in 2011, for Best Performance in a TV Series – Guest Starring Young Actor 14-17 for "Medium".
He also won a 2013 National Board of Review Award for Best Ensemble, for his and his colleagues' performance in the movie "Prisoners".
Music career
Since 2017, Dylan has been the frontman and the rhythm guitarist of the alternative rock band Wallows, which also comprises Braeden Lemasters and Cole Preston – the band's previous name was The Narwhals, and before that The Feaver. In 2017, they released four songs entitled "Sun Tan", "Uncomfortable", "Pleaser", and "Pulling Leaves Off Trees".
In 2018, their debut extended play (EP) entitled "Spring" came out, and in March 2019, the boys released their first album "Nothing Happens". Their second album "Remote" followed in 2020, featuring songs such as "Virtual Aerobics" and "Nobody Gets Me (Like You)".
Love life and relationships
Sometime in the 2010s, Dylan was in a relationship with Katherine Langford, an Australian actress and a social media star, who has amassed more than 20 million followers on her Instagram account. The two were together for about a year, before parting for unknown reasons.
In the early 2019, Dylan began dating American actress and a singer Kerris Dorsey, who's perhaps known best for her portrayal of Emily Cooper in the 2014 movie "Alexander and the Terrible, Horrible, No Good, Very Bad Day".
The two met on the set of the film, but didn't start dating until years later. They could've been seen attending most of their red carpet events together, and the relationship lasted for around a year and a half.
Since late 2020, he's been dating Lydia Night, an American musician, who's known best for being the lead vocalist of the punk rock band the Regrettes.
Dylan hasn't spoken of any other girls whom he has perhaps been with, so as of July 2021, he's in a relationship with Lydia Night, hasn't married, and doesn't have children.
Hobbies and other interests
Dylan's quite active on Instagram, as he seems to be enjoying the attention he's receiving from his 7.5 million followers. He's uploaded over 250 pictures, most of which have been taken during his everyday life, and which occasionally feature his friends and girlfriend Lydia.
Photography is amongst Dylan's favorite hobbies, and many pictures taken by him can be seen uploaded onto his Instagram account.
He's into travelling, and his acting career has taken him to various US states, as well as to a couple of European countries.
Dylan has several training sessions at the gym each week, thus his muscular body.
He has his own favorite actors and actresses, some of whom are Robert De Niro, Jim Carrey and Amanda Seyfried, and a couple of his favorite movies are the trilogy "The Godfather", "Bruce Almighty" and "Letters to Juliette".
Age, height and net worth
Dylan's age is 24. He has short brown hair and blue eyes, his height is 5ft 8ins (1.73m) and he weighs arounds 156lbs (71kgs).
As of July 2021, his net worth has been estimated at over $3 million.