• Nichole Sakura O'Connor is an American actress and model, formerly known as Nichole Bloom.
• She studied theatre at the University of Southern California, graduating with a Bachelor of Fine Arts degree.
• She has appeared in movies such as "Project X" (2012), "Model Minority" (2012), "Lazer Team 2" (2017), and "Teenage Cocktail" (2016).
• She has also voiced characters in TV series such as "OK K. O.! Let's Be Heroes" (2017) and "Big Hero 6: The Series" (2017).
• Nichole's net worth is estimated at over $2 million.
Who is Nichole Sakura?
Nichole Sakura O'Connor was born in Santa Clara County, California USA, on 15 December 1989 – her zodiac sign is Sagittarius and she holds American nationality. She's an actress and a model, professionally she was previously known as Nichole Bloom, who's perhaps known best for her portrayal of Amanda in the comedy drama series "Shameless" created by John Wells and Paul Abbott, and which starred Emmy Rossum, William H. Macy and Ethan Cutkosky. It follows the lives of a Chicago family, and won 16 awards while it was nominated for 66 others including two Golden Globes. It aired from 2011 to 2021, while Nichole was a member of the cast from 2014 to 2016.
Early life and education
She was raised in Santa Clara County as an only child by her Irish father Kevin Kelly O'Connor, and her Japanese mother Kinuko Mizuno.
Nichole became interested in acting at a very early age and begged her parents to drive her to auditions, hoping to launch her acting career. Aged 14, Nichole and family moved to Los Angeles in California, and enrolled at a local high school at which she was a member of the drama club and appeared in nearly all the plays performed at the school. Upon matriculating in 2007, she enrolled at the University of Southern California from which she graduated with a Bachelor of Fine Arts degree in theatre in 2010.
Roles in movies
Nichole made her debut film appearance in the 2010 short drama "Special Delivery II", written and directed by Diana Chao, and in which she starred alongside Alberto Marenco. It follows a female photographer who meets a boy artist.
The following year saw her play Rachel in the short drama "Carpool", and in 2012, Nichole appeared in her first feature film: the hit comedy "Project X" which starred Thomas Mann, Oliver Cooper and Jonathan Daniel Brown, and follows three high school teenagers who are organizing a birthday party, however, things get out of control after numerous people come to attend it. The movie was nominated for five awards. The same year saw Nichole play the lead character Kayla Tanaka in the drama "Model Minority" written and directed by Lily Mariye, and which follows the life of a 16 years old girl after her parents decided to divorce.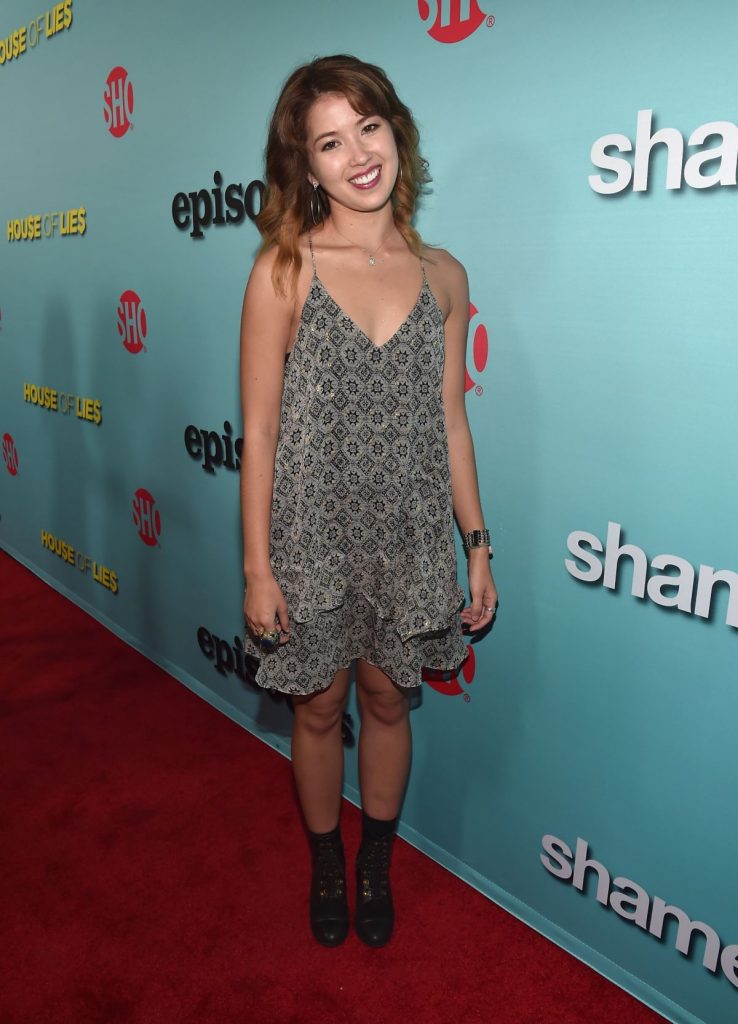 Her following roles were in the short movies "Full Circle" and "Kiko in America", and in 2015, she portrayed Kayla in the comedy "Man Up" which follows the 19 years old Martin whose Mormon girlfriend becomes pregnant.
The year 2016 saw her star as Annie Fenton in the thriller drama "Teenage Cocktail", written and directed by John Carchietta, and which also starred Fabianne Therese and Pat Healy. It follows the best friends Jules and Annie who decide to run away from home. The movie won one and was nominated for one other award.
Three of Nichole's most recent roles in movies have been in the 2017 action science fiction comedy "Lazer Team 2", the 2017 short comedy "Nice Girls" and the 2017 short drama "Ella".
Roles in TV series
Nichole made her debut TV series appearance with her portrayal of Lucy in the 2012 short comedy "Lazy Me", and in 2014 she appeared as Rinko in two episodes of the hit action fantasy drama "Teen Wolf", which starred Holland Roden ,Tyler Posey and Dylan O'Brian, and follows two best friends whose lives are entirely changed after one of them is bitten by a werewolf. It aired from 2011 to 2017, and won 23 awards out of the 62 it was nominated for.
Nichole then appear in an episode or two of various series, such as the romantic drama "Grey's Anatomy" and the comedy "Guest Appearances", and was in 2017 invited to make her voicing debut in the short animated action "OK K. O.! Let's Be Heroes". Praised for her performance, she was then invited to voice characters in the animated adventure comedy "Robot Chicken", and the animated action adventure "Big Hero 6: The Series".
Nichole has until just recently in 2021 been shooting as the lead character Cheyenne for the comedy "Superstore". The series was created by Justin Spitzer, also starred Nico Santos and Ben Feldman, and follows the lives of people working at a big box store. It aired from 2015 and won three out of the 18 awards it was nominated for.
Other credits
Nichole has two writing credits – she wrote the 2013 short comedy movie "Kiko in America" which she also directed and produced, and wrote the 2017 short comedy film "Nice Girls".
She also made an appearance in the 2010 short news show "Everyday.", and in an episode of the 2018 talk-show "The IMDb Show".
In 2015, Nichole voiced the character Emily in the video game "Until Dawn".
Awards and nominations
In 2012, Nichole won a VC FilmFest – Los Angeles Asian Pacific Film Festival Special Jury Prize for Best Newcomer for her performance in the drama film "Model Minority", and for the same film, in 2013 she and her colleagues won a London Independent Film Festival Prize for Best Micro-Budget Feature,".
Love life and relationships
Nichole's very secretive when it comes to her love life and has revealed very little about it.
On 22 January 2018, she tweeted about being in a relationship with a mysterious man, but hasn't disclosed any details concerning her boyfriend, except that he was born on 25 August. The two have seemingly been together since then however, there are rumors circulating the internet that they have split, which is why Nichole hasn't since spoken about him.
There are also those who claim that Nichole is a lesbian. One of her fans has written on the website Reddit about having seen the actress being rather too close to her female friend, however, the post has since been deleted and Nichole hasn't commented.
As she hasn't mentioned her split from her mysterious boyfriend, Nichole appears to be in a relationship as of February 2021, but hasn't married and doesn't have children.
Hobbies and other interests
She's a huge dog lover and has just recently got herself a pet dog she calls Pikachu, and it can be seen featured in many of her Instagram pictures and videos.
Nichole seems to be addicted to working out, as she has five to six, and sometimes even seven training sessions at the gym each week.
She has uploaded several videos taken at the gym onto her Instagram account to motivate her fans to be physically active, as she proposes that it's healthy for both body and brain.
She loves to dress up for Halloween parties, and is now hoping to attend her first cosplay event.
In her spare time which is usually late at night, Nichole likes to watch movies starring her favorite actor and actress Heath Ledger and Anne Hathaway, such as "10 Things I Hate About You", "Brokeback Mountain" and "One Day".
Age, height and net worth
Nichole's age is 31. She has long brown hair and brown eyes, her height is 5ft 7ins (1.7m) and she weighs around 135lbs (61kgs).
As of February 2021, her net worth has been estimated at over $2 million.