• Isaiah Mustafa is a 47-year old African-American former professional American Football player, director, writer and actor.
• He gained massive fame from being the brand face for Old Spice for more than 11 years.
• He starred as Mike Hanlon in "It Chapter Two" and Luke Garroway in "Shadowhunters".
• He has won awards for his contributions to "It Chapter Two".
• He has an estimated net worth of close to $5 million.
Who is Isaiah Mustafa?
Born Isaiah Amir Mustafa under the sign of Aquarius on the 11th of February 1974, in Portland, Oregon USA, Isaiah Mustafa is a 47-year old African-American former professional American Football player (1997-2000), director, writer and actor. His massive fame comes most of all from being the brand face for the world-famous US brand of male grooming products Old Spice for more than 11 years. Besides that, he has also had numerous roles in Hollywood, including highly significant titles, such as "It Chapter Two" and "Shadowhunters." There are a multitude of successes spanning his ongoing acting career since 2005.
Early life: A big man from a big family
Isaiah was raised as the youngest of seven siblings, five sisters and one brother, in a Muslim family, initially in his birthplace.
Last night at the #NFLHonors side hello to my @Twitter peeps. #NFL100 @OldSpice pic.twitter.com/rT00yus8Lt

— Isaiah Mustafa (@isaiahmustafa) February 2, 2020
His father is John Wali Mustafa, and his mother Shahidah Mustafa-Davis, of unknown professions. The family moved when Isaiah was five years old, to Mission Viejo, Orange County, California. His father then abandoned the previous job and started up a limousine service in nearby Laguna Hills. Tragedy unfortunately followed a couple of years later, when Isaiah's father lost his life in a car accident.
Isaiah was always physically active as a child, and excelled at sports, being very good at basketball and also ran track at Santa Clara High School, from where he matriculated in 1992. Mustafa initially pursued a history degree, at Santa Monica College, however, he had a change of heart and transferred to Moorpark College, then yet again to Arizona State University, from where he graduated with a degree in history in 1995.
Career: From football to stardom
After playing on several college basketball teams, including at Moorpark College as well as Arizona State University. Isaiah then took an interest in Football, moved onto the big leagues two years after his graduation. Playing in 1997's Rose Bowl with former National Football League (NFL) player Jake Plummer caused him to re-think his career at the subsequent suggestion of a sports agent, as he actually intended on becoming a high school teacher. Mustafa then ended up in the NFL – the Tennessee Oilers were the first to sign him to their practice squad, after which he went to NFL Europe's Barcelona Dragons a year later.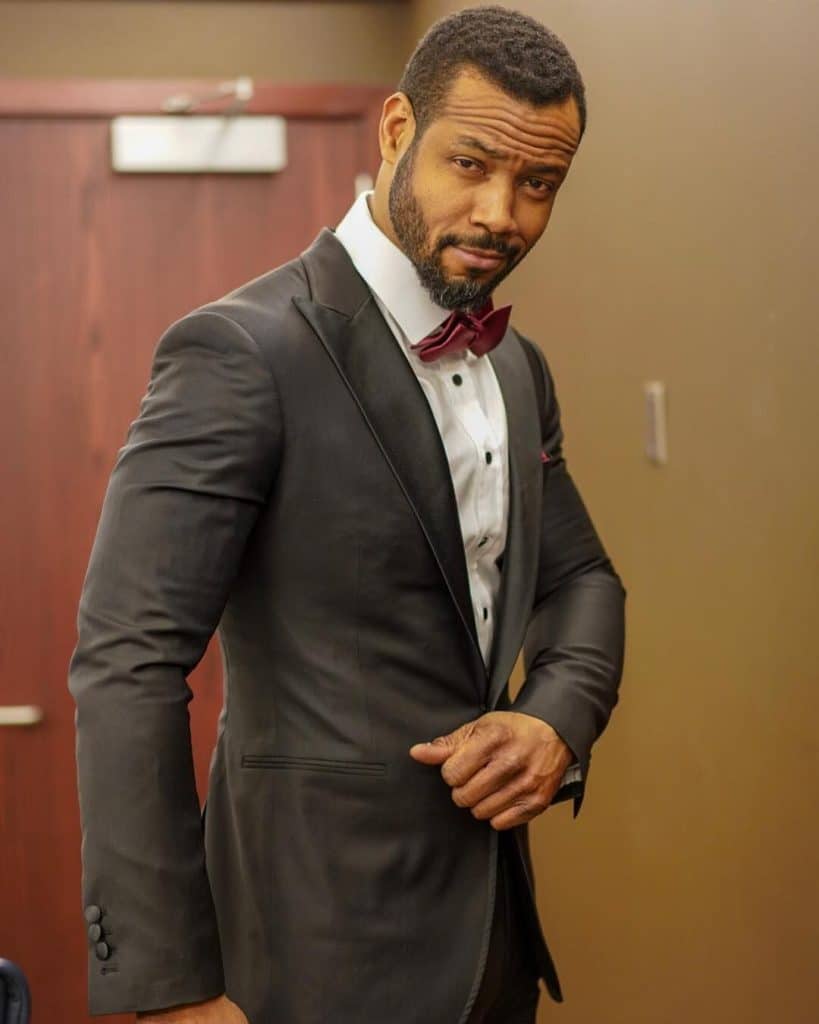 He also attended Cleveland Browns and Oakland Raiders' practice squads for a year, and in 2000 arrived into the Seattle Seahawk's training camp, but ultimately chose to devote himself to a different profession.
He spent five years perfecting his acting skills until his first screen appearance, namely as Injured Football Player in "The Island" in 2005, although uncredited. His first credited role came in 2006, when he appeared as Moses in a short film "The Last Supper". In 2008, he starred as Bailiff in an episode of "Ugly Betty", and voiced Luke Cage in 2009's "Marvel Super Heroes: What The–?!"
The last 12 years in the business
Even though he had only three roles in 2010, it was the one that isn't credited as a film or TV series that skyrocketed him into world fame.
He did a commercial for Old Spice brand in February 2010, thus appearing on TV notoriously as The Man Your Man Could Smell Like. Isaiah fully exploded on the screen in 2011, showing up in a total of nine titles, but more importantly, he starred in another commercial for Old Spice – its new ad campaign on YouTube, for which he competed with fellow actor Fabio Lanzoni in a so-called 'manhood test' entitled "Mano a Mano in el Baño."
He then slowed down a bit, with four roles in 2012 and three in 2013, grabbing another four in 2014, and just one in 2015. However, the year 2016 was the real breakthrough for Isaiah, as he landed the part of Luke Garroway in world-famous "Shadowhunters", which he played through 55 episodes from 2016 to 2019.
Concurrently he also had several other roles in films and TV series, such as Gabriel in "Girl Flu" in 2016, as well as Cottonmouth in "Robot Chicken" in 2018.
Becoming a legend
Arguably Isaiah's greatest success yet was achieved in 2019, when he came out on screen as Mike Hanlon in the long awaited "It Chapter Two". Following that massive success, he remains to be seen in two upcoming titles, wherein his roles are not yet publicized; the films in question are "Murder at Emigrant Gulch" and "Home Team."
Mustafa has a total of 43 acting credits, but that's not all, as he's also written and directed two films. The first was a comedy from 2013 entitled "Cosplaya", in which he had the lead role as well, while the second was the short drama "Rosalinda" from 2020, but this time he wasn't seen in it as there were only two roles.
Isaiah has also won two awards for his contribution to "It Chapter Two", including The BAM Award in the Best Cast category for the whole cast of the film, as well as the Fright Meter Award in the Best Ensemble Cast category, which he also shared with the cast, both in 2019.
What you may not have known about Isaiah
The Hollywood star didn't just get into acting out of nowhere, as he actually entered the popular game show "The Weakest Link", and won a whopping $47,000 just for answering some questions, one of them asking for the first name of Doctor Frankenstein. Since Isaiah is an avoid comic book fan, he of course knew the answer. He also always had the wish to star as Luke Cage because of his love for Marvel comics.
In 2000 he even owned a restaurant situated on Melrose Avenue in Los Angeles, but due to his busy acting career, it eventually had to close down.
Last but not least, Mustafa broke a small bone in his hand without even realizing it momentarily on the set of "It Chapter Two", but fortunately everything worked out and the filming wasn't set back by the incident.
Love life: Who did he date before?
Mustafa actually entered his marriage to Lisa Mitchell with a daughter named Haley Mustafa from a previous marriage, though the identity of the woman in question or how long they had been married is unknown.
At an unspecified point in time, he also dated actress and professional wrestler Catherine Joy Perry, who was also known as Lana in the ring. He started dating Lisa Mitchell in 2016, and after two years of a passionate relationship, they married in a private ceremony on the 26th of May 2018. They don't have any children together, and there's been no controversy about their union. The two are believed to reside happily together at an undisclosed location in California.
What is Isaiah Mustafa's net worth?
Isaiah Mustafa's total accumulated wealth is estimated at close to $5 million, thanks most of all to being the leading face of one of the world's most popular men's product brands, Old Spice, though his movie and TV series appearances have also contributed. Isaiah's career is still ongoing, so the said net worth should definitely increase.