• Ella Bleu Travolta is a 21 year old American actress with an estimated net worth of over $1 million.
• She is the daughter of Hollywood stars John Travolta and Kelly Preston.
• She has made several television and film appearances and is set to appear in the upcoming drama "Get Lost".
• John Travolta is a famous American actor, producer and singer with a net worth of over $250 million.
• He is known for his roles in films such as "Saturday Night Fever", "Grease", "Pulp Fiction" and "Get Shorty" and for producing the FX series "American Crime Story".
Who is Ella Bleu Travolta?
Ella Bleu Travolta was born on 3 April 2000 under the zodiac sign of Aries, in Los Angeles, California USA. She is a 21-year-old actress, but probably still best recognized for being the daughter of Hollywood star John Travolta, and the late actress and model Kelly Preston.
How rich is she, as of now? Ella Bleu Travolta Net Worth
As of early 2021, Ella Bleu Travolta's net worth is estimated at over $1 million,acquired through her acting career. Moreover, she probably enjoys the impressive wealth of her famous father John Travolta, whose net worth is estimated at over $250 million; her mother also has a not insignificant amount of around $20 million in the bank.
Early Life, Parents, Nationality, Ethnicity, Educational Background
Ella Bleu Travolta was raised in a famous family by her parents, who met on the set of "The Experts" in 1987, and tied the knot four years later; her mother died from the effects of  breast cancer in 2020. Ella had two brothers, but her elder brother Jett born in April 1992 passed away in January 2009. Her younger brother named Benjamin, was born in 2010. Ella holds American nationality and belongs to White Caucasian ethnic group. Regarding her education, Ella has never shared any details.
Professional Career
Ella Bleu Travolta made her debut TV appearance when she was just one year old, in the short documentary film "Not Under My Roof", alongside her mother Kelly Preston.
As she grew up, Ella developed her love for performing, dancing and singing, and eventually decided to pursue a career as an actress, following her parents. So, she made her acting debut in the role of Emily in the 2009 ensemble comedy "Old Dogs", which also featured her parents alongside Robin Williams. A decade later, Ella continued her career and portrayed Rebecca 'Becky' Hunt in the 2019 thriller "The Poison Rose", sharing the screen with her father and Morgan Freeman. Most recently, it's been announced that she will play Alicia / Alice in the upcoming drama "Get Lost", which is currently under pre-production.
Appearance and Vital Statistics
Ella Bleu Travolta has long dark brown hair and hazel blue eyes.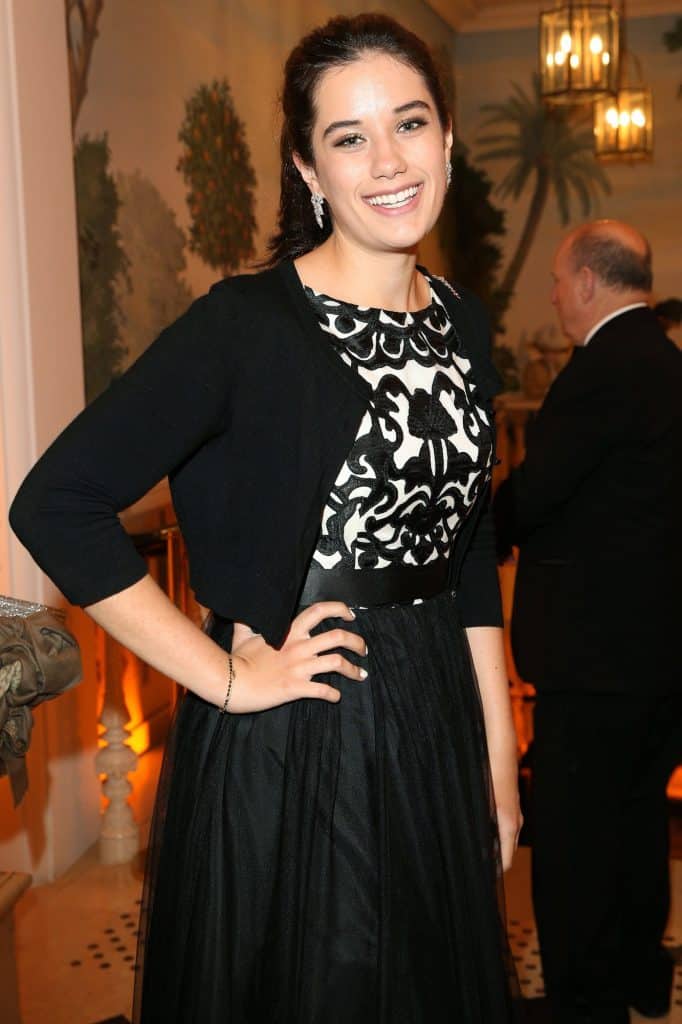 She stands at a height of 5ft 10ins (1.78m), her weight is around 135lbs (62kgs), and her vital statistics are 36-26-38. Her bra size is 34B, dress size 4 (US), and shoe size 8 (US).
Personal Life
Ella Bleu Travolta is very secretive when it comes to speak about her personal life; she's never been linked to any guy, or girl. Her current relationship status remains a mystery but it is believed that she is single. She still lives with her father and younger brother in Los Angeles.
Who is her father? John Travolta Short Wiki/Bio
John Joseph Travolta was born on 18 February 1954 under the zodiac sign of Pisces, in Englewood, New Jersey USA, of Irish, Italian, and American descent.
There he was raised by his father Salvatore 'Sam' Travolta, who was a semi-professional American Football player and tire salesman, and his mother Helen Cecilia (née Burke) who was an actress and singer, a member of The Sunshine Sisters before she became a high school English and drama teacher. He has five elder siblings, named Sam, Joey, Ellen, Margaret, and Ann. They were raised Roman Catholic, but he later converted to Scientology. Regarding his education, John went to Dwight Morrow High School, but dropped out at the age of 17.
Career Beginnings
John then moved to New York City and joined the touring company of the musical "Grease", followed by a role in the Broadway production of "Over Here!".
He then relocated to Los Angeles to continue his career, and made his debut TV appearance as Chuck Benson in an episode of the NBC action-adventure comedy series "Emergency!" in 1972, while his film debut came later with the role of Danny in the horror "The Devil's Rain" in 1975.
Rise to Stardom and "Saturday Night Fever"
John Travolta's big break came when he was chosen to play Vinnie Barbarino in the ABC sitcom "Welcome Back, Kotter", from 1975 to 1979. Concurrently, he landed his first significant film role as Billy Nolan in Brian De Palma's 1976 supernatural horror "Carrie", which became a box office hit. Thereafter, he secured the role of Tony Manero in the huge commercial success "Saturday Night Fever" (1977), which catapulted him to international stardom.
For his performance, John Travolta was nominated for an Academy Award for Best Actor at the age of 24, which made him one of the youngest nominees in history. He would later reprise the role in its 1983 sequel, entitled "Staying Alive", which although panned by critics, became a box office success grossing over $127 million worldwide.
Continued Success and "Grease"
His next major role came in 1978 when he featured as Danny Zuko in the critically-acclaimed musical romantic comedy "Grease", which became the highest-grossing musical film ever at the time,taking over $360 million at the box office, on a budget of just $6 million; he even performed several songs on its soundtrack album, ably assisted by Australian Olivia Newton-John.
It was followed by his portrayal of Bud in James Bridges' 1980 romantic Western film "Urban Cowboy", alongside Debra Winger. Following several commercial and critical failures, John Travolta secured the role of James Ubriacco in the box office hit "Look Who's Talking" (1989), which grossed over $297 million against a budget of $7.5 million, his most successful film after "Grease". He then reprised the role in its sequels, "Look Who's Talking Too" (1990) and "Look Who's Talking Now" (1993).
Further Work and "Pulp Fiction"
John Travolta received his second Academy Award nomination for Best Actor for his portrayal of Vincent Vega in Quentin Tarantino's 1994 neo-noir black comedy crime "Pulp Fiction", co-starring Samuel L. Jackson, Bruce Willis, and Uma Thurman.
It's considered Tarantino's masterpiece, and is rated one of the greatest films ever made. In the following year, Travolta starred as Chili Palmer in the 1995 gangster comedy-thriller "Get Shorty", which earned him the Golden Globe Award for Best Actor in a Motion Picture – Musical or Comedy. He then landed such major roles as Sean Archer in the commercially successful "Face/Off" (1997), next to Nicolas Cage; Brig. Gen. Quintard in the critically-acclaimed "The Thin Red Line" (1998), which was nominated for seven Academy Awards; and Paul Brenner in the box office hit "The General's Daughter" (1999), directed by Simon West.
The 2000s and 2010s
John Travolta continued to line up success after success with the beginning of the new millennium, starring in the roles of Gabriel Shear in the 2001 action thriller "Swordfish" alongside Hugh Jackman and Halle Berry, and playing Captain Mike Kennedy in Jay Russell's 2004 disaster thriller "Ladder 49". In 2007, he appeared in his first musical since "Grease", landing the role of Edna Turnblad in "Hairspray", based on the Broadway musical of the same title. Thereafter, Travolta voice the title role in the 2008 animated adventure comedy "Bolt", and then starred in various action and thriller films. He then produced and featured as Robert Shapiro in the first season of the FX true crime anthology series "American Crime Story", entitled "The People v. O. J. Simpson" (2016), for which he received his first Primetime Emmy Award.
Following the death of his wife in 2020, Travolta put his career on hold.