Maggie Lawson is an American actress, perhaps best known for appearing in the popular TV Show "Psych" from 2006 through 2014, playing the role of Detective Juliet 'Jules' O'Hara. Keep reading to get in-depth details about Maggie Lawson's personal and professional life.
Early Life, Family, Educational Background
Margaret Cassidy 'Maggie' Lawson was born on 12 August 1980 under the zodiac sign of Leo, in Louisville, Kentucky USA. She holds American nationality but she also retains her Irish ethnicity.
Her father Mike Lawson worked as a hotel manager, while her mother Judy Lawson worked within the home. Maggie was raised in the midst of two boys, Nick and Chris Lawson. Although Maggie's parents were not very religious, they raised their children in the Catholic faith.
At age eight Maggie developed an interest in acting, and started taking some roles at the local theater. When she was 10, she was on a radio commercial for a TV station in Louisville. Subsequently, she was featured as a news reporter on a children's program that lasted for six years. Following this background as a child journalist, she landed another journalism opportunity as a youth TV host on Fox 41's Kid's Club in Louisville, a job she did until she moved to Los Angeles.
For Maggie's middle school education, she attended Stephen Martyr School. After her matriculation from an all-girls Catholic school named Assumption High School, Maggie moved to Los Angeles to pursue professional acting.
Later, she studied at the University of Louisville.
Career
Acting will always be Maggie Lawson's first love. She made her television debut in four episodes of the American sitcom, "Unhappily Ever After" (1996), when she was 15 years old. The following year, she made a minor appearance as Debbie in "Boy Meets World" (1997), a coming-of-age TV drama, alongside Ben Savage and Rider Strong.
In 2000, Maggie starred in Disney Channel's "Model Behavior", playing a double role as Alex Burroughs and Janine Adams. The following year, she landed the recurring role portraying Eve Morris in "Inside Schwartz", upgraded to the main cast from the 7th episode.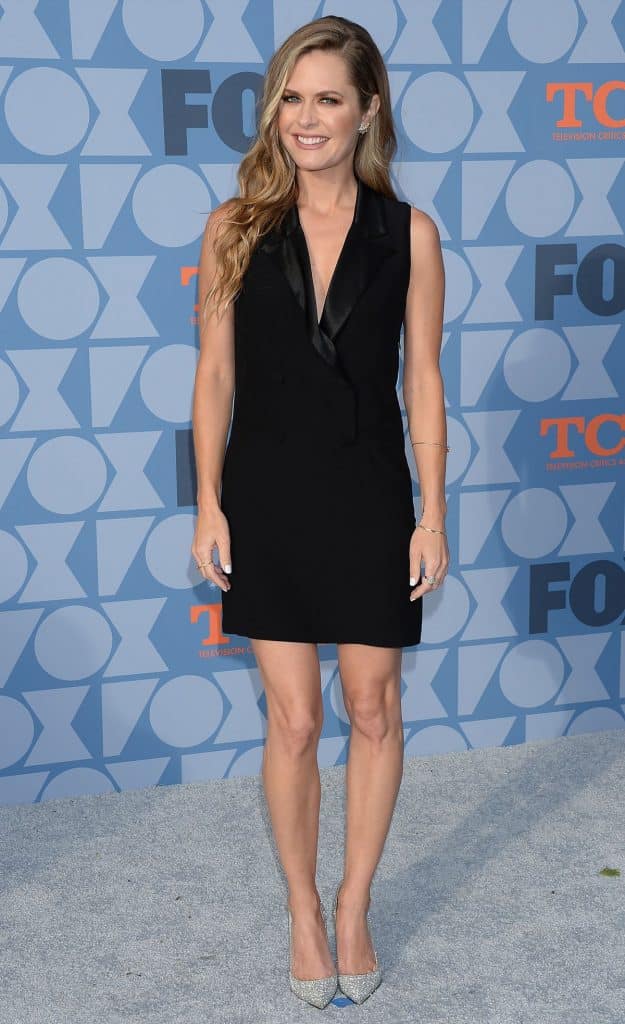 In 2002, Maggie played the titular role of Nancy Drew, the teen detective in the film directed by James Frawley, and in the early 2000s, appeared in various television series and movies, including; "Smallville" (2002), "It's All Relative" (2003-04),  "Love Rules" (2004), and "Crumbs" (2006).
Maggie got her breakthrough when she landed a major role in "Psych" an American detective comedy series, playing Juliet 'Jules' O'Hara, a junior detective at the Santa Barbara Police Department, working closely with head detective Carlton Lassiter. The show ran on USA Network from 2006 through 2014, casting other prominent actors such as James Roday Rodriguez, Anne Dudek, and Timothy Omundson. She reprised her role in "Psych: The Movie" (2017), "Psych 2: Lassie Come Home" (2020), and "Psych 3: This is Gus" (2021).
Concurrently, for Lifetime Movies, she played Lacey Smithsonian, a fashion designer turned detective, in "Killer Hair" and "Hostile Makeover" both in 2009. Subsequently, she landed a lead role in "Back in The Game" (2013) as Terry Gannon Jr. opposite James Caan, Ben Koldyke, and Griffin Gluck.
In 2011, Maggie briefly returned to the theater to star in a play directed by James Roday, "Greedy", which ran for a few weeks in a Los Angeles theater.
She had a brief stint with Hallmark, appearing in the channel's "My Favorite Wedding" and "Christmas Encore" both in 2017. Two years later, she starred in "The Story of Us" and "Christmas in Evergreen".
From 2018 through 2019, she played a recurring role in the American police drama "Lethal Weapons", portraying Natalie Flynn. In 2020, she starred in the sitcom "Outmatched", created by Lon Zimmet, playing Kay, the mother of four children, three of whom were certified geniuses.
Personal Life, Relationship
The media thrives off digging into the personal lives of celebrities, and Maggie's wasn't an exception. Between 2003 and 2005, Maggie was in a relationship with actor and producer Eric Christian Olsen, who played Detective Marty Deeks in "NCIS: Los Angeles" (2009).
Then she dated James Roday Rodriguez, her co-star in "Psych". The couple was together throughout the series (2006- 2014).
After a few months of dating Ben Koldyke, her co-star in "Back in the Game" they became engaged on 14 November 2014, and on 8 August 2015, they had a ranch-themed wedding on Ben's family ranch in New Mexico, US. However, like many other celebrity marriages, their union didn't last. Maggie Lawson filed for a divorce in 2017, since when she's kept a low profile. She is active on Instagram, on which she has over 170,000 followers, but doesn't share details of her personal life.
Maggie Lawson has always had a love for animals. She rescued her first animal at age 10 in 1990, close to a restaurant in Louisville, and christened it Popcorn. As an adult, she continues to donate her time and resources to rescue animals and fight against the abuse of animals.
In 2014, she and Jude McVay founded The Tiger Frances Foundation, a non-profit organization fighting against animal abuse and donating its resources towards animal rescue.
She is also actively involved with "Love on Paws," a program that teaches children how to be kind to animals. She has a best friend named Rebecca Paige Mayer, who is also a lover of animals.
Maggie Lawson now lives in Los Angeles, with her dog, Peanut.
Appearance, Clothing Style
Maggie Lawson is 5ft 3ins (1.6m) tall, and weighs around 120lbs (55kgs). She has grey eyes and brown hair. Maggie's clothing style alternates between elegant dinner gowns and regular tank tops and sweatpants.
Hobbies, Favorite Things, and Interesting Facts
Maggie loves to sing.
Her favorite food is bacon; she also likes rice cakes and peanut butter.
She played softball in high school.
Maggie loves traveling.
She is an ally of the LGBTQ community.
Net Worth and Salary
As of July 2021, 40-year-old Maggie has an estimated net worth of $3 million, amassed as an exceptional actress who will hopefully gain more in the years to come. There are currently no details of property belonging to Maggie Lawson or her family members.