• Molly Shannon is an American actress and comedian best known for her work on "Saturday Night Live".
• Her early life was marked by tragedy when her mother, sister and cousin died in a car accident when she was four years old.
• She has appeared in many films and TV series, including "Seinfeld", "Will & Grace", "Glee" and "Bob's Burgers".
• She has won several awards and is currently writing a memoir entitled "Hello, Molly!" which will be published in 2022.
• She is 56 years old and has an estimated net worth of $7 million.
Molly Shannon Wiki Bio
Molly Helen Shannon was born in Shaker Heights, Ohio USA, on 16 September 1964 – her zodiac sign is Virgo, she is of Irish descent, and holds American nationality. She's an actress and a comedian, perhaps stil known best for having been a cast member of "Saturday Night Live" (SNL), from 1995 to 2001.
Early life and education
Molly was born into an Irish American Catholic family. Her father, James Francis Molly was a sales manager, while her mother, Mary Margaret worked as a teacher at a local high school. When Molly was four years old, she survived a car accident in which her mother, sister and cousin were killed.
She received primary education at St. Dominic School in Shaker Heights, and then attended Hawken School Gates Mills, Ohio.
After matriculating, she became a student at New York University, from which she graduated in 1987 with a degree in drama.
Before her acting career took off, Molly worked at Cravings restaurant on Sunset Boulevard in Los Angeles, California, and as a food demo girl at Gelston's supermarket.
Roles in movies
Molly made her film debut in the 1989 horror musical "The Phantom of the Opera", one of many adaptations of the eponymous novel by Gaston Leroux. Her next movie role was in the romantic drama "Return to Two Moon Junction", directed by Farhad Mann, and which starred Melinda Clarke, John Clayton Schafer and Louise Fletcher.
In 1998, she played the role of Nancy in the comedy drama "Happiness", the Grand Prix winner at that year's edition of the Cannes Film Festival.
In the following year, she starred in the comedy "Superstar", the feature-length movie based on her SNL character, Mary Katherine Gallagher. In the same year, she starred alongside Drew Barrymore and David Arquette in the romantic comedy "Never Been Kissed", following a newspaper reporter who enrolls at a high school as part of research for a news story. Before quitting SNL in 2001, she also starred in "How the Grinch Stole Christmas", "Serendipity" and "My 5 Wives".
In 2006, Molly played the supporting character Marilyn, in the fourth installment of the "Scary Movie" franchise. In the same year, she appeared in the Oscar-winning biographical movie "Marie Antoinette", written and directed by Sofia Coppola, and which starred Kristen Dunst, Jason Schwartzman and Rip Torn.
Molly voiced the character Wanda Werewolf in the 2012 animated movie "Hotel Transylvania", and reprised her role in the two sequels to the film, entitled "Hotel Transylvania 2" (2015) and "Hotel Transylvania 3: Summer Vacation" (2018), as well as in the final sequel "Hotel Transylvania: Transformania", set to be released late in 2021.
The most recent movie role for Molly was in the 2020 thriller crime drama "Promising Young Woman", written and directed by Emerald Fennell, and which starred Carey Mulligan, Bo Burnham and Alison Brie.
Roles in TV series
Molly made her TV series debut in 1991, when she appeared in an episode of the cult-classic mystery drama "Twin Peaks". Between 1992 and 1993, she appeared alongside Jim Carrey and Shawn Wayans, in several episodes of the comedy sketch show "In Living Color", playing various roles.
In February 1995, Molly became a cast member of the late night variety show "Saturday Night Live", replacing Janeane Garofalo who unexpectedly left mid-season. Molly was one of the few cast members who were retained in the show, after the series' creative director, Lorne Michaels overhauled the cast and writers for season 21. She stayed a cast member until 2001, and many consider the work she did with SNL to be her acting breakthrough.
Following that success, Molly guest-starred in a number of popular comedy TV series. In 1997, she played Elaine Benes' co-worker, Sam, in an episode of the popular sitcom "Seinfeld", entitled "The Summer of George". She then played the recurring role of wacky neighbor Val Bassett, in eight episodes of the sitcom "Will & Grace".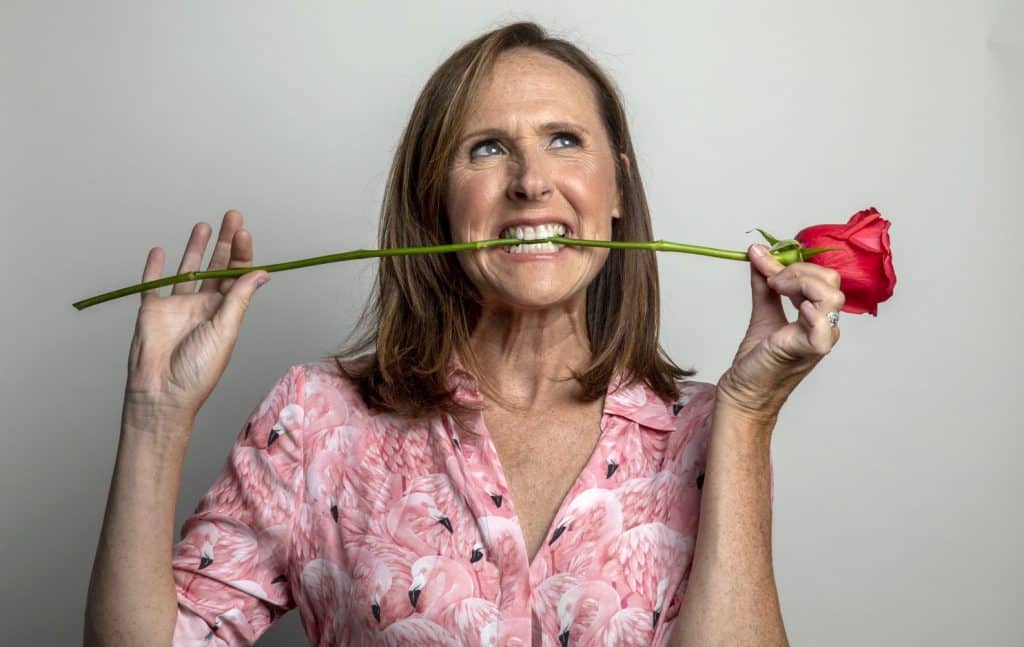 In 2004, she starred in the Fox Network comedy "Cracking Up", created by Mike White, and which also starred Jake Sandvig and Christopher McDonald. In 2008 and 2009, Molly played one of the leads in the American version of the Australian sitcom about a dysfunctional mother-daughter relationship, entitled "Kath & Kim".
In 2010, Molly joined the cast of the popular musical series "Glee", in which she played the role of Brenda Castle, an astronomy and badminton teacher and the rival to Sue Sylvester. Since 2013, she has been voicing the recurring character Molly, in the animated comedy "Bob's Burgers", and 2021 sees Molly appearing in four episodes of the HBO mini-series "The White Lotus".
Awards and accolades
In 1998, Molly won the National Board of Review Award for Best Acting Ensemble, shared with her co-stars from the movie "Happiness".
Two years later, she was rewarded with the Online Film & Television Association Award for her performances in "Saturday Night Live".
For her performance in "Will & Grace", Molly won the 2006 TV Guide Award. In 2018, she was the winner of the Excellence in Acting Award at the Provincetown International Film Festival.
Throughout her career, Molly has been nominated for three Primetime Emmys, for her performances in "SNL" (2000), "Enlightened" (2013) and "Will & Grace" (2018).
Love life and relationships
Molly has been married to the artist Fritz Chesnut since May 2004 – for the wedding ceremony, she wore a custom dress designed by the SNL wardrobe department head, Dale Richards. Molly and Fritz have two children together, daughter Stella, born in 2003, and son Nolan in 2005.
Fritz is an artist, known for his abstract and patterned paintings. He graduated from the University of California in 1995, and two years later completed his Master's degree from Mason Gross School of the Arts at Rutgers University. Today, his work can be seen in many galleries and museums across the US, such as Public Fiction in Los Angeles, California, White Columns in New York City and Buffalo, and the Andrew Rafacz Gallery in Chicago, Illinois.
Hobbies and interesting facts
Molly comes from the same neighborhood as the actors Paul Newman, Fred Willard and David Wain.
She is best friends with fellow actress Heather Graham.
She is currently writing her memoir entitled "Hello, Molly!", which is set to be published in April 2022. In the memoir, Molly talks about her life after her mother and sister died in a car crash, her connection with her dad, favorite memories from SNL, and more.
She has two pet dogs called Betty and Cinnamon, both of which she adopted from an animal rescue shelter.
Molly loves travelling, and has visited many countries in recent years, including Italy, Japan and Hungary.
Appearance, age and net worth
Molly is 56 years old. She has long brown hair and brown eyes, is 5ft 5ins (1.65m) tall, and weighs around 132lbs (60kgs).
As of August 2021, her net worth is estimated at more than $7 million.