• Morgan "Mo" Turner was born in 1999 in West Chester, Pennsylvania
• Their mother Sandra Landers is a successful working actress since 1992
• Morgan appeared in various movies since 2006, from "Invincible" to "Jumanji: Welcome to the Jungle"
• Morgan came out as non-binary in April 2021 and are in a relationship with boyfriend Rob Dukes since 2019
• Sources estimate Morgan's net worth to be over $1.5 million due to their roles in the Jumanji movies
Who is Morgan Turner?
Born on 29th April 1999, in West Chester, Pennsylvania USA, Morgan "Mo" Turner is a promising actor who has been in the industry since 2006. Morgan is 5ft 4 (163cm) tall and weighs 48kgs 105lbs (48kgs), with vital statistics of 32-26-33. According to 'their' Instagram, Morgan is non-binary and prefers the 'them/they' pronouns.
Morgan's Early Years & Family
Morgan matriculated from Methacton High School, a public high school in Fairway Village, Pennsylvania, and is included in the list of notable alumni along with award-winning author Jennifer L. Holm and pro baseball player Robbie Wine.
The school has a plethora of extra-curricular activities including a Robotics Club and Academic Decathlon, but interestingly there is no mention of anything related to acting or drama.
However, it's unsurprising that Morgan decided to pursue acting as a career. Her mother, Sandra Landers, is a successful working actress in her own right, who has been active in the industry since 1992, when she appeared alongside Brendan Fraser and Matt Damon in "Private School". Despite the 17-year hiatus in Sandra's career, she also boasts acting credits in productions such as "The Lovely Bones", and "Law and Order: Special Victims Unit".
As for Morgan's father Eric Turner, nothing is known about him. Morgan appears to be an only child.
Morgan's First Roles
Morgan landed their first role in 2006 as Susan Vermeil in "Invincible", working with seasoned actors including Mark Wahlberg and Elizabeth Banks. The sports drama focuses on the life of Vince Papale and his rags-to-riches transition from bartender to National Football League (NFL) player. Despite not being a blockbuster, the movie was well-received by critics and viewers alike, and racked up two nominations.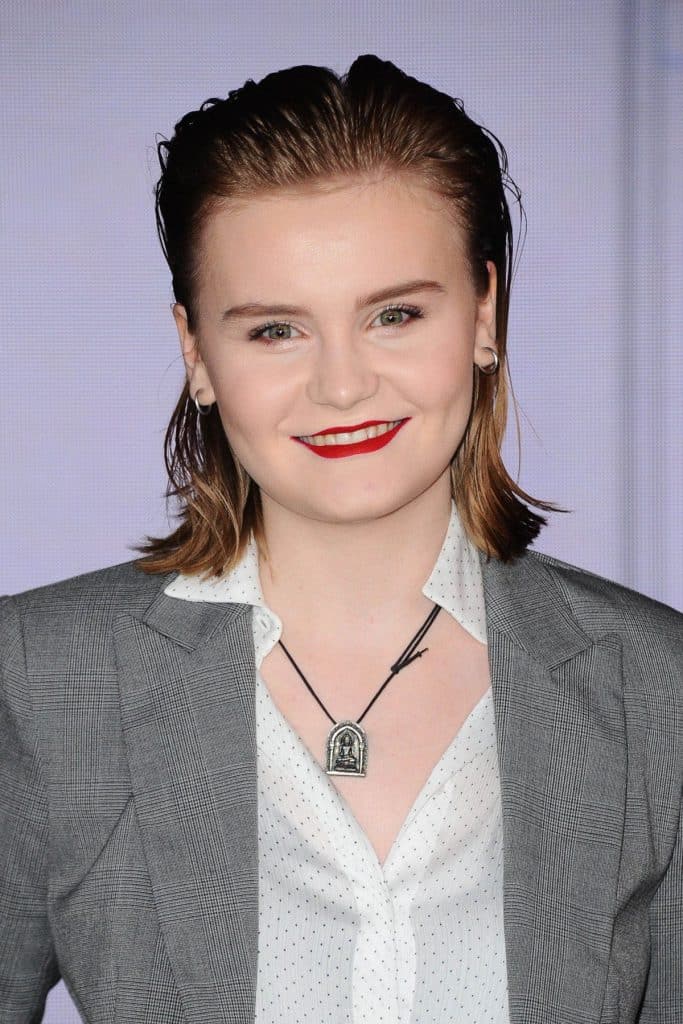 Two years later, Morgan appeared as Emily Lambreaux in the TV drama movie "Inseparable", and a year later they worked alongside their mother Sandra in "The Answer Man", a feel-good romcom starring Jeff Daniels and Lauren Grahams.
From 2010, Morgan appeared in a variety of movies such as "Remember Me", "A Miracle in Spanish Harlem", and "The Sisterhood of Night", showing their versatility and ability to adapt to different genres.
Morgan's Notable Roles
Although most fans know Morgan from the globally popular Jumanji franchise, their first notable role was in the 2011 miniseries "Mildred Pierce". The family drama portrayed the strained relationship between Mildred, played by Kate Winslet, and her daughter Veda, played by Evan Rachel Wood and Morgan.
Morgan's portrayal of Veda helped them land their first and only nomination to date, at the 2012 Young Artist Awards.
After years of bit parts and small roles in TV series, Morgan's big break came in 2017, when they appeared back-to-back in "Wonderstruck" and "Jumanji: Welcome to the Jungle". Despite the first movie only racking up a humble $3.3 million dollars at the box office, it was nominated for an impressive 35 awards, and went on to win two.
However, adventure comedy "Jumanji: Welcome to the Jungle" fared far better, earning almost a billion dollars in box office takings. Cast members included big names such as Dwayne Johnson, Kevin Hart and Nick Jonas.
Morgan appeared as the younger version of Karen Gillan's character Martha, which they went on to reprise in "Jumanji: Next Level", released two years later in 2019.
Although "Jumanji: The Next Level" failed to muster up the same fanfare as its predecessor, reviews were mainly positive, and it earned $800 million at the box office. Speaking in a 2020 interview alongside co-star Madison Iseman, Morgan quipped that in a real-life scenario of Jumanji, they would "probably just hide in a bathroom until it was all over", due to their asthma and bad knees.
Morgan's Private Life
Since 2019, Morgan is in a committed relationship with boyfriend Rob Dukes.
The couple consistently post sweet snaps on Instagram, and share intimate moments with their fans such as Valentine's Day meals and Canada coffee dates.
Although we don't know how long Morgan and Rob have been together, from their social media accounts we can surmise that the young couple share many interests, with the main one being music. Morgan, along with bandmates Erik Hilbert and Patrick Miller, forms part of the Philadelphia-based indie band "Double Suede", and their boyfriend Rob also collaborates by helping to produce and edit their eclectic music videos. Their singles include "Like Talking to a Turtle", and the band's been one of Morgan's passion projects since 2016.
As for charity work, Morgan has proved themselves to be an alley of numerous causes. In June 2020, they attended police brutality victim Breonna Taylor's vigil and celebration of life, and they have also shown themselves to be an avid supporter of trans and gay rights. Morgan has also collaborated with and shed light on numerous Philadelphia charities, and uses their concerts as a way to help raise money.
Morgan came out as trans on 1st April 2021 – which coincidentally is Trans Visibility Day – via her Instagram account. To her almost 40,000 followers, she said: "…It's taken me a long time to figure out/accept my own identity as a non-binary person. Despite that, I also recognize my privilege in having the space to do so. Thank you to all of you who have continued to love me through my journey."
Other passions of the multi-talented actor include photography, travelling, animals and poetry writing. Their beloved family pet, a dog named Princess, sadly died on 10th April 2021.
Morgan's Net Worth
Sources in the know place Morgan's net worth at over $1.5 million, thanks largely to their work in the Jumanji saga. Although it's not clear if Morgan has any other projects lined up right now, a third Jumanji movie has been teased for months, and was already being discussed before the current coronavirus pandemic.
Despite not knowing how much Morgan was paid for starring in the previous two Jumanji movies, they could be earning as much as six figures in future installments: for comparison, Dwayne Johnson was paid $23.5 million upright for "Jumanji: The Next Level".