• Daniela Rajic is a former go-go dancer, model and entrepreneur, most recognized for her relationship with basketball player Paul George.
• She is of Serbian descent and holds American nationality.
• She is the co-founder of a swimwear brand and has an estimated net worth of $500,000.
• She is active on Instagram and promotes her brand on the platform.
• Paul George is an NBA player who has been named seven times to the All-Star team and four times in the All-Defensive team.
Who is Daniela Rajic?
Daniela Rajic is a former go-go dancer, model, and entrepreneur, but perhaps best recognized for her relationship with the famous basketball player Paul George. Daniela was born on 12 November 1990 in Queens, New York City USA, under the Zodiac sign Scorpio. She holds American nationality, and as of early 2021, she is 30 years old.
Early Life and Family
There aren't many details about her parents and background. However it is known that Daniela is of Serbian descent, and that she has a sister called Kristina Rajic. When it comes to her education, she attended a local High School in New York from which she matriculated in 2008.
Career
After matriculating, Daniela began working as a stripper in various night clubs, including the infamous strip club "Tootsies Cabaret", but quit her job right after she met Paul. She was also briefly employed as a personal shopper at Saks Fifth Avenue. Currently, Daniela co-owns a company called "NUDESWIM" with Sarah Nasser, the wife of another basketballer Patrick Patterson; they met through their male companions. They came up with the idea at the beach while drinking wine and sunbathing. Their vision is to create the most flattering swimsuits which complement a curvy figure. Soon after, their dream came true, and the two launched their brand. According to reports, the business is booming, and neutral-colored swimwear is advertised by models such as Sophia Payan, Cheyenne Rowan, and Summer CJ.
Her relationship with Paul George
The couple met back in 2013, and their relationship has been filled with scandals ever since. Daniela met her fiancée while she was working as a stripper; at the time, Paul was dating Callie River, a retired volleyball player. When the news about the affair between Paul and Daniela made headlines, Callie immediately broke-up with him, not wanting to deal with any scandal. However, this controversial start to their relationship didn't cause much stress, as they continued dating until the former stripper announced that she was pregnant just a couple of months later.
Allegedly, Paul wasn't happy with the news, and offered to pay her $1million to abort the child, which she rejected.
Daniela Rajic and Paul George attend the Los Angeles premiere of THE EQUALIZER 2 at TCL Chinese Theatre, supported in part by Lyft. #4chionstyle #entertainment #redcarpet #Equalizer #DanielaRajic #PaulGeorge pic.twitter.com/JC9meSfeyW

— 4Chion Lifestyle LLC (@4ChionLifestyle) July 20, 2018
Daniela gave birth to their first child, Olivia, on 1 May 2014, filled with happiness, and shared a ton of photos of her newborn daughter; some of the captions read "Yayyyy mommys taking me home today!!! #FistPump", and "My little mermaid". Judging from the photos, she has fully embraced motherhood, and the newly acquired role of a parent. However, this happiness would prove to be short-lived and bitter-sweet, as Paul was convinced that the baby wasn't his, and threatened to go to court. Daniela filed for a paternity test which determined that Paul was indeed the father. Later, Paul filed a lawsuit against Daniela and sought sole custody of their daughter. After going back and forth, all was resolved, Daniela's lawyer Henrietta Newman Cohen saying: 'They will be raising their daughter together.
Paul George had always intended to do the right thing, and he is thrilled to have a daughter. The settlement is generous, the child is going to have a wonderful life, and both parents will be equally involved in bringing her up.'
Both of them issued a statement to Page Six, saying "We are both very grateful for the opportunity to be joint parents to our beautiful daughter Olivia. While we have our separate lives, we are committed to providing her with all the support, nurturing and love she deserves.'
After this whole ordeal, the couple reunited for a second time, and a year later, she became pregnant with their second child; on 1 November 2017, she gave birth to Natasha.  On 7 November 2020, Bleacher Report announced that Paul proposed to Daniela, who said yes! Fans are eagerly waiting for further details, as they haven't set a date for the wedding.
What is her net worth?
Daniela's estimated net worth is around $500,000, which she has earned working as an Instagram model and through her business venture.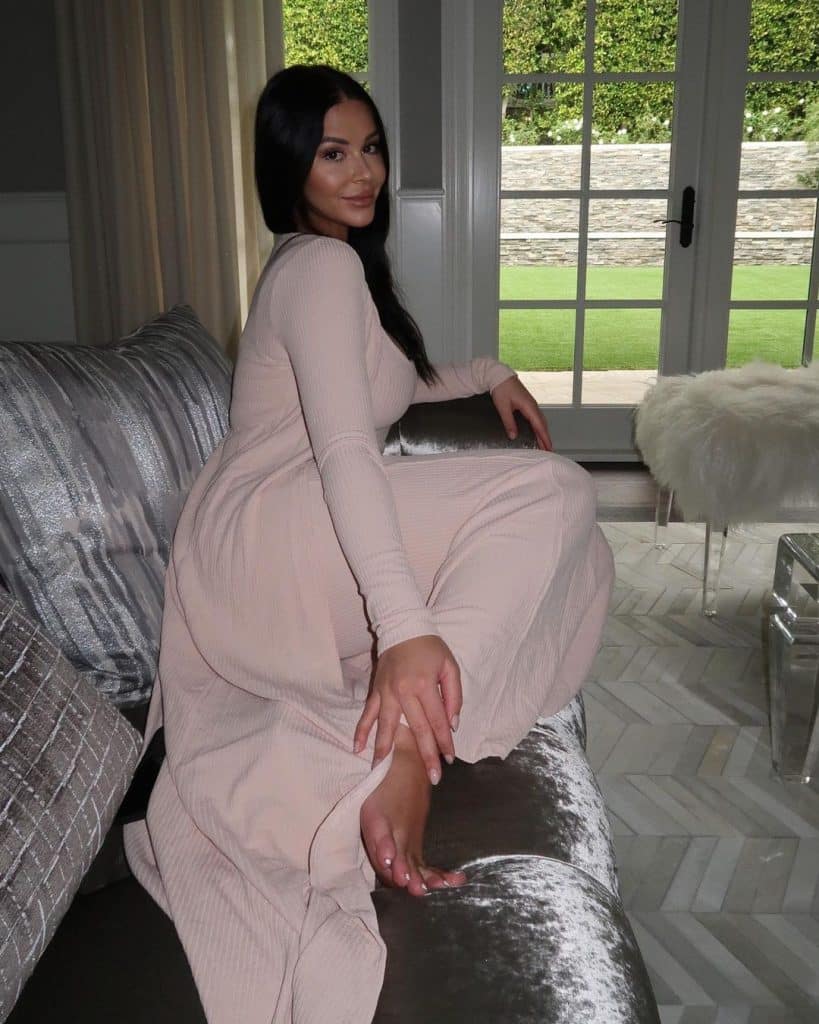 Given the rising success of her swimwear, it is believed that her wealth will grow. On the other hand, Paul's net worth is estimated to be around $90 million; he signed a $134 million contract with L.A Clippers on top of the $35.4 million guaranteed him for the 2020-21 season.
Daniela is very active on Instagram, which counts over 200,000 followers. She usually posts photos of her kids, romantic dates with George, and a lot of selfies. Daniela also promotes her brand on Instagram, as she often posts photos of herself wearing swimsuits and the gifts she receives from George, including one with the caption "Land Rover car as the Mother's Day gift from Paul."
It appears that she isn't a fan of Twitter or Facebook, but George is very active on social media – his Instagram has nearly nine million followers, his Twitter over two million. One of his favorite quotes is "Don't tell me the sky is the limit when there are footprints on the moon!"
Physical stats and Hobbies
Daniela is 5ft 7ins (170cm) tall and weighs around 150lbs (68kgs), with vital statistics of 40-27-38.  Her hair is dark brown, further adorned with hazel eyes. Many of her followers agree that she looks like Kim Kardashian, as she also has a curvy physique and dresses similarly. Her fashion style is explicit and daring, and she likes to wear very short and tight dresses; her favorite brands are Burberry, Prada, and Versace. In addition, some have noticed that she has undergone several plastic surgeries. Judging from the previous photos, she most likely had breast enlargement, hip implants, and lip filler. However, she has not confirmed any of these.
Regarding her interests, she likes to travel, swim and relax on the beach.
Her favorite actor is Tom Cruise; her favorite actress is Angelina Jolie.
Despite the strict working schedule and diet, she likes to indulge and eat pizza, French fries, and ice-cream.
Briefly about Paul George
Paul George was born on 2 May 1990, in Los Angeles County, California, USA. He has two sisters Teoisha and Portala, who are also professional players. Paul matriculated from Knight High School, and enrolled at California State, Fresno. Paul always had a knack for basketball, but it was not until his last year in high school that he started playing organized games. In 2007 he was scouted by a sports recruiter while he was playing in Amateur Athletic Union, and soon after his career moved up, as Paul joined the Fresno State Bulldogs team. George was named as the most entertaining player in the West region, and was featured in the Sports Illustrated list of "Top 16 Most Entertaining Players in College Basketball."
In 2010 he announced that he would enter the NBA draft, and was selected by the Indiana Pacers, becoming the highest NBA draft pick in Fresno State history. The following year, he was picked in the All-Rookie Second team in his first season in the NBA. In 2013 he was named the Most Improved Player, quickly establishing himself as one of the best players in the league. During 2013 and 2014, Paul led Indiana Pacers to play in the Eastern Conference Finals, but was defeated each of those two years by Lebron James and the Miami Heat. In 2014 he was named All-Star for the first time in his career, and in the same year joined the US national team for the 2014 FIBA Basketball World Cup. However, he suffered an injury to his leg during a scrimmage game in Las Vegas, which sidelined him for most of the next season.
In 2017, he was traded to Oklahoma City Thunder, where he played for three seasons, his third being his best individual season, as he finished third in both Most Valuable Player and Defensive Player of the Year voting. As a turn of fate, in 2019, he joined the Los Angeles Clippers as the Thunder swapped him for Danilo Gallinari and Shai Gilgeous and multiple draft picks. During his time in the NBA, he's established himself as one of the best players, and been named to the All-Star team seven times. He is also one of the best defenders in the NBA, being picked four times in the All-Defensive team.