• Paulina Gaitan Ruiz was born in Mexico City, Mexico on 19 February 1992
• She is best known for portraying Pablo Escobar's wife in the Netflix biographical crime series "Narcos"
• She is an actress, film producer, and has done voice acting
• She has been nominated for two Silver Ariel Awards
• She has an estimated net worth of $3 million
Paulina Gaitan Wiki Bio
Paulina Gaitan Ruiz was born in Mexico City, on 19 February 1992 – her zodiac sign is Pisces and she holds Mexican nationality. She is an actress and film producer, who is perhaps known best for her portrayal of Pablo Escobar's wife in the Netflix biographical crime series "Narcos", which starred Pedro Pascal, Wagner Moura and Boyd Holbrook, and follows the life of Pablo Escobar as well as several other drug lords. It aired from 2015 to 2017 and won eight awards, while it was nominated for 18 others including two Golden Globes.
Childhood and education
Paulina was raised in Mexico City, but her parents prefer not to be mentioned in media which is why nothing about them is known. Paulina is believed to be an only child.
She was nine when she began taking acting lessons, and launched her career aged 12 with her portrayal of Angelita in the thriller war drama "Innocent Voices", while the same year also saw her appear in the action thriller movie "Animales en Peligro". By the time she enrolled at high school, Paulina had also appeared in two episodes of the crime comedy series "Mujer, Casos de la Vida Real", and the comedy film "Never on a Sunday".
She went on to enroll at a local high school, but was more focused on her acting career rather than on her studies. She appeared in around nine movies during those four years, including the 2007 drama "Unexpected Things", the 2008 drama "Insignificant Things", and the 2010 horror drama "We Are What We Are". She also played a supporting character in the drama series "XY. La Revista", as well as in the drama "Capadocia", and then starred as Ileana De la Croix Aparicio in the critically acclaimed romantic comedy series "Las Aparicio".
Upon matriculating in 2010, Paulina didn't attend college, but focused on her acting career.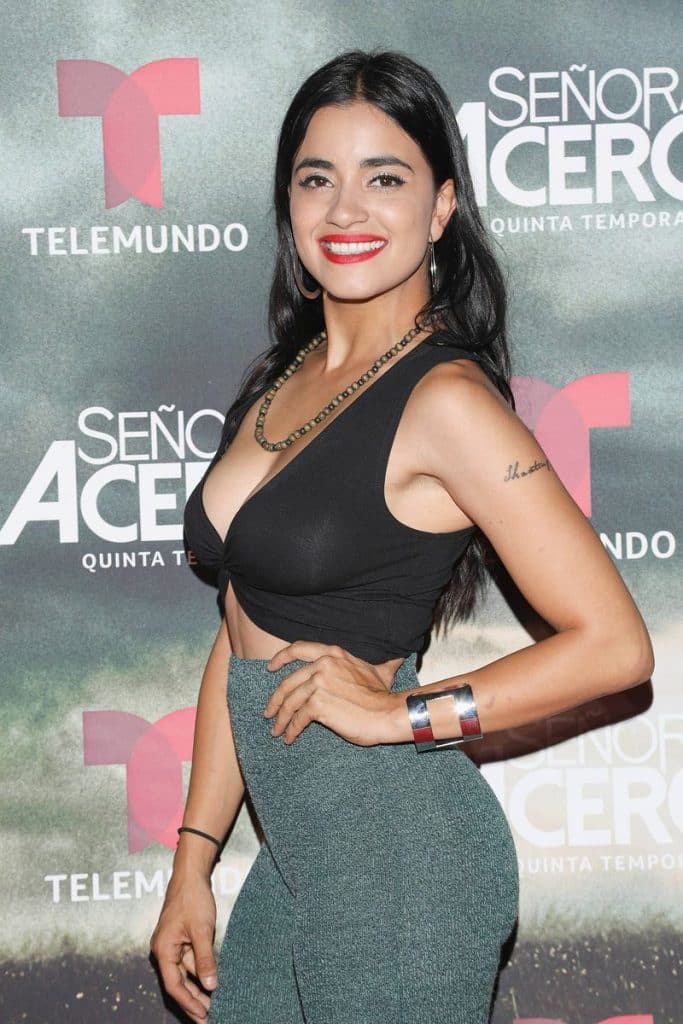 Roles in movies
Paulina's following notable performance in a movie was in the 2011 crime thriller "Days of Grace", written and directed by Everardo Gout, and which starred Carlo Bardem, Kristyan Ferrer and Tenoch Huerta. It follows three incidents which happened during three Soccer World Cups in 2002, 2006 and 2010 – the film won 15 awards, while it was nominated for 10 others.
Paulina went on to appear in the 2013 romantic comedy "Deseo", starred in the 2013 short "Ni Aqui Ni Alla", and then gave her debut voice performance in the 2014 romantic drama "4 Moons", which was quite popular in Mexico as it was nominated for eight awards winning four.
In 2018, she was cast to portray a supporting character in the drama "Las Ninas Bien", written and directed by Alejandra Marquez Abella, and which starred Ilse Salas, Flavio Medina and Cassandra Ciangherotti. It follows a rich husband and wife hurt by the 1982 economic crisis in Mexico; the film won 14 and was nominated for 25 other awards.
Tree of Paulina's most recent roles in movies have been in the 2020 drama "Territorio", another 2020 drama "Son of Monarchs", and the 2020 short drama "Souvenir". She has recently finished shooting for the short romantic comedy "7th Sunday" ,and has been cast to appear in four other upcoming movies, including the comedy "Me Case Con un Idiota", and the drama "Donde Corre el Agua".
Roles in TV series
In 2012, Paulina portrayed Jahel Valenzuela, one of the lead characters in the action adventure drama "The River", which was nominated for three awards including a Primetime Emmy, and she went on to star as Noemi Loaiza – 'Lady Beretta' – in the 2015 crime drama "Senorita Polvora", which follows Valentina as she finds out after her father's death that he was in the mafia. The year 2018 saw her appear in the comedy "El Rey del Valle", which attracted little attention, and in the same year Paulina starred as Leticia Moreno in the romantic crime drama "Lady of Steel", which has been airing since 2014, and counts close to 400 episodes but has only won a single award.
Paulina has appeared in only two other TV series – she played the lead character Violetta in all 18 episodes of the 2018 action drama "Diablo Guardian", and then portrayed Nene in the 2020 sports comedy "El Presidente".
Other credits and awards
Paulina has a single producing credit; in 2016, she was the associate producer for the action thriller movie "Crossing Point", but which attracted little attention and received mixed reviews.
She has been nominated for two Silver Ariel Awards: for Best Actress (Mejor Actuacion Femenina) for "Cosas Insignificantes" in 2010, and for Best Supporting Actress (Mejor Coactuacion Femenina) for "Las Ninas Bien" in 2019.
Love life and husband
Paulina has been in three relationships which the public knows about. In 2012, she dated Jorge Luis Moreno who is a Mexican actor, film writer and producer, and is perhaps known best for his lead roles in the 2018 telenovela "My Perfect Family" and the 2019 soap opera "El Baron".
The two dated for only a couple of months before splitting for unknown reasons. In 2014, she began dating Luis Altuzar, who is a non-celebrity man and who stayed away from media attention – they were together for just over a year.
There are rumors circulating the internet that Paulina has a husband, having exchanged vows in 2017, however, this hasn't been confirmed, nor has Paulina commented on it. As of January 2021, she is dating Daniel Blanco who is a cinematographer and a YouTuber; she hasn't married and doesn't have children.
Hobbies and other interests
Paulina is quite active on Instagram, and with her boyfriend being a photographer, she likes to pose for him topless, and many of these picture s can be found uploaded onto her account.
She is interested in various sports and activities, and has recently gone scuba diving with her boyfriend. She goes to the gym several times each week, is a gymnast, and often runs.
Paulina is keen on travelling, and her acting career has made it possible for her to travel to various US states with her favorite being California, and she's also travelled to France and Italy in Europe.
Paulina likes to watch movies starring Mexican actors and actresses, and some of her favorites are "Rouge One: A Star Wars Story" and "The Terminal" both starring Diego Luna, and "Monte Carlo" and "Spring Breakers" starring Selena Gomez.
Age, height and net worth
Paulina's age is 28. She has long brown hair and brown eyes, her height is 5ft 1in (1.55m) and she weighs around 105lbs (48kgs).
As of January 2021, her net worth has been estimated at close to $3 million.