• Rosabell Laurenti Sellers is a popular Italian-American actress, best known for her role in the TV series "Game of Thrones".
• Her mother, Wanja Mary Sellers, was born in Nairobi, Kenya and her father, Fabrizio Laurenti, is an established director and writer.
• Rosabell's acting career began at the age of 3 and her first big break was in 2011 in the animated children's series "Mia and Me".
• Rosabell is a well-rounded and intelligent individual who is fluent in English and Italian, and is studying at the Guildhall School of Music and Drama in London since 2017.
• Rosabell's estimated net worth is over $500,000 as of early 2021.
Who is Rosabell Laurenti Sellers?
Rosabell Laurenti Sellers is a popular Italian-American actress, probably best known for her role in the TV series "Game of Thrones". Keep reading to learn more about her interesting family, acting career, love life, and net worth.
Rosabell's Early Years & Family
Rosabell was born on 27th March 1996, in Santa Monica, California, USA. She was raised in New York City with her siblings Diego and Lucia until the family returned to Rome.
However, not all of Rosabell's fans know that she was almost destined to break into the entertainment industry. With an actress mother and director father, it's no surprise that their talented daughter decided to follow in their footsteps and make a name for herself.
Wanja Mary Sellers, Rosabell's mother, was born in Nairobi, Kenya, in 1962. Her fans know her for her roles in successful movies such as "Loon Lake", "The Crawlers", "Stage Fright", and "The Orchard". She has also previously dabbled in directing, and also became popular in the late 1980s, after appearing in several Italian horror movies.
Rosabell's father Fabrizio Laurenti is also an established director and writer. Titles under his belt include "The Room Next Door", "Il Corpo de Duce", and "Life as B-Movie: Piero Vivarelli". Laurenti has won prestigious awards, and earned several more nominations over the course of his career. His latest award was won in 2020 for his documentary of Piero Vivarelli.
We don't know much about her siblings, as Rosabell prefers not to post them on her social media, but we discovered that her brother Diego also has a brief acting past.
Rosabell's Acting Career
All actors have to start somewhere, and some sources state that Rosabell began her acting career at the tender age of three. Before moving to Rome, she debuted in the theater alongside her brother in 2004. Rosabell and Diego traveled around the world while playing the roles of Medea's children, and visited countries such as Poland and Austria.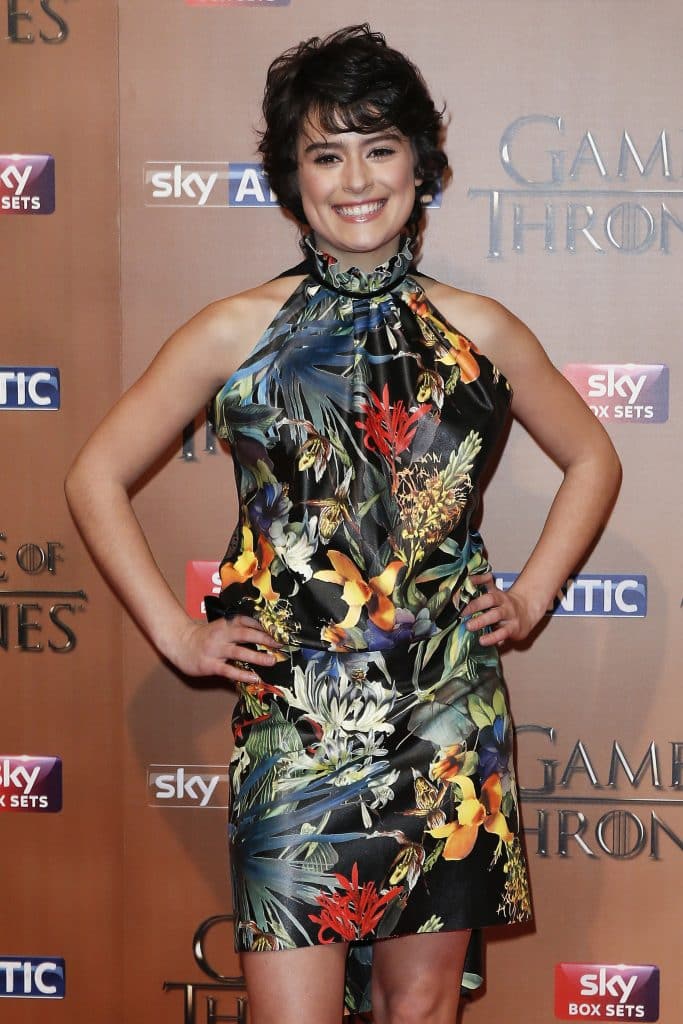 After her first taste of the theater, Rosabell landed her first screen credit at just ten years old, appearing in all six episodes of the successful 2006 miniseries "E poi c'e Filippo".
She didn't take long to notch up more acting credits and lay the foundations for her future career. 2007 and 2008 were busy years for her as she appeared in three TV movies: "L'amore e la guerra" playing the role of Anita, "The Pilot" as Nicoletta, and depicting a young Coco Chanel in the production of the same name.
It's arguable that her first big break came in 2011, with the launch of animated children's series "Mia and Me", playing the leading role in seasons one and two, replaced by Margot Nuccetelli in the final season.
Created by Gerhard Hahn and Hans Ulrich Stoef, the series was a huge success.
Rosabell's clear talent for acting helped her land a coveted "Game of Thrones" role in 2015; her character, Tyene Sand, was the third of Prince Oberyn Martell's eight illegitimate daughters – her death by poisoning was shown in the episode "The Queen's Justice". Rosabell's appearance helped build up her fanbase, and open more doors in the competitive acting profession.
After a relatively quiet couple of years, Rosabell returned to the screen in 2020, playing Nora Berger in the sci-fi series "Spides". The series centers around a new club drug named Blis, which is connected to strange disappearances and murders.
We don't yet know if the cast will be returning for season two, but so far Rosabell has appeared in all eight episodes of season one.
Rosabell hasn't appeared in anything since then, but she's set to appear in the romantic movie "What About Love", which will be released in 2022.
Rosabell's Personal Life & Philanthrophy
Nothing much is known about Rosabell's love life, because the actress is notoriously low-key. Currently she has 25,000 followers on Instagram, but only three uploads which are all related to her acting projects. It's clear that Rosabell prefers to keep her private life just that, and doesn't wish to share any details with her fans.
However, we do know that some of her passions include tap-dancing and participating in equestrian competitions. Rosabell is a well-rounded and intelligent individual with a range of hobbies, who is fluent in English and Italian.
Information about her childhood education is undocumented, but since 2017 Rosabell has been studying at the illustrious Guildhall School of Music and Drama in London. The school boasts a long list of notable alumni, and has produced acclaimed actors, actresses and other creatives. Rosabell enrolled at the school right after her last appearance in "Game of Thrones", so it's likely that she decided to put her career on hold temporarily in order to perfect her craft.
Venezia,2014 pic.twitter.com/y0LmnT1juq

— Rosabell Sellers (@rosa_seller) April 7, 2016
Rosabell is no stranger to doing good deeds either: although the actress doesn't boast about her charity works, we discovered that she's linked to a number of projects and organizations with the aim of helping the less fortunate.
Some of these works include Rosabell's soup kitchen volunteering in Rome, her association with "Veto the Squito" to help provide Africans with insecticide treated bed nets, and her relationship with the "League Against Racism and Anti-Semitism". Not to be forgotten is the "Young Actors for Humanity Involvement" which she set up to help collaboration between young Italian actors and charities.
Rosabell's Net Worth
Although we haven't listed all of her roles, Rosabell has appeared in over 20 productions so far. Most of the "Game of Thrones" cast earn enviable salaries, and the actress was a fan favorite in the series, but we mustn't forget she only appeared in nine episodes between 2015 and 2017.
Reputable sources estimate Rosabell's net worth as over  $500,000 as of early 2021, which is a believable sum, taking into account that the current pandemic has halted many projects and affected careers. It's also worth noting that Rosabell doesn't have any other known streams of income such as endorsements, so all her income is solely from acting.