• Skweezy Jibbs is the humorous alter ego of Tim Savage, a social media content creator and comedian.
• Before Facebook and TikTok, Skweezy studied interpersonal communications, worked as a radio personality, and taught people how to use Apple software and hardware.
• Skweezy has 345,000 followers on Instagram and 3 million followers on TikTok.
• Skweezy went viral for his spoof book, "HOW 2 POPULAR GET $$$ AN B SUCCESFULL", and for his post claiming to have named his son 'Fidget Spinner'.
• Skweezy's net worth is estimated at $1.5 million, thanks to a combination of Patreon donations, merchandise sales, and other online streams of revenue.
Who is Skweezy Jibbs?
Skweezy Jibbs is the humorous alter ego of Tim Savage, a social media content creator and comedian, not to be confused with the actor and director of the same name. Born in 1967, Skweezy is a Pisces who celebrates his birthday every year on 7th March, and currently resides in Inglewood, California.
Skweezy Before Fame
Before Facebook and TikTok helped make Skweezy into a public figure, the man behind the meme studied interpersonal communications at Florida Gulf Coast University. His former jobs include as a radio personality, computer chip salesman, and performance artist. The comedian also spent four years working at Apple as an instructor, teaching groups and individuals how to use the tech giant's software and hardware.
"Overcoming Shyness" is the name of a YouTube video series which Tim worked on before becoming Skweezy. The aim of the videos was to help others improve their social skills online. Nevertheless, the videos are now hard to find.
In 2017, Skweezy went viral for the first time with a post claiming to have named his son 'Fidget Spinner'. However, we don't know if the internet funnyman even has any children in real life.
Skweezy's Social Media
At time of writing, Skweezy has 345,000 followers on Instagram – his feed on @skweezy4real is primarily made up of funny posts and short videos. The comedian also promotes his merchandise line, which came out in early August 2021. Skweezy likes to communicate with his fans, and will often post photos of their conversations.
Although Skweezy is fairly popular on Instagram, the content creator excels on TikTok, with over three million followers and a staggering 100 million likes – his short videos often exceed a million views.
The comedian's Patreon relaunched on March 2021, with Skweezy promising his fans exclusive videos, one-to-one conversations, previously unseen content, VIP livestreams and even videos banned from TikTok. His packages cost from $6.50 a month, and when paying for the premium package, fans receive a merchandise shirt, ten-minute Livestream chat with friends, and personalized Cameo shoutout video. As of late-2021, Skweezy has just twelve Patreon supporters.
Skweezy's Funniest Moments
When asking any Skweezy fan about the comedian's funniest moments, they'll no doubt mention the time he went to India instead of Indiana. The incident occurred in February 2019, and spawned a popular meme which spread like wildfire across Facebook and Reddit, reaching peak popularity in October of the same year after being retweeted hundreds of thousands of times. "I went to India, not Indiana" became a viral joke, along with variants of the same phrase.
In April 2020, Skweezy also went viral for driving to various Wendy's locations in the search for free chicken nuggets. Skweezy tweeted a photo of all the promotional chicken nuggets he received, as well as a map of his route through Portland and Vancouver.
The incident even reached the New York Post, and garnered a reply from Wendy's social media account deeming the feat "straight up impressive".Skweezy's popularity skyrocketed after the NY Post article, with fans hailing the man "comedy gold" and "chaotic good".
Skweezy's Social Commentary
Skweezy is no stranger to using his platform as a means to spread important messages to his followers. He has previously advocated for vaccines and mask mandates, and also discussed topics such as racism and Michael Jackson's untimely death. The comedian also announced to his Instagram followers that he'd received his COVID-19 vaccine in April 2021.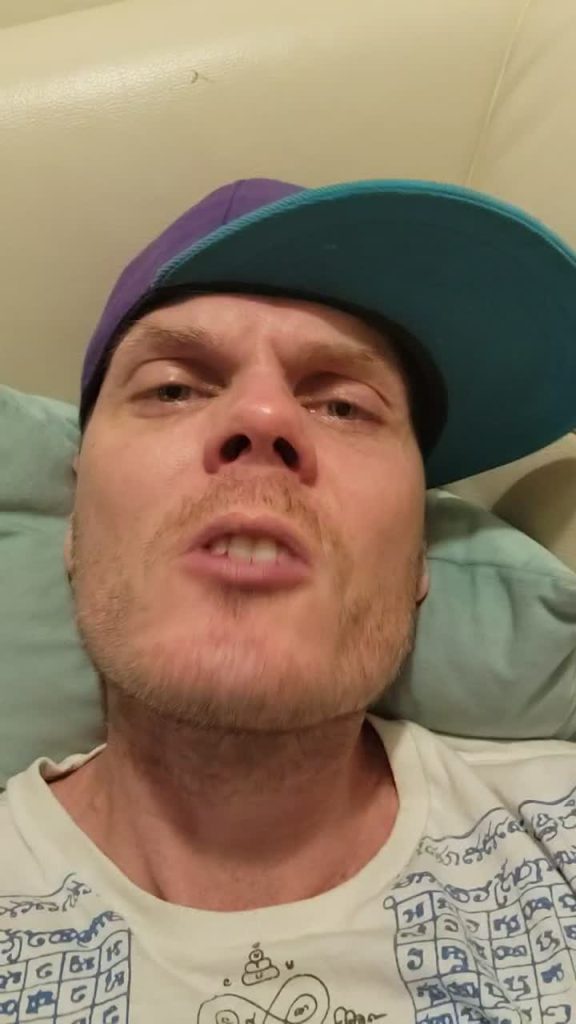 Skweezy Jibbs Archive, a now-dormant YouTube channel dedicated to uploading the comedian's best short content, has posted several of the comedian's videos, such as "LET'S STOP RACISM 2GETHER", "TRAGEDY SHOULDN'T B CHEAP ENTERTAINMENT", and "WHY DO BAD THINGS HAPPEN 2 GOOD PEOPLE".
In September 2014, the comedian released a spoof book entitled "HOW 2 POPULAR GET $$$ AN B SUCCESFULL" under the pen name SKWEEZY JIBBS. The Kindle book is 39 pages long, and according to the author, contains pearls of wisdom to gain confidence and money. One unimpressed reader gave the book one star on Goodreads, saying: "I should have known from the title that it was a crap book, but I didn't expect to be this damn bad, it makes 0 sense".
Skweezy's Love Life
Skweezy's personal life has always been a mystery to his fans. In 2012, one YouTuber uploaded a spoof video claiming that Skweezy was the father of her young daughter. The video's clickbait title was "SKWEEZY JIBBS IS MY BABY DADDY" and the YouTuber said she was Diamond Success, Skweezy's ex-girlfriend. However, the video didn't go viral, and has just over 10,000 views after nine years.
One January 2018 Facebook post of Skweezy's, which alludes to an old relationship, reads: "I CALLED MY SECOND GIRLFRIEND THE SMELLY STEGASAURUS CAUSE SHE RARELY SHOWERED". He also posts frequently about his son and their interactions on Twitter.
With that said, it's important to remember that there's a difference between Skweezy, the crude and absurd internet character, and Tim Savage. If there is a lucky lady in Tim's life, the comedian is definitely keeping it under wraps for the time being, as he's never been romantically linked publicly to anyone.
Skweezy's Net Worth
Reliable sources estimate Tim's net worth at $1.5 million, which isn't bad going for a viral TikTok star. The comedian's latest merchandise line has products including a hoodie with Skweezy's face on it, or an amusing 'Great. Now I can never eat bat again' T-shirt which was released shortly after the COVID-19 pandemic struck.
TikTok has also emerged as a hugely successful and lucrative platform for those who wish to make a living off their witty short videos. On average, TikTokers with under 100,000 followers can earn between $200 and $5,000 a month for branded videos. Unsurprisingly, those with over a million followers – such as Skweezy – can earn up to five figures monthly, if they promote products or land endorsements.
Tim's net worth is thanks to a combination of Patreon donations, merchandise sales, and other
online streams of revenue.