Stephanie Buttermore Wiki Bio
Stephanie Buttermore – maiden name unknown – was born in Florida, USA on 25 February 1990 – her zodiac sign is Pisces, she holds American nationality and is of Asian descent. She's a YouTuber, Instagram star, fitness instructor, and a cancer research scientist, who's probably known best for her YouTube channel "Stephanie Buttermore" which she launched on 24 November 2014, and is today subscribed to by close to 1.2 million people, and numbers over 120 million views of all her videos combined. Stephanie videos give her fans advice on training, lifestyle, beauty, nutrition, and occasionally provide facts related to ovarian cancer, and how to prevent it.
https://www.instagram.com/p/CO0v5VhDc7U/
Early life and education
Stephanie was raised in Florida alongside her younger sister, by their parents about whom nothing's known, as they prefer to be left out of media. Her sister is today working as a nurse.
Stephanie became interested in sports while still attending elementary school, and was on her school's soccer team. She was urged by her parents to focus on her education, and became one of the best students at her high school, as well as excelling at sports. Upon matriculating in 2008, she enrolled at the University of Central Florida, from which she graduated with her Bachelor of Science degree in molecular biology in 2012.
Stephanie continued her education at the University of South Florida, from which she obtained her Master of Science degree in medical sciences, women's health. She then completed her Ph.D. in biomedical sciences, pathology and cell biology, also at the University of South Florida.
Achievement as a cancer research scientist
Stephanie has discovered that there is a protein which can be found in the cells of ovarian cancer (OC), and that this is how it might be possible to detect OC in its earliest stage.
Her most popular YouTube videos
Stephanie's most watched videos are all related to losing weight, working out and dieting, and we'll be mentioning three of her most popular videos.
Her most viewed video "10,000 CALORIE CHALLENGE DESTROYED! | GIRL SCIENTIST VS FOOD | EPIC CHEAT DAY" has been watched close to seven million times since 3 March 2017, and features her eating a meal with 10,000 calories in it.
Stephanie's second most popular video "I Ate Everything I Wanted for One Day… (Fantasy CHEAT DAY)" has been seen close to five million times since 23 December 2017; the title's quite self-explanatory.
Her third most popular video "How 1 YEAR Of Weight Gain Changed My Life Forever (All In Results!)" has been viewed over 4.7 million times since 11 June 2020, and shows Stephanie's one-year journey to lose weight.
Her online training program
Stephanie has her own website – stephaniebuttermore.com – on which she's selling her Intermediate to Advanced Women's Specialization Program. It provides its buyers with a training program, more than 80 pages long, with explanations for each exercise.
Stephanie also has a training program for those who only want to work out at home, and there are versions for beginners, intermediate and advanced participants.
Stephanie's highly active on Instagram, and has uploaded over 1,300 pictures, while she's today followed by close to 650,000 people. Most of these pictures feature her during her everyday life, and occasionally her mom, friends and boyfriend. She also occasionally uploads pictures taken from the gym, and gives her fans advice on how and when to work out.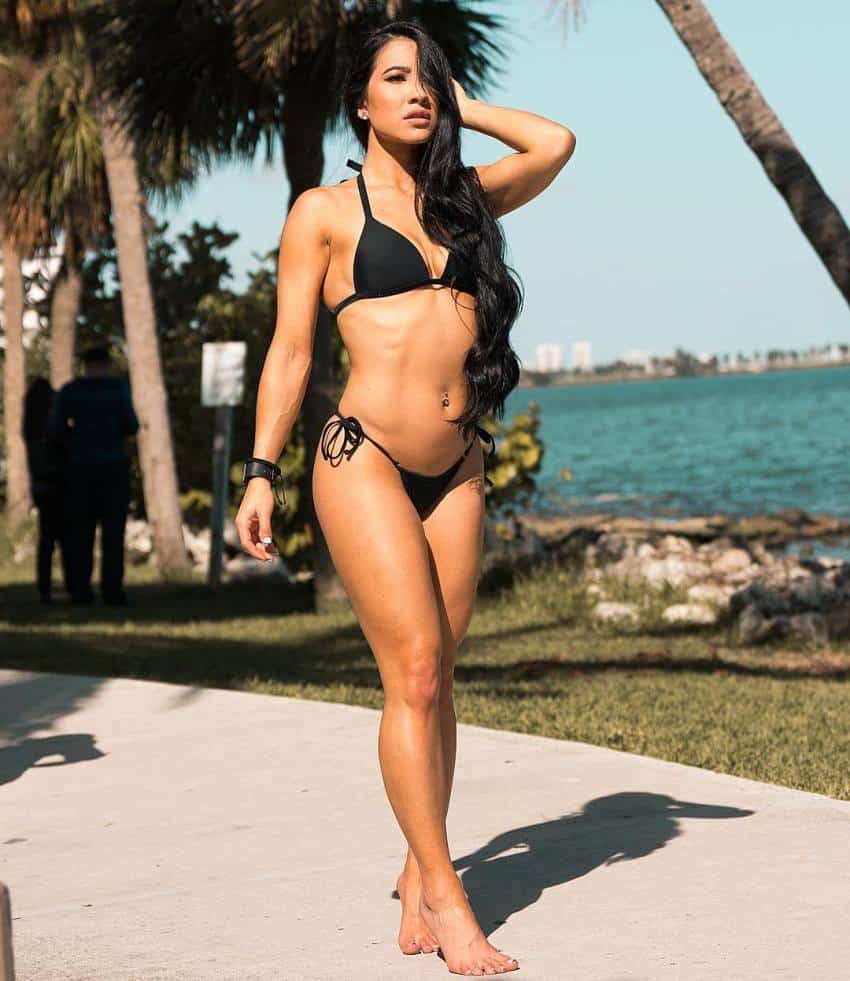 She launched her Twitter account in March 2020, so it's today followed by only around 100 people. Stephanie prefers to re-tweet rather than to write her own tweets, and seems to be trying her best to raise awareness of COVID-19, advising people to stay in their homes.
She's also a Facebook star with over 12,000 followers on her page, but isn't very active, as she tends to update it once every a couple of months. Her latest post was on 19 October 2020, when she travelled to Jakarta, Indonesia for work.
Love life and boyfriend
Stephanie's quite open when it comes to her love life, and has shared some details of the men whom she has dated in the past, as well as whom she's dating today.
Apparently, Stephanie was once married to a non-celebrity man Alex Biggs Buttermore – the two divorced in the second half of 2016, for unknown reasons, but rumors circulating the internet suggest that Alex wanted to have children, and Stephanie didn't.
She then dated Robin Gallant, a Canadian bikini competitor, which made it clear that Stephanie's bisexual. At first this came as a shock to her fans who didn't know this detail about Stephanie's sexuality, but they have since become used to it.
Stephanie's today in a relationship with Jeff Nippard, a Canadian bodybuilder and social media star. They occasionally travel to see each other, and it appears that a long-distance relationship isn't a problem for the two.
As of May 2021, Stephanie's dating Jeff Nippard, was once married and doesn't have children.
Hobbies and other interests
Stephanie spends most of her time at the gym, working on her glutes and abs, and has four to five training sessions each week. She's following a very strict diet created especially for her – her favorite food is fish.
She likes to travel, and has been all around the US for both work and pleasure, while she has also been to a couple of African, European and Asian countries.
Whenever she travels, Stephanie first finds a gym in the city which she's going to, not wanting to skip a day of working out.
She likes to watch movies late at night – her favorite actress and actor are Angelina Jolie and Vin Diesel, and a couple of her favorite films are the franchise "Fast and Furious", "Mr. and Mrs Smith" and "Lara Croft: Tomb Raider – The Cradle of Life".
Age, height and net worth
Stephanie's age is 31. She has long black hair and brown eyes, her height is 5ft 5ins (1.65m) and she weighs around 117lbs (53kgs).
As of May 2021, her net worth has been estimated at over $500,000.