• Born in the US in 1974 under the zodiac sign of Libra
• Successful fashion blogger, fashion designer, and wife of famous TV presenter, comedian, and actor Steve Harvey
• Estimated net worth of over $50 million
• Three children from her first two marriages and four children from her marriage to Steve Harvey, all of whom she has adopted
• Fashion blog called 'The Lady Loves Couture', clothing store 'Marjorie Harvey's Closet', and handbag line 'MH Handbags'
Who is Marjorie Harvey?
Marjorie Elaine Harvey, also known as Marjorie Bridges-Woods, was born on 10 October 1974 under the zodiac sign of Libra, in the United States; the actual place of her birth isn't known. She is a 46-year-old fashion blogger and fashion designer, but probably best recognized for being the wife of famous TV presenter, comedian and actor Steve Harvey.
How rich is she, as of now? Marjorie Harvey Net Worth
As of early 2021, Marjorie Harvey's net worth is estimated at over $50 million, acquired largely through her successful involvement in the fashion industry. Moreover, it's assumed that she shares the wealth of her famous husband Steve Harvey, who has an estimated net worth at over $200 million.
Early Life, Parents, Nationality, Ethnicity, Educational Background
Marjorie Harvey spent her early years somewhere in the US, where she was raised by her father who is black, while her mother is white, so she's of mixed ethnicity and holds American nationality. Little is known about them, except that her mother's name is Doris Bridges. It is also unknown whether she has siblings or not. She After completing her high school education, Marjorie enrolled into the University of Memphis; however, she subsequently dropped out due to her poor grades.
Professional Career
Marjorie Harvey started pursuing her professional career in the fashion industry in 2014, when she created her own fashion blog called 'The Lady Loves Couture', which covered not only the fashion industry and her personal style, but also traveling and lifestyle.
It led her to travel around the world and attend exclusive fashion industry shows, such as Paris, New York and Milan Fashion Weeks. However, her fashion blog is no longer active, but she currently runs her own clothing store, named 'Marjorie Harvey's Closet', through which she sells items from her closet. Besides that, she launched her line of handbags – 'MH Handbags'.
Along with her husband Steve Harvey, in 2010 Marjorie established a charity organization called 'The Steve and Marjorie Harvey Foundation (SMHF)'. Their main goal is promoting education, and providing various scholarships for youth.
Appearance and Vital Statistics
Marjorie Harvey has long dark brown hair and dark brown eyes. She stands at a height of 5ft 8ins (1.73m), while her weight is around 135lbs (62kgs), and her vital statistics are 35-28-36. Information about her bra and dress size isn't available; her shoe size is 9 (US).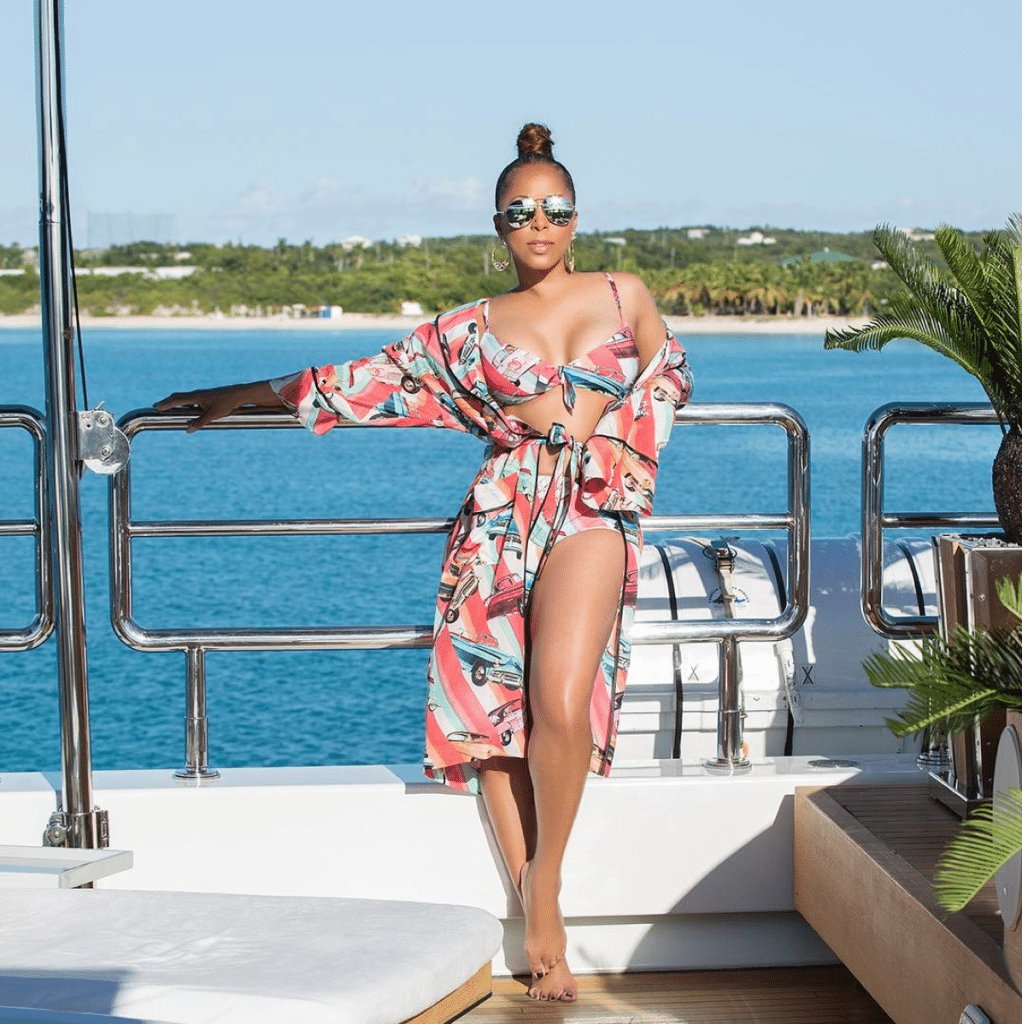 Personal Life
Marjorie Harvey has married three times. Her first husband was Jimmy Townsend., and they were married in the 1990s; the public isn't aware of how long their marriage lasted, but it's known that she filed for divorce after he was sentenced to life in prison for being involved in drug trafficking. Following the divorce, Marjorie to mariedy another drug dealer, named Darnell Woods. He is recognized for being a member of the Woods brothers gang, and they parted company when he was charged with the same things as her first husband.
Love Story with Steve Harvey
Marjorie Harvey met her third husband Steve Harvey, at a comedy club in Memphis, Tennessee, where he performed stand-up comedy back in the early 1990s. It was love at first sight.
He spotted her when she walked into a club, and said to the crowd that he was going to marry her, although both of them were married at the time. They reconnected in 2005, and after dating for two years, the couple finally exchanged their wedding vows on 25 June 2007, and are still going strong.
Mother of Seven
Marjorie welcomed three children with her ex-husband Darnell Woods; a son named Jason and two daughters named Lori and Morgan. After marrying Steve, she adopted his four children from his previous marriages. He has a son named Broderick Harvey Jr., and twin daughters named Karli and Brandi, from his first marriage to Marcia Harvey. He welcomed another son named Wynton with his second wife Mary Shackelford.
Moreover, Steve adopted her three children and gave them his last name. The counow also has five grandchildren.
Who is her husband? Steve Harvey Short Wiki/Bio
Broderick Stephen 'Steve' Harvey was born on 17 January 1957 under the zodiac sign of Capricorn, in Welch, West Virginia USA. He was raised in Cleveland, Ohio by his father Jesse Harvey, who was a coal miner, and his mother Eloise Vera Harvey, a teacher. He has four older siblings. Steve attended Glenville High School, from which he matriculated in 1974. He then went to Kent State University and West Virginia University. Thereafter, he spent some time working as a carpet cleaner, insurance salesman and letter carrier. before pursuing his career in the entertainment industry.
Career Beginnings
Steve Harvey's career began in 1985, when he started doing stand-up shows at the Hilarities Comedy Club in Cleveland, apparently not too successfully, as in the late 1980s he ended up being homeless for three years. His big break came when he became a finalist in the Second Annual Johnnie Walker National Comedy Search in 1990. It led him to a stint as a host of the variety show "It's Showtime At The Apollo", aired syndicated from 1993 to 2000. He then made his acting debut starring in the role of Steve Tower in the short-lived ABC sitcom "Me And The Boys" (1994-1995).
Rise to Prominence
Steve gained enormous popularity when he started working on his own "The Steve Harvey Show", aired on The WB network from 1996 to 2002; he also served as an executive producer of the show.
Concurrently, he continued to perform stand-up comedy, and went on the 1997 King of Comedy tour with Bernie Mac, D.L. Hughley, and Cedric the Entertainer, which became the highest-grossing comedy tour of all time. The comedy act was released as a film entitled "The Original Kings Of Comedy" (2000), directed by Spike Lee.
Steve then became the host of "The Steve Harvey Morning Show", which was broadcast on Radio One Inc. from 2000 to 2005. His next major project came with being the host of The WB's comedy and variety show "Steve Harvey's Big Time Challenge" (2003-2005), which he also produced. In 2003, Steve landed the role of Miles Smoke in the musical comedy-drama film "The Fighting Temptations", next to Beyoncé Knowles and Cuba Gooding Jr., and featured as Clarence Johnson in the teen comedy film "Love Don't Cost A Thing", directed by Troy Beyer.
It was followed by his portrayals of Mr. Rad in the musical comedy-drama film "You Got Served", and as Mack Johnson in the comedy film "Johnson Family Vacation", both in 2004. In the next year, Steve provided his voice to Buzz in the adventure comedy film "Racing Stripes".
Continued Success
In 2006, Steve released two stand-up specials, "Steve Harvey: Don't Trip" and "He Ain't Through With Me Yet". Two years later, he produced the reality TV show "Mobile Home Disaster", and released another stand-up special entitled "Steve Harvey: Still Trippin'". In 2009, he made a cameo appearance as himself in the comedy-drama film "Madea Goes To Jail", and published the book "Act Like A Lady, Think Like A Man" – the 2012 romantic comedy film "Think Like A Man" is based on the book, directed by Tim Story, and became a box office success, grossing over $96 million against the budget of $12 million.
The direct sequel, entitled "Think Like A Man Too", was released in 2014. Steve produced and appeared in both film titles.
In 2010, he issued the book "Straight Talk, No Chaser", and became the host of the game show "Family Freud", which has been aired in syndication ever since, and which twice earned him a Daytime Emmy Award nomination for Outstanding Game Show Host. He also hosts its spin-off, entitled "Celebrity Family Freud" (2015-present).
Recent Projects
In 2012, Steve Harvey did his final stand-up show at the MGM Grand in Las Vegas, and then debuted his self-titled syndicated daytime talk show (2012-2017), for which he received a three-time Daytime Emmy Award nomination for Outstanding Talk Show Informative.
In 2016, Steve published the book "Leap: Take The Leap Of Faith To Achieve Your Life Of Abundance" and co-created the NBC talent show "Little Big Shots", along with Ellen DeGeneres;  he produced and hosted the show until 2018, and Steve also worked on its spin-off – "Little Big Shots: Forever Young" in 2017.
Thereafter, he hosted the ABC reality competition show "Steve Harvey's Funderdome" (2017), and the syndicated talk show "Steve" (2017-2019), for which he also served as an executive producer. The latter earned him his sixth Daytime Emmy Award nomination for Outstanding Informative Talk Show Host. Most recently, he started producing and hosting the Facebook Watch original series "Steve On Watch" (2020-present).