• Tayler Holder is an American actor, social media star and singer
• He is best known for his eponymous YouTube channel, which has over two million subscribers and 135 million views of his videos
• Tayler is a popular TikTok star with over 19 million followers and close to 1 billion likes of all his videos combined
• He has also starred in various TV shows, including "Total Eclipse", "Dirt" and "House of Creators"
• As of May 2021, Tayler's net worth is estimated to be over $2 million
Tayler Holder Wiki Bio
Tayler Holder was born in Alvarado, Texas USA, on 19 August 1997 – his zodiac sign is Leo, and he holds American nationality. He's an actor, social media star and a singer, who's probably known best for his eponymous YouTube channel, which he launched on 8 January 2016. It's today subscribed to by almost two million people, and numbers over 135 million views of all his videos combined. These most often feature him pulling pranks, doing challenges, and talking about his everyday life.
Addresing The Rumors https://t.co/GvCWw3PibO

— Tayler Holder (@TaylerHolder) May 21, 2021
Early life and education
Tayler was raised in Alvarado alongside his brother Trever, by their parents Monte and Wendy, who prefer to be left out of the spotlight, thus not a lot is known about them; Tayler has featured his mother in some of his YouTube videos.
He grew up being interested in sports, and began playing football at the age of 13, and played various other sports in his spare time, including tennis and basketball. Tayler attended a local high school at which he became was interested in acting, singing and dancing, and it was when he was around 16 years old that he began working on his career on the internet.
Upon matriculating in 2015, Tayler decided not to pursue a college degree, and instead moved to Los Angeles in California, to continue his career on the internet.
Most popular YouTube videos
Tayler's most popular YouTube videos feature him talking about his love life, and taking part in various funny activities. Here are three of his most popular videos.
His #1 video – "Dating My Best Friend For 24 HOURS" – has been watched more than 5.5 million times since 1 June 2020 – the title's pretty much self-explanatory.
Tayler's second most popular video "This Could've Ended VERY BADLY!" has been seen more than 5.1 million times since 14 December 2019, and features him and his friends skateboarding around his house, and jumping on their lazy bags.
His third most popular video "BRYCE AND ADDISON ARE BACK TOGETHER!!" has been watched more than 4.4 million times since 9 June 2020.
Career as an actor
Tayler has six acting credits. He made his debut TV series appearance in 2018, when he portrayed Luke in the episode "Meet Cameron" of the fantasy drama "Total Eclipse", and the same year saw him star as Luke Dungey, in the drama "Dirt", also starring Lilia Buckingham and Kalani Hilliker, and which follows the life of Luke, who's a professional motocross racer. In 2020, Tayler guest starred in an episode of the mini-series "AwesomenessTV- Worlds Most Searched", as well as in the episode "Extreme Would You Rather" of the mini-series "VS Couple Ships". In 2021, he appeared in the short video "100 Rounds".
In 2021, Tayler appeared in 10 episodes of the reality series "House of Creators", which today stars Aisha Mian and Azra Mian, and follows the lives of social media stars.
Tayler's a prominent TikTok star, with more than 19 million followers, and close to one billion likes of all his videos combined. He mostly uploads lip syncing, dancing and training videos.
He's also an Instagram star, with more than 6.4 million people following him, while Tayler has uploaded over 1,000 pictures. These most often feature his muscular body, and show his numerous tattoos. He has also launched another Instagram account for his pet dog Eli.
Tayler launched his Twitter account in October 2013, and it's today followed by more than 1.6 million people, and he tends to tweet multiple times every day.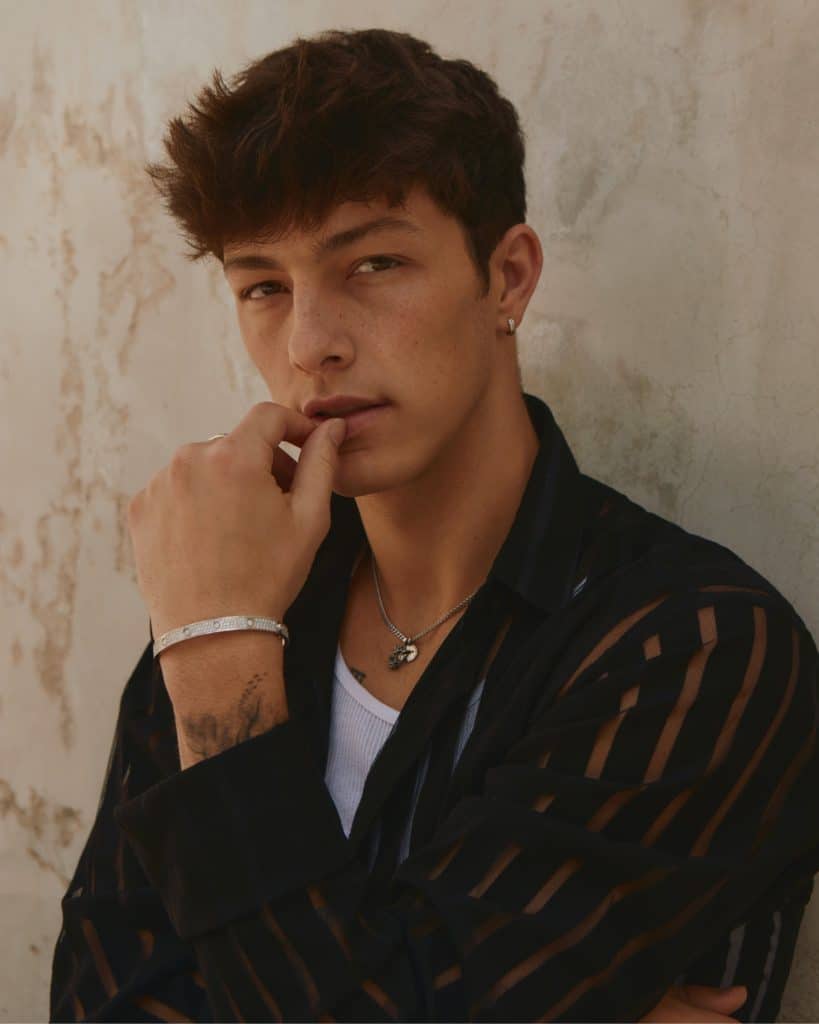 He also has a Facebook page, followed by more than 80,000 people.
Other work
He launched his singing career in 2018, with the release of his song "Fallback", which is today also amongst his most popular songs.
Since he came to Los Angeles, Tayler has been collaborating with the members of Hype House, a TikTok collective, but it wasn't until 2020 that he was invited to become a member himself.
Love life and girlfriend
Tayler's quite open when it comes to his love life, and there are three girls whom he's dated, that the public knows about.
He was in a relationship with Kelianne Stankus, a model and an Instagram star followed by more than two million people.
She's apparently also moved on after their split, as she's today engaged to Chase Mattson, a social media star and a bodybuilder.
Tayler next began dating Kaylyn Slevin in 2019. She's an actress, model, competitive cheerleader, and a social media star, who's followed by over 650,000 people on Instagram. They could have been seen featured in each other's Instagram pictures and YouTube videos, but the two split after a couple of months of being together, for unknown reasons.
From early 2020 to until just recently, Tayler was in a relationship with Charly Jordan, an Instagram star and a model, with more than 4.5 million followers on the network.
There were rumors circulating the internet, claiming that she and Tayler were planning to marry, but apparently something happened between the two, which led to their split, so as of May 2021, Tayler's single, hasn't married and doesn't have children.
Hobbies and other interests
Tayler's a huge fan of tattoos, and has various inked onto his body, including an hourglass, birds and roman numerals.
He has been riding dirt bikes since he was three years old, and entered various tournaments as a teenager.
He spends a lot of his spare time at the gym, thus his muscular body. Tayler's also following a special diet, and has given his fans advice on working out and dieting.
He's a fashionista and a shopaholic, as he goes shopping for clothes multiple times every week.
He likes to travel, and has been to various US states for both work and pleasure, while he's also been to several European countries, including England and France.
Tayler likes animals, with horses being his favorites; he's just recently learned to ride.
In his spare time, he likes to watch Hollywood movies starring his favorite actor Tom Cruise, such as "Top Gun", "The Last Samurai" and "Jack Reacher".
Age, height and net worth
Tayler's age is 23. He has short brown hair and brown eyes, his height is 6ft 2ins (1.88m) and he weighs around 192lbs (87kgs).
As of May 2021, his net worth has been estimated at over $2 million.