• Macaiyla is a Twitch star, social media personality and Tyler1's girlfriend
• She was born in New York, USA and is of Panamanian heritage
• She has a Twitch channel with 230,000 followers and a YouTube channel with 60,000 subscribers
• She is an avid gym-goer and enjoys attending cosplay events
• She is 22 years old with an estimated net worth of over $200,000
Who is Macaiyla?
Macaiyla hasn't revealed her real name; she was born in New York City, USA on 21 August 1998 – her zodiac sign is Leo and she holds American nationality. She is a Twitch star and a social media personality, but probably known best for being the girlfriend of Tyler1, a Twitch streamer and a professional player of the video game "League of Legends".
Early life and education
Macaiyla was raised in New York alongside her brother, by their Panamanian father who is a businessman and their mother who is a housewife.
She attended a local elementary school at which she became interested in sports, and began playing volleyball and softball.
Upon enrolling at a local high school in 2012, Macaiyla joined her school's softball and volleyball teams, and also started running track; she became interested in playing video games around the same time. Upon matriculating in 2016, Macaiyla enrolled at college to study criminal justice, but dropped out to focus on her career on the internet.
Career on the internet
Macaiyla's Twitch channel is followed by around 230,000 people, making her the owner of the 2,134th most followed channel. She joined the network on 3 May 2013, and has to this day livestreamed for around 1,250 hours, spending anywhere from 20 to 60 hours a week livestreaming, and has an average of 1,500 viewers per livestream, while her highest recorded number of concurrent viewers is 7,745.
Her most favorite game to play is "League of Legends", as she's spent around 300 hours playing it. Some of the other games she enjoys playing during her livestreams are "Among Us", "Dark Souls" and "Bloodborne".
She also has a YouTube channel which she launched on 6 November 2012, and it today counts over 60,000 subscribers and more than three million views of all her 12 videos combined.
Macaiyla is an Instagram star having gathered close to 170,000 followers, while she's uploaded close to 400 pictures, most of which have her buttocks in focus. She has been active on Twitter since November 2017, and has gathered around 200,000 followers, and tends to tweet several times every day.
Love life and relationship with Tyler1
Macaiyla met her boyfriend Tyler1 at TwitchCon 2016, and the two began dating not long after; they started texting months before the event, and decided to meet there for the first time. Tyler1 and Macayla have been together for around five years now, and it appears as the two aren't planning to marry anytime soon, nor to start a family together.
While they are keeping the details of their relationship away from the media's attention, it's been reported that the two have had some issues over the years, that Macaiyla has left him on multiple occasions and that they have often fought, however, none of these have been confirmed, nor have Macaiyla and Tyler1 addressed these rumors.
They haven't talked about any other people they have perhaps been with, so as of February 2021, Macaiyla is dating Tyler1, hasn't married and doesn't have children.
Hobbies and other interests
Macaiyla has four to five training sessions at the gym each week, and seems to be mostly focused on working on her abs and glutes. She has uploaded many pictures taken during her workout sessions onto her Instagram account.
She likes to dress up and attend cosplay events, and usually doesn't skip on an opportunity to attend a Halloween party, or any other costume party.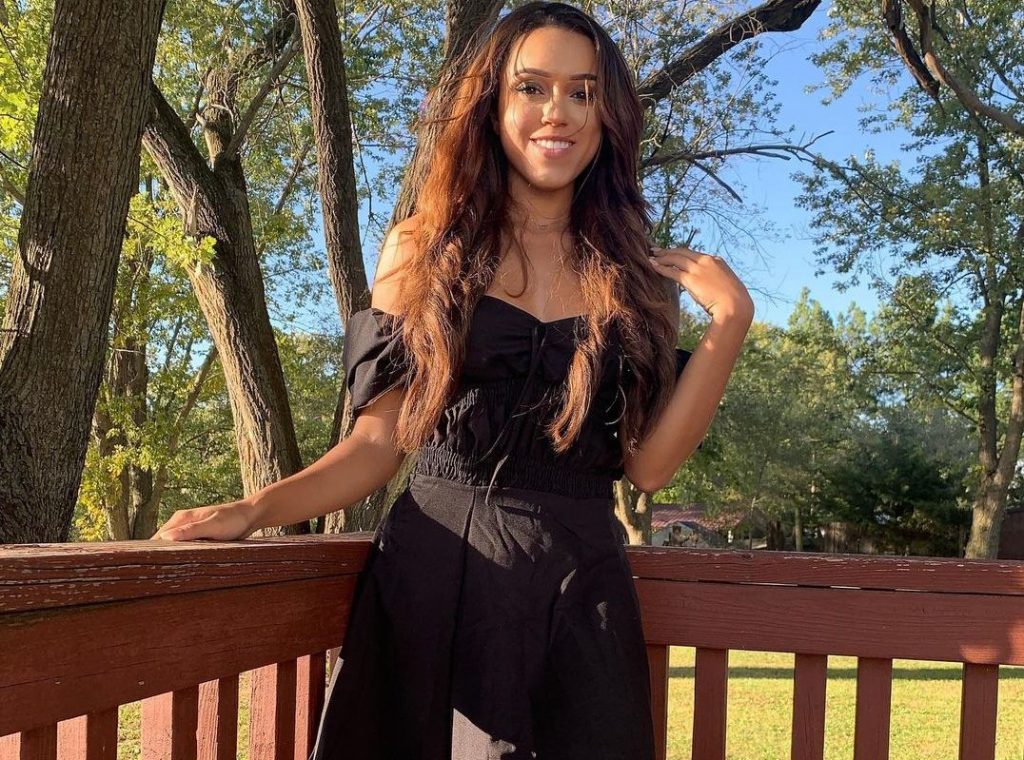 Macaiyla likes to travel and has been to various American states, as well as a couple of European countries such as France, England and Germany.
In her spare time which is mostly late at night, she's keen on watching movies starring her favorite actor and actress Ryan Reynolds and Amanda Seyfried, such as "Deadpool", "Green Lantern" and "The Proposal".
Age, height and net worth
Macaiyla's age is 22. She has long brown hair which she's dyed various colors, her eyes are brown and her height is 5ft 7ins (1.7m), while she weighs around 135lbs (62kgs). As of February 2021, her net worth has been estimated at over $200,000, while her boyfriend's net worth is reputedly over $1 million.
Who is Tyler1?
Tyler Steinkamp, probably known better as tyler1 or T1, was born in Missouri, USA on 7 March 1995 – his zodiac sign is Pisces and he holds American nationality. He is amongst the most popular players of the video game "League of Legends", having gathered over four million followers on Twitch, making him the owner of the 25th most popular Twitch channel. Since 14 November 2013 when he launched his channel, Tyler has livestreamed for around 7,500 hours, which is equivalent to around 312 days. He has gathered close to 220 million views of all his livestreams combined, while his highest recorded number of concurrent viewers is 368,484.
He grew up being interested in playing football, and upon matriculating from a local high school in 2013, Tyler enrolled at Central Methodist University, Missouri on a football scholarship. He was planning to obtain his degree in computer science, but chose to drop out and focus on his career on the internet.
He was the 14th best "League of Legends" player in 2014, but Tyler is perhaps known best for his toxic behavior, which has led him to receive bans on 22 separate Riot Games accounts. In April 2016, he announced that he had become calmer, and his Twitch channel reached 92,000 followers in less than a month. Tyler then returned to being his old self, but his fanbase continued to grow, even though several other famous Twitchers condemned his behavior and actions.
It was reported on 30 April 2016 by a Riot Games employee that Tyler will no longer be allowed to have a "League of Legends" account, and he thus had to turn to other video games including "Fortnite" and "PlayerUnknown's Battlegrounds".
In January 2018, Tyler was allowed to play "League of Legends" once again, and in October 2020, he was signed to the South Korean eSports team T1 as their content creator.
Tyler's also known for having hosted the "League of Legends" tournament Tyler1 Championship Series in November 2017. It was reported that around 200,000 people watched the tournament, the winners of which received $10,000 from Tyler (no sponsors). He hosted the tournament again in November 2018, this time with a $50,000 prize pool.