• Adam LZ (Adam Lizotte-Zeisler) is an American YouTuber, social media star, BMX rider, and car racer
• He attended University of Central Florida and obtained his Bachelor's degree in business management in 2016
• His most popular YouTube video has over 14 million views
• He is active on Instagram, Twitter, Facebook, and TikTok
• He is 26, has a net worth of over $3.5 million, and is currently in a relationship with Collete Davis
Adam LZ Wiki Bio
Adam Lizotte-Zeisler – Adam LZ – was born in Woodbury, Connecticut USA, on 5 May 1995 – his zodiac sign is Taurus, and he holds American nationality. He's a YouTuber, social media star, BMX rider, and a car racer, but who's perhaps known best for his YouTube channel, which he launched on 3 February 2013. It's today subscribed to by more than 3.2 million people, and numbers over 750 million views of all his videos combined. At the launch of the channel, Adam was mostly focused on uploading videos which feature him riding his BMX bicycle, however, he's nowadays mostly focused on videos which feature him building, driving and drifting in cars.
This is very overwhelming to look at… lol pic.twitter.com/ay1bDGrOrC

— roof rack ranger (@Adam_LZ) June 15, 2021
Early life and education
Adam was raised in Woodbury by his parents about whom not a lot is known, as he respects their privacy. He hasn't spoken about having any siblings, so most of his fans believe him to be an only child.
Adam grew up being interested in wake-boarding, and was amongst the best same-aged practitioners of the sport in his state. He considered becoming a professional wake-boarder, and also wanted to start entering competitions, however, Adam's friends were all into riding their BMX bicycles, which persuaded him to leave behind that dreams behind, and take on BMX riding.
He attended a local high school at which he was quite popular, mostly thanks to being very sportive, then upon matriculating in 2013, Adam enrolled at the University of Central Florida, from which he obtained his Bachelor's degree in business management in 2016; he minored in entrepreneurship.
Most popular YouTube videos
Adam's also popular for his videos which have been taken during his everyday life, and often feature his mother and his friends. We're going to be mentioning three of his most viewed YouTube videos, which have helped him gain many more subscribers.
Adam's #1 video – "Turbo'd my Mom's Car – Her Reaction Was Priceless!" – has been watched more than 14 million times since 13 February, and features Adam and his mom in her car; she doesn't know that Adam has put a turbo in it when she was away for work.
His second most popular video is "Walmart Game of BIKE", and has been watched more than 10 million times since 12 April 2016, and features Adam and his friend as they're riding their newly bought bicycles around Walmart.
Adam's third most popular video – "GoPro BMX – Woodward West" – has been viewed close to 9.5 million times since 14 August 2016, and features him riding his bicycle.
Adam's quite active on Instagram, and is today followed by more than 1.2 million people, while he's uploaded close to 2,600 pictures. These nowadays mostly feature him driving fast cars and karts.
He launched his Twitter account in August 2010, and has to this day amassed more than 180,000 followers, and has tweeted over 48,000 times, tending to tweet at least once a day.
He's quite active on Facebook, and his account's followed by close to a million fans, while he tends to upload at least one picture or video a day. Adam's also active on TikTok, and is today followed by nearly 150,000 people, while he has amassed close to 500,000 likes of all his 16 videos combined.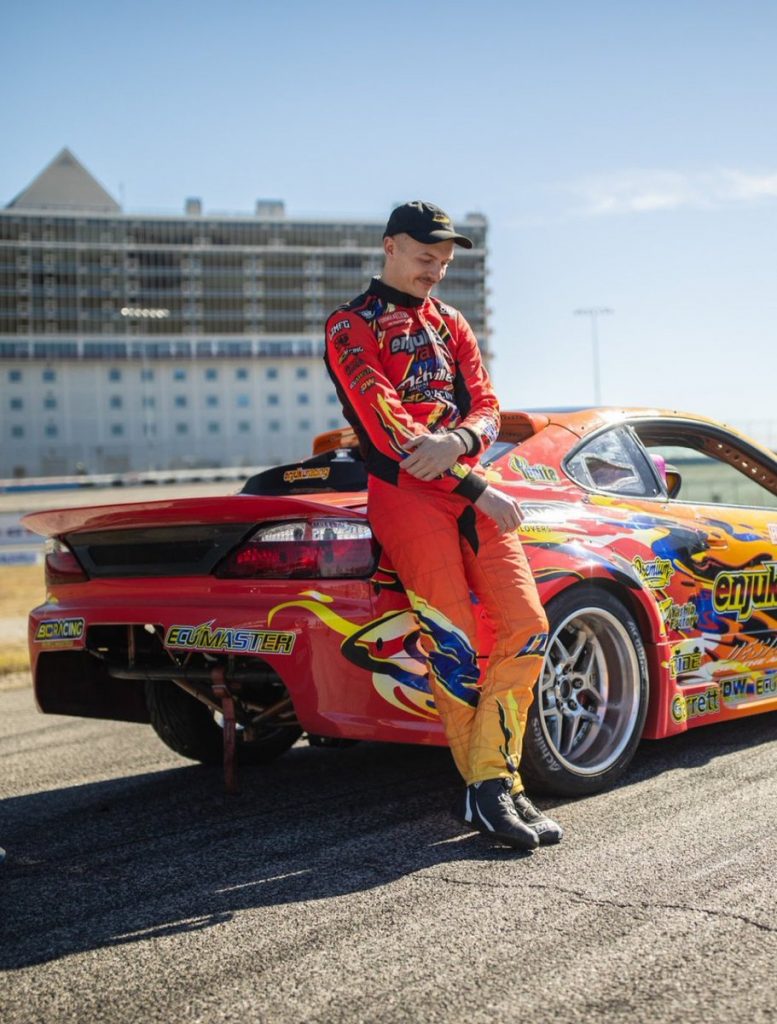 Other works
Adam has spent a lot of his spare time teaching kids how to do tricks with their BMX bicycles, and after gaining recognition and seeing other people selling their merchandise on the internet, he founded his own clothing brand – LZBMX. He and his friend James Harvey sold their merchandise on the internet at first, before opening their own LZBMX store, located in Central Florida, selling stickers, hats and sweatshirts, amongst other things.
Following his transition to cars, Adam's currently working on opening his own garage, so that he would be able to make use of his skills as a car mechanic.
Marriage and divorce
Adam's more or less secretive when it comes to his love life, but it's widely known that he married the non-celebrity Nicole Frye in July 2016.
The two met during Adam's freshman year at the University of Central Florida, and agreed to marry as soon as they both graduated. Nicole was born on 10 November 1994, and is thus a year older than Adam. She was attracted to Adam's skateboarding and cycling skills, as she was influenced by her three brothers, all of whom were skateboarders. There were rumors circulating the internet in 2017, claiming that Adam and Nicole were planning to start a family together, but this didn't happen.
In the second half of 2018, Adam's fans noticed that he was no longer featuring Nicole in his videos, and in December of the same year, he confirmed that they were living separately.
In January 2019, he revealed that the two had filed for divorce, which has since been finalized.
Since August 2020, Adam's been in a relationship with Collete Davis, an American YouTuber and a social media star, who's also a huge fan of cars. She can be seen featured in many of his Instagram pictures.
Hobbies and other interests
Adam's interested in music, and plays the guitar; when still a teenager, he dreamed of becoming the guitarist of a famous band.
He's physically quite active, and has a couple of training sessions at the gym each week.
Adam's into travelling, and has been to various US states for both work and pleasure, while he has also been to Europe on a number of occasions.
He and his now ex-wife spent their honeymoon in Europe.
He likes to watch movies late at night, and his favorite actors are Al Pacino, the late Robin Williams, and the late Heath Ledger. A couple of Adam's favorite movies are the trilogy "The Godfather", "Good Will Hunting" and "The Dark Knight".
He occasionally goes playing sports with his friends, and Adam's said to be good at both soccer and baseball.
Age, height and net worth
Adam's age is 26. He has short brown hair and dark blue eyes, his height is 5ft 10ins (1.78m) and he weighs around 163lbs (74kgs).
As of June 2021, his net worth has been estimated at over $3.5 million.