• Michelle Khare is a YouTuber, actress, TV host, and former professional cyclist from Shreveport, Louisiana USA.
• She attended Dartmouth College and interned at companies such as Carousel Productions, DreamWorks Animation, and Google.
• Her most popular YouTube videos are "I Tried Marine Bootcamp," "I Tried Police Academy," and "I Trained Like A Victoria's Secret Model for 5 Weeks."
• She is engaged to Garrett Kennell, an American film writer and director.
• Michelle's estimated net worth is over $350,000.
Michelle Khare Wiki Bio
Michelle Khare was born in Shreveport, Louisiana USA, on 10 August 1992 – her zodiac sign is Leo, and she holds American nationality. She's a YouTuber, actress, TV host, and a former professional cyclist, who's perhaps known best for her eponymous YouTube channel, which she launched on 20 July 2007. It's today subscribed to by nearly 2.5 million people, and numbers close to 200 million views of all her videos combined. Michelle's mostly focused on uploading videos which show her everyday life, some of which feature her training with NASA astronauts, entering beauty pageants, and going rock climbing.
Early life, parents and education
Michelle was raised in Shreveport alongside her sister Madeline, by their Indian-American father Vivek Khare, and their mother who prefers to be left out of media.
She grew up being interested in sports, and played soccer and volleyball while attending a local high school. Upon matriculating in 2010, Michelle enrolled at Dartmouth College, and during her four years there, she interned at several large companies, such as Carousel Productions, DreamWorks Animation, and Google. She also became interested in acting, and made her debut film appearance in 2012 portraying Interested Girl in the short comedy "The Shutdown".
Michelle graduated with a Bachelor of Arts degree in digital media and technology in 2014.
Most popular YouTube videos
Michelle first began making YouTube content in 2014, for the American internet media, news and entertainment company BuzzFeed, Inc.
They forced heavy restrictions on their employees' personal YouTube channels, which was why Michelle left in 2016, to focus solely on her own channel.
She's probably known best for taking on extreme challenges, as well as for her sense of humor, and we're going to mention three of her most popular videos, which have helped her attract many subscribers.
Her #1 video, "I Tried Marine Bootcamp" has been watched more than 11.5 million times since 3 March 2019, and features Michelle training at Parris Island for three days.
Her second most viewed video "I Tried Police Academy" has been seen close to 10 million times since 29 September 2019, and features her enrolling at San Diego Police Academy.
Michelle's third most popular video "I Trained Like A Victoria's Secret Model for 5 Weeks" has been watched over 9.4 million times since 30 April 2018, with obvious subject matter.
Career as a cyclist
Michelle became interested in cycling while attending Dartmouth College, and often went mountain and road cycling alone. In 2014, she joined the Dartmouth Cycling Team, and with them won the US U23 Criterium Nationals. Also in 2014, she became a member of the BMW Women's Professional Team, and raced with them during the 2014-2015 season.
Acting credits
In 2013, Michelle played Great Ass Woman in the comedy movie "Reunion 108", and in 2014, she was featured in the episode "Girls Play Dungeons and Dragons for the First Time" of the short comedy series "BuzzFeed Video".
Her following role came three years later, when she starred in the short horror film "Whisper", and the same year saw her appear in the short music video "Alyson Stoner: Life Were a Dance Movie". She gained recognition in the second half of 2017, when she began starring in the comedy series "MK Ultra", created by her and her fiancée Garrett Kennell, and which also stars Jay Kwon and Brandon Melendy. It follows Michelle as she's training as iconic superheroes, and then tests her abilities. In 2018, she starred as Val in the short comedy film "Everyone Loves Bulldog", and in 2019, Michelle played one of the main characters Jade, in the comedy series "How to Survive a Break-Up" – it also starred Aaron Burriss and Eva Gutowski, and follows Eva as she's giving advice on how to get over a break-up.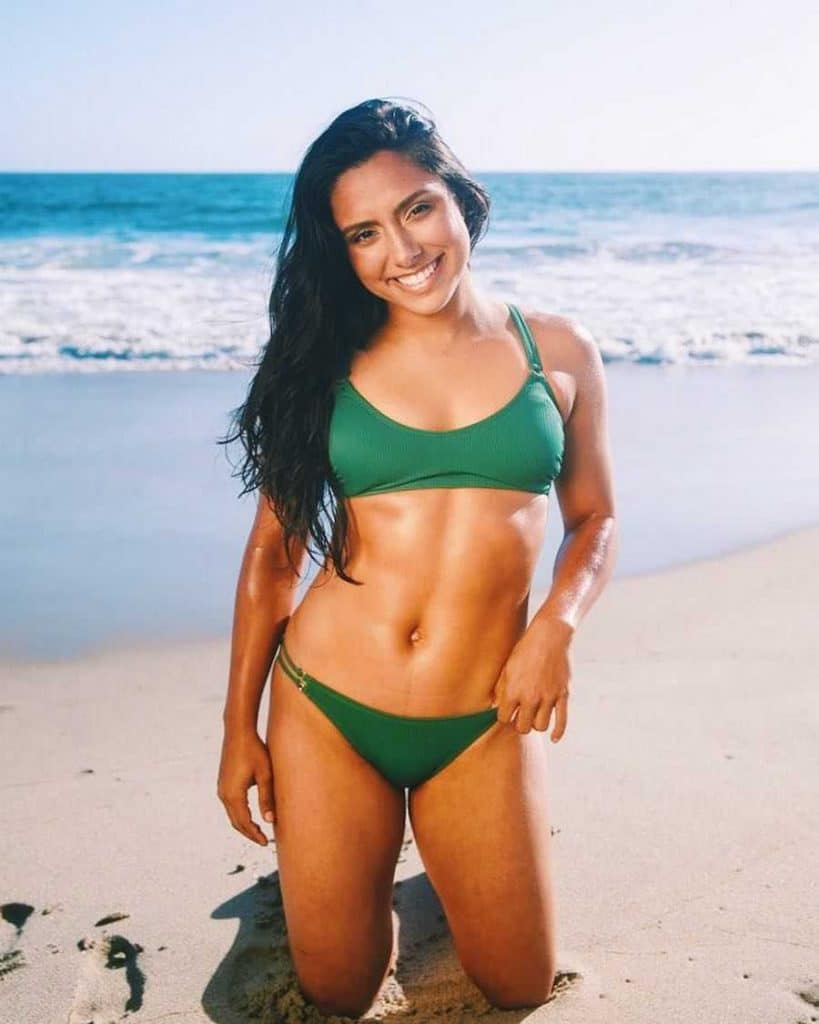 Two of Michelle's most recent roles have been in 2020, in the short thriller movie "Unsubscribe", and the adventure game-show "Karma".
Other credits
Michelle wrote and produced all the eight episodes of the series "MK Ultra" in 2017, and in 2018 she produced the short comedy film "Everyone Loves Bulldog"; she also produced the 2019 short film "YouTube Rewind 2019: The Musical".
She has made a guest appearance in a number of talk-shows, including "Christy's Kitchen Throwback" and "Guest House"; Michelle has also hosted the children's competition show "Karma".
Michelle is followed by close to 300,000 people on Instagram, and has uploaded over 1,500 pictures, most of which have been taken during her everyday life.
She launched her Twitter account in December 2013, and it's today followed by over 42,000 people, while Michelle has tweeted close to 10,000 times.
Her Facebook page is followed by more than 46,000 fans, and she's followed by more than 36,000 people on TikTok – all her TikTok videos combined have amassed over 700,000 likes.
Love life and boyfriend
Michelle's quite secretive when it comes to her love life, but it's widely known that she's today engaged to Garrett Kennell. Garrett's an American film writer and director, whose short movies have been shown all around the world, and he's won many awards for his work. Some of his most notable short films and series are "Everyone Loves Bulldog", "MK Ultra" and "Milkman"; Garrett tends to feature Michelle in his movies and series.
Neither of the two has spoken of any other people whom they have perhaps been with, and as of July 2021, Michelle's engaged to Garrett Kennell, hasn't been married, and doesn't have children.
Hobbies and other interests
Michelle's physically highly active, and has five to six training sessions at the gym, as well as outdoors, every week. She's also following a strict diet, thus her slim figure.
She loves to travel, and her career has taken her all around the US, as well to various European, Asian and South American countries. Her dream travel destination is Florence in Italy.
Michelle's into playing video games, and a couple of her favorites are "Among Us", "Fortnite" and "Apex Legends".
She likes to watch movies late at night, and her favorite actor and actress are Matt Damon and Julia Roberts, while a couple of her favorite films are "Good Will Hunting", "The Runaway Bride" and "Notting Hill".
Winter's her favorite season, as she's an avid skier.
Age, height and net worth
Michelle's age is 28. She has long brown hair and brown eyes, her height is 5ft 2ins (1.57m) and she weighs around 110lbs (50kgs).
As of July 2021, her net worth has been estimated at over $350,000.