• LuluLuvely is a social media star known best for uploading gameplays of the popular video game "Apex Legends" onto her YouTube channel.
• She has an older sister and a younger brother, and has Irish, Scottish, and Ashkenazi Jewish ancestry.
• She joined the NRG e-sports organization as a content creator in November 2019.
• She has competed against other streamers at seven Twitch Rivals events, and has about 950,000 followers on the platform.
• She is 27 years old, has long blonde hair, brown eyes, is 5ft 4ins (1.63m) tall, and has a net worth estimated at more than $300,000.
Who is LuluLuvely?
LuluLuvely was born in Houston, Texas, USA on 10 October 1993 – her zodiac sign is Libra, and she holds American nationality. She is a social media star, perhaps known best for uploading gameplays of the popular video game "Apex Legends" onto her YouTube channel.
Early life and education
LuluLuvely grew up in Houston. Her real name is Lindsay, but her family nicknamed her 'Lulu'. She has an older sister and a younger brother, who all still live together. According to a 23andMe DNA analytics test she took a few years back, she has Irish, Scottish and Ashkenazi Jewish ancestry.
She expressed interest in gaming at an early age, and LuluLuvely admitted in one of her YouTube videos that she wasn't a very diligent student in high school, because she would rather spend her free time sleeping and playing video games.
During her senior year in high school, she was a member of the FFA youth organization, which helped her enroll at college. In 2015, LuluLuvely graduated from East Carolina University in Greenville, with a Bachelor's degree in marketing. Before her Twitch career kicked off, she worked in finance for two years, then later moved on to work for an e-sports company.
Career on Twitch
LuluLuvely launched her Twitch channel on 30 January 2015 under the alias 'Beware13', but rarely streamed prior to June 2017, when she decided to focus more on the channel. She usually streams her gameplays of online multiplayer FPS (First Person Shooter) games such as "Apex Legends", "Fortnite" and "Overwatch". She quickly gained recognition for her gaming skills, and in November 2019, she joined the NRG e-sports organization as a content creator.
LuluLuvely streams almost every day, and is usually watched by about 6,700 people on average, with more than 20 million views in total. She currently has more than 950,000 followers on Twitch, and her channel is followed by some other big names on Twitch, such as Trainwreckstv, Mizkif and TSM_Imperial, while LuluLuvely herself is ranked as the #239 most followed streamer on the platform.
She has competed against other streamers at seven Twitch Rivals events; she won 12th place at the Apex Legends NA Showdown event, organized in May 2021.
In October last year, LuluLuvely sparked controversy in the "Apex Legends" community, as she got two players from an opposing squad banned.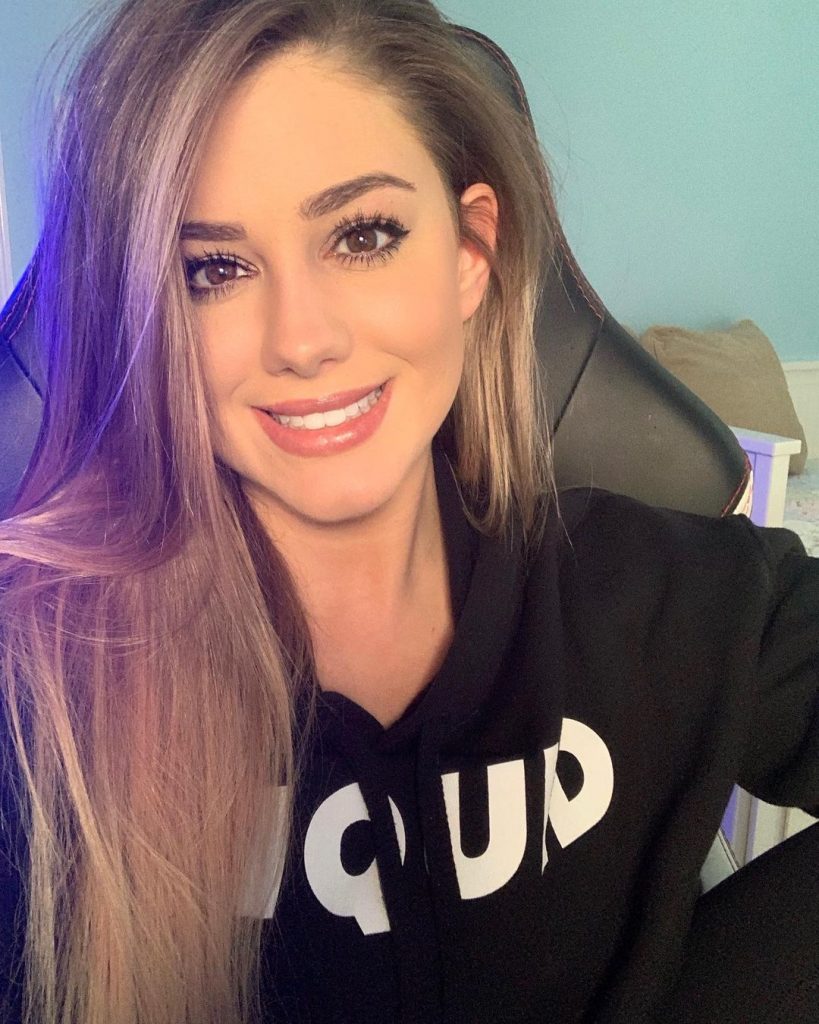 While she was streaming, she was killed by a player who was blatantly cheating, and immediately reported him and his teammate 'KongoBoom'. KongoBoom then went on to Reddit to complain about the situation. As a result, many "Apex Legends" players blamed LuluLuvely for getting him banned, and claimed that she was receiving a special treatment for being a female content creator. She said that she received a lot of negative comments and even death threats, even though she apologized to KongoBoom. In her Twitter statement she wrote 'The amount of low IQ individuals I've had the displeasure of interacting with today is staggering'.
NRG
NRG is a professional e-sports and entertainment organization based in Los Angeles, California, founded in November 2015.
The organization has rosters in numerous games, including "Apex Legends", "Call of Duty" and "Fortnite", while it also includes a number of Twitch streamers.
It was founded by Sacramento Kings basketball co-owners Mark Mastrov and Andy Miller, while it lists big names such as Shaquille O'Neal and Tiesto as some of the investors. In 2017, NRG acquired the Canadian e-sports company Northern Gaming.
The organization is present on all major social media platforms through its social gaming brand 'Full Squad Gaming', which is currently one of the biggest gaming brands on TikTok.
On 22 November 2020, the company announced on their official YouTube channel that LuluLuvely will be joining them as a content creator, and one of their first female members.
In March 2021, NRG signed a partnerships with Hot Pockets, and as a part of the partnership, they opened the NRG Hot Pockets Castle in Los Angeles. The castle consists of 12 rooms featuring artistic installations and gaming areas. NRG has also signed partnerships with companies such as Levi's, Popeyes, and T-Mobile, among others.
Career on YouTube
LuluLuvely launched her YouTube channel on 15 July 2017, and on 4 April 2019 posted her first video entitled "YOU HAVE TO SEE HOW MANY SQUAD WIPES I GOT? | Steam Highlights". She usually posts short clips from her Twitch streams, which feature her playing "Apex Legends", while she also occasionally makes Q&A videos. In April 2020, she started uploading gameplay videos of the popular multiplayer FPS game "Valorant".
In her YouTube videos, LuluLuvely has collaborated with numerous content creators, such as Pokimane, Shroud and Fedmyster. Her most popular video is entitled "APEX PREDATOR ON THE 1ST DAY OF RANKED SLPIT | Apex Legends Season 6 Highlights", which has amassed over a million views. Her channel numbers almost 650,000 subscribers, with more than 75 million views in total.
LuluLuvely is active on Instagram, with her account '@lululuvely' numbering more than 320,000 followers viewing 100 photos and videos. She likes to upload a lot of selfies and casual pictures onto her account, while she also sometimes makes content for her sponsors, Hyundai and G-Fuel.
She manages her eponymous Twitter account too, which numbers over 240,000 followers and 10,000 tweets. She launched the account in July 2011, but wasn't very active on the platform prior to 2018.
LuluLuvely has a TikTok account with almost 350,000 followers and 6.5 million likes in total, onto which she uploads short clips from her Twitch streams.
Love life and relationships
LuluLuvely is a very private person, and usually avoids questions related to her private life. However, she has revealed that her love life is stagnant at the time, and in fact hasn't been on a date for more than five years, or in a relationship for about seven years. She has said that she had negative experiences dating in high school and college, which made her stay away from relationships for a while, while she later became to date due to her busy career.
LuluLuvely is single, hasn't been married or engaged, and doesn't have children.
Hobbies and interesting facts
She has a four years old pet dog called Presley, which she rescued from an animal shelter.
When she is not gaming, LuluLuvely likes to binge watch TV series, with her all-time favorite being "Peaky Blinders".
She also enjoys watching anime, and has watched through her favorite anime, "Naruto", two times.
She likes to listen to classical music, as well as music from Broadway plays, while she also occasionally listens to hip hop and country.
She likes tattoos, but wouldn't get one because she has a fear of needles.
LuluLuvely has uneven eyebrows due to a medical condition, and has admitted that she became insecure about it after her Twitch viewers started pointing it out.
Appearance, age and net worth
LuluLuvely is 27 years old. She has long blonde hair and brown eyes, is 5ft 4ins (1.63m) tall, and weighs around 120lbs (54kgs).
As of June 2021, her net worth is estimated at more than $300,000.