Stephanie Soo:
• Born on 27 November 1995 in South Korea
• 25-year-old social media phenomenon, YouTuber, and vlogger
• Close to $1 million net worth as of early 2021
• Runs two YouTube channels, with over 2.4 million subscribers and 480 million views on her self-titled channel
• 560,000 followers on Instagram
• Engaged to her fiancé, who goes by 'MisterMangoButt' on Instagram
• Enjoys traveling and dancing in her spare time
Who is Stephanie Soo?
Stephanie Soo was born on 27 November 1995 under the zodiac sign of Sagittarius, in South Korea. She is a 25-year-old social media phenomenon, YouTuber, vlogger, probably best recognized for running her official self-titled YouTube channel, on which she has amassed almost 2.4 million subscribers, while her videos have garnered over 480 million views in total. Stephanie is also active on her official Instagram account, on which she has over 560,000 followers.
How rich is she, as of now? Stephanie Soo Net Worth
As of early 2021, Stephanie Soo's net worth is already close to $1 million, acquired from her successful internet-based profession as a YouTuber and vlogger. She also creates sponsored posts and shares them across her official social media accounts, plus she increases her wealth through merchandise sales, and additionally her assets includes a home valued at $2.3 million, located in Sherman Oaks, Los Angeles.
Early Life, Parents, Nationality, Ethnicity
Stephanie Soo was born in South Korea, but later moved to the United States, and spent her early years in Atlanta, Georgia. She was raised by her parents; however, there is no information in the media about their names and professions – it's also unknown whether she has siblings or not. Stephanie holds South Korean nationality, and belongs to Asian ethnic group.
Main YouTube Channel
With the rise of the popularity of social media, Stephanie Soo took the opportunity and eventually became famous.
Her career began when she came up with the idea to make mukbang videos, eating shows in which a host consumes large amounts of food while retelling some stories or talking to someone. In March 2017, she launched her official self-titled YouTube channel, and her first video entitled "HUGE KOREAN BLACK BEAN NOODLES MUKBANG l EATING SHOW l [먹방]", was uploaded few months later. The video went viral and gained her a huge number of subscribers, which apparently encouraged her to continue making videos with similar content.
As time passed, Stephanie's channel became one of the most popular in the mukbang community.
Some of her most viewed videos are "5 PACKS OF 4X NUCLEAR NOODLE CHALLENGE ft. ZACH CHOI ASMR MUKBANG 먹방 | Eating Show", "10 PACKS SPICY NUCLEAR BLACK BEAN NOODLES CHALLENGE | MUKBANG", and "DAEBAK GHOST PEPPER NOODLES CHALLENGE MUKBANG!!" among many others.
Second YouTube Channel
Side by side with running her main YouTube channel, in September 2017 Stephanie created her second YouTube channe, called 'MissMangoButt'. This is focused on vlogs related to her personal life, daily activities with her family and friends, hobbies, travel, etc.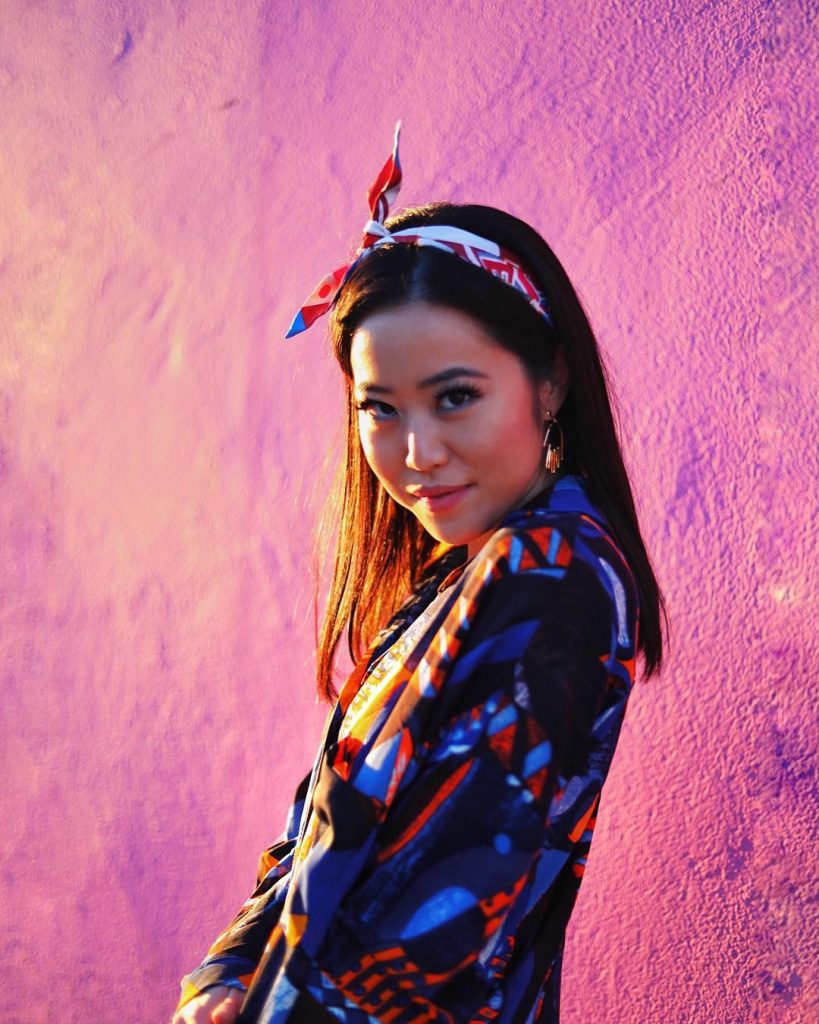 She has garnered almost a million subscribers, while her videos have amassed over 160 million views in total.
Some of her most popular videos on her second YouTube channel include "FIANCE SPEAKING ONLY CHINESE TO ME FOR 24 HOURS!!! *Frustrating but I won $300?", "SPEAKING ONLY KOREAN TO MY FIANCE FOR 24 HOURS!! (we're both frustrated)", and "we made the IMPOSSIBLE DRAGON'S BEARD COTTON CANDY! 16,000 strands of candy!".
Instagram, Merchandise Line, and Other Projects
In addition to her successful career on YouTube, Stephanie expanded her influence onto Instagram, on which she runs her official account under the username 'missmangobutt'.
She shares her photos and stories on a daily basis, in order to promote her videos and other projects. Stephanie also launched her own merchandise line, and is the co-owner of a company named Fanjoy, through which she sells sweaters, t-shirts, phone cases, and notebooks. Besides that, she guest-starred as herself in the episode "BBQ" of the Disney+ documentary series "The World According To Jeff Goldblum" (2019). She recently started hosting her own podcast, entitled "Rotten Mango".
YouTube Controversy with Nick Avocado
In late 2019, Stephanie Soo collaborated with fellow YouTuber Nick Avocado on a mukbang video, during the filming of which he pressured her to say bad things about another popular YouTuber, her ex-friend Veronica Wang, which she didn't want to do. Thereafter, she released the video "Why I Am Scared Of Nikocado Avocado", in which she accused him of bullying her and being manipulative, and explained that his behavior led her to suffer a series of panic attacks. It was followed by his response video, in which he admitted that he never really liked her, and that she made faces like she was uncomfortable, when she actually wanted to talk about Veronica.
Stephanie then released another video, entitled "How Nikocado Manipulated All of Us", showing their text messages which contradicted things that he claimed. These videos went viral, and many fans supported Stephanie, while Nick lost over 10,000 subscribers in one day.
Appearance and Vital Statistics
The famous social media star has long dark brown hair and dark brown eyes. She stands at a height of 5ft 2ins (1.57m), her weight is 110lbs (50kgs), and her vital statistics are 34-26-35. Her bra, dress and shoe sizes aren't available.
Personal Life – Who Is Her Fiancé?
Stephanie Soo has been romantically involved in a relationship for a while, and has been engaged since 2019.
Although she is very open regarding their relationship, Stephanie is just the opposite when it comes to identifying her fiancé. He frequently appears in her videos and photos on social media accounts, hidden behind a panda mask. Moreover, she refers to him as 'MisterMangoButt', which is his Instagram username. It's reported that his real name is Rui Qian, and that he works as a sales executive and watch advisor at the Harry Winston; however, Stephanie has never confirmed it. The couple lives together in Los Angeles, California.
Trivia
In her spare time, Stephanie enjoys traveling around the world, and dancing.
Her trademark is her catchphrase "biss" – she refers to herself as a "broke-a** biss".
She is known as an avid animal lover, and has two French Bulldogs named Tiger and Mango.