• Brendan O'Carroll is an Irish actor, comedian, and writer, known for his portrayal of Agnes Brown in the popular Irish sitcom "Mrs Brown's Boys".
• As a child, he was the youngest of 11 children and his father's death made him turn to comedy at a young age.
• His most notable success was the sitcom "Mrs. Brown's Boys", which started as a radio play in 1992, followed by three books and a movie.
• O'Carroll now has a net worth of close to $20 million, and he and his wife own a $4 million mansion in Davenport, Florida.
• In 2022, he released a memoir entitled "Call Me Mrs Brown", which reveals many previously unknown details about his life and rise to fame.
Who is Brendan O'Carroll?
Brendan was born on 17 September 1955, in Dublin, Ireland. He's an Irish actor, comedian and writer, known best for his portrayal of Agnes Brown in the popular Irish sitcom "Mrs Brown's Boys". O'Carroll is a recipient of the prestigious Irish Film and Television Lifetime Achievement Award.
Still think this is the best costume ever. My bro @ericocarroll433 is his shadow and spent nearly the whole night face down on the floor 😂 pic.twitter.com/PJEoTweT49

— Danny O'Carroll (@BbMrsbrownsboys) October 29, 2017
Early life and career beginnings
Brendan was born the youngest of 11 children; his father Gerard worked as a carpenter, while his mother Maureen was a representative of the Irish Labour Party. His father died quite early, so Brendan's mother had to raise the children all on her own. They were financially struggling, and Brendan took on many odd jobs to help the family as soon as he became old enough to work. His education suffered as a result, and Brendan never completed high school.
Despite his hardships, Brendan always tried to cheer up everyone around him. In a recent interview with "Mirror", he reveals that his father's passing made him turn to comedy at a young age. He recalled seeing his mother cry alone in her bedroom – 'I thought my job was to make her laugh every day. And I did. Virtually every day.', he said. However, Brendan didn't make a professional break into comedy until the early 1990s.
His comedy pursuit started after he opened his own bar and cabaret lounge. His friends and co-workers knew his sense of humor, and convinced him to try performing himself. Once he did, his comedy shows became a big success, and his bar was no longer big enough to take everyone in. Brendan's big break came with his debut TV appearance in "The Late Late Show", after which he eventually became a regular in the series, while his stand-up videos became a smash hit, even knocking out U2 and Garth Brooks off the top spots in the charts.
O'Carroll's first big project was the movie "Sparrow's Trap", of which he wrote the screenplay, and had the famous Irish actor Stephen Rea take the lead role. Unfortunately, after Brendan ran into issues with the distributor, the whole project was scrapped, and he ended up more than $1 million in debt.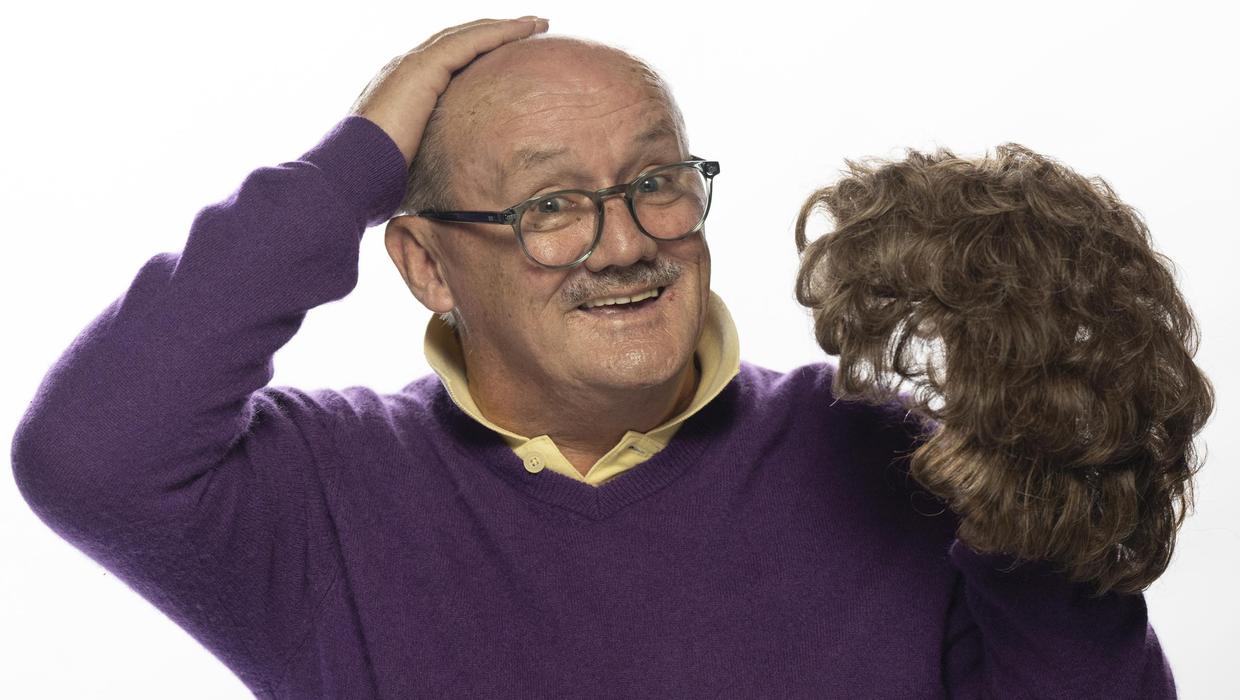 "Mrs Brown's Boys"
O'Carroll's most notable role was in the sitcom "Mrs. Brown's Boys".  It follows a loud-mouthed and overprotective Irish mother, who gets her children entangled in all kinds of comical situations.
The series started as a radio play of the same name, which he wrote and performed in 1992. It was followed by three books continuing the story: "The Mammy" (1994), "The Chisellers" (1995), and "The Granny" (1996), all three becoming nationwide bestsellers. In 1999, the first book of the trilogy was adapted into a movie, with the screenplay co-written by Brendan.
Shortly thereafter, he turned the story into a theatre play entitled "Mrs Browne's Boys"; initially, he didn't plan to appear in it, but after the lead actress gave up on her role, Brendan took her place as Agnes. In the early 2000s, he took the show to the road, both in the UK and Ireland. The play became the biggest hit in Glasgow where it played for seven years – the Pavillion Theatre therefore became known as 'the home of Mrs Brown'.
The unbelievable success of the "Mrs Brown" books and theatre plays attracted the attention of the British Broadcasting Corporation (BBC). In 2009, Brendan was approached by one of their producers, who wanted to create a TV series based on the stage show. O'Carroll had already chosen a cast for it and filmed a pilot, but the premiere had to wait due to an unrelated internal incident at the BBC. In the meantime, the Irish Raidió Teilifís Éireann (RTE) stepped in to co-produce the series alongside the BBC.
The first season of "Mrs Brown's Boys" premiered on 1 January 2011 – and was a huge hit among viewers. Two more seasons aired in 2012 and 2013, before the show went on an hiatus, eventually making a comeback after almost a decade in 2022.
Despite some poor reviews from TV critics, the show had consistently high viewership. It was nominated for nine awards, winning six of them, including the 2012 TV Choice award for the Best Comedy.
Other roles in film and TV
Before "Mrs Brown" made her way to the TV screens, Brendan made a few film appearances in the late 1990s. He debuted in the 1996 comedy-drama "The Van", followed by "Incense & Dipsticks" (1996), "Sweety Barrett" (1999), and "Angela's Ashes" (1999).
He reprised his role of Agnes Brown in a number of movies and TV specials, including "Mrs Brown's Boys D'Movie" in 2014, and "Tyler Perry's A Madea Homecoming" in 2022. The latter is the latest installment in the series of movies based around Tyler Perry's character Mabel 'Madea' Simmons, which also features the lead actor in drag, playing a woman.
Where is he now?
As for his personal life, Brendan has one marriage behind him. From 1977 through 1999, he was married to Doreen O'Carroll, with whom he has a daughter named Fiona, and two sons named Danny and Eric.
In 2005, he married his future "Mrs Brown" co-star, Jennifer Gibney. Funnily enough, she plays his daughter on the show, while Brendan's real daughter plays his daughter-in-law. Following the success of their TV series, Brendan and his wife have moved out of Ireland, and now live in Davenport, Florida.
In 2022, he returned to writing, this time with a memoir entitled "Call Me Mrs Brown", in which he revealed many previously unknown details about his life and rise to fame. In the book, he recalls the mental health issues he faced following his bankruptcy and divorce from his first wife, Doreen. He further reveals how the dreams he had about his late mother cheered him up during this difficult period of his life, and inspired him to create "Mrs Brown".
Net worth
Needless to say, O'Carroll's financial situation has greatly improved since then. According to the reports Brendan now has an impressive net worth of close to $20 million, as of late 2022, accumulated from his multi-faceted career in the entertainment industry, including his autobiography.
In 2017, news broke that he and his wife bought a $4 million mansion in Davenport, Florida. It's unclear how many other properties, if any, the comedian currently owns.