Who is Dabney Coleman?
His appearance as John Dutton Senior in just one episode of the popular series "Yellowstone", in which he showed a lot by doing little, demonstrated his talent as an actor. Dabney Coleman has nearly 180 acting credits to his name and is probably still known best for his portrayal of Bill Bittinger in the early '80s series "Buffalo Bill", which brought him two Primetime Emmy nominations for Outstanding Lead Actor in a Comedy Series in 1983 and '84.
Let us introduce you to this veteran actor, tell you about his career, his life, and where he is now.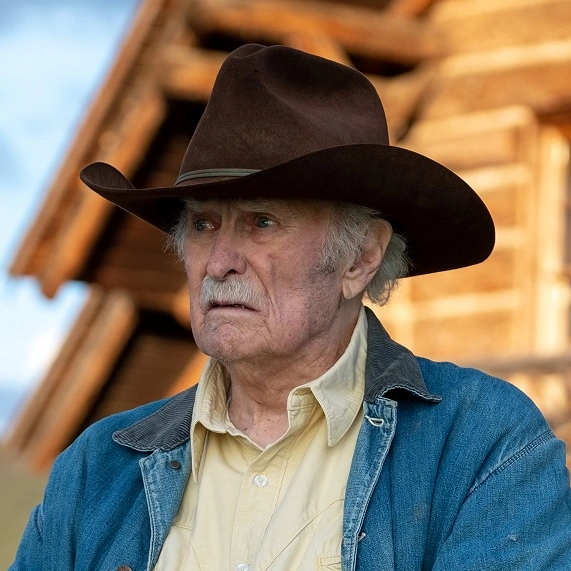 Early life, family, and education
Born Dabney Wharton Coleman, under the zodiac sign of Capricorn on 3 January 1932, he will soon celebrate his 91st birthday. He's an Austin, Texas USA native, where he was raised by his parents, Melvin Randolph Coleman and Mary Wharton (nee Johns). He holds American nationality and comes from a family of German, English, Welsh, Irish and Scottish descent.
Speaking of his educational background, upon matriculating from high school in 1950, he enrolled at Virginia Military Institute, and served for two years in the US Army's Special Services Division. He left the university and transferred to the University of Texas to study law, but dropped out of college and moved to New York City to study theatre.
Acting career-beginnings
Dabney made his acting debut as a Resident in an episode of the series "Naked City" in 1961. In the following year, he was seen as John Mitchell in three episodes of the series "Armstrong Circle Theatre", followed by guest roles in "Alcoa Premiere" (1963), "Dr. Kildare" (1964), "Hazel" (1965), and "Please Don't Eat the Daisies" in 1966.
Two years later, he made his big-screen debut as Jed in "The Scalphunters", a western comedy starring Burt Lancaster, directed by the famous Sydney Pollack, and in 1969, Dabney was seen as Harrison Wilby in "The Trouble with Girls", starring Elvis Presley.
The early '70s saw Dabney mostly guest-starring in an episode of numerous TV series, and when it comes to his movie roles, he had a small part in "I Love My Wife" (1970), "Cinderella Liberty" (1973), and "The Dove" (1974).
In 1976 came his first significant role, when he was cast to play Merle Jeeter in the romantic comedy series "Mary Hartman, Mary Hartman", eventually seen in 148 episodes of this drama, that followed the story of a small-town housewife who struggled to cope with some bizarre events around her.
The series aired through 1977, and won two Primetime Emmy Awards – Dabney reprised his role as Merle Jeeter in the spin-off entitled "Forever Fernwood", in 130 episodes from 1977 to '78.
In 1980, Dabney was cast to play Franklin Hart Junior in the Oscar-nominated comedy "9 to 5", also starring Dolly Parton, Jane Fonda and Lily Tomlin. The movie followed the story of three female employees who work for an egotistical bigot, and find a way of revenge and turn the tables on him. It had eight award nominations – including the Oscar for Best Music, Original Song – and won four.
It appears that this role brought Dabney worldwide recognition, as his career blossomed.
Notable television series roles
From 1983 through 1984, Dabney was seen as Bill Bittinger in "Buffalo Bill", a comedy that followed the story about the egotistical host of a local daytime talk show, Bill, who makes life miserable for his crew and also his guests. He starred opposite Joanna Cassidy and Max Wright, and the series had 14 award nominations, 11 for the Primetime Emmy Award, and won four.
When it comes to Dabney, besides the aforementioned Primetime Emmy nominations, he was nominated for the Golden Globe for Best Performance by an Actor in a Television Series – Comedy or Musical in 1984.
Another of Dabney's notable television series roles was his title role portrayal in the sports comedy "The Slap Maxwell Story" (1987-1988). For this role, Dabney won the Golden Globe Award for Best Performance by an Actor in a Television Series – Comedy or Musical, and was nominated for the Primetime Emmy-Outstanding Lead Actor in a Comedy Series.
The early '90s saw him as Otis Drexell in the series "Drexell's Class" (1991-1992), followed by his role as Jack 'Madman' Buckner in "Madman of the People" (1994-1995).
Dabney Coleman. Making everything he's in better since forever. pic.twitter.com/kfUY7hGC6K

— Super 70s Sports (@Super70sSports) May 20, 2020
From 2001 through 2004, Dabney was seen as Burton Fallin in 67 episodes of the series "The Guardian", a crime drama about the hotshot lawyer Nick Fallin, who works at his father's law firm, but whose life changes after he's arrested for drug use.
In the following years, Dabney was seen as Jack Atwell in "Courting Alex" (2006), and then during 2010 and 2011, he portrayed Commodore Louis Kaestner in 24 episodes of the series "Boardwalk Empire". This crime drama, starring Steve Buscemi, is about an Atlantic City politician who plays both sides of the law, had 184 award nominations and won 64, including 20 Primetime Emmys.
In 2014, Dabney Coleman got his Star on the Walk of Fame (Television) at 6141 Hollywood Boulevard.
After this role, Dabney made some guest appearances in 2019, in the series "NCIS" and "For the People", and later that year, he was seen as John Dutton Senior in "Yellowstone", which was his most recent television appearance.
Notable movie roles
As mentioned, Dabney has numerous acting credits to his name, and the list of his roles is too long, thus we choose some of his most recognizable and notable, such as his role as McKittrick in the 1983 science-fiction action drama "WarGame", also starring Matthew Broderick and Ally Sheedy, which was nominated for three Oscars-Best Sound, Best Cinematography, and Best Writing, Screenplay Written Directly for the Screen.
Worth mentioning is his portrayal of Martin Costigan in the 1987 TV movie "Sworn to Silence", starring Liam Neeson and Peter Coyote. Dabney was nominated for the Golden Globe Award -Best Performance by an Actor in a Supporting Role in a Series, Miniseries or Motion Picture Made for Television, and he won Primetime Emmy for Outstanding Supporting Actor in a Miniseries or a Special.
The late '80s and early '90s saw Dabney in numerous TV movies, as he focused on his television series role, however, worth mentioning is his appearance in "Dragnet" (1987), "Where the Heart Is" (1990), and "There Goes the Neighborhood" in 1992.
In 1998, Dabney was cast to play Nelson Fox in the romantic comedy "You've Got Mail", starring Tom Hanks and Meg Ryan, and was seen as Chief Quimby in the 1999 comedy "Inspector Gadget" starring Matthew Broderick.
Dabney was Mack in the 2002 movie "The Climb", followed by his role as Grandpa in the 2003 family drama "Where the Red Fern Grows", an adventurous and heartwarming tale for all ages.
In 2005, Dabney was cast to play Drake Bishop in the biographic crime-drama "Domino" a true story of the daughter of an actor Laurence Harvey, Domino, who turned away from her career as a model and become a bounty hunter. The stars of the movie were Keira Knightley, Mickey Rourke and Edgar Ramirez.
Most recently, Dabney was seen as Raymond Holliday in the 2016 comedy-drama "Rules Don't Apply", which had 10 award nominations and won three.
Love life, marriage, divorce
Dabney has been married and divorced twice. His first wife was Ann Courtney Harrell, a non-celebrity. The two married in 1957, divorced in 1959, and have a daughter together named Meghan.
Two years later, Dabney married Jean Hale, an actress perhaps still known best for her role as Lisa in the 1967 movie "In Like Flint". They have three children together, their first daughter Kelly born in 1966, son Randy was born in 1968, while their second daughter, Quincy was born in 1972.
Dabney and Jean divorced on 4 December 1984 – they haven't spoken about the reason for their separation.
In the following years, Dabney was in a relationship with actress Stephanie Blake, however, as of late 2022, it seems that Dabney is single.
Net worth
Dabney Coleman has amassed a sizable fortune as a result of his numerous roles in films and television shows. According to sources, as of late 2022, his net worth has been estimated at over $5 million.