• Laurie Holden is a 53-year-old American-Canadian actress and producer.
• She is best known for her roles as Andrea in "The Walking Dead" and Marita Covarrubias in "The X-Files".
• She is an activist for racial and gender equality.
• Laurie has an estimated net worth of $3 million.
• She is rumored to be in a relationship, but hasn't been married and has no children.
Laurie Holden Wiki Bio
Laurie Holden was born in Los Angeles, California, USA, on 17 December 1969, so her zodiac sign is Sagittarius. She's an American-Canadian actress and producer, known best for her roles as Andrea in "The Walking Dead" and Marita Covarrubias in "The X-Files".
Early life and education
Despite being born in Los Angeles, Laurie spent most of her childhood in Toronto, Canada, and holds dual citizenship. She was born to a pair of actors – her father, Glenn Corbett, became famous in the early 1960s, for playing one of the leading roles in the CBS series "Route 66", and during his career appeared in a number of high-profile TV series, such as "Star Trek", "Dallas", and "The Doctors". Laurie's mother, Adrienne Ellis was a Canadian actress, known best for her role in the soap opera "Morning Star".
Her parents divorced when she was ten years old, and her mother married the film director Michael Anderson. In the following years, Laurie and her mother split their time between Toronto and Los Angeles.
At 11 years old in 1980, Laurie landed her first, unplanned role in her step-father's movie "The Martian Chronicles". While filming was taking place, she came to the set to visit Michael, but as the child actress that was supposed to play the daughter of Rock Hudson never arrived, Lauri filled in. Her next role was in another film directed by her step-father, "Separated Vacations" (1986).
As a teenager, Laurie was also briefly into modeling, and had even won a "Look of the Year" contest in Toronto. She studied at McGill University in Montreal, Quebec, where she majored in political science and economics, later transferring to the University of California, Los Angeles (UCLA) to study acting, graduating in 1993. During her time at UCLA, she was a member of the National Honor Society.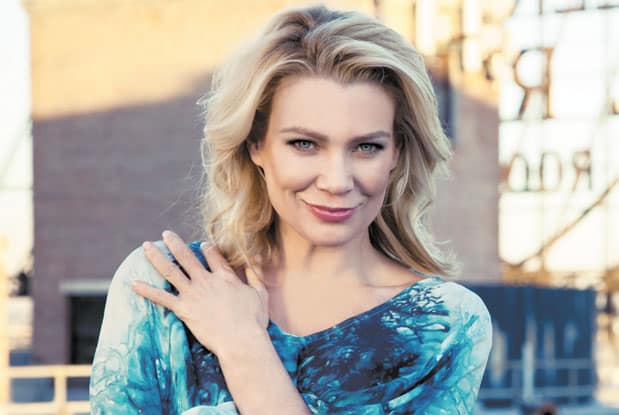 Movies and TV shows
Some of the most significant roles of Laurie's early career were in movies such as "Physical Evidence" (1989), "Young Catherine" (1991), and "TekWar: TekLab" (1994). In the following years, she made multiple brief appearances in the TV crime series "Murder, She Wrote" and "Poltergeist: The Legacy".
Her big break came in 1996 when she became a cast member of the popular mystery sci-fi series "The X-Files", playing the role of Marita Covarrubias, a double agent for the Federal Bureau of Investigation (FBI) and Syndicate. While auditioning for the role, Laurie wasn't allowed access to a full episode script, or basically any information about her character. Instead, she was given only three pages of script material; later on, she learned Russian specifically for the series. Although her character in "The X-Files" was generally poorly received, Laurie was praised for her performance, and appearing in such a popular series opened many doors in her career.
She also received critical acclaim for her role in "The Majestic" (2001), directed by Frank Darabont, and which also starred Jim Carrey. Four years later, she starred alongside Jennifer Tilly, Dean Cain and Tim Curry in the Canadian comedy movie "Bailey's Billion$", about a Golden retriever that inherited a fortune from its deceased owner.
From 2010 through 2013, Laurie played Andrea in the popular AMC horror drama series "The Walking Dead", created by Frank Darabont based on Robert Kirkman's comic book series of the same name. Laurie's character in the series is a former civil right attorney and a close friend of Dale Hovarth, the main character. Laurie received very favorable reviews for her performance as Andrea, although her character's story arc wasn't received well by the fans and TV critics, as it differed too much from the source material.
Scrubs pic.twitter.com/DrdZOw8Fl0

— Laurie Holden (@Laurie_Holden) March 2, 2015
In 2015, we saw her play Dr. Hannah Tramble in the third season of the drama series "Chicago Fire"; she was set to reprise her role in the spin-off "Chicago Med" in the following year, however, she dropped out of the project citing 'family reasons'.
Three years later, she starred alongside Vince Vaughn and Mel Gibson in the neo-noir crime thriller "Dragged Across Concrete", written and directed by S. Craig Zahler.
In 2022, she joined the cast of the Amazon hit series "The Boys", playing the role of Crimson Countess, one of the supporting villains of season three.
Activism and charity work
Aside from her acting, Laurie is also known for being a supporter of racial and gender equality. She is one of the founding members of the Canadian Somaly Mam Foundation, a non-profit organization that campaigns against human trafficking.
Since 2014, she's been working with Operation Underground Railroad, another non-profit aimed at stopping human trafficking. The organization has notably helped arrest five sex traffickers in Colombia, successfully stopping a chain that had been running for years.
Personal life
Not a lot is known about Laurie's personal life and dating history. It's rumored that she was in a brief relationship with her "The Majestic" on-screen partner, Jim Carrey, particularly fueled by Jim and Laurie's behavior shortly after the movie's release, when the two could be seen holding hands and embracing each other on the red carpet.
In 2013, a video surfaced online of Norman Reedus and Laurie kissing at that year's edition of Paleyfest. Although the video sparked rumors about the possible romantic link between two "The Walking Dead" stars, they were quickly shut down by Norman, who said that he has kissed all of his castmates. Laurie also addressed the rumors in one of her interviews, saying 'We love each other. We're like the best of friends, but I think he likes to stir the pot a bit.'
Laurie's love life still remains a secret; the only evidence of her possibly being in a relationship is a photo with a mysterious man she posted on Instagram in May 2021, with the caption 'My favorite place with my favorite person #beach #oneandonly'. Regardless, Laurie hasn't been married and doesn't have children.
Age, height, net worth
Laurie is 53 years old. She's 5ft 8ins (1.7m) tall, and weighs around 120lbs (55kgs), while her vital statistics are 35-25-35.
As of early 2023, Laurie Holden has an estimated net worth of more than $3 million.