• Michael Nouri is a veteran American actor with over 130 acting credits.
• He is best known for his role as Steve Kaslo in "Search for Tomorrow", which earned him a Daytime Emmy Award nomination, and his role as Nick Hurley in "Flashdance".
• He has been married twice, most recently to Roma Downey from 2001 until 200•
• His most recent roles include Bob Schwartz on "Yellowstone", Paul Forrester in "My Favorite Girlfriend", and Roger Kaplan in "The Watcher".
• Michael has an estimated net worth of over $2.5 million.
Who is Michael Nouri?
Television series fans may recognize him as Caleb from "All My Children", but Michael Nouri has over 130 acting credits to his name, the most notable of which was his role as Steve Kaslo in "Search for Tomorrow", which earned him a Daytime Emmy Award nomination for Outstanding Actor in a Daytime Drama Series.
If you've seen the musical drama "Flashdance", you're probably familiar with the character of Nick Hurley, which many regarded as Michael's breakthrough role.
To learn more about this veteran actor, his career beginnings, his life, and upcoming projects, just continue scrolling.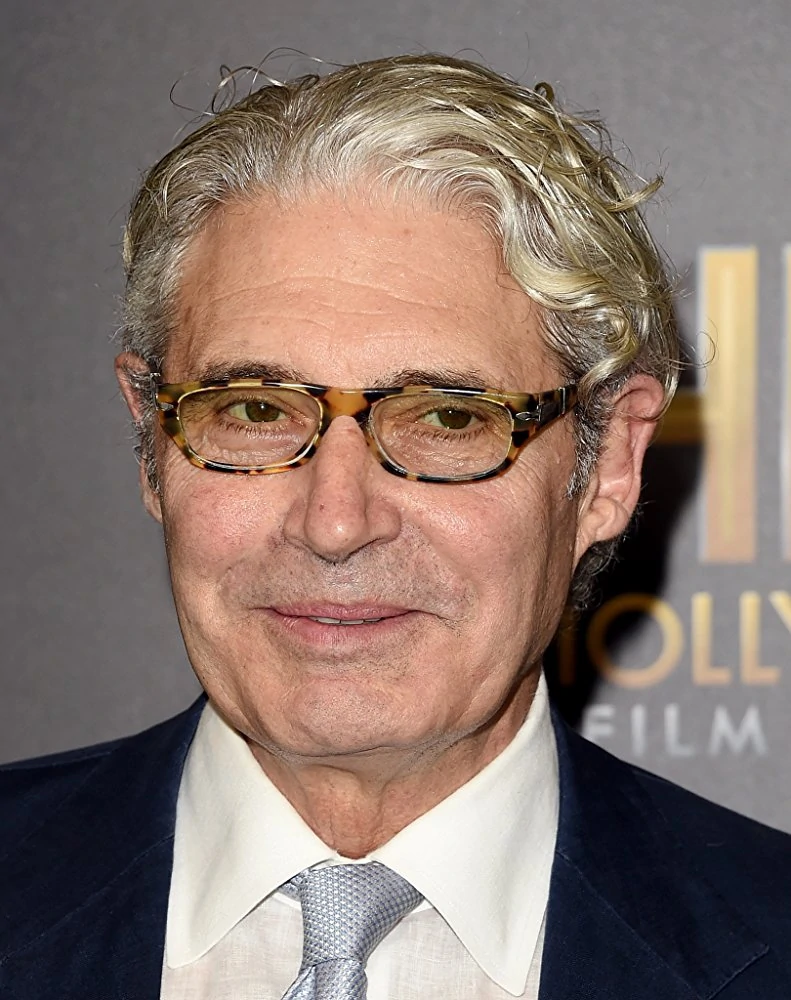 Wiki- Early life, family, and education
Born under the zodiac sign of Sagittarius, on 9 December 1945, Michael Nouri recently celebrated his 77th birthday. He hails from Washington DC, USA, holds American nationality and his ethnicity is of mixed Irish and Iraqi descent.
His mother Gloria married Iraqi immigrant Edmond, a Bagdad native, who came to the US on a Georgetown University scholarship. Edmond was a writer for Stars and Stripes, a daily American military newspaper, and later wrote for The New Yorker. Michael is their only son.
Most of his childhood days, Michael spent with his parents in New York City and Alpine, New Jersey, but when puberty overcame him aged 14, he began behaving badly, often getting into fights, thus his parents sent him to the Avon Old Farms all-boys boarding school in Avon, Connecticut. There, he joined the school's drama club, and Michael soon decided that he wanted to become an actor.
Speaking of his educational background, upon matriculating in 1963, Michael enrolled at Rollins College, and then transferred to Emerson College, from which he graduated with a BA degree in 1967.
Acting career beginnings
Michael debuted in an off-Broadway production of "The Crucible", a play by Arthur Miller, and then in 1967, he was cast to play in a Broadway production of "Forty Carats" by Jay Presson Allen, which ran for two years.
Soon after, Michael made his big-screen debut as Don Farber in the 1969 movie "Goodbye, Columbus", although his role was uncredited. In the following year, he made his first television series appearance, as Tom Conway in "Somerset".
For the next five years, Michael focused on his stage roles, but from 1975 through 1978, he was seen in 29 episodes of the series "Search for Tomorrow", playing his most notable TV series role as Steve Kaslo. The early '80s saw him in the TV movie "Fun and Games", and he returned to the big screen as Charles 'Lucky' Luciano in the biographic crime-drama "Gangster Wars". This was Michael's first lead role, starring opposite Joe Penny and Brian Benben in this story about three poor ghetto boys from New York City, who grow up to become gangsters.
#Lucky Luciano #the gangster chronicles #Michael Nouri pic.twitter.com/3Kk6bY8OlD

— michael nouri (@michael_nouri) April 3, 2015
"The Gangsters Chronicles", a TV mini-series based on the film, premiered in 1981, with Michael reprising his role as Lucky. The series won a Primetime Emmy Award for Outstanding Art Direction for a Series.
Two years later, Michael was cast to play Nick Hurley in "Flashdance", opposite Jennifer Beals and Lilia Skala. He played the boyfriend of aspiring dancer Alex (J. Beals), who works in his steel mill by day and as an exotic dancer by night. The movie had mixed reviews, but was one of the highest-grossing movies in 1983, and still won 11 awards, including the Oscar for Best Music, Original Song (Flashdance…What a Feeling).
Michael followed with roles in the TV movie "Secrets of a Mother and Daughter" in 1983, and the TV series "Bay City Blues", returning to the big screen as Roger Blackwell in "The Imagemaker" (1986).
In the following year, Michael was cast to play Tom Beck in "The Hidden", a science-fiction horror thriller that followed the story about a Federal Bureau of Investigation (FBI) agent and a local cop, who are investigating cases involving an alien parasite with the ability to possess human bodies. For his performance in this movie, Michael was nominated for the Academy of Science Fiction, Fantasy & Horror Films, USA Saturn Award for Best Actor, and won the Sitges – Catalonian International Film Festival Award – Best Actor.
Notable movie roles
The early '90s saw Michael starring in "Thieves of Fortune" (1990), "The Psychic" (1991), "Black Ice" (1992), and "American Yakuza" in 1993. In the following years, he had numerous roles – one of his most notable was his portrayal of Doctor Spence in the 2000 movie "Finding Forrester", also starring Sean Connery, which had 13 award nominations and won five. It followed the story of a writing prodigy, who finds a mentor in a reclusive writer.
Michael played Max in the 2004 comedy-drama "The Terminal", starring Tom Hanks and Catherine Zeta-Jones, followed by his roles in "Searching for Bobby D" (2005), "Last Holiday" (2006), and "Proposal" in 2009.
He starred opposite Jason Gedrick and Danny Nucci in the 2010 biographical crime-drama "Sinatra Club", about five mob families trying to keep the peace after a bloody mob-war summer, which although having no nominations was well accepted by the audience.
In the following years, Michael starred in "Easy Rider 2: The Ride Home" (2012), "The Squeeze" (2015), "Beyond the Trek" (2017), and "Con Man" (2018), among many others.
Most recently, he was seen as Paul Forrester in the 2022 romantic comedy "My Favorite Girlfriend", followed by his role as Bert King in "The Grotto", which won the Heartland International Film Festival Best Premiere- Narrative Feature.
Michael has recently finished filming the movie "Street Justice", written and directed by Chuck Zito, which is currently in development.
Notable TV series roles
After his role in the series "Bay City Blues", Michael was cast to play Detective John Forney in the drama "Downtown" which aired during 1986 and 1987, and although had no nominations the audience loved this story about the Los Angeles Police Department officer Forney, who besides his regular job, is also a supervisor of four people on parole – he helps them to find jobs, and they help him to solve crimes. It was rated 7.5/10.
From 1992 to 1995, Michael portrayed Kip Zakaris in "Love & War", while in 2004, he was seen in 14 episodes of the series "The Young and the Restless", playing Elliot Hampton in this long-running soap opera (since 1973) about the Newman and Abbott clans, and which had over 830 award nominations, and won 302.
He followed with his role as Doctor Neil Roberts in "The O. C." (2004-2007), and then during 2010 and 2011, Michael was seen as Caleb in 119 episodes of the series "All My Children", also a long-running soap opera (since 1970) – Michael was seen in its last season. The show was centered on Erica Kane and her long list of husbands, which had 575 award nominations and won 192, including one Primetime Emmy.
In the following years, Michael mostly guest starred in numerous series, including from 2018 through 2021 being seen as Bob Schwartz in nine episodes of the popular western series "Yellowstone", starring Kevin Costner, Luke Grimes and Kelly Reilly.
Most recently, Michael portrayed Roger Kaplan in the 2022 series "The Watcher", and has been cast to play Gino in the newest series "Paper Empire", which should be released in 2023.
Michael Nouri returns as Ziva's father on Tuesday's all-new episode of NCIS at 8/7c! Check out photos: http://bit.ly/VJ9meM

Posted by NCIS on Friday, January 4, 2013
Love life and wife
Michael appears to have had an interesting love life, having been romantically linked to numerous celebrity women from the music and film industry. He hasn't spoken about his relationships, and although he was the subject of various rumors, he's managed to keep most of his love life secret.
It is known that his first wife was Lynn Goldsmith, a non-celebrity – the two married on 18 September 1976, but divorced two years later.
During 1981, Michael was in a relationship with actress Dyan Cannon, who held the title of Miss West Seattle.
In 1986, Michael married Vicki Light, also a non-celebrity, and this marriage lasted until 2001.
Soon after, he began a relationship with Roma Downey, an actress probably still known best for her role as Monica in the series "Touched by an Angel". The two were often seen together, and their fans believed that this relationship would end in marriage, however, the two broke up in 2003.
As of February 2023, it seems that Michael is currently single.
It is known that Michael has two daughters, namely Jennifer and Hannah, however, it is unclear who the mother of his daughters is (or perhaps mothers).
Net worth
Michael had numerous roles in films and television series during his more than 50-year career, which has certainly helped his income grow. According to sources, as of early 2023, his net worth has been estimated at over $2.5 million.