• Sarita Choudhury is an actress known for her roles in films such as "Mississippi Masala", "The Hunger Games", and "A Hologram for the King".
• She is of Indian and English descent and comes from a family of four, including her two brothers.
• She starred in numerous films over the years and was seen in 20 episodes of the series "Homeland".
• Sarita is married to a war photographer and has one daughter.
• She is 56 years old and has a net worth estimated at over $7 million.
Who is Sarita Choudhury?
She is an actress with over 90 acting credits to her name, however, Sarita Choudhury is probably still known best for her role as Mina in the 1991 movie "Mississippi Masala", in which she starred opposite Denzel Washington.
To television series lovers, Sarita is perhaps known best for her portrayal of Mira Berenson in the mystery drama "Homeland", which followed the story of a bipolar Central Intelligence Agency (CIA) agent who believes al-Qaeda has turned prisoner of war, and plans a terrorist attack on American soil.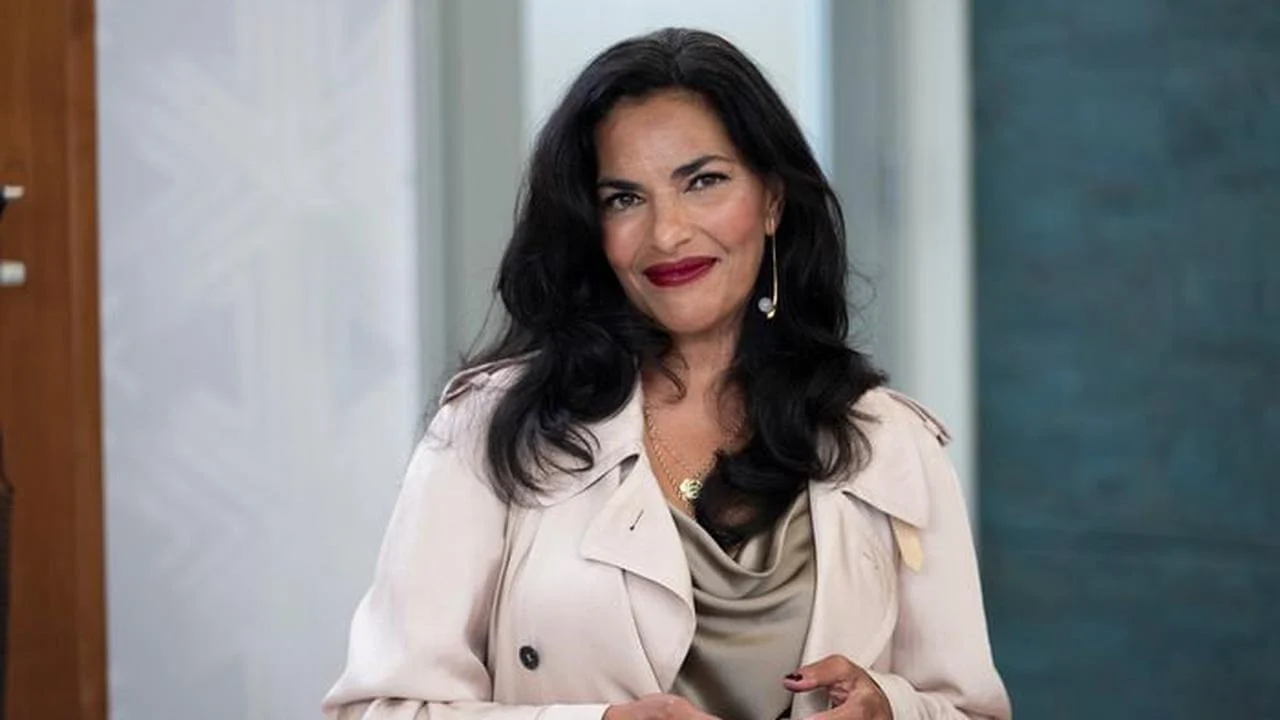 Early life, family, and education
Born Sarita Catherine Louise Choudhury on 18 August 1966, Leo is her zodiac sign; she hails from Blackheath, London, United Kingdom, thus she holds British nationality. Sarita comes from a family of Indian and English descent. She was raised by her mother Julia Patricia, and her father Prabhas Chandra Choudry, alongside her two brothers, Kumar Michae, and Chandra Paul. The family lived in Jamaica, Italy, and Mexico, because of their father's work as a scientist.
Speaking of Sarita's educational background, upon matriculating in 1984, she enrolled at Queen's University in Ontario, Canada, at first studying economics, but eventually transferring to study film and acting.  Sarita graduated with a BA degree in 1988 and moved to New York City, USA, where she worked as a waitress while auditioning, and waiting for her first role.
Roles in movies
Sarita made her acting debut playing the aforementioned role as Mina in "Mississippi Masala", a romantic drama that followed the story of an Indian family expelled from Uganda in 1972 when Idi Amin took power, so they immigrated to Mississippi. 17 years later, daughter Mina falls in love with an African- American boy, Demetrius, but  the two try to keep their relationship secret, aware that their parents won't approve of this love, so the two eventually flee the state in Demetrius' van.
The movie had eight award nominations and won five, including the Venice Film Festival Golden Ciak for Best Film in 1991.
Sarita was next cast to play Rifat in the 1992 adventure comedy "Wild West", followed by her role as Pancha in the 1993 romantic drama "The House of Spirits", also starring Jeremy Irons, Meryl Streep, and Maria Conchita Alonso, which had 12 award nominations.
Indira Varma and Sarita Choudhury in Kama Sutra: A Tale of Love… Seriously, pick any shot of anyone in this movie: pic.twitter.com/XylfI1m4qW

— 2023 For What? (@MsGo) January 23, 2021
In the following years, Sarita was seen in independent movies such as "Fresh Kill" (1994), "The Perez Family" (1995), and "Kama Sutra: A Tale of Love" in 1996, which won the Film Independent Spirit Award.
Two years later, Sarita returned to Hollywood's big screen, playing Raquel Martinez in the crime drama "A Perfect Murder", also starring Michael Douglas and Gwyneth Paltrow. Also in 1998, Sarita was cast to play Jane Talwani in the romantic comedy "Restless", then followed with her role as Angela in the 1999 thriller "Gloria", starring Sharon Stone.
The early 2000s saw Sarita in "Come On" (2000), "3 A. M." (2001), and "Just a Kiss" (2002) before she was cast to play Mariela in the 2003 drama "Rhythm of the Saints", which followed the story of a teenage girl, Rena, terrorized by her stepfather, who seeks the help of Santeria practitioner, however, on the other hand, Rena's boyfriend and his friends devised their own method of teaching her father a lesson.
Next, Sarita was seen co-starring in "Marmalade" (2004), "The War Within" (2005), "Lady in the Water" (2006), and "The Accidental Husband" (2008), among many others. In the following year, Sarita starred as Priya Singh in the drama "For Real", written and directed by Sona Jain, which won six award nominations, and was well-rated by the audience (7.1/10).
Since Sarita had numerous movie roles in the following decade, we will highlight some of her most notable, such as her portrayal of a Prime Minister in the 2012 drama "Midnight's Children", which had 12 award nominations and won four. Certainly worth mentioning is Sarita's role as Egeria in the 2014 science-fiction action adventure "The Hunger Games: Mockingjay- Part 1", starring Jennifer Lawrence, Josh Hutcherson, and Liam Hemsworth, which had over 50 award nominations and won 21.
Sarita then reprised her role as Egeria in "The Hunger Games: Mockingjay- Part 2" in 2015, which also won numerous accolades and awards.
In 2016, Sarita starred opposite Tom Hanks and Omar Elba in "A Hologram for the King", based on the novel of the same title by Dave Eggers, a comedy-drama about a failed American sales representative who travels to Saudi Arabia to offer a wealthy monarch his company's product.
In the following years, Sarita was seen in "The Last Photograph" (2017), and then co-starred in a few short movies, including "Here Comes Frieda" in 2020, which brought her a nomination for the Miami International Science Fiction Film Festival Award – Best Supporting Actress, Short.
Most recently, Sarita was seen as Mother in the 2021 fantasy drama "The Green Knight", which brought her the Gold List Honorable Mention – Best Supporting Actress.
Roles in series
Sarita made her first television series appearance as Doctor Kalyani in the series "Homicide: Life on the Street" in 1998. She followed with her recurring roles as Sahira in the series "Deadline" (2000-2001) and as Julia in "100 Centre Street" (2001-2002).
In the following years, Sarita mostly guest-starred in numerous series, appearing in an episode or two, however, from 2011 to 2017, she was seen in 20 episodes of the series "Homeland", which had 182 award nominations and won 61, including eight Primetime Emmys. Sarita and the rest of the crew share the Screen Actors Guild Award nomination for Outstanding Performance by an Ensemble in a Drama Series (2014).
In 2018, Sarita was cast to play Lilith in the series "The Path", which followed the story of a family in a controversial cult and their struggle with faith, power and relationships, also starring Aaron Paul, Michelle Monaghan, and Emma Greenwell.
Concurrently, in 2018, Sarita was seen in "Instinct" and "Strangers", followed by her role as Kith Lyonne in the 2019 series "Jessica Jones", and was then seen as Seema Patel in the romantic comedy-drama "And Just Like That…" (2021-2022), a spin-off from the hit series "Sex and the City".
Most recently, in 2022, Sarita appeared as Olivia in three episodes of the series "Ramy".
Love life- Is she married? Husband
Sarita is quite secretive when it comes to her personal matters, and has managed to keep her love life under wraps. It's known that she was in a relationship with American actor Sam Rockwell, however, this love story was shrouded in mystery for a long time.
Many of her fans have wondered if she is married, and who's her husband. Well, we will tell you that she is married but there is nothing known about her husband except that he's a war photographer. Sarita refuses to talk about her husband and their daughter in her interviews, but she made an exception for it once.
In her 2010 interview for DNA India, Sarita shared that her daughter Maria (born in 2003) has blonde hair just like her father.
As of January 2023, it is believed that Sarita is still married, and she has one child.
Age, appearance, and net worth
Sarita is 56 years old, however, her exotic look makes people believe that she's much younger. She has long dark brown hair and brown eyes, and is also known for her petite figure, standing at a height of 5ft 5ins (1.65m), weighing around 120lbs (55kgs), with vital statistics of 34-25-34.
When it comes to her wealth, according to sources, as of early 2023, Sarita's net worth has been estimated at over $7 million.