Steve Kornacki:
• American political journalist and TV personality
• Wrote articles for magazines such as "New York Daily News", "The New York Times" and "The Wall Street Journal"
• Co-hosted "The Cycle" and "Up" for MSNBC
• Published his first book "The Red and the Blue: The 1990s and the Birth of Political Tribalism" in 2018
• Currently in a relationship with non-celebrity American man Michael Bauer
Who is Steve Kornacki?
American political journalist, author and TV personality Stephan Joseph 'Steve' Kornacki was born in Groton, Massachusetts USA, on 22 August 1979, meaning that his zodiac sign's Leo. He's probably known best for the work which he's done for the American broadcast TV network NBC News, and he's today working as their national political correspondent; Steve's also written articles for numerous magazines, such as "New York Daily News", "The New York Times" and "The Wall Street Journal".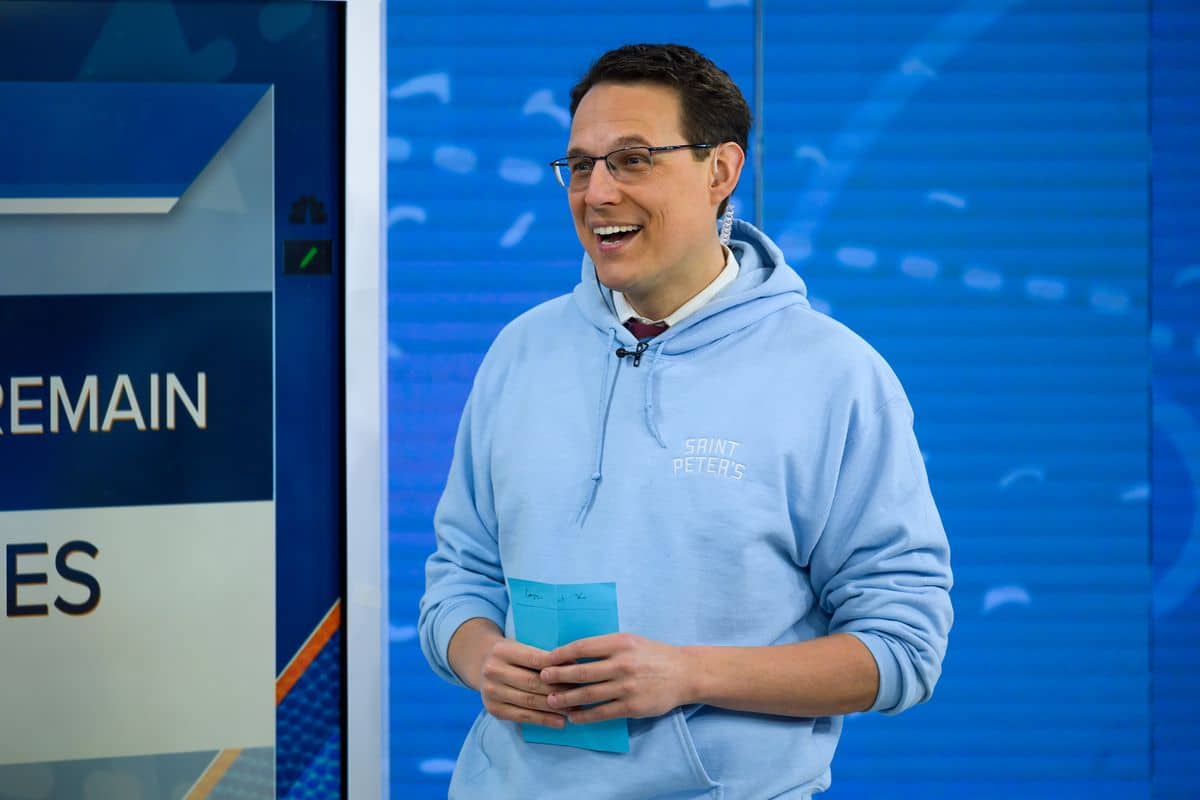 Education and early life
Steve was raised alongside his older sister Kathryn Kornacki in Groton, by their mother Anne Bearnadette (nee Ramonas) and father Stephan Joseph Kornacki Sr; Steve rarely speaks about his family in public because they prefer to maintain their privacy, but it's known that his sister's a professor at Caldwell University.
He became interested in journalism while attending Groton-Dunstable Regional High School, and was also into playing sports during his four years there, excelling in soccer.
Steve matriculated in 1998 and enrolled at Boston University, from which he graduated with a bachelor's degree in film and television in 2002.
Career as a reporter
Steve launched his career straight out of college, when he began working for the political news site PoliticsNJ.com; a job he held for four years, quitting in 2006.
He joined the New 12 New Jersey team in 2007 and co-hosted a political news series, while he then worked for the newspaper "Roll Call", writing articles on the US Congress. After gaining recognition for his writing skills, Steve's articles could've been seen published by the magazines "The New York Post", "The Daily Beast" and "The Boston Globe". He also spent time in the beginning of the 2010s working for the politically progressive news and opinion website Salon, as their politics editor.
In 2012, Steve joined MSNBC and co-hosted their news and politics talk-show "The Cycle" together with American political commentator Krystal Marie Ball, American TV host and political commentator Sarah Elizabeth Cupp and American author and TV personality Toure. In April 2013, he began co-hosting the news and opinion TV show "Up", and the year 2016 saw him guest host various daily shows, such as "The Rachel Maddow Show", "All In with Chris Hayes", and "Hardball with Chris Matthews".
He became the NBC News Group's National Political Correspondent on 8 May 2017, but still continued co-hosting the show "MSNBC Live" together with American TV host and author Nicole Wallace. The year 2018 saw Steve publish his first book "The Red and the Blue: The 1990s and the Birth of Political Tribalism", which follows the changes in American politics over the course of 30 years. In October 2019, Steve began hosting the NBC News podcast "Article II: Inside Impeachment", in which he spoke about former US President Donald Trump.
For his covering of the 2020 US presidential election, the magazine "People" featured Steve on their list of sexiest men alive; Steve often wore Gap khakis at that time, and it became a fashion trend thanks to him, even becoming referred to as 'Kornacki khakis'.
The year 2020 also saw Steve join the sports division of the American multinational mass media corporation NBCUniversal, making his first appearance in their show "Football Night in America" in December; he went on to cover the Kentucky Derby in the following year, and was the only person to correctly predict the win of Medina Spirit.
YouTube videos
Steve doesn't run a YouTube channel, but has been featured in various videos uploaded onto other people/company's channels, such as NBC, MSNBC and CNBC Television. We're going to mention three of the most popular videos amongst these, which've helped Steve become even more popular on the internet.
His #1 video "Democrats One Seat Away From Senate Control" was uploaded by MSNBC on 12 November 2022, and has since been watched close to two million times; it features Steve speaking about the current political situation in the country.
His second most popular video "Please Don't Destroy – Election Night – SNL" was uploaded by Saturday Night Live on 13 November 2022, and has been viewed nearly 1.5 million times; it's a parody on Steve and his style of reporting.
His video #3 is "Please Don't Destroy – Election Night – SNL", uploaded by The Late Show with Stephen Colbert on 9 November 2022, and has been watched over 1.4 million times; it features Steve joining the aforementioned show to speak about mid-terms.
Love life and husband
Steve can rarely be heard speaking about his love life in public, however, he wrote about his sexuality in an article published by "Salon" in 2011, revealing that he's gay.
Not long after this, Steve joked about American journalist David Mack being his husband, but many of his fans thought he was serious; after realizing that people really believed it, Steve continued to joke about this on his Twitter account.
It's widely known that he's today in a relationship with non-celebrity American man Michael Bauer, and it's been reported that the two men are living together in East Village of Manhattan, New York City.
Steve hasn't mentioned other men whom he's dated, he's in a relationship with Michael Bauer as of January 2023, hasn't married and doesn't have children.
Interesting facts and hobbies
Even though Steve's prediction was correct and Medina Spirit did win the 2021 Kentucky Derby, the victory was taken away from the horse after it tested positive for drugs.
More than 75,000 people are following Steve on Instagram today, and he's uploaded over 450 pictures onto the social media network; he's a lot more popular on Twitter, with more than 700,000 people following him today, while he's tweeted nearly 6,000 times.
Steve works out at the gym multiple times every week, and enjoys going for a morning run.
His favorite Hollywood actor is Tom Cruise, and some of his favorite movies include "American Made", "The Mummy", and "Top Gun: Maverick".
Height, eyes and wealth
Steve's age is 43. He has brown eyes and black hair, is 6ft 1in (1.85m) tall, and weighs about 180lbs (82kgs).
Steve's net worth's been estimated at over $2 million, as of January 2023.