• Steven Assanti is an American reality TV star best known for appearing on "My 600-lb Life"
• He is married to a massage therapist from Iowa and has accepted her daughter as his own
• He enjoys listening to music, watching movies, and eating healthy meals
• He is 39 years old, 5ft 7in (1.7m) and has an estimated net worth of over $100,000
• Despite rumors of his death, Steven is alive and well
Is Steven Assanti dead?
Steven Assanti was born on 2 December 1981, in Providence, Rhode Island USA – his zodiac sign is Sagittarius and he holds American nationality. He is perhaps known best for his appearance in the reality TV show "My 600-lb Life".
There are rumors circulating the internet that Steven has died because of heath complications caused by his obesity, however, these have turned out to be untrue, as Steven is alive and relatively well.
Childhood and education
Steven hasn't shared many details concerning his siblings and parents and not a lot is known about them – it is believed that the family struggled to pay the bills and put food on the table while Steven was growing up, especially when Steven began to gain weight and needed more food.
He has a brother Justin who was also overweight and appeared in the same series, while their parents divorced because of their mother's alcohol abuse.
Steven was bullied while attending elementary school, as he was already overweight and spent most of his time at school alone – this continued while he was attending high school. He didn't play any sports, and wasn't physically active because of his weight, while it was also hard for him to study as he had trouble focusing. He still managed to matriculate in 1999, and then didn't pursue a college degree, but spent his time at home, unable to find (and do) work.
Career as a reality TV star
Steven is only known for his appearance in the reality TV show "My 600-lb Life", which has been airing since 2012 on the TLC network. Every episode of the series follows a day in the life of an extremely obese person who weighs at least 600lbs (270kgs), and is trying to lose weight and lead a healthier life. The series also has special episodes called "Where Are They Now?" which shows the same people years after they started exercising to lose weight and underwent surgery.
The series was initially meant to count only five episodes and follow four obese people, while the final episode was to show these four people years after they began losing weight. "My 600-lb Life" became popular and was renewed for more seasons.
The first season followed several people during seven years of their lives from 2004 to 2011, while the second season followed various patients in only one year. Each subsequent season followed obese people's lives in a year, while season eight showed some people's lives in only half a year. Up until season five, each episode was one-hour long, before the directors changed it to two hours per episode.
The lives of people depicted in the series have all been threatened by their weight and unhealthy lifestyles, and eight of them have died – there are still rumors circulating the internet that Steven has died as well, but these are entirely made-up.
Some of the people who have appeared in the show and died are Sean Milliken who died of a cardiac arrest on 17 February 2019, LB Bonner who committed suicide on 2 August 2018, and Rob Buchel who died from a heart attack on 15 November 2017 while actually shooting for the series.
Instead of being special episodes, TLC started airing the spin-off "My 600-lb Life: Where Are They Now?" in January 2015, and it also became popular and has been airing to this day.
The series has also faced various problems, as several obese patients treated by Dr. Nowzardan in "My 600-lb Life" have accused Megalomedia, the series' production company, of not paying their medical costs as they promised to do in their contracts – the family of LB Bonner filed a lawsuit against the company.
Steven joined the show in season five, and appeared in both the 13th and the 14the episode – he weighed around 730lbs (331kgs) when he appeared in the show for the first time, and in one year managed to lose 130lbs (59kgs). He was once kicked out of the hospital while being filmed, as he started yelling at nurses because they wouldn't let him order a pizza!
Is he still married?
Steven is quite secretive when it comes to his love life and hasn't talked about any women he might have dated, however, it was reported in 2018 that he exchanged vows with Stephanie Sanger, a licensed massage therapist who is said to be from Iowa, and holds a Bachelor's degree from the College of Natural Health located in Iowa.
Stephanie has a daughter from either a former marriage or relationship, and Steven has accepted the girl as if she were his own daughter. She saw Steven on TV and then fell in love with him, believing he was her soulmate – Stephanie has stated that her family is very supportive of them both, and that they love Steven.
It's said that Steven is no longer in contact with his brother Justin; the reasons behind this aren't known, however, some people have claimed that this has something to do with Steven's wife.
As of December 2020, Steven is married and doesn't have children.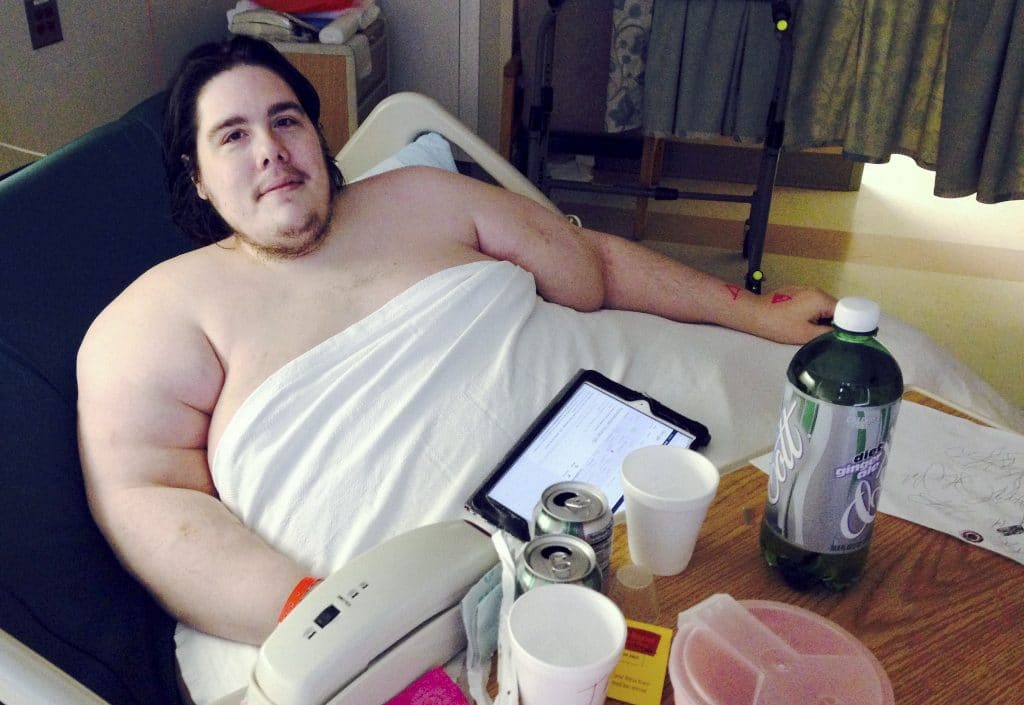 Hobbies and other interests
Steven has been staying away from the spotlight since January 2018. but is believed to be leading a normal life today, according to the people who claim to have seen him walking in the streets with his wife and her daughter.
He is focused on eating healthy foods, and his wife usually makes meals for both of them – they occasionally go out to eat while Steven has admitted to still be somewhat ashamed when eating outdoors.
He likes to listen to music and watch movies in his spare time.
His favorite music genres are hip hop and rock, while a couple of his favorite bands and musicians are Eminem, Guns 'n' Roses and AC/DC. A couple of his favorite actors and actresses are Vin Diesel, Dwayne 'The Rock' Johnson and Angelina Jolie, while his favorite movies are the franchises "Riddick" and "Fast and the Furious", as well as the film "Lara Croft: Tomb Raider – The Cradle of Life".
Age, height and net worth
Steven's age is 39. He has short brown hair and brown eyes, his height is 5ft 7ins (1.7m) and his weight is not known as of December 2020, however, it's been reported that Steven has continued to lose weight.
His net worth has been estimated at over $100,000.