• Glenn Corbett was an American actor who is best remembered for his roles in Chisum (1970) and The Doctors (1976-1979).
• He was born in El Monte, California and served in the US Navy.
• After attending Occidental College, he was signed by a talent agent and began his acting career.
• He starred in many popular films and TV series, including Shenandoah (1965), Guns in the Heather (1969), and Star Trek: The Original Series (1967).
• He passed away in 1993 due to lung cancer, at the age of 59.
Who was Glenn Corbett?
Glenn Corbett was an American actor, who is perhaps best remembered as Pat Garrett in the film "Chisum" (1970), and as Jason Aldrich in the TV series "The Doctors" (1976-1979), among several other notable roles that he secured during his acting career that spanned 30 years. Sadly, he died prematurely in 1993.
Glenn Corbett Wiki: Childhood, Parents, and Education
Born Glenn Edwin Rothenburg on 17 August 1933 under the Leo zodiac sign in El Monte, California USA, he was the son of John Warren Rothenburg, a garage mechanic, and his wife, Sarah Bell. He served in the US Navy as a Seabee, and then briefly attended Ventura College, before he enrolled at Occidental College in Los Angeles.
While there, he met his future wife, Judy, who motivated him to start auditioning for theater roles in campus productions, which later inspired him to pursue acting as a professional career.
Career Beginnings
There weren't that many things that foretold Glenn's successful acting career at first, however, once he was spotted by a talent agent and penned a contract with Columbia Pictures, it was only a matter of time before he would become a world-famous actor. He made his debut in 1959 with the role of Det. Sgt. Charlie Bancroft in the mystery crime film "The Crimson Kimono", that starred him alongside Victoria Shaw and James Shigeta.
His next prominent role was as Collins in the war film "The Mountain Road" (1960), in which he co-starred next to James Stewart and Lisa Lu, while in 1961 he was the lead actor in the horror thriller-mystery film "Homicidal".
Rise to Prominence
He shared the screen with the great Christopher Lee in the action-adventure film "The Pirates of Blood River" in 1962, and then in 1963 he replaced George Maharis in the series "Route 66", who departed from the series due to concerning health issues, including hepatitis, The show's popularity declined when Glenn stepped into the cast, and as a result it was canceled in 1964.
However, he received high praise for his work, and continued his career rather successfully, first as Jacob in the film "Shenandoah", and then guest-starring in the popular TV series "The Virginian", both in 1965.
From 1966 to 1967 he was Chance Reynolds in the TV series "The Road West", and in 1967 made his eponymous appearance as Zefram Cochrane in the Primetime Emmy Award-winning sci-fi action-adventure series "Star Trek: The Original Series". He closed the '60s with the role of Tom in the 1969 film "Guns in the Heather".
Continued Success
Glenn enjoyed the best years of his career in the '70s. First off, he was Pat Garrett in the western film "Chisum", starring alongside John Wayne, Forrest Tucker and Geoffrey Deuel, while the following year he again joined John Wayne in another western, this time "Big Jake", in which he portrayed O'Brien. He continued his career with guest-starring roles in such TV series as "Night Gallery" (1971), then "Medical Center" (1971-1972), "Barnaby Jones" (1973), and "Police Story" (1974-1976), before he joined the cast of the soap opera "The Doctors" as Jason Aldrich.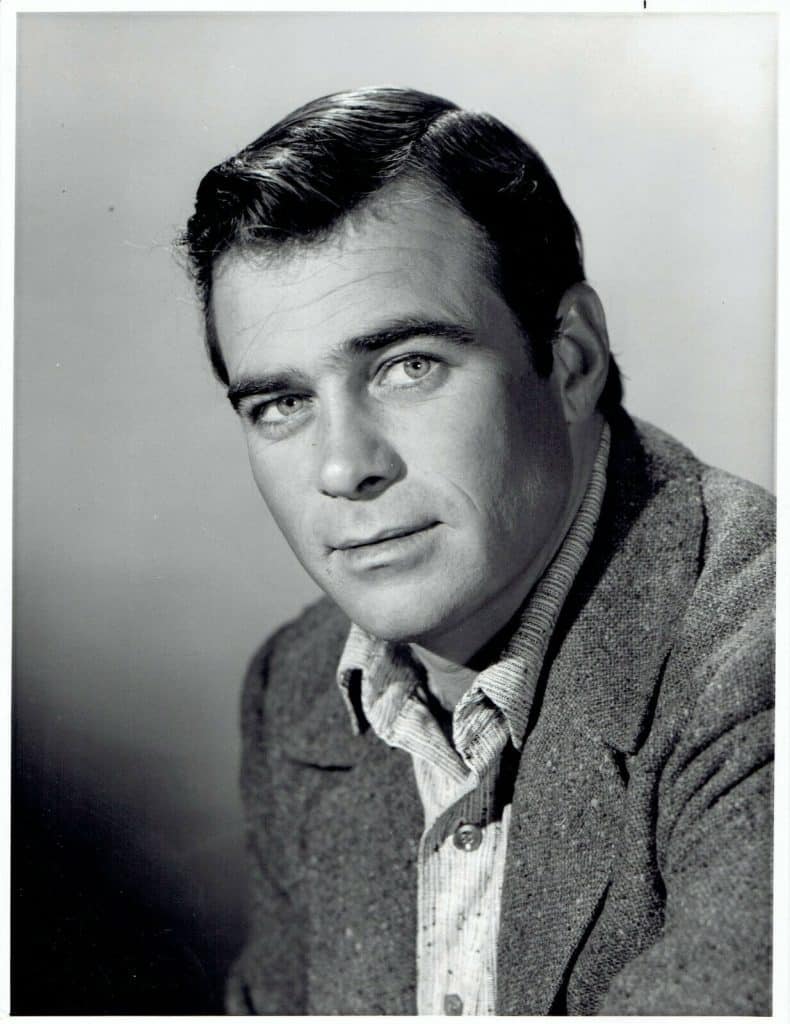 Career Decline
With the start of the '80s, Glenn's career started declining and he didn't have much success, however, he still secured the role of Paul Morgan in the soap opera "Dallas", and in his first stint remained in the series from 1983 until 1984, but then returned in 1986 and continued to portray Paul until 1988. Though not very active in the '80s, Glenn guest-starred in the TV series "Fantasy Island" in 1981, and the TV series "Simon & Simon" in 1983. His last role was as Al Finch Sr. in the action crime-drama film "Shadow Force".
Personal Life, Marriage, Children, Cause of Death
To speak of his personal life, Glenn was married two times. His first wife was Judith Z. Daniels – the two were married from 1957 until 1973 and had two children, Jason Corbett, born in 1960 and an actor as well but without any major success, and Jocelyn Corbett, born in 1961.
Glenn's second wife was Kathryn Lea Glisson, but the two were married only for a few months, from August  until October 1977.
Glenn Corbett passed away on 16 January 1993 in San Antonio, Texas USA, after losing his battle with lung cancer.
At the time, his diagnosis was treated at the Veterans Administration (VA) hospital in San Antonio, Texas, however, he couldn't be cured. He was 59 at the time of his death, and was interred in Fort Sam Houston National Cemetery, San Antonio.
Net Worth
Glenn Corbett's net worth was estimated to be close to $1 million at the time of his death, earned through his successful career as an actor that lasted over 30 years, and during which he has made more than 60 film and TV appearances, all of which added to his wealth.
Appearance and Vital Statistics
Known for his incredible blue eyes, Glenn captured many hearts with his physical presence. His brown hair and impeccable figure have only helped his career. He was 6ft (1.83m) tall and weighed 165lbs (75kgs). His vital statistics are unknown, but he had a fit figure.
Hobbies and Trivia
Before acting, Glenn was a model and posed for physique magazines in the '50s, and collaborated with Robert Henry Mizer, who is the founder of the Athletic Model Guild.