• Erika Buenfil is a 56-year-old Mexican actress and singer, best known for starring in various Mexican telenovelas.
• Her net worth is estimated at over $18 million, earned largely through her successful acting and singing career.
• Erika has landed more than 50 acting credits and released 3 studio albums since she launched her career in the late 1970s.
• Her breakthrough role came as Marisela Ocampo and Ana Silva in the highly popular telenovela "Amor En Silencio".
• She is a YouTuber, known for running her official cooking channel called 'Sazonando con la Buenfil'.
Who is Erika Buenfil?
Teresa de Jesús Buenfil López, better known as Erika Buenfil, was born on 23 November 1964 under the zodiac sign of Sagittarius, in Monterrey, Nuevo León, Mexico, and is a 56-year-old actress and singer, probably best recognized for starring in various Mexican telenovelas, such as "Amor En Silencio", "Marisol", "Tres Mujeres", and "Amores Verdaderos". She is also a YouTuber, known for running her official cooking channel called 'Sazonando con la Buenfil', on which she has amassed almost 400,000 subscribers, while her videos have been viewed more than 18 million times in total.
Conoce el detrás de cámaras de la telenovela #VencerElPasado https://t.co/dESWo2fcrH

— Programa Hoy (@programa_hoy) June 1, 2021
How rich is she, as of now? Erika Buenfil Net Worth
As of mid-2021, Erika Buenfil's net worth is estimated at over $18 million; acquired largely through her successful involvement in the world of entertainment as a professional actress and singer. She has garnered more than 50 acting credits since she launched her career in the late 1970s. Erika has also increased her fortune through her internet-based career as a YouTuber.
Early Life, Parents, Nationality, Ethnicity, Educational Background
Erika Buenfil spent her early years in her hometown of Monterrey, where she was raised by her father, José Luis Buenfil Buhl, and her mother, María Martha López; however, there is no information about their professions in the media.
She has three elder sisters, one named Martha Buenfil. She holds Mexican nationality and belongs to Hispanic ethnic group. Regarding her education, Erika attended Televisa's entertainment educational institution, Centro de Educación Artística.
Career Beginnings
Erika Buenfil started pursuing her acting career at the age of 11, when she made her debut television appearance in the telenovela "Acompañame" (1977). She then landed small roles in such other telenovelas as "Lágrimas Negras", "El Amor Llegó Más Tarde", and "Conflictos De Un Médico", to name a few. Her first serious role came in 1980, when she was chosen to play Natalia Peñaranda in Ernesto Alonso's telenovela "Aprendiendo A Amar", starring alongside Susana Dosamantes.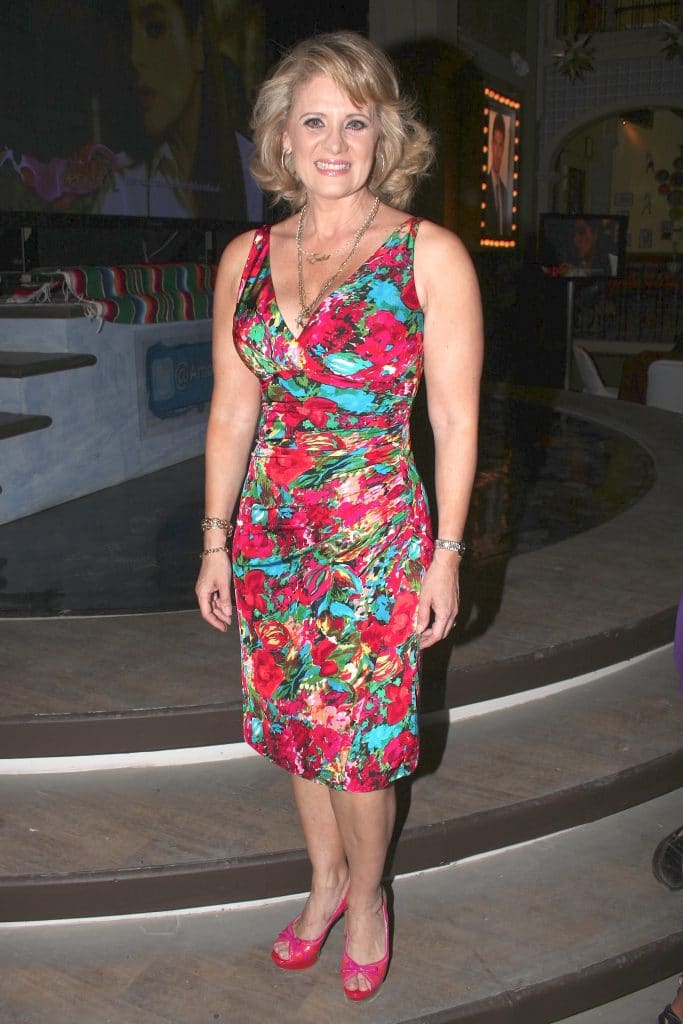 It was followed by her debut film appearance in a small role in the 1981 drama "El Sexo De Los Ricos", written and directed by Tulio Demicheli.
Her Breakthrough
Erika's big break came when she continued on to work with Ernesto Alonso on his telenovela "El Derecho De Nacer", which is based on the Cuban telenovela of the same title. She starred in the main role of Cristina del Junco from 1981 to 1982, next to such actors as Verónica Castro and Sergio Jiménez. She was then cast in only lead roles in popular telenovelas, portraying Vicky de Martino in the highly popular telenovela "El Maleficio" (1983-1984).
Her first title role came in the telenovela "Angélica", directed by Sergio Jiménez, after which she played Lena in the horror film "Cementerio Del Terror", and was then cast as Marcela in the telenovela "El Engaño" (1986), followed by her portrayal of Chelo Derecho in the made-for-TV film "Noche De Terrock Y Brujas" (1987).
Rise to Stardom
Erika Buenfil's most prominent role came in 1988, when she was chosen to play two main characters, Marisela Ocampo and Ana Silva, in Carla Estrada's telenovela "Amor En Silencio", alongside Arturo Peniche and Omar Fierro. It became one of the most popular telenovela worldwide, which catapulted her to international success, and for her performance, Erika won the TVyNovela Award for Best Actress.
https://www.facebook.com/univision/photos/a.381710056518/10158938268041519/
In the next year, she landed the roles of Rebeca de la Huerta in the horror film "Ladrones De Tumbas" and Julieta in the thriller film "Cita Con La Muerte".
In 1990, Erika featured as Karla in the action-adventure film "El Prófugo", after which she was cast as Gabriela Durán / Leticia Avelar in the telenovela "Vida Robada" from 1991 to 1992. Her next significant role was Marisol Garcés del Valle / Verónica Soriano in Juan Osorio's telenovela "Marisol" (1996), next to Eduardo Santamarina. Three years later, she featured in the lead role of Bárbara Uriarte Espinoza in the telenovela "Tres Mujeres", which became a huge success through 280 episodes.
Continued Success
Erika's next lead role came in 2002 when she starred as Dalia Marcelín in the telenovela "Así Son Ellas", which was followed by her portrayals of Gisela López Monfort in the telenovela "Amarte Es Mi Pecado", also produced by Ernesto Alonso, and Pilar De La Reguera in Roberto Hernández Vázquez's telenovela "Corazones Al Límite", both in 2004. Two years later, she collaborated again with Juan Osorio on his telenovela "Duelo De Pasiones", in which she had the important part of Soledad Montellano.
Thereafter, she landed supporting roles in such telenovelas as "Amor Sin Maquillaje", "Tormenta En El Paraíso", and "La Rosa De Guadalupe", among many others.
https://www.instagram.com/p/CQHMGVinZD3/
Erika then played Casilda in the telenovela "Mar De Amor" (2009-2010), produced by Nathalie Lartilleux, and featured as Antonieta Orozco in Salvador Mejía Alejandre's telenovela "Triunfo Del Amor" (2010-2011), along with Victoria Ruffo, Maite Perroni and William Levy.
The 2010s and Recent Projects
In the early 2010s, Erika Buenfil won the TVyNovelas Awards for Best Lead Actress for her performance in the lead role of Victoria Balvanera in the telenovela "Amores Verdaderos", which lasted from 2012 to 2013, starring next to Eduardo Yáñez, Eiza González and Sebastián Rulli. It was followed by her portrayals of Blanca de la Santacruz in the telenovela "La Gata" (2014), and Angélica in another telenovela entitled "A Que No Me Dejas" (2015-2016), which represents a remake of "Amor En Silencio".
She then landed the roles of Mercy Cabrera in Eduardo Meza's telenovela "La Doble Vida De Estela Cariillo" in 2017, and Camila Balcázar in José Alberto Castro's telenovela "Por Amar Sin Ley" in 2019. Afterwards, Erika featured as Andrea Espinoza in the 2020 telenovela "Te Doy La Vida" and played Dra. Mónica Traven in the 2021 telenovela "La Mexicana Y El Güero". Most recently, she joined the main cast of Rosy Ocampo's "Vencer El Pasado" (2021), starring as Carmen.
Music Career
Apart from her acting career, Erika Buenfil is known for being a singer.
She has released three studio albums so far, her debut studio album entitled "Se Busca Un Corazón" came out in 1986. Following its released, she started working on her second album "Soy Mujer" which was released in the next year. In 1990, she issued her third studio album under the title "Cerca De Ti".
YouTube Channel
In September 2019, Erika came up with an idea to launch a cooking channel on YouTube, under the name 'Sazonando con la Buenfil'. She started posting videos and sharing various recipes, so the number of her followers quickly increased. Some of her most popular videos include "POLLO CON CHAMPIÑONES Y ARROZ", "PAELLA DE FESTEJO CON OMAR FIERRO", and "GELATINA DE LIMÒN FÀCIL -POSTRE", among many others.
Appearance and Vital Statistics
Erika Buenfil has long blonde hair and blue eyes. She stands at a height of 5ft 7ins (1.68m), her weight is around 128lbs (58kgs), while her vital statistics are 32-24-34, bra size 32B. Her dress size is 4 (US), and shoe size 6.5 (US).
Personal Life
The famous telenovela actress was romantically involved with architect Ernesto Zedillo Jr. for two months back in 2004. He is known for being the son of former Mexican President Ernesto Zedillo. Following their split, he went on to marry TV hostess Rebeca Sáenz, while Erika gave birth to their son, named Nicolás de Jesús Buenfil. She then started dating her "Amores Verdaderos" co-star Eduardo Yáñez in 2005, but the couple went their separate ways in 2011. It is rumored that she is currently in a relationship with Mexican actor and TV host Omar Fierro.