• Sadie Sandler is the daughter of Adam and Jacky Sandler
• She has a younger sister named Sunny Sandler
• She is currently not in any known romantic relationship
• She has acted in many films including "Grown Ups 1" and "Hotel Transylvania"
• She is reportedly worth an estimated $200,000 as of mid-2021.
Who is Sadie Sandler?
Sadie Sandler is an American celebrity child and film actress, but probably best known for being the daughter of American actor, producer and comedian Adam Sandler, and actress and model Jacky Sandler.
About Sadie Sandler's Life
Sadie Madison Sandler was born on the 6th May 2006, in Los Angeles, California, USA under the star sign of Taurus, to Adam and Jacqueline Sandler. Her father is of Russian-Jewish descent while her mother is of Italian ancestry, and she has a younger sister named Sunny Sandler.  Growing up, she had a great interest in the performing arts, and often accompanied her father on his movie shoots; she would get up early and spend all day with her father on set, and regularly eat dinner there too.
More about Sadie Sandler's Family
Parents— Adam and Jacky Sandler
Adam Sandler, a New York native met Floridian Jacqueline Titone on the sets of "Big Daddy" in 1999, and they began dating. A year later, Jackie converted to Judaism— Adam's faith— as their relationship became more serious leading to their marriage in 2003. The couple welcomed their first child, Sadie Maddison in 2006, followed by Sunny Madeline in 2008. Almost 22 years later, Adam and Jackie are still happily married; Adam professed his love on Instagram saying, '22 years ago today we locked eyes and fell deep. Look forward to the next 22, young lady…Love you my forever girl'.
Sister— Sunny Sandler
Sunny Madeleine Sandler was born on the 2nd November 2008, in Los Angeles, California, US.
Growing up surrounded by actors and actresses, Sunny got involved in the family business at a young age. She made her film debut in 2010 as Tardio's Daughter in "Grown Ups 1" alongside her sister and father, and in 2013 reprised her role in "Grown Ups 2", and voiced additional characters in "Hotel Transylvania" as well as in the succeeding films. To date she has starred in over 15 films, including "Blended", "Pixels" and "That's My Boy" to name a few. Her most recent roles were in "Summer Vacation", "Murder Mystery" and "The Wrong Missy". Apart from acting, Sunny enjoys spending time with her family at Disneyland and the Malibu beach. Sunny was nominated for "Choice Celebrity Baby" at the 2009 Nickelodeon Teen Choice Awards, but Honor Marie Warren —the child of actress Jessica Alba and producer Cash Warren— won instead.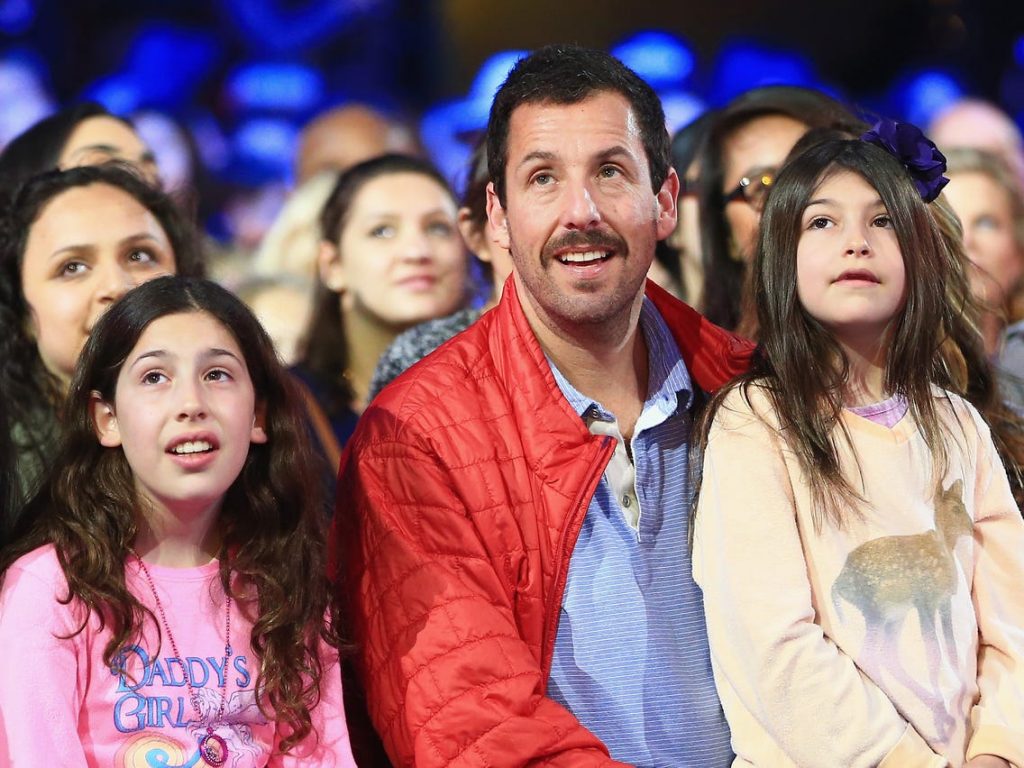 Is Sadie Sandler in a relationship?
Currently, the 14-year-old actress is not in any known romantic relationship, and at her young age hasn't been involved in any rumors, and is yet to be linked to any partner. Nevertheless, the topic makes Adam nervous. In an interview with Ellen Degeneres, he shared his fears: ' I drive around with [Sadie and] her friends and I hear them talking about boys now… it's amazing, the feelings I had about the same boys. When they would mention the kid's name, I'd be like, 'I love that kid'. Now… I get very jumpy'. In another interview he joked, 'When she dates, it will be ugly.
I will not encourage dating. I'll get my friends Rob Schneider and David Spade to come over to rough up the boys who want to take her out'.
Sadie Sandler's Acting Career
In 2008, at the young age of two years old, Sadie was seen in "You do not mess with the Zohan" in an uncredited role. That same year she made her official debut as Sweetest Medieval Girl of All Time in the comedy "Bedtime Stories", alongside Adam Sandler, Russell Brand, Courtney Cox and Guy Pearce. Two years later she starred in "Grown Ups 1" — written and produced by her father— as Tardio's Daughter, followed by appearances in "Just Go With It" and "Jack and Jill" in 2011.
Happy Birthday to Sadie Sandlerhttps://topstarbirthdays.com/p/sadie-sandler/#topstarbirthdays #Taurus #birthday #MovieActress #SadieSandler

Posted by Topstarbirthdays on Thursday, May 6, 2021
The following year she had a small role in "That's My Boy", and simultaneously made her debut as a Voice Artist as Winnie and Young Mavis in the animation "Hotel Transylvania". The film also stars Adam Sandler, Selena Gomez and Andy Samberg and became a box office hit, grossing over $1.3 billion; it lead to the creation of three short films, graphic novels, video games and even a TV series on Disney Channel. Sadie reprised her role in the following "Hotel Transylvania 2" in 2015, "Hotel Transylvania 3: Summer Vacation" in 2018, and most recently "Hotel Transylvania 4: Transformania" in 2021.
Similarly, the huge success of "Grown Ups" lead to a sequel in 2013, in which Sadie reprised her role as Sadie Tardio alongside Salma Hayek, Chris Rock and Kevin James. More roles included "Blended", "The Ridiculous 6", "The Do-Over", and "Sandy Wexler" which her father Adam produced, and appeared in. In 2019, she played Summer in the Netflix comedy "Murder Mystery", as well as Sammy in "The Week Of". Her most recent roles were in 2020 as Lobby Strong and Danielle in "The Wrong Missy" and "Hubbie Halloween", respectively. Coincidentally, her mother, father and younger sister also appeared in the latter.
https://www.instagram.com/p/CDz17ACgdYq/
Hobbies, Favorite Things and Interesting Facts on Sadie Sandler
The school she attends allows parents to visit and have lunch with their children during the week. Adam uses this to his advantage, and has admitted to bribing them with In-N-Out burgers and Bella Thorne. 'I used Bella to get closer with my kids. It felt right… My kids love Bella'. Unsurprisingly, her father is popular amongst her friends and classmates at her school. He mentioned, 'Honestly, at school, I'm like Santa. The kids love me and flock around me…'
When she was younger, she loved Disney princesses so her father would dress up for their bedtime stories. He revealed, 'I often slip into costume as the lead character in whatever bedtime story I am reading… you would be surprised at how good I look in a ball gown'.
Her favorite holiday spot is at the beach with her family.
Sadie spends a lot of time with her father, usually taking long drives around their block or attending basketball games together. He even helps with her homework.
Despite the fact that her father's net worth a whopping $420 million, he worries about spoiling them. 'I try to do the right thing, but with the amount of money I have, it's difficult to raise the children the way I was raised'. So Sadie and Sunny are not allowed into the North and West Wing of their home where Adam stores their luxuries.
Her father gifted her a performance from Maroon 5's lead singer Adam Levine at her Bat Mitzvah.
Her family had a close relationship with the late actor Cameron Boyce; he even attended her Bat Mitzvah where he spent time with her friends, signing autographs and posing for pictures with them.
At a charity event to benefit rare disease Epidermolysis Bullosa, Adam and his daughters sang a cover of Taylor Swift's "Lover" to an A-list audience including Courtney Cox, Julia Roberts and Cindy Crawford.
Appearance and Clothing Style
Sadie Sandler is a female of Caucasian ethnicity and American nationality. She has light brown hair and brown eyes, stands at a height of 4ft 2in (1.27 m), and weighs about 97lbs  (44kgs).
Where can you find Sadie Sandler?
Sadie Sandler is currently absent from all social media. With an exception for her appearances on the red carpet and big screen television, she maintains a fairly private life away from the public eye. However, her parents and family friends do post pictures with her.
How much is Sadie Sandler worth?
Thanks to her success in Hollywood as a film actress and voice artist, Sadie is reportedly worth an estimated $200,000, as of mid-2021.