• Alex Kingston is an English actress best known for her role as Dr. Elizabeth Corday in the TV series ER (1997-2004) and Jackie in the film Like Crazy (2011).
• She has two younger sisters and is fluent in German.
• She began her career in 1980 with the role of Jill Harcourt in the soap opera Grange Hill and rose to prominence in 1996 as Moll Flanders in the TV mini-series The Fortunes and Misfortunes of Moll Flanders.
• She is known for her work in theater, including roles in Julius Caesar, Much Ado About Nothing, and Macbeth.
• She has been married three times, with her current husband being television producer Jonathan Stamp.
Who is Alex Kingston?
Alex is an English actress, perhaps best remembered as Dr. Elizabeth Corday in the TV series "ER" (1997-2004) and as Jackie in the film "Like Crazy" (2011), in addition to numerous other roles that she's secured in her career.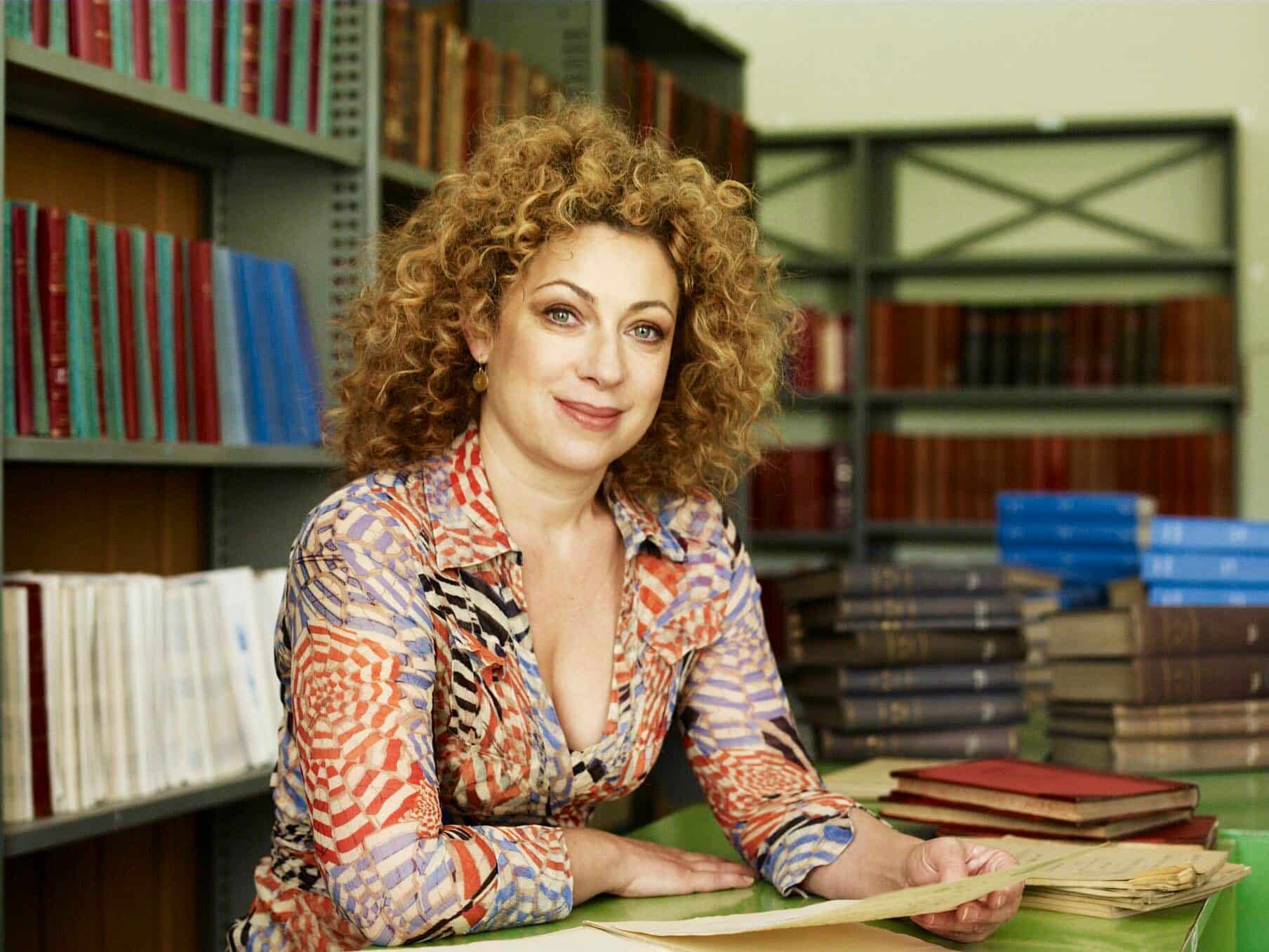 Biography: Age, Childhood, and Education
Alex Elizabeth Kingston was born of Jewish ancestry, on 11 March 1963 in Epsom, Surrey, England, the oldest daughter of Anthony Kingston and his wife Margarethe. She has two younger sisters – Susie, who was deprived of oxygen at birth which resulted in mental and physical disability, and Nicola, a former actress. Her mother is German, and Alex has become fluent in German thanks to her. At the early age of 14, Alex served as a life model to her mother's art students.
She went to Rosebery School for Girls, after which she attended the Royal Academy of Dramatic Art, and joined the Royal Shakespeare Company.
Career Beginnings
Alex Kingston began her career in 1980 with the role of Jill Harcourt in the soap opera "Grange Hill", about the daily adventures of children who attend the Grange Hill Comprehensive School. The same year, Alex appeared as an extra in the film "The Wildcats of St Trinian's".
Six years later and with a string of theater roles, Alex returned to the screen with the role of Noreen in the TV mini-series "Henry's Leg". Before the decade ended, Alex appeared in the award-winning Peter Greenaway's crime-drama film "The Cook, the Thief, His Wife & Her Lover", about a thrilling and murderous night at Le Hollandais gourmet restaurant when all these characters come together, starring Richard Bohringer, Michael Gambon and Helen Mirren.
She spent the majority of the '90s building her portfolio with roles in a number of popular projects. In 1993 she appeared in the television movie "Foreign Affairs", based on the novel by Alison Lurie, and starring Joanne Woodward, Brian Dennehy and Eric Stoltz. The following year she was Caroline Carrison in five episodes of the TV mini-series "Crocodile Shoes", about a factory worker trying to break into country music, starring Jimmy Nail, who created the series.
In 1995 she was Anna in the thriller movie "The Infiltrator", based on the book "In Hitler's Shadow", about a freelance reporter who joins the Neo-Nazi hate group with Oliver Platt, Arliss Howard and Tony Haygarth in the lead roles. The same year, she portrayed Francis Partridge in the BAFTA-nominated Christopher Hampton biopic on the platonic relationship between artist Dorta Carrington and writer Lytton Strachey entitled "Carrington", starring Emma Thompson and Jonathan Pryce.
Rise to Prominence
In 1996, Alex secured the role of Moll Flanders in the TV mini-series "The Fortunes and Misfortunes of Moll Flanders," about a woman who always wanted to settle down and become a loving wife but had to live a life of crime, co-starring Daniel Craig and James Bowers. Alex received wide praise for her work, including a BAFTA nomination in the category for Best Actress.
The following year, Alex was chosen for the role of her career as Dr. Elizabeth Corday in the medial-drama series "ER". She joined the eponymous series in its fourth season and starred until its 11th season, during which time she made a name for herself. The series helped her garner international fame, and she took home two SAG Awards.
Her character becomes romantically involved and eventually marries Dr. Mark Greene, which only further increased Alex's popularity. However, her character was written out, and she made her last regular appearance in 2009, but has made a couple of guest appearances since then, including in the series finale in 2011, so amassing 160 episodes over the span of 14 years.
While working on "ER", Alex's career reached new heights, and she became a highly sought actress. She was Peternelle in the award-winning romantic comedy-drama film "This Space Between Us", starring Poppy Montgomery, Erik Paladino and Jeremy Sisto, while in 2005, she portrayed Suzanne Harrison in the adventure action-drama movie "The Poseidon Adventure".
Two years later, she starred in the drama film "Crashing", alongside David Cross, Caleigh White and Campbell Scott, while in 2008, she starred in the TV fantasy drama mini-series "Lost in Austen", about a young woman who is a huge fan of Jane Austen novels and lives in London, but on a fateful night she swaps places with Jane Austen's character, Elizabeth Bennet, co-starring Jemima Rooper and Morven Christie.
In 2008 she joined the eponymous sci-fi adventure-drama series "Doctor Who" as River Song, and appeared in 17 episodes through 2015.
Two years later, she starred as Ruth in the TV mini-series "Ben Hur", about a young Jewish prince who seeks revenge as an old friend wrongly takes away him and his entire family. She then played Jackie in the award-winning romantic drama film "Like Crazy", co-starring Felicity Jones, Anton Yelchin and Jennifer Lawrence.
Released TODAY: Alex Kingston as Ria in #HappilyEverAfter – on Amazon streaming https://t.co/TfKnsbNEo8 #Film pic.twitter.com/me2ZU8I0AH

— ʙᴇʟʟᴀᴅᴏɴɴᴀ🎐 (@canyou_sonicme) March 15, 2016
After a couple of years without any notable role, Alex portrayed Ria in the drama film "Happily Ever After", and starred in the short-lived TV thriller crime-drama series "Shoot the Messenger", both in 2016. In 2018, she was selected for the role of Sarah Bishop in the award-winning TV fantasy romantic-drama series "A Discovery of Witches", the aunt of the lead character Diana Bishop a witch and tenured historian, portrayed by Teresa Palmer, while their collaborator is a vampire, Matthew Clairmont, portrayed by Matthew Goode.
To speak further of her accomplishments, in 202 Alex starred in all five episodes of the TV mini-series "Treason", co-starring Charley Cox, Olga Kurylenko and Oona Chaplin.
Stage Work
Additional to her successful on-screen career, Alex is known for her work in theaters, having made her stage debut in the play "The Idiot" as Nastasya Filippovna at Contact Theatre, and featured in several popular plays throughout the '80s. She was Culpurnia in the play "Julius Caesar" in 1987 at Birmingham Repertory Theatre, while in 1988, she was Fraulien Muller in the play "The Tutor", performed at Old Vic Theatre.
Alex portrayed Hippolita in the play "'Tis a Pity She's a Whore" in 1989 at Dukes Playhouse, while at the Royal Shakespeare Company, she appeared in the plays "King Lear" as Cordelia, then as Hero in "Much Ado About Nothing", and Jaquenetta in the play "Love's Labours Lost".
She remained active in theaters throughout the '90s and was seen in such plays as "Othello" (1993) as Desdemona, then as Emma Darwin in the play "Darwin's Flood" (1994), while in 1996, she was Ellida Wangel in the play "The Lady From The Sea".
She didn't reappear in theatre until 2006, when she played Nurse Rachet in the play "One Flew Over The Cuckoos Nest" at Garrick Theatre. In 2011 was Lady Milford in the play "Luise Miller", and throughout 2013 and 2014, she was Lady Macbeth in "Macbeth", performed during Manchester International Festival, and then in the USA at Park Avenue Armory.
To speak further of her accomplishments as a theater actress, she was Dr. Stockmann in the play "An Enemy of the People" at Nottingham Playhouse in 2019, while most recently, she was Prospero in the play "The Tempest" (2023).
Trailer for An Enemy of the People

Here's the brand new trailer for our upcoming production #AnEnemyofthePeople, with Dr Who star Alex Kingston. Be sure to get your ticket for this gripping and timely #play about fake news, whistle-blowers and the corruption of power.Runs Fri 13 Sept – Sat 28 Sept 2019 https://www.nottinghamplayhouse.co.uk/whats-on/drama/an-enemy-of-the-people/

Posted by Nottingham Playhouse on Wednesday, August 14, 2019
Net Worth
According to sources, Alex Kingston's net worth is estimated at over $6 million as of early 2023.
Personal Life, Dating, Marriage, Affairs, Husband, Children
Alex Kingston had a long-term romance with English actor Ralph Fiennes. The two met at the Royal Academy of Dramatic Art when they were both students, and dated for 10 years before marrying in 1993. However, Ralph started an affair with Francesca Annis, his "Hamlet" co-star in 1995, and separated from Alex in the next year, divorcing in 1997.
She later spoke about their split, saying that she considered suicide following their separation.
However, in 1998 she married Florian Haertel, whom she met on a blind date in 1997 arranged by friends. She gave birth to their daughter Salome Violetta Haertel in 2001, but the couple separated in 2009, and Haertel sued Alex for the dissolution of the marriage. The divorce was finalized in 2013.
Since 2015, she's been married to television producer Jonathan Stamp, and has resided in England since 2019, having previously lived in the USA.
Appearance and Body Measurements
Alex Kingston has light brown hair and brown eyes. She stands at a height of 5ft 7ins (1.7m), weighs approximately 130lbs (58kgs), with vital statistics of 33-29-33, and bra size 38B.