• Jaeden Martell is an American award-winning actor best known for his roles in "It" and "Defending Jacob"
• He was born in Philadelphia, Pennsylvania, and is of Korean, Scottish, German, English, French-Canadian and Belgian ancestry
• He started his career at six years old and has starred in numerous successful films and TV shows
• Jaeden is an amateur skateboarder, and also plays drums and enjoys video games
• He is the brand ambassador for the 2022 Special Olympics USA Games
Who is Jaeden Martell?
Jaeden Martell is an American award-winning actor, who is best known to the world as Bill Denbrough in the films "It" (2017-2019), and also as Jacob Barber in the TV mini-series "Defending Jacob" (2019), among several other notable roles that he has secured in his young but already successful career.
Jaeden Martell Biography: Age, Childhood, Education
Jaeden Wesley Lieberher was born on 4 January 2003 under the Capricorn zodiac sign, in Philadelphia, Pennsylvania USA. He is the son of Los Angeles-based executive chef Wes Lieberher and Angela Teresa Martell, and of Korean, Scottish, German, English, French-Canadian and Belgian ancestry, Jaeden's parents never married, and he lived with his mother in Los Angeles from the age of eight.
His father married another woman, and Jaeden has four half-siblings from his father's marriage.
Career Beginnings
Once in Los Angeles, Jaeden started auditioning for roles in television commercials, and without a single minute of professional training, he secured an appearance in the Hot Wheels commercial. After this, he appeared in several other commercials, including those for Google, Hyundai, Verizon FIos, Moneysupermarket.com, and others.
His acting debut happened in 2013 when he appeared in the short film "Grief". The following year, he starred as Oliver, a boy who befriends Bill Murray's character in the comedy-drama film "St. Vincent", co-starring Naomi Watts and Melissa McCarthy. He impressed with his performance, and won a couple of festival awards.
He continued his career rather successfully, at six years old portraying the lead character in the film "Playing It Cool", starring Chris Evans, Topher Grace, and Michelle Monaghan in 2014, while the following year he appeared as Mitchell in the romantic comedy-drama film "Aloha", with Bradley Cooper, Rachel McAdams and Emma Stone in the lead roles.
Jaeden's next role was as Johnny Masters in the Primetime Emmy Award-winning romantic drama series "Masters of Sex", starring Michael Sheen, Lizzy Caplan and Caitlin FitzGerald. He appeared in the third and fourth season of the popular series, and then in 2016 starred in the sci-fi mystery drama series "Midnight Special", and also had the lead role in the adventure comedy-drama film "The Confirmation", co-starring Clive Owen and Maria Bello.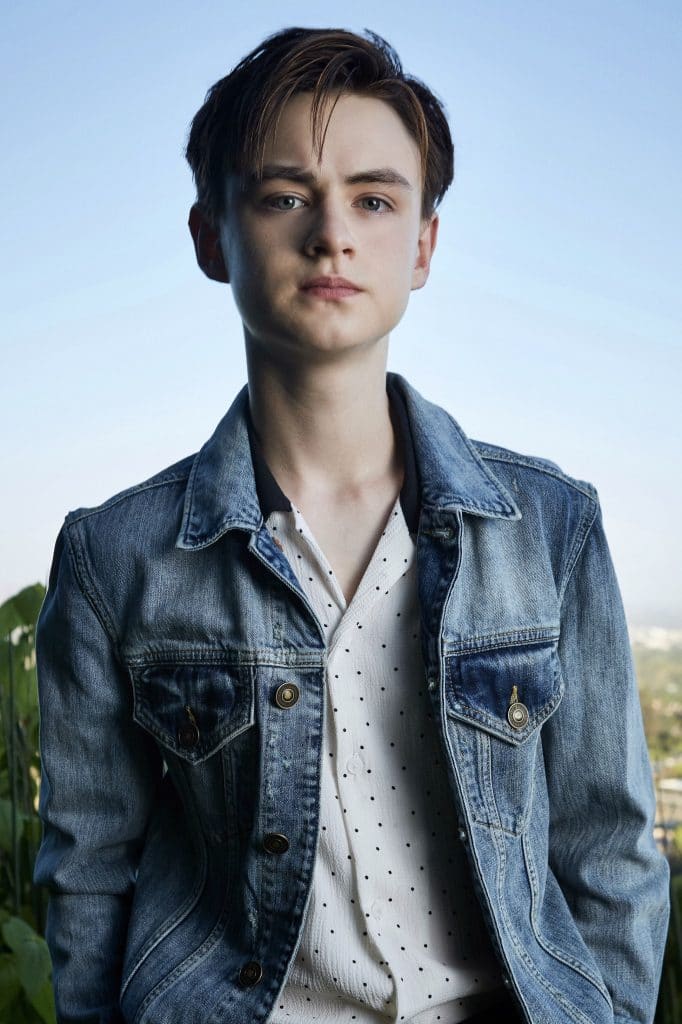 Rise to Stardom
With every role, Jaeden was becoming a bit more popular in Hollywood, but he really struck the world with the role of Bill Denbrough in the horror film "It" (2017), based on the book by Stephen King. He starred alongside Bill Skarsgard and Finn Wolfhard, eliciting praise and a couple of awards for his portrayal of the leader of "The Losers Club" children – he reprised his role in the sequel "It Chapter Two" in 2019. In 2017, he also starred as Henry Carpenter in the thriller crime-drama film "The Book of Henry", co-starring Naomi Watts and Jacob Tremblay.
He was quite busy in 2019, appearing in several successful films, including the horror thriller-drama film "The Lodge", in which he co-starred with Riley Keough and Lia McHugh, and also had the lead role in the thriller drama film "Low Tide". Furthermore, he appeared in the Academy Award-nominated crime-drama film "Knives Out", with Daniel Craig, Chris Evans and Ana de Armas as the main stars of the film.
In recent years, Jaeden starred as Jacob Barber in the TV mystery crime-drama mini-series "Defending Jacob" (2020), teaming up once again with Chris Evans with Michelle Dockery completing the lead cast.
He portrayed Justin in the TV series "Calls" (2021), and is working on several films, including the drama "Metal Lords", in which he will star with Brett Gelman and Sufe Bradshaw. The film is now in post-production and is set for release late in 2021. He is also announced as one of the stars of the drama film "Tunnels", alongside Susan Sarandon; the film is still in pre-production and there is no official release date set.
Personal Life, Dating, Girlfriend, Single?
When it comes to his personal life, Jaden is rather secretive about his personal affairs, and so far there is no reliable information about it.
However, Lilia Buckingham, one of his ex-girlfriends shared a picture of them on her official Instagram account on Valentine's Day in 2018, but the two broke up later the same year. According to sources, presently he is single and solely focused on his aspiring career.
Net Worth
As of mid- 2021, Jaeden's net worth has been estimated to be around $1 million, earned through his successful career as an actor, during which he has already appeared in 20 film and TV titles, all of which have increased his wealth.
Appearance and Vital Statistics
This young actor has dark brown hair and green eyes. He stands at a height of 5ft 7ins (1.7m), while he weighs approximately 140lbs (64kgs), with vital statistics of 32-28-13.
Hobbies, Interests, and Trivia
Jaeden is an amateur skateboarder, and often goes out to skate parks with his friends, showcasing his skills. He is also into music and plays drums, which helped him secure the role in "Metal Lords".
To speak further of his interests, Jaeden is into video games, and loves watching films, spending entire days tied to his bed watching favorites such as "Guardians of the Galaxy" franchise.
He has talked about the start of his career, and said that he never thought about becoming an actor, but that he is now extremely happy as he does what he loves. He has also spoken about a desire to work as a screenwriter, but that there is still time for him, and he isn't in a hurry.
Since becoming a Hollywood star, Jaeden has made a couple of celebrity friends, including becoming quite close with Jack Dylan Grazer, with whom he worked on the film "It".
Jaeden has become aware of his fame and influence, and has recently become the brand ambassador for the 2022 Special Olympics USA Games.