• Alex Wassabi is a YouTuber, actor and producer
• He was born to Filipino parents and has three siblings
• His YouTube career began with a comedy partner, Roi Fabito, under the name "Wasabi Productions"
• He has since gone on to star in movies, release music and collaborate with other YouTubers
• His net worth is estimated at around $10 million and he is active on Instagram and Twitter
Who is Alex Wassabi?
Alex Burriss, known as Alex Wassabi, is a YouTuber, actor and producer, who gained popularity by posting videos on YouTube. He was born under the Zodiac sign Aries on 31 March 1991, in Great Falls, Montana, USA. As of 2021, he is 31 years old and holds American nationality.
Early Life and Family
Alex was born to Filipino parents, Maribel and Adam Burriss. His family moved a lot during his early life; when Alex was one year old, they moved to Kentucky, then after spending two years there, they moved to North Carolina in hopes of finding better opportunities. As a child, Alex was diagnosed with Attention Deficit Hyperactivity Disorder (ADHD) which interfered with his school tasks. In addition to that, he was a quiet and self-constrained child who liked to keep to himself. Alex attended a middle school in Durham, North Carolina – even though he struggled to study in school, he also managed to graduate from college.
His Siblings
He has three siblings: two brothers Aaron and Andrew, and a sister named Mariah. His brothers are also social media stars with their own channels; they often collaborate and make videos together. Aaron was born on 4 February 1989 in the Philippines. He launched his channel in 2013, which was originally "Lazyron Studios", since when he's made more than 500 videos, of blogs, with his girlfriend, reactions and challenges, of broad-ranging and diverse content. Currently, his channel counts nearly 1.5 million subscribers. When it comes to his personal life, he was romantically involved with a fellow YouTuber Kimmy Dufresne, and at the moment he's dating Veronica Merrell, the actress, musician, and singer, perhaps best known for starring in the drama series "Jane the Virgin" alongside her identical twin sister, Veronica Merrell.
Andrew, the youngest sibling, was born on 17 December 2002 in North Carolina.
Even though he's appeared numerous times in his brothers' videos, such as "Meeting My Little Bro's Girlfriend" and "I Turned My Brother Into A TikTok EBOY", he launched his channel in 2019. Just like his brothers, he creates video blogs, sketches and challenges. His YouTube channel, entitled DrewTubeHD, has nearly 130,000 subscribers.
Alex's sister Mariah, is not that much into making YouTube videos and content, although she has a decent following on Instagram.
Career
Alex kicked off his YouTube career collaborating with a former comedy partner Roi Fabito; the comic duo founded "Wasabi Productions" on 25 January 2006 while attending middle school. Given that Roi and Alex lived in the same neighborhood and attended the same school, they quickly became friends.  They started their careers by creating parodies and dance videos, lip-syncs, and sketches.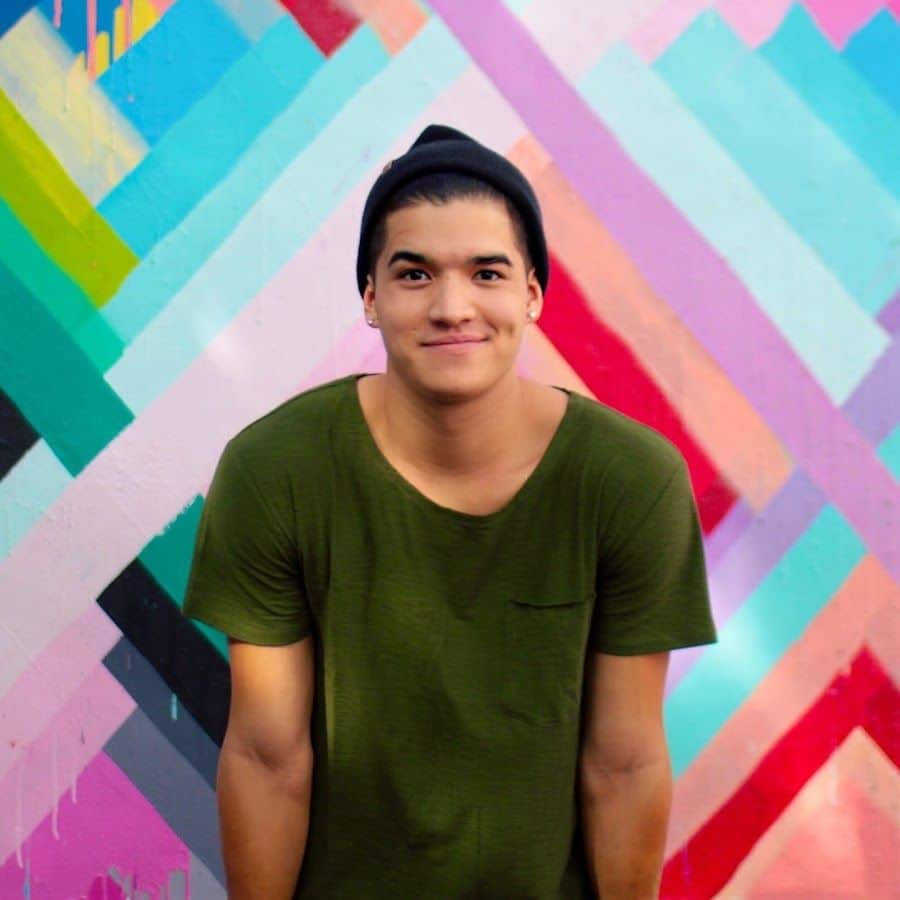 Like most YouTubers, they dove into this digital world with the idea of making interesting and funny content, not necessarily focusing on making a serious career out of it. With time they started reeling in more views and subscribers, subsequently attracting a lot of attention with their amusing content. They posted a video entitled "Call Me Maybe", the parody for the song by Carly Rae Jepsen, which quickly amassed an enormous number of views. As they created the idea and introduced two characters called "Rolanda and Richard", it soon emerged as their signature format. The channel's views quickly skyrocketed, and in no time the two became very popular, and recognized in the YouTube community. However, after some time the duo decided to go their separate ways. Alex disclosed details and the reasoning in a video blog, he said:" After ten years of making videos together, Roi came to me and said he was unhappy at Wassabi Productions and wanted to leave for reasons we're not gonna disclose.
I was sad to hear it, but everybody knows that the first most important thing in life is happiness." Roi launched his own YouTube channel called Guava Juice, which now counts over 16 million followers.
Alex further explained that he would continue making videos and posting them on the Wassabi channel. In 2016 when they parted ways, the channel had 4.5 million subscribers and more than 1.4 billion views. Despite their decision to call it quits, they have managed to stay on good terms. Currently, the Wassabi channel has over 11 million followers. As a popular practice on YouTube, Alex named his fans Wassabians.
Even though Alex made his career on YouTube making parodies and sketches, after parting with Roi, he slowly began focusing more on video blogs, story time and reaction videos such as "We TESTED Viral TikTok Hacks So You Don't Have To" and "My One-Month Anniversary Surprise! *GONE WRONG*".
Alex posts videos very often, and he also collaborates with other YouTubers such as his friend Guava Juice, the Merell twins, and his brothers.  Most of his content is revolving around his family and his current girlfriend.
Besides launching his YouTube career, Alex has also dipped his toes in the film and music industry. Over the years, he's released various tracks such as "Night Shirt", "My Side", and "Taking My Baby". Additionally, he made his movie debut in 2017, starring in the horror movie entitled "Boo 2! A Madea Halloween". His other notable movie and TV show credits include "Light as a Feather ", Escape the Night", and "Airplane Mode". He also garnered a nomination for a Shorty Award and a Streamy Award.
Personal Life
Speaking of his personal life, he dated fellow YouTuber Lauren Riihimaki, better known as LaurDIY.  Her channel focuses on DIY (Do It Yourself) projects ranging from Halloween costumes, sewing clothing pieces, and room décor. During their relationship, they collaborated on videos on both of their channels, and soon became recognized as a popular YouTube couple.
However, after three years of dating, the couple announced their separation in 2018 via video. Lauren said:" Basically, we just feel like we both need specific things, and we're not fully on the same page, and we need to take time apart. So for us to come back better and stronger, we have to take time and focus on ourselves."
The couple also disclosed that there was no cheating involved or any type of scandal or controversy; they made this decision after a long conversation. She also added: "I want you guys to hear it from us, we don't hate each other and it's not the end of the world."
Year after the breakup, he began dating Mexican YouTuber, Caeli Santa Lopez. The relationship proved to be an on-and-off thing, and after just a couple of months, Alex announced the second break-up, which was the final. He said: "We didn't meet each other's expectations…I guess. The search for the one continues."
In 2020, Alex made a video entitled "Dating My CRUSH for 24 HOURS! *DATE 1* and invited the singer and dancer Lexy Panterra to be his date. Alex made two more videos he referred to as the "Dating Show", in which they go on dates to various interesting places.
In November 2020, he posted another video, "Will You Be My Last Girlfriend? *emotional*" in which he officially asked Lexy to be his girlfriend – she said yes, and most of his recent videos are with Lexy, such as" My Girlfriend Got a NEW NOSE!" and "Moving In Together! *Mini Van Camper*". Lexy is also a known name in the YouTube community, who rose to fame with her twerk videos. After gaining popularity, she later founded LexTwetrkOut, the exercise program for losing weight and maintaining a fit physique. Her channel currently has over two million followers.
What is his net worth?
As of mid-2021, Alex's net worth is estimated at around $10 million, earned through his lengthy career on YouTube. According to sources, he makes $3,000 per day on his social media accounts. Additionally, he has his own merchandise, which substantially augments his wealth.
Physical stats and Hobbies
Alex is 6ft (183cm) tall and weighs around 172lbs (78kgs). His hair is black and his eyes are brown.
When it comes to his hobbies, he likes basketball, snowboarding and Sudoku.
Is he active on Instagram and Twitter?
He is very active on both platforms. His Twitter counts 1.2 million followers, while his Instagram has over three million followers. He posts almost daily, usually interesting quotes, promotion for his videos, with an occasional photo of Lexy.
More about Alex
At the beginning of 2021, Alex announced that he would be taking a break from YouTube to focus on his relationship with Lexy, and also to evaluate his channel's direction. However, two months after his video "Thanks for the last 15 years… Goodbye", he returned to YouTube with an apology. He explained that at the moment, he thought it was the right decision as he felt mentally drained and stressed. After the break, he decided to continue making content for YouTube,saying "It was awesome. It was so needed. It was so worth it. 43 days may not sound like a lot to you, but if you have been doing something non-stop for a large portion of your life, that's a long time to have off and do nothing. I am relaxed. I am mentally in a better place."