• Ali Vitali is a political correspondent who has earned the prestigious position of Huffington Post's "Top 25 Millennial Broadcasters in American News and Politics"
• Ali graduated from Tulane University in 2012 with a double major in Communications and Political Science
• Ali has had several positions in the past decade, and was assigned to NBC News Digital in 2016
• Ali is currently writing a book about 2020, women in power & the presidential glass ceiling
• Ali is estimated to have a net worth of $1 million, as of late-2021.
About Political Correspondent, Ali Vitali
A well-known and highly respected reporter, Ali Vitali covered high profile White House information for NBC News Digital which has earned her the prestige position of one of Huffington Post's "Top 25 Millennial Broadcasters in American News and Politics". She has recently been assigned to the position of a Capitol Hill news correspondent for NBC. So let's find out what makes this top-class reporter tick.
Ali was born on 22nd March 1990 to parents Lou and Angela in Briarcliff, New York State USA, where she spent her childhood with her younger sister. Ali has dark brown eyes and hair and stands about 5ft 3in (158 cm) tall.
Ali Vitali's education
After finishing her schooling at Briarcliff High School in 2008, where she played for the Varsity Soccer Team from 2007 to 2008, Ali studied French at The American University Centre Provence in Aix-en-Provence, France in 2010. From that September onwards she dived into full immersion of their French program for three months, as a result of which she can speak French fluently. Ali came away with the award of Senior Honors Scholar for her thesis on "Citizen Journalism in the Post-Network Age of News".
Ali returned to the US, and subsequently graduated from Tulane University in New Orleans, Louisiana in 2012, coming away with a double major in Communications and Political Science with English her minor subject. Ali was part of the Presidential Scholar/Honors Program, the 'Pi Beta Phi Fraternity' (Vice-President of Communications), the Student Conduct board and Residence Hall Association, as well as the Green Wave Ambassadors.
How Ali Vitali's career unfolded
Ali has had several, often overlapping or concurrent positions in the last decade. Ali's first position in the world of news reporting was as a Research Intern for the show "Late Night with Jimmy Fallon" in New York City, where she spent three months from May to August 2011.
In May 2012 Ali joined ABC News All Media in New York City and worked there for five months as a Production and Development Assistant. Thereafter she joined msnbc.com as Multimedia Editor from September to November 2013 where she commenced reporting stories and collaborated on social media platforms.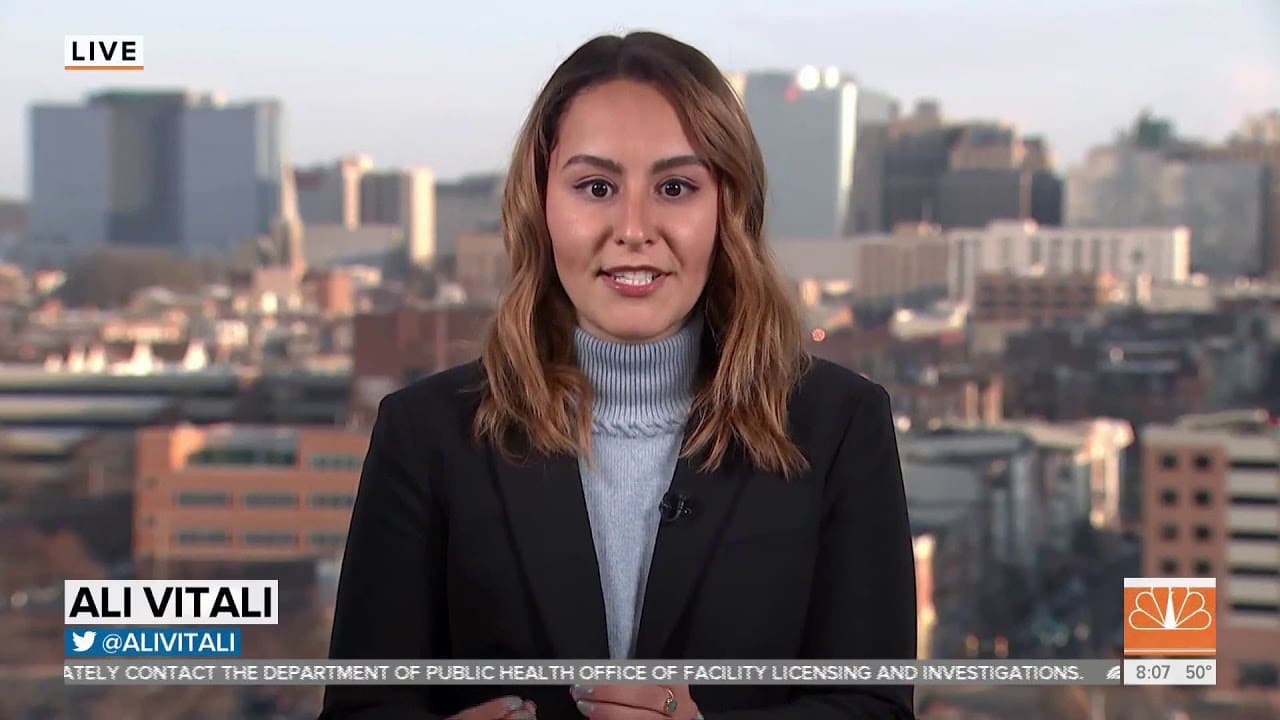 By September 2012 she had anchored the position of Vice President and Managing Editor of Sweet Lemon Media where she managed their five-strong editorial team and contributors to their online magazine, as well as personally writing blogs for their website. She also conceptualized, produced and hosted features for their YouTube TV channel. Ali left them in May 2014.
During the same time, Ali had also taken on the position of Graphics Producer in November 2013 for the MSNBC show, "The Cycle". The show was launched in June 2012 as a 'topical – interesting and smart' look at our world from politics, to sports and the economy, and wrapped up in July 2015. Next up she became one of the founders of the online show, "Krystal Clear" on Shift by msnbc and took up the post of Segment/Graphics Producer. She wrote and produced segments for the live web-shows, dealt with social medial and undertook news interviews on the street from a feminist angle.
In 2016 Ali came out from behind the scenes to embark upon frontline reporting when she was employed by the Trump administration, traveling around the US covering Trump's election campaign.
In July 2017 she was listed on Huffington Posts "Top 25 Millennial Broadcasters in American News and Politics" and was cited as being 'on fire' and a 'rising star'.
Is Ali Vitali married?
Ali has been dating Jeremy Diamond, also a political reporter, since 2016; they met in Iowa while traversing the country on Trump's campaign trail. An unusual start to a romance for sure! Jeremy admits he found Ali beautiful and spunky, but he mainly saw her as a potential tough competitor on the campaign. Jeremy's words, 'Falling in love on the campaign trail was mostly about a collection of moments… Ultimately, we fell in love in the strangest way: driving across the country together, from one Trump rally to the next.' But their shared motivation and passions undoubtedly keeps their love fired up ….. and they're still going strong.
Jeremy Diamond is a news correspondent for CNN and works at the White House. He was educated at the French American School of New York where he worked on the school newspaper. In 2014 he graduated cum laude with a BA in international affairs from George Washington University. There he became the news editor of the "GW Hatchet" and achieved awards for his journalism. His first position as an intern was at CNN and he has also been very involved in following Donald Trump. Jeremy is currently a White House Correspondent.
Jeremy is fluent in French and can speak conversational Spanish and Hebrew. Ali and Jeremy currently live in the Greater New York area.
Ali's other love of her life is her Bichon-poodle pet dog, Mazie Moo, who even has her own Instagram page.
What has Ali Vitali been up to recently?
On 23rd March, 2020 Ali pinned on her Twitter feed that she's writing a book through Dey Street Publishing and asks for comments from, especially women, politicians. The book is titled "And Then There Were None: Why the Glass Ceiling is Still Intact After 2020". She quotes, 'the book is about 2020, women in power & the presidential glass ceiling!' She claims that 'there is still resistance to a woman in the White House'.
On 5th September 2021, Ali announced on her excitement at the fact that she has been assigned as the newest NBC News Capitol Hill Correspondent, and how she was looking forward to working with a great team there.
As the saying goes: let them eat cake— and let them buy #Electable!

Overwhelmed by the support and love today. And treats. Always treats. https://t.co/K2GWGRILlS pic.twitter.com/z2n92Ln5vo

— Ali Vitali (@alivitali) August 23, 2022
Ali has been involved in many TV reports and interviews relating to various newsworthy and political issues. She posted in her Twitter feed on 30th September 2021 a snippet of her interviews with three congresswomen, who shared their personal and emotional stories about abortion before testifying before the House Oversight Committee. This follows the recent debates and blocks on the rights to abortion, which has been sweeping across the states.
Ali Vitali's popularity and wealth
Ali is rapidly becoming a household name in the US; her Twitter profile has over 115,000 followers, her LinkedIn page almost 1,500 and her Instagram page over 14,000. Her Facebook profile has almost eight million followers, but she hasn't been active on it since January 2019.
According to authoritative sources, Ali's income as a political correspondent with her experience is estimated to earn her as much as $90,000 per annum, and her net worth is believed to be close to $1 million, as of late-2021.
This 31-year-old woman is certainly going places. Ali has stepped out from behind the scenes in the digital media arena to become a recognized face and voice in the vanguard of American political broadcasting. Although she has achieved a lot so far, this is surely only the beginning of her promising career. Watch this space!