• Coco Quinn is a dancer, actress, model, and social media personality.
• She is 13 years old and has 3 siblings who are also dancers.
• She has appeared in various competitions and dance shows, including the Showbiz Talent Competition in California.
• She is an aspiring singer, has over 2 million followers on Instagram, and over 3 million followers on TikTok.
• Coco is currently dating fellow YouTuber Gavin Magnus and her estimated net worth is $400,000.
Who is Coco Quinn?
Coco Quinn is a dancer, actress, model, and social media personality, perhaps best known as a former member of the elite team entitled "Molly's Monsters". She is additionally recognized for her role in the series' "Chicken Girls" and "Mani". Coco was born under the Zodiac sign Gemini on 7 June 2008, in California, USA. She holds American nationality, and as of June 2021, she's 13 years old.
Early life and Family
Her mother is Jeanine Quinn, who is a nurse by profession, while her father's name remains unknown. She has a brother named Tyler and two sisters Rihanna and Kaylee, who are also dancers.
OUT NOW Olivia Rodrigo – Drivers License (Cover by Coco Quinn) https://t.co/wQlHBVtmzL pic.twitter.com/stemOPka2M

— Coco Quinn (@cocoquinn3) February 14, 2021
Her sister Rihanna has gained popularity on Instagram, which currently counts over 100,000 followers. Coco has been trained in several types of dance, including jazz, contemporary, and hip-hop. She also began training in rhythmic gymnastics at the age of two; Coco is currently attending primary school.
Career
Coco began her career very early, dancing at Dance Precisions, and later became a part of the elite competition dancing team entitled Molly's Monster, and later transitioned to Just Plain Dancin'. Despite her young age, she's appeared in various competitions and dance shows, including the Showbiz Talent Competition in California, winning first place in the petite diamond line.
Coco began competing as a solo dancer in 2013, attending competitions such as KAR (Redondo Beach), WCDE Nationals, and Starpower National Talent Competition. In 2016 Coco made a guest appearance in the reality series "Dance Mums" with her mother Jeanine and two sisters, however, they didn't stay in the show for long, mainly because the oldest Quinn sister, Kaylee, who was at the time 11, complained about being placed in a group with six years olds. Kaylee said: "What eleven-year-old would be happy doing a monster dance. I've never done a dance this cheesy for some reason." The other mums thought it was a huge problem, that she had thought she was better than the other girls in her group.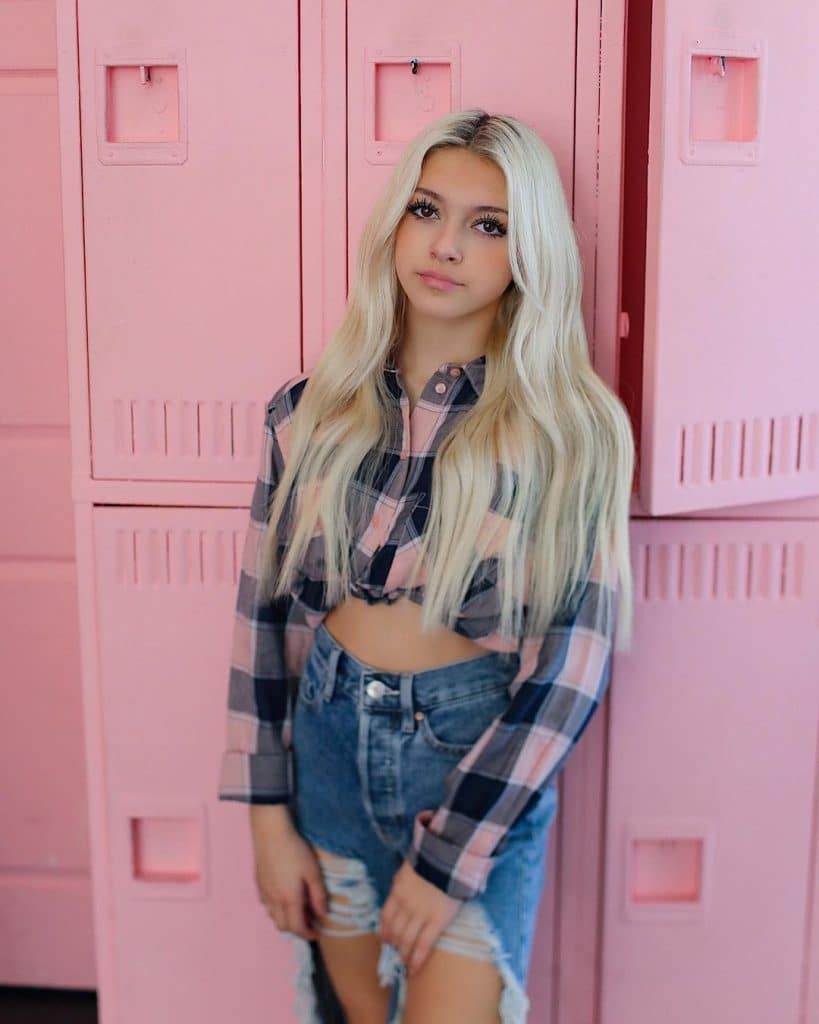 After that episode, Jeanine and the girls agreed that ALDC was not the right place for them, and they exited the show and competition. In 2020 Coco was chosen as a host for the L.O.L Surprise Remix Music Awards.
Acting Career
Regarding her acting endeavors, in 2017, she was cast as Katie in the web series produced by Brat entitled "Mani", opposite Lawrence Wayne Curry and Hayley LeBlanc. The show premiered in 2017 and ran for five seasons, with the final season aired in 2020; Coco starred in the first three seasons. Later she appeared as Katie in the web series "Chicken Girls" in 2019, starring as one of the main characters in the fifth season, and guest-starring in the seventh season.
Singing Career
Besides her lengthy list of achievements, she's also an aspiring singer, who began by posting covers on YouTube of various popular singers such as Taylor Swift, Selena Gomez, and Ariana Grande. Coco also makes videos and covers with another social media star, Gavin Magnus. On 25 July 2020, she posted the music video for her first original song entitled "What I Love About Me". She's now released another original track entitled "Secrets" starring Gavin Magnus, and one of her latest covers has been the hit song by Olivia Rodrigo entitled "Driver's License".
Social Media Presence
Even though Coco is still very young, she has managed to establish herself as a YouTuber, influencer, and social media star in the digital world. Her Instagram counts nearly two million followers, and she's very active as she posts outfit inspirations and photos almost every day.
She is also popular on TikTok, which currently has three million followers with over 90 million likes, and on which Coco usually posts lip-syncs and dance videos.
Additionally, Coco is a well-known YouTuber whose account was launched in 2010 by her mum, who has supervised and managed all her social media. The first couple of videos featured young Coco training, and performing rhythmic gymnastics and Russian ballet. In 2018 Coco began changing the content on her channel, posting Q&A videos, challenges, and video blogs such as "San Francisco Road Trip | Quinn Sisters", "GLOW IN THE DARK Slime | Challenge", and "DOLL MAKEOVER | Repaint | Monster High |DIY"; her sisters have appeared quite often in the videos, especially Rihanna.
Coco is also a make-up and fashion fanatic who likes to explore skincare, various hairstyles, make-up, and outfits in her videos such as "Night Time Routine | Get Unready with me" and "DYING MY HAIR PINK! HAIRSTYLE TRANSFORMATION". Her channel currently counts over 1.5 million subscribers with over 50 million views. Lately, she's focused on uploading challenge videos, pranks, and make-up tutorials.
Personal life
The talented dancer is currently dating Gavin Magnus, who is a YouTuber with nearly four million subscribers. They met in 2020, and after being friends for a while, they began dating. She appears in a lot of his YouTube videos, including "Chapstick Challenge w/ My Girlfriend" and "Ignoring My GIRLFRIEND For 24 HOURS!".
In a video, Coco disclosed that he was initially scared of her, she said:" "Why were you scared of me? … Me and my friends walked up to Gavin – they were gonna give him a hug. So they all gave him a hug and I was like hi. And he walked away and didn't even give me a hug."
Their fans gave them a cute couple name – "Cavin". In 2020 she posted a Q&A video in which she talked about dating Gavin, saying "It is fun. I like it a lot. Yeah, you just have to find the right person and make sure it's good for you. It's pretty fun and you just feel loved liked 24/7. You always have someone there for you. It's great." She also added that she doesn't have any ex-boyfriends – Gavin is her first.
What is her net worth?
Her net worth is estimated at $400,000, earned largely through her social media accounts and acting endeavors. Coco has collaborated with various brands, promoting their products and merchandise on Instagram and TikTok, such as PSD underwear, L.O.L Surprise and Sweety High.
Physical stats and Hobbies
Coco is 4 ft 10ins tall and weighs around 99lbs (45 kgs). Her natural hair is blonde, while her eyes are dark brown.
In her free time, she likes to try making new meals, practice new music, and watch Netflix.
In terms of dealing with trolls and hate comments, she said:" I would just say you have to have enough love and confidence in yourself to know that it shouldn't get to you and if it does I would say work really hard on loving yourself and having so much confidence." Her favorite TikToker is Addison Rae.