• Danielle Bisutti is an actress, director, and singer who rose to prominence for her voice role as Freya in the acclaimed video game "God of War".
• She was born in Los Angeles, California in 1979 and is of Italian descent.
• She has appeared in numerous TV series, movies, and plays.
• She has also launched a music career and has released several songs.
• She is currently single and is active on social media.
Who is Danielle Bisutti?
Danielle Nichole Bisutti is an actress, director, and a singer, who rose to prominence for her voice role as Freya in the universally acclaimed video game "God of War". She is also recognized for appearing in the Nickelodeon TV series "True Jackson, VP". Danielle was born under the Zodiac sign Libra on 1 October 1979, in Los Angeles, California, USA, of Italian descent. As of 2021, Danielle is 44 years old and holds American nationality.
Early life and family
She is the only child of parents Diana and Richard Bisutti. Her father worked as a set decorator in film and TV for over two decades. Her maternal aunt is Christina Ferrare, the former model, talk host, and actress perhaps best recognized as a former spokesperson for Max Factor. Her aunt also co-hosted the morning talk show on the Hallmark Channel – "Home and Family Show".
Since she was born into a family with a history in the entertainment business, it was natural for Danielle to lean toward acting and singing. She spent most of her childhood and formative years in Los Angeles, and during her high school days, became very involved with theatre, speech, and sports. She then attended California State University, Fullerton, from which she graduated with a Bachelor's degree in Acting and Musical Theatre.
Beginnings of her Career
While in college, she often performed at the theatre, subsequently earning several nominations for Best Actress in the Irene Ryan Competition. Additionally, her portrayal as Sheila in a California production of the popular musical "Hair" attracted the attention of the music producer Michael Butler, who invited the cast to perform at the Democratic National Convention; the cast also performed at The New Athenaeum Theatre.
She continued performing in the theater perfecting her craft, and her credits include numerous plays, such as "Anything Goes", "Boy's Life", "Uncle Vanya".
Career in TV and Movies
She made her TV debut in 2000, with a minor role in the American sitcom "Strip Mall". The following year she made a one-episode appearance on the hit sitcom "Dharma and Greg", and starred in two short movies – "Automatic" and Survivor: Los Angeles the Ultimate Parody".
In 2003 she appeared in several TV series, including "Charmed", "Miss Match" and "Andy Richter Controls the Universe". The following year she starred in the independent movie "Tropix", the short film "Seeing Iris", and the legal-comedy series "Boston Legal". She also landed the recurring role as Joan in the hit series "O.C.", appearing in five episodes.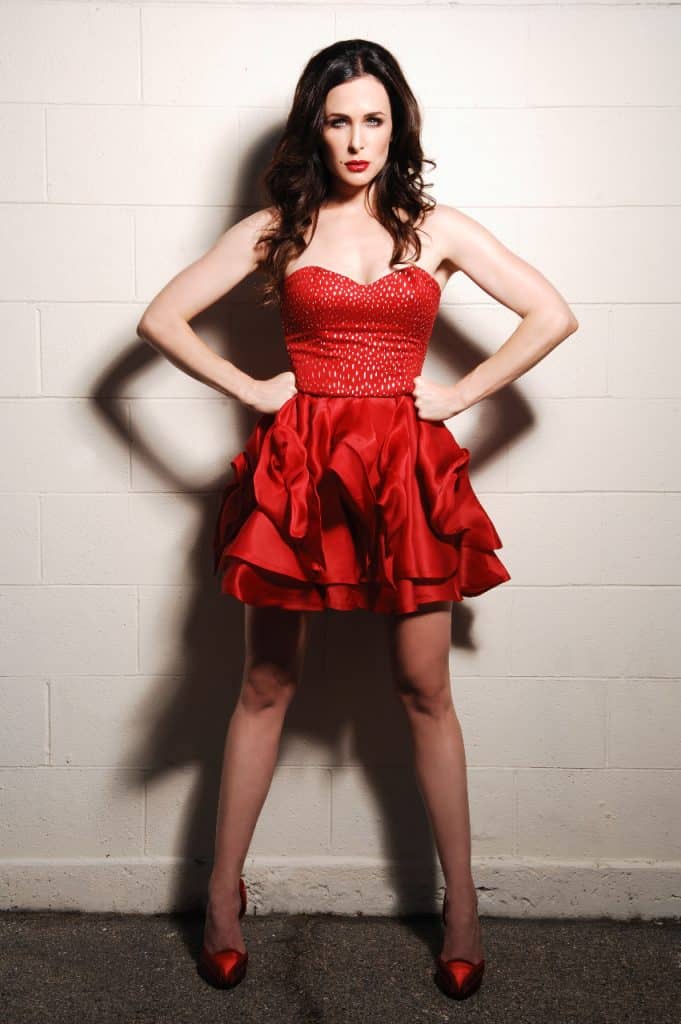 After starring in two short movies "Downsizing", and "Venice Underground", she made several one-episode appearances in series such as "Two and a Half Men", "Courting Alex", and "Twenty Good Years". Then in 2007 she scored the recurring role as Terri Young in the procedural series "Without a Trace", followed by her appearances in the legal drama series "Shark", and police series "Cold Case".
In 2008 she starred in the short movie "Three Minutes in Heaven", and the TV series "Wizards of Waverly Place" and "Raising the Bar". She additionally scored the role of Amanda Cantwell, one of the main characters, in the successful teen sitcom "True Jackson, VP", opposite Keke Palmer and Ashley Argota. The show ran for three seasons, achieving success with occasional guest appearances from Justin Bieber and John Cena.
Additionally, the sitcom's originality and the cast's excellent performance gained several awards and nominations from Young Artist, NAACP Image, and Writers Guild of America.
During the same year, she transitioned to a more serious role in the action-comedy movie "Get Smart", starring Anne Hathaway, Dwayne Johnson and Steve Carell. Despite gaining mixed reviews, the film was a huge commercial success, scoring highly at the box office. In 2010, she made a big leap to appear as the main character, Heather, in the Christian movie "No Greater Love", opposite Anthony Quinn. After making a one-episode appearance in the hit procedural series "Bones", she starred in "Private Practice", "Body of Proof", and "CSI: Miami". In 2011, she portrayed the professor Linda in the hit comedy crime series "Parks and Recreation", appearing in two episodes.
The following year saw Danielle appear in numerous TV series, including "Criminal Minds", "Hot in Cleveland", and "Last Man Standing". In 2013 she continued her pattern of one-episode appearances, in series such as "Grey's Anatomy", "Anger Management", and "CSI: Crime Scene Investigation". Additionally, she starred in two horror movies, "Curse of Chucky" and "Insidious: Chapter 2"; the latter film was a huge commercial success, despite receiving criticism for its underperformance compared to the first movie.
The following years saw Danielle making guest appearances only in TV series, in 2015 in the comedy series "I Didn't Do It" and a minor appearance in the military procedural series "NCSI: Los Angeles". After starring in the sitcom "Dr. Ken", Danielle portrayed Ms. Grey in the made-for-TV movie "Nanny Killer", and during the same year, she lent her brisk and outspoken voice to the witch Freya in the universally acclaimed video game "God of War".
The game, inspired by Norse mythology and set in the ancient Scandinavian realm of Midgard was a colossal success, receiving praise for the story, world design, and extraordinarily detailed graphics. It also holds the fourth-highest score of all-time for the Play Station 4 game, and the title of the highest-rated video game in 2018. Her amazing voice acting didn't go unnoticed, as Danielle was nominated for a BAFTA Award in the category Performer, but lost out to her co-star from the video game Jeremy Davis, the voice of Baldur.
Her latest roles
In 2019 she landed the role of Witch Hexela, a recurring character in the fantasy family show "Dwight in Shining Armor". The first season premiered in 2019, and the show ran for five seasons, with the last season and final season premiering in March 2021 – the show was recommended by Parade magazine as a great option for family viewing. Also in 2021, she directed and starred in the independent indie movie entitled "Little May".
Singing Career
Besides her acting endeavors, she also kicked off her music career as an independent singer. She wrote several songs including "Venice Underground" and "In the Presence of You", which were featured in independent movies. In 2003 she won the award for Best Female Singer-Songwriter at the Los Angeles Awards, while her song "In Passing" won the Unanimous Choice Recipient Award for Independent AC Single of the Year. The following year she performed the song at Temecula Valley International Film & Music Festival, and it was subsequently selected for the Top Musical Artist Compilation CD.
Additionally, she launched a YouTube channel, and posted a couple of videos in which she covered pop hits such as Billie Jean with a jazz twist; however, after a while she stopped posting.
The good news – according to her recent Instagram post, she has partnered with Mac Cosmetics and Monique Boyer on an upcoming music project.
Net Worth
As of 2021, Danielle's net worth is estimated at over $1 million, which she's earned through her career as an actress and stage performer over more than two decades.
Personal Life
Not much information is available about her romantic history and interests, as she's managed to keep her private matters away from the public eye. However, she was married to Lorenzo Cascino, a marketing director with a background with political science. They reportedly met in 2014 and eight month later became engaged. The couple married in 2015, but they weren't meant for the long run, as they divorced in the following year.
Elusive as always, Danielle hasn't shared any information about the separation, and neither has her ex-husband. According to the latest sources, she is currently single.
Physical stats and Hobbies
Danielle – the gorgeous dark-haired green-eyed beauty, as she was called by a media outlet – is 5ft 8ins (173cm) tall, weighs around 140lbs (63kgs), while her vital statistics are 38-27-36. Danielle also has a very distinctive pin-up vintage style.
In her free time, she likes to travel, and spend time in nature.
Danielle is very active on social media – her Instagram has over 20,000 followers, while her Twitter counts 17,000 fans. She also has an account on Cameo, the platform for personalized videos and shout-outs.