Who is Edie McClurg?
Edith Marie 'Edie' McClurg was born in Kansas City, Missouri USA, on 23 July 1945 – her zodiac sign is Leo and she holds American nationality. She is an actress who is probably still known best for her portrayal of Bonnie Brindle in the family science fiction comedy series "Small Wonder", created by Howard Leeds, and which starred Richard Christle, Marla Pennington and Jerry Supiran. It follows a suburban family and a robot created to resemble a human child. It aired from 1985 to 1989, and was nominated for 15 awards winning two.
Early life and education
Edie was raised in Kansas City alongside her older brother Bob, by their mother Irene McClurg who was a Federal Aviation Administration secretary, and their father Mac who was a mailman. Bob is a former actor who was in the film industry until 1987, when he portrayed Harry in the comedy movie "Born in East L. A."
Edie grew up being interested on her education, and also in radio during the four years she spent at high school. Upon matriculating in 1963, she enrolled at the University of Missouri-Kansas City from which she graduated with a Bachelor's degree in radio in 1967. She went on to attend Syracuse University, from which she obtained her Master's Degree.
While still attending Missouri-Kansas City, Edie taught radio, and worked at KCUR-FM as a DJ, producer and a newswoman.
Roles in TV series
Edie has had roles in more than 200 movies and TV series, and we are about to mention some of her most notable performances in this article.
She made her debut TV series appearance in the 1974 musical "Tony Orlando and Dawn", and was in 1977 cast to play supporting characters in both the comedy "The Kallikaks" and the comedy drama "The Richard Pryor Show".
Edie gained recognition in 1981 when cast to play Willamae Jones in the comedy "Harper Valley P. T. A.", and in 1983 she was invited to lend her voice to one of the lead characters in the animated action comedy "The Dukes", but which was cancelled after airing 13 episodes for low ratings. The year 1985 heard her voice Telula and Selma in the animated adventure comedy "The 13 Ghosts of Scooby-Doo", and she became popular around the same time as she was invited to voice Mrs Seaworthy in the hit animated adventure comedy "Snorks".
In 1991, she portrayed the supporting character Principal Marilyn Ridge in the comedy "Drexell's Class". In 1993, Edie was cast to voice one of the lead characters in the short animated adventure "Problem Child", and went on to voice Aunt Ruth Generic in the short animated drama "Bobby's World", and Ora Anderson in the animated adventure comedy "Life with Louie".
Her following notable performance was in 2000, when cast to voice Mrs McCoy in the animated family comedy "The Kids from Room 402", and Edie then had roles in the short animated comedy "Clifford the Big Red Dog" in which she voiced Mrs. Violet Bleakman, the short animated action "Rocket Power" voicing Violet Stimpleton, and the family comedy "7th Heaven" in which she portrayed Mrs. Beeker. From 2004 to 2008, she voiced Fran in the animated family drama "Higglytown Heroes", and from 2008 to 2012, Edie was the voice of Helen in the animated comedy "The Life & Times of Tim".
Three of her most recent roles in TV series have been in the 2015 episode "Ghost Lookers: The Haunting of Bueller House" of the comedy "Bad Shorts", the 2016 episode "Strongarm's Big Score" of the animated action adventure "Transformers: Robots in Disguise" (voice role), and the 2020 episode "Holly Bible" of the hit animated comedy "Family Guy" (voice role).
Roles in movies
Edie made her debut film appearance in the 1976 horror "Carrie", which starred Sissy Space, Piper Laurie and Amy Irving, and follows Carrie White as she unleashes her telekinetic powers at the prom after she was humiliated by her peers. The film won three awards and was nominated for eight others, including two Oscars.
A couple of her following roles were in the 1980 fantasy comedy "Oh, God! Book II", the 1981 comedy "The Pee-Wee Herman Show" and the 1982 mystery horror comedy "Pandemonium". One of her most notable performances back then was in the 1983 comedy "Mr. Mom", which starred Michael Keaton, Teri Garr and Frederick Koehler, and follows a husband and wife who switch roles, meaning she goes to work and he stays at home, very unusual in those days. The film won one out of the two awards it was nominated for.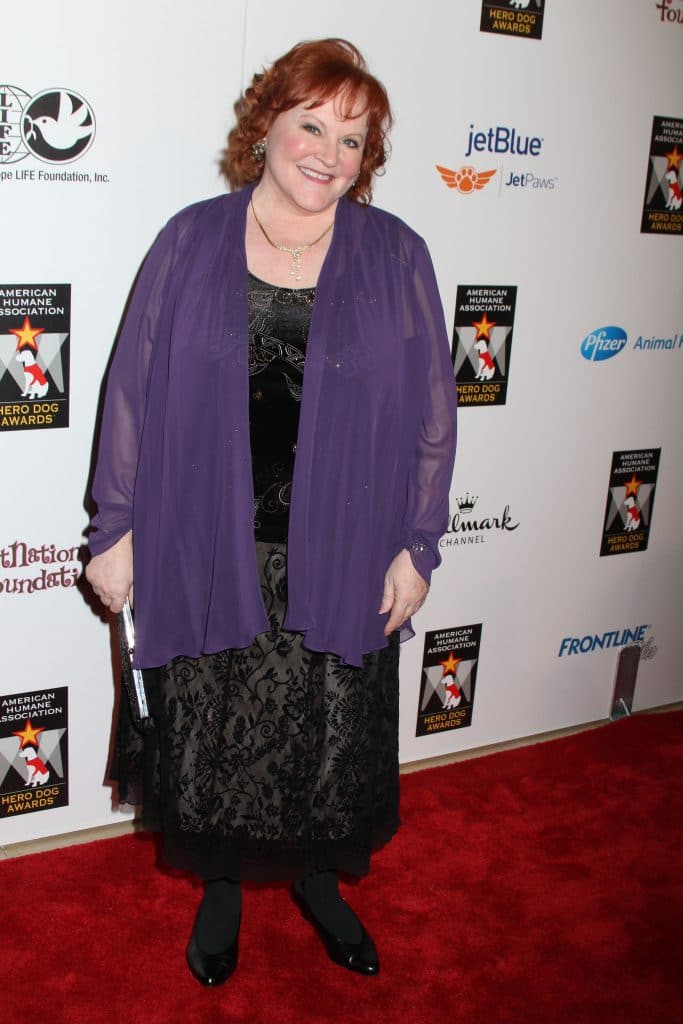 In 1986, Edie appeared in the hit comedy "Ferris Bueller's Day Off" written and directed by John Hughes and which starred Matthew Broderick, Alan Ruck and Mia Sara. It follows a teenager as he decides he is going to have a day off from high school regardless of what the principal says; the movie won one award and was nominated for a Golden Globe. Edie voiced Bertha in the English version of the 1989 hit Studio Ghibli animated movie "Kiki's Delivery Service", and she also voiced Carlotta in the animated family fantasy "The Little Mermaid" in the same year. She went on to appear in the 1991 family comedy "Curly Sue", the 1992 drama "A River Runs Through It" and the 1993 adventure sports comedy "Airborne".
In 1997, Edie was cast to play Martha George in the family science fiction comedy "Flubber", which starred the late actor and stand-up comedian Robin Williams, and follows a professor who discovers a bouncy rubber-like substance he calls 'flubber'; the movie won three out of five awards it was nominated for.
She voiced Dr. Flora in the evergreen 1998 animated adventure comedy "A Bug's Life", which starred Kevin Spacey, Dave Foley and Julia Louis-Dreyfus, and follows a group of ants trying to rescue their ant colony from grasshoppers – the movie won 14 awards and was nominated for 21 others including an Oscar.
Edie went on to voice Violet Bleakman in two 2000 video games "Clifford the Big Red Dog: Thinking Adventures" and "Clifford the Big Red Dog: Reading", and in 2002, she portrayed Mother Disguisey in the adventure family comedy "The Master of Disguise" which received poor reviews. She voiced Minny in the 2006 animated family comedy "Cars", while the following year saw her play Maggie Perkins in the comedy "Simple Things".
Here's Edie McClurg http://t.co/jFoSRGY via @twitpic

— Edie McClurg (@EdieMcClurg) May 20, 2011
A couple of her following notable roles were in the 2009 sports comedy "Fired Up!" in which she portrayed Ms. Klingerhoff, the 2011 animated action adventure "Foodfight!" in which she voiced Mrs. Butterworth, and the hit 2013 animated adventure comedy "Frozen" in which she voiced Gerda.
Two of Edie's most recent roles in movies have been in the 2015 romantic comedy "Love Surreal", and the 2019 animated adventure comedy "Lucky", while she is currently shooting for the upcoming drama "Eyes Upon Waking".
Other credits
Edie has three writing credits – two 1980 episodes of the talk-show "The David Letterman Show", the 1981 comedy film "The Pee-Wee Herman Show", and the 2011 comedy "The Pee-Wee Herman Show on Broadway".
She sang the song "Baby What You Want Me to Do" in the 1980 movie "Cheech and Chong's Next Movie", two songs in two 1987 episodes of the series "Valerie", and the song "Daisy Bell" in the 1991 episode "Beauty and the Beast" of the series "The Golden Girls".
Edie has appeared in various documentaries, including the 1984 movie "The Making of 'The Corsican Brothers'", the 1997 film "The Making of 'Speed 2: Cruise Control'", and the 2003 short film "Identity Crisis: The Making of a Master". She has also appeared in various talk-shows, such as "Red Carpet Report", "Piper's Picks TV" and "Piper's QUICK Picks".
Awards and nominations
Edie has won three awards and has been nominated for two others. She won two 2013 Behind the Voice Actors Awards for Feature Film Voice Acting Best Vocal Ensemble in a Feature Film, and a People's Choice Voice Acting Best Vocal Ensemble in a Feature Film for her and her colleagues' performance in the animated movie "Wreck-It-Ralph". In the same year, she won a Northeast Film Festival Award for Best Supporting Actress in a Feature Film, for her performance in the musical comedy "Theresa Is a Mother".
She was also nominated for a 2003 DVDX Award for Best Supporting Actress in a DVD Premiere Movie, for her performance in the sports family comedy film "Air Bud: Spikes Back", and a 2013 Maverick Movie Award for Best Supporting Actress: Feature for the film "Theresa Is a Mother".
Love life. Is she a lesbian?
Edie is amongst the most secretive actresses, as she hasn't mentioned any men or women she's perhaps been with since the launch of her acting career.
This is only one of the reasons why there are rumors circulating the internet claiming that Edie is lesbian. Some of her fans have claimed to have seen her holding hands with a mysterious woman in the streets of Los Angeles and while some people have condemned these rumors claiming they are false, and that people shouldn't stick their nose into celebrities' personal lives, others wrote that they had also seen someone resembling Edie holding hands with a woman. None of this has been confirmed, and Edie hasn't commented on the rumors.
There are also those who believe Edie to be a married woman, and that she's been keeping her husband away from the spotlight for years now, however, this rumor hasn't been confirmed either.
As of February 2021, Edie is single, hasn't married, and doesn't have children.
Hobbies and other interests
Edie has been a huge fan of theatre even before the launch of her acting career, and was a member of The Groundlings from 1975 to 1985. During that time, she appeared in numerous plays, and was also once a member of the Spolin Players who performed at the Second City Theatre.
She is interested in politics, and is a registered member of the Democrats.
Edie has always been into travelling, and has visited every US state, mostly thanks to her acting career, but also for pleasure, and she's also been to various European countries, such as France, England and Germany.
Some of her favorite actors and actresses are Richard Gere, Emma Watson and Angelina Jolie, and a couple of her favorite movies are "Pretty Woman", "Hachi: A Dog's Tale" and the franchise "Harry Potter".
Plastic surgery
Edie has allegedly undergone plastic surgery, but hasn't openly spoken about it. According to her fans, liposuction is just one of the procedures she has had.
Age, height and net worth
Edie's age is 75. She has long brown hair and blue eyes, her height is 5ft 7ins (1.7m) and she weighs around 145lbs (66kgs).
As of February 2021, her net worth has been estimated at over $6 million.