• Mariah Riddlesprigger was born in Fresno, California and is a professional volleyball player.
• She was encouraged by her father and siblings to become a professional athlete, and graduated with a Bachelor's degree in sociology and sport management in 201•
• Mariah and Giannis Antetokounmpo have been together for many years and have one son.
• Mariah is physically active, loves to travel and enjoys watching movies in her spare time.
• Giannis Antetokounmpo was born in Athens, Greece and is a professional basketball player for the Milwaukee Bucks. His parents were from Nigeria and he has four brothers.
Who is Mariah Riddlesprigger?
Mariah Danae Riddlesprigger was born in Fresno, California USA, on 17 September 1992 – her zodiac sign is Virgo and she holds American nationality. She's a professional volleyball player, but who is perhaps known best for being the girlfriend of Giannis Antetokounmpo, a famous professional basketball player.
Early life and education
She was raised alongside her sisters Maya and Makayla in Fresno, by their father Pat who was once a basketball player, and their mother Cathy who is working as a basketball manager.
Mariah became interested in sports at quite an early age, and played tennis, volleyball and basketball before she tried volleyball and fell for it.
She was encouraged by her father and siblings to try and become a professional athlete, and upon enrolling at Bullard High School, Mariah chose to focus solely on playing volleyball. It was her high school coach Kieran Roblee who further motivated her, and upon matriculating in 2010, Mariah enrolled at Texas' William Marsh Rice University, from which she graduated with a Bachelor's degree in sociology and sport management in 2014.
Mariah's career
She launched her career while still attending university, worked in its athletic ticket office  while also a member of their volleyball team, Rice Owls.
Mariah was amongst the best players at the university, and was upon graduation named to the Conference USA Commissioner's Honor Roll.
From May 2015 to June 2016, she served as an intern with the Philadelphia 76ers basketball team, but little is known about her career since then.
Awards
While still attending high school, Mariah won a Junior League Senior Girl Athlete Award and a Scholar Athlete Award, and was also named The Conference USA Defensive Player of the Week during her final year of college.
Love life and relationship with Giannis Antetokounmpo
Mariah and Giannis Antetokounmpo have been together for many years now as they met in Fresno back when neither of them were popular.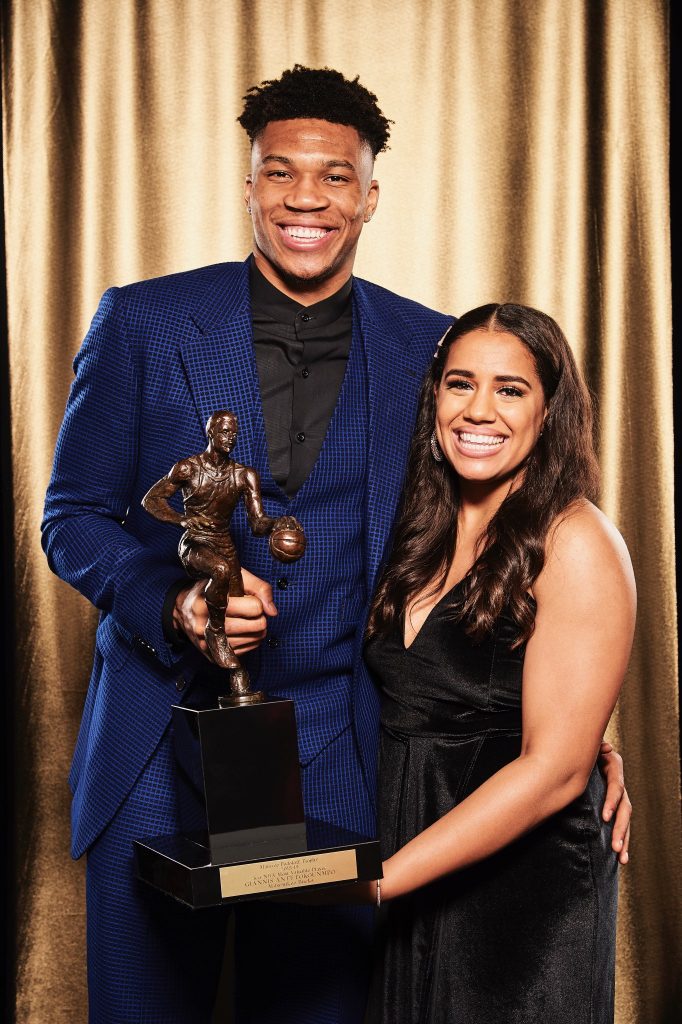 They kept the relationship hidden from the media's attention for several years for unknown reasons, but are today very open regarding it. On 10 February 2020, Mariah gave birth to their son whom they named Liam Charles, and he can be seen featured in many pictures and videos uploaded onto both Mariah and Giannis' Instagram account. Mariah has recently stated that she and Giannis are planning to marry.
Neither of the two have mentioned any other people they have perhaps been with, but there are rumors circulating the internet that Giannis has been with several women thanks to being a famous basketball player, however, this hasn't been confirmed.
As of February 2021, Mariah is dating Giannis Antetokounmpo, hasn't married and has one son.
Hobbies and other interests
Mariah is physically very active, and has several training sessions at the gym each week, while she's also uploaded many pictures taken during her workouts onto her Instagram account.
She loves to travel, and has recently been to her boyfriend's hometown in Greece.
Summer is her favorite season as she likes the feeling of sun on her skin, enjoys sun tanning and swimming in the ocean.
Mariah likes tattoos, and has two inked onto her right arm.
In her spare time, she enjoys watching movies starring her favorite actresses Natalie Portman and Scarlett Johansson, such as "Leon: The Professional", "Black Swan" and "Closer".
Three sisters • Three journeys • Three attitudes • Three smiles • ONE unbreakable bond 💛 I will love you through it all @__M_a_k_a_y_l_a @_mayyyyaaaa pic.twitter.com/7Tihs5DbhT

— Mariah Danae (@mariahdanae15) August 5, 2018
Age, height and net worth
Mariah's age is 28. She has long brown hair and brown eyes, her height is 6ft 3ins (1.91m) and she weighs around 180lbs (82kgs). As of February 2021, her boyfriend's net worth has been estimated at over $60 million, which she no doubt shares – hers is a moderate $100,000.
Who is Giannis Antetokounmpo?
Giannis Sina Ugo Antetokounmpo was born in Athens, Greece, on 6 December 1994 – his zodiac sign is Sagittarius and he holds Greek nationality. He is widely known best for playing for the Milwaukee Bucks competing in the National Basketball Association (NBA).
Giannis was raised in Athens alongside his four brothers by their parents who came to Greece from Nigeria, and because of this, Giannis was stateless for 18 years having no Greek nor Nigerian papers.
To help his parents financially, he and his brother Thanasis sold watches, sunglasses and handbags in the streets.
He started playing basketball aged 13, and two years later joined the youth team of Filathlitikou. Giannis competed in the 2011-2012 season of the semi-pro Greek B Basketball League with the senior team, while the following year saw him progress to the Greek A2 League. He was spotted by several scouts, and just a couple of days after turning 18, Giannis signed a contract with Spanish basketball club CAI Zaragoza. Even though signed to Zaragoza, Giannis was drafted by the Milwaukee Bucks as they bought him out, and he signed a rookie contract with them on 30 July 2013. He was nearly 19 years old when he played his first NBA game on 13 October 2013, being amongst the youngest NBA players of all time.
Giannis progressed very quickly and was in 2014 named to the NBA All-Rookie second team, while on 9 February 2015 he was named the Eastern Conference Player of the Week. Giannis served mandatory military service in Greece for three months starting June 2016, then signed a new contract with the Bucks worth $100 million on 19 September 2016, and was on 19 January 2017 named to the NBA All-Star Game in the Eastern Conference team, and to the 2018 NBA All-Star Game, and at the end of the year 2018, named the NBA's Most Valuable Player (MVP).
The year 2020 was slow for basketball because of the outbreak of the coronavirus, however, Giannis was still named the MVP on 18 September. He signed a new contract with the Bucks on 15 December 2020 worth $228 million, the largest contract in the history of NBA.
He has also played for the Greek national team.
Giannis was born into a family of athletes. His mother Veronica was once a high jumper while his father Charles was a soccer player; Charles passed away in September 2017. Giannis' brothers Thanasis and Kostas have also joined the NBA: Thanasis is playing for the Milwaukee Bucks, while Kostas is playing for the Los Angeles Lakers.