Sarah Orzechowski:
• Born in Detroit, Michigan on 23 February 1987
• Esthetician and make-up artist
• Net worth of around $1 million
• Married to Brendon Urie, lead vocalist of Panic! at the Disco
• White Caucasian of Polish and Irish descent
Who is Sarah Orzechowski?
Sarah was born on 23 February 1987 under the zodiac sign of Pisces, in Detroit, Michigan USA. She is a 33-year-old esthetician and make-up artist, but probably best recognized for being the wife of Brendon Urie, the lead vocalist of the famous band Panic! at the Disco.
How rich is she, as of now? Sarah Orzechowski Net Worth
As of early 2021, Sarah Orzechowski's net worth is close to $1 million, acquired through her involvement in various endeavors. Moreover, it is assumed that she shares the wealth of her famous husband, Brendon Urie, who has a reputed net worth of over $8 million.
Early Life, Family, Nationality, Ethnicity
Sarah Orzechowski spent her early years in her hometown of Detroit, where she was raised alongside her siblings by their parents of Polish and Irish descent, however, there is no information in the media about the latters' names and professions. Sarah holds American nationality, and belongs to White Caucasian ethnic group.
Educational Background and Professional Career
Regarding her education, Sarah attended the Lutheran High School Westland, in Michigan from 2001 to 2005. Upon matriculation, she furthered her education at the Michigan College of Beauty – Troy, where she studied Esthetics. Following her graduation, she started her career as an esthetician, and also worked as a make-up artist for Mac Cosmetics between 2010 and 2012.
She is now a self-employed make-up artist, and also a self-proclaimed skin care enthusiast.
Love Story with Brendon Urie
Sarah Orzechowski met her future husband Brendon Urie for the first time during a Panic! At the Disco show in her hometown, back in 2010. He immediately fell in love with her, even though she was romantically involved with Jeremy Davis, the bassist of the band Paramore. Eight months later, Sarah and Brendon were introduced once again by their mutual friend Hayley Williams from Paramore. She was single at the time and they soon started dating. He once admitted that he wrote a song about her, entitled "Sarah Smiles", and that he actually wooed her by playing it for her.
In September 2011, Brendon popped the question and they became engaged.
The lovebirds eventually walked down the aisle at a wedding ceremony which took place on 27 April 2013, at Sadderlock Ranch in Malibu, California. Sarah apparently served as an inspiration for the band's fifth studio album "Death Of A Bachelor" (2016). They have been together for more than a decade, but don't have children yet. Their current residence is in Los Angeles, California, where they live with their two pet dogs.
Appearance and Vital Statistics
Sarah Orzechowski has long dark brown hair and green eyes. She stands at a height of 5ft 8ins (1.72m), her weight is around 130lbs (58kgs), and her vital statistics are 33-24-33. Her bra size is 32B, dress size 3 (US), and shoe size 7 (US).
Who is her husband? Brendon Urie Short Wiki/Bio
Brendon Boyd Urie was born on 12 April 1987 under the zodiac sign of Aries, in St. George, Utah USA. At the age of two, he moved with his family to Las Vegas, Nevada, where he was raised as the youngest child born to Boyd and Grace Urie; although he was raised in an LDS family, Brendon left the faith when he was around 17 years old. He went to Palo Verde High School in Las Vegas, but eventually dropped out to pursue his career, although he eventually matriculated in 2005.
Career Beginnings
While in high school Brendon took guitar classes, and there met Brent Willson, who was already a member of the pop rock band Panic! at the Disco.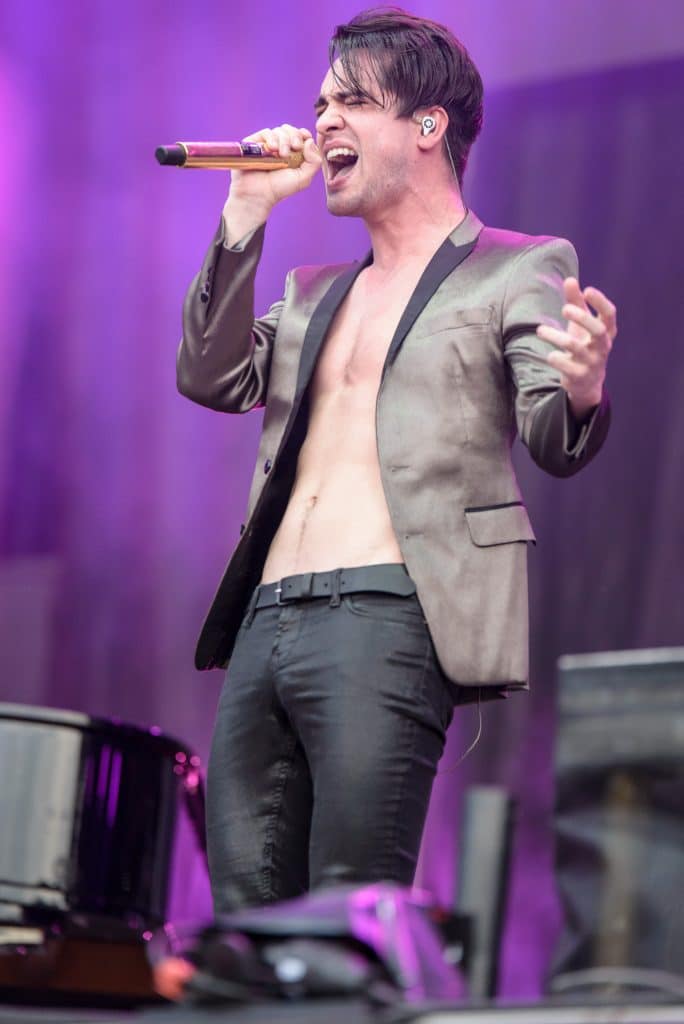 Brent asked him to try out as lead guitarist for the band, since they were looking for a replacement. The band was established by Ryan Ross, who sang and played guitar, and Spencer Smith, a drummer. In 2004, Brendon joined them as a guitarist and was soon also selected as their lead singer. After sending a demo to Fall Out Boy bassist Pete Wentz, the band signed a contract with his record label Decaydance Records.
Rise to Fame
Panic! at the Disco released their debut studio album entitled "A Fever You Can't Sweat Out", in September 2005. It peaked at No. 13 on the Billboard 200 chart, sold more than 2.2 million copies in the US, and so was certified Platinum thrice by the Recording Industry Association of America (RIAA). The album spawned the hit lead single "I Write Sins Not Tragedies", which reached No. 7 on the Billboard Hot 100. Moreover, the music video for the single earned them the 2006 MTV Video Music Award for Video of the Year.
Their second studio album, "Pretty. Odd." out came in March 2007, reaching No. 2 on the Billboard 200, and achieving Platinum certification. The album's lead single, "Nine In The Afternoon" peaked at No. 51 on the Billboard Hot 100 chart, and was certified double Platinum by the RIAA.
Continued Success
In March 2011, the band released their third studio album "Vices & Virtues", with the hit lead single "The Ballad Of Mona Lisa". The album debuted at No. 7 on the Billboard 200 and earned Gold certification, while the single reached No. 89 on the Billboard Hot 100, and was certified Platinum. Two years later, their fourth studio album, "Too Weird To Live, Too Rare To Die!" was released, debuting at No. 2 on the Billboard 200 chart, and spawning such hit singles as "This Is Gospel" and "Miss Jackson". In the following year, Brendon was rewarded with the Alternative Press Music Award in the category for Best Vocalist.
Number-One Albums
They released their fifth studio and first number-one album, "Death Of A Bachelor", in January 2016 – the entire album was written and recorded by Brendon. It debuted atop the Billboard 200 chart, and was certified double platinum by the RIA; moreover, it earned a Grammy Award nomination for Best Rock Album. It included four hit singles, "Hallelujah", "Victorious", "Emperor's New Clothes", and the lead single of the same title, all of which received Platinum certifications. In June 2018, the band was released their sixth studio and second number-one album, entitled "Pray For The Wicked", which was certified Platinum by the RIAA. The album's single "High Hopes" peaked at No. 4 on the Billboard Hot 100 chart, and was also certified four-time Platinum by the RIAA.
Other Projects
Brendon Urie has also worked on other projects. In 2009, he was involved with the Coca-Cola Company song "Open Happiness", singing the chorus alongside Patrick Stump, Janelle Monáe and Travis McCoy. In 2014, he was featured on McCoy's single "Keep On Keeping On", Dillon Francis' single "Love In The Middle Of A Firefight", and Lil Dicky's track "Molly". Two years later, he featured in the song "It Remembers" by the metalcore band Every Time I Die. In 2017, Brendon performed in the lead role of Charlie Price in the Broadway musical "Kinky Boots". He then established the Highest Hopes Foundation in 2018. Most recently, he featured on Taylor Swift's single "Me!" from her studio album "Lover". The single peaked No. 2 on the Billboard Hot 100.