• Persia White is an actress and musician born in Nassau, Bahamas, and raised in the US.
• She is best known for her portrayal of Lynn Searcy in the comedy series "Girlfriends".
• She has appeared in over 50 movies and TV series, and has won three awards.
• She married actor Joseph Morgan in 2014 and has one daughter.
• She is a philanthropist, environmentalist, and musician with a net worth of over $700,000.
Who is Persia White?
Persia Jessica White was born in Nassau, Bahamas, on 25 October 1972 – her zodiac sign is Scorpio and she holds American nationality, as her family moved to the US a couple of years after she was born. She's an actress and a musician, probably known best for her portrayal of one of the lead characters, Lynn Searcy in the comedy series "Girlfriends", created by Mara Brock Akil and which also starred Tracee Ellis Ross and Golden Brooks. It follows the lives and losses of four women named Joan, Lynn, Maya, and Toni. The series aired from 2000 to 2008, and won eight of the 46 awards it was nominated for, including a Primetime Emmy.
Early life and education
Persia spent the first years of her life in the Nasau, and was raised alongside her three siblings by their Bahamian father and Irish-American mother.
She was three when her father was involved in a car accident which left him paralyzed, and the family then moved to Miami in Florida, hoping that he would find better treatment there. When Persia was five, the family moved to South Florida while her father stayed in Miami; they didn't reunite in the later years.
Persia became interested in acting when her mother advised her to join the Miami Coconut Grove Children's Theatre. During her teenage years, she took part in various activities, including acting, dancing, singing, and painting. After Persia matriculated in 1990, she launched her modeling career, represented by Ford Agency. In 1992, she moved to Los Angeles, California and launched her acting career.
Roles in movies
Persia has been credited with appearing in over 50 movies and TV series, and we're going to be mentioning some of her most notable performances in this article.
She made her debut film appearance in the hit 1993 action adventure comedy "Last Action Hero", and Persia then went on to play supporting characters in a couple of mediocre movies, such as the 1996 drama "Suddenly", the 1999 horror comedy "Blood Dolls", and the 2000 action science fiction drama "Operation Sandman". She gained recognition in 2007, after being cast to play the lead character Dawn in the thriller drama "The Fall of Night", written and directed by Derrick Warfel, and which also starred Bruce Michael Hall and Al Harrington. It follows a rock musician who, while stuck in a desert, meets a prophet who tells him he has only one more night to live; the film was nominated for a single award. Some of Persia's following appearances were in the 2009 drama "Spoken Word", the 2010 drama "Kiss the Bride", and the 2012 comedy "Dysfunctional Friends".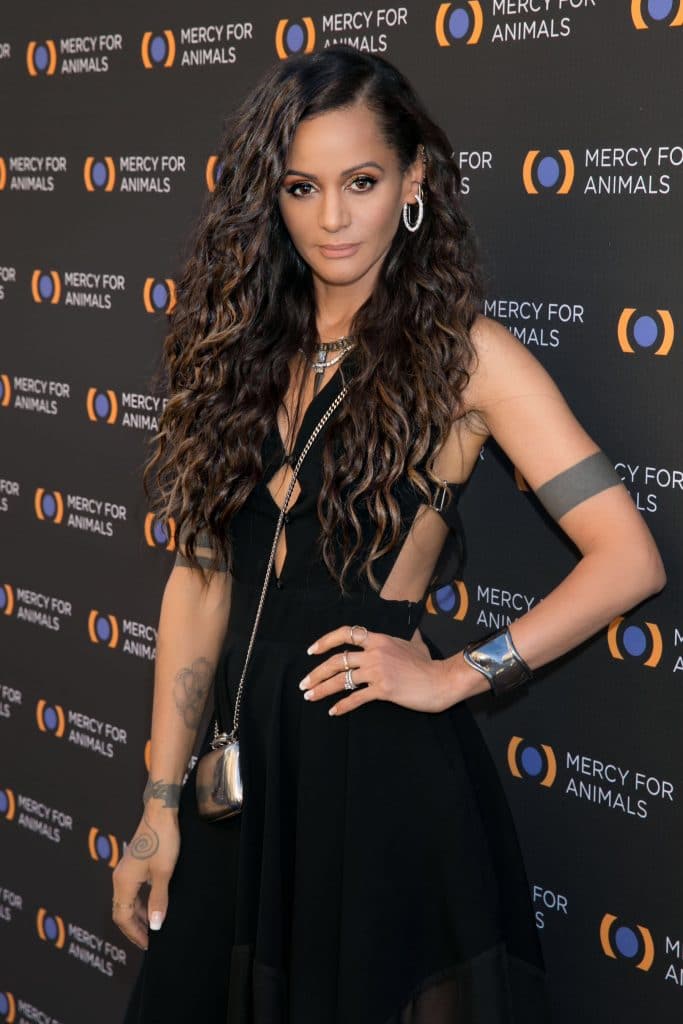 Three of her most recent roles in movies have been in the 2017 romantic family comedy "You Can't Fight Christmas", the 2017 short thriller "Carousel" and the 2018 short comedy "Juice Truck".
Roles in TV series
Persia made her debut TV series appearance in 1995 when she played a black female student in the episode "The Burning of Atlanta" of the crime thriller drama "The Client", and the following years saw her make guest appearances in various series such as the mystery crime drama "NYPD Blue", the family comedy "Saved by the Bell: The New Class", and the comedy "Goode Behavior".
She gained recognition in 1997, after she was cast to star as Denise Williams in the popular comedy "Breaker High", created by Cori Stern and Laura Wegner, and which also starred Rachel Wilson, Terri Conn and Kyle Alisharan in the series which follows a group of teenagers attending school on a cruise ship.
In 1999, Persia played Kineisha 'K. C.' in three episodes of the long-running romantic drama "Another World", which aired from 1964 to 1999 and won 43 of the 219 awards it was nominated for. A couple of her following roles were in an episode of the action fantasy drama "Angel", the comedy drama "Unscripted" and the drama "Castle Ridge".
Between 2012 and 2017, Persia played Abby Bennett Wilson in the critically acclaimed fantasy horror drama "The Vampire Diaries", created by Julie Plec and Kevin Williamson, and which starred Paul Wesley, Ian Somerhalder and Nina Dobrev. The series follows the lives of werewolves and vampires living in the city Mystic Falls, Virginia, and won 36 of the 102 awards it was nominated for.
Two of Persia's most recent roles in TV series have been in the 2019 episode "Feminisn't" of the comedy "Black-ish", and the 2020 episode "Of Mouse and Men" of the romantic comedy "Will & Grace".
Other credits
Persia has five producing, two writing and one editing credit. In 2005, she co-produced the documentary film "Earthlings" and in 2007, she co-produced the short action movie "Everyday Joe". The year 2013 saw her write, produce and edit, the short horror movie "Revelation" and in 2017, Persia wrote and produced the short thriller film "Carousel". Most recently, in 2018 she produced the short comedy movie "Juice Truck".
She has received special thanks for the 2005 short documentary movie "Diva Dog: Pit Bull on Wheels", and the 2010 documentary movie "Under the Boardwalk: The Monopoly Story".
Persia could be seen featured in various TV specials, including "Source Awards 2001", "35th NAACP Image Awards" in 2004 and "Black Girls Rock! 2013". She has also appeared in various documentaries, such as the 1999 movie "Hollywierd", the 2005 series "Infanity", and the 2013 movie "Imagination Unleashed: An Artisan's Journey".
She has made guest appearances in a couple of talk-shows, such as "The Mo'Nique Show", "The Wendy Williams Show", and "Home & Family".
Awards and nominations
Persia has been nominated for seven awards winning three: a 2011 American Black Film Festival Grand Jury Prize for Best Actor for her performance in the movie "Dysfunctional Friends", a 2018 Los Angeles Independent Film Festival August Award for Best Woman Filmmaker for "Juice Truck" (shared with Mecca Morgan White), and a 2018 Westfield International Film Festival Woman in Film Award.
Love life and marriage with Joseph Morgan
In 2008, Persia married Saul Williams who's an American rapper, singer-songwriter and actor. The two dated for five years prior to exchanging vows, but then divorced after only a year of marriage for unknown reasons, however, there are rumors circulating the internet that Persia caught him cheating.
On 5 July 2014 after three years of dating, Persia married Joseph Morgan, a popular British actor and film director, probably known best for his portrayal of Niklaus 'Klaus' Mikaelson in the series "The Vampire Diaries". Although there are rumors circulating the internet that the two have divorced, these have been proven false, and Persia and Joseph are apparently leading a happy life together as of March 2021.
Persia also has a daughter named Mecca Morgan White who was born in 1995, but hasn't disclosed any details concerning Mecca's father. Mecca's also an actress, with five credits to her name.
Hobbies and other interests
Persia's a musician and is today a member of the band XEO3. She's also a solo performer and in 2009 she released her debut album entitled "Mecca", after her daughter.
Amazing news! Adult Adolescent was just selected by Beverly Hills Film Festival 2021! Woot woot! #femaledrivencomdy #film #Girlfriends pic.twitter.com/rwYNS9k1t6

— persiawhite (@RealPersiaWhite) February 25, 2021
Persia's a philanthropist, environmentalist and an advocate for both human and animal rights. In 2005, she was named The Humanitarian of the Year by the animal rights organization People for the Ethical Treatment of Animals (PETA). Today, Persia's on the board of the non-profit marine conservation organization Sea Shepherd Conservation Society.
She's keen on travelling and her acting career has taken her all around the world, while Persia enjoys travelling around the US the most.
She has her own favorite actor and actress – Ryan Gosling and Anne Hathaway – and her favorite movies include "The Notebook", "One Day" and "Les Miserables".
Age, height and net worth
Persia's age is 48. She has long brown hair and brown eyes, her height is 5ft 6ins (1.68m) and she weighs around 130lbs (59kgs).
As of March 2021, her net worth has been estimated at over $700,000, while Joseph's net worth is reputedly over $3 million.
Who is Joseph Morgan?
Joseph Morgan was born as Joseph Martin, in London, England on 16 May 1981 – his zodiac sign is Taurus and he holds British nationality. He has been credited with appearing in close to 30 movies and TV series, and has won four of the 18 awards he has been nominated for.
Joseph was raised in Swansea, Wales alongside his brother Jack, by their parents Sarah and Nick. He attended Morriston Comprehensive School, and upon matriculating in 1999, enrolled at Gorseinon College's Performing Arts course before moving to Central School of Speech and Drama, from which he obtained his Bachelor's degree in 2003.
One of his first notable performances was his starring role in the British TV series "Hex", and Joseph went on to play a supporting character in the 2004 historical movie epic "Alexander", which follows the life of Alexander the Great. He appeared in the drama series "The Line of Beauty", the medical comedy series "Doc Martin", and the medical drama series "Casualty". In January 2013, he began portraying the lead character Niklaus Mikaelson in "The Original", which is the spin-off from the series "The Vampire Diaries". His most recent role has been his portrayal of the lead character CJack 60, in the science fiction thriller series "Brave New World".
Joseph's active with the international development charity Positive Women, and has asked his fans to donate to the cause for his birthday present.