Who is Lauren Mayberry?
Lauren Eve Mayberry was born in Glasgow, Scotland, on 7 October 1987 – her zodiac sign is Libra and she holds British nationality. She's a singer-songwriter, journalist and writer, who is probably known best for being the vocalist of Chvrches, a synth-pop band from Scotland.
Early life and education
Lauren is very secretive when it comes to her family, and hasn't shared any details concerning her parents as they prefer to be left out of media. It is also widely believed that Lauren's an only child, as she hasn't spoken about having any siblings.
She became interested in music at an early age – she was four when she began playing the piano, and started learning to play the drums in her early teens.
She enrolled at Beaconhurst School at which she was a member of a school's band. Upon matriculating in 2005, she enrolled at the University of Strathclyde from which she obtained an undergraduate law degree, followed by a Master's degree in 2010.
Career as a musician and the band Chvrches
She launched her career as a musician sometime in the 2000s, when she joined the band Boyfriend/Girlfriend, and after that joined Blue Sky Archives in which she played the keyboard and the drums, while she was also a vocalist. During her time with them, she covered the song "Killing in the Name" by Rage Against the Machine which made her and the band popular. In September 2011, the band's extended play (EP) "Triple-A-Side" was released, and Lauren was then invited by the music producer Iain Cook and his friend Martin Doherty to sing for them on a couple of demo tracks.
The three collaborated for the following eight months, and then formed a new band they called Chvrches (Churches).
Their debut single "Lies" was uploaded onto the blog Neon Gold Records on 11 May 2012, and became the most popular song on The Hype Machine, an MP3 aggregate blog, while it was also listened to numerous times on BBC Radio 1 and SoundCloud. The band already had eight other songs they could share with their fans, and on 5 November 2012 they released their song "The Mother We Share", making it the band's official debut single.
Chvrches was signed to Glassnote Records in January 2013, and went on to tour around Europe before making their debut in North America at Austin's South by Southwest festival, at which they were presented with a Grulke Award for Best non-American Act.
The band's debut EP -"Recover EP" – was released on 25 March 2013, while their debut album, "The Bones of What You Believe" followed on 20 September of the same year.
On 25 September 2015, Chvrches released their second album, "Every Open Eye" and its three singles "Leave a Trace", "Never Ending Circles" and "Clearest Blue" all became very popular. In early 2017, the band started working on their third album, recording it in Los Angeles, California USA. The British musician and record producer David Allan Stewart – best known for having been half of the British pop duo The Eurythmics – helped the band with their album, and also uploaded a picture of them together onto his Twitter account.
The American record producer Gregory Kurstin also worked on the album, which was then released on 25 May 2017, entitled "Love Is Dead".
Most recently, in October 2019 the band released their song "Death Stranding", which found itself featured on the album of the eponymous action video game entitled "Death Stranding: Timefall".
Chvrches has won several awards, including a 2013 Robert Award Music Poll for Breakthrough Artist, a 2013 Popjustice £20 Music Prize for Best British Pop Single for "The Mother We Share", and a 2014 A2IM Libera Award for Breakthrough Artist of the Year. They have also been nominated for many other awards, including a 2018 Best Art Vinyl for "Love Is Dead", a 2019 Sweden GAFFA Award for Best Foreign Band, and a 2019 The SAY Award for Scottish Album of the Year (Longlisted).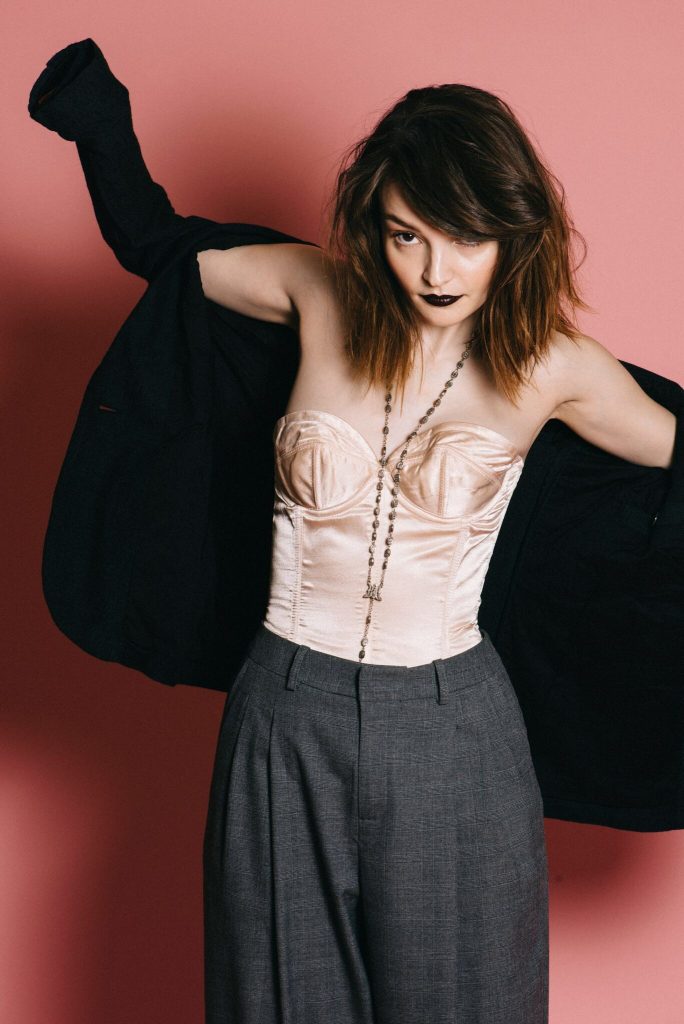 Other jobs
Lauren has collaborated with various popular musicians and bands, such as The National, Death Cab for Cutie, and Marshmello, while she also worked with Hayley Williams, who is popular for being the lead singer of the band Paramore.
Since she obtained her Master's degree, Lauren has been working as a freelance journalist too, and has also been into production running. In 2010, Lauren was a contributor to the independent online magazine "The Line of Best Fit".
Interest in politics
Lauren has openly spoken against the former President of the US Donald Trump, and at one of Chvrches concerts, she called him 'an unpunished sexual predator in office'.
She later wrote about what she said, adding that she believes he's a racist, sexist, transphobic and homophobic.
She is an advocate for gun control in the US, and after the Sutherland Springs church shooting, she once again criticized Donald Trump for talking about mental health, claiming it was him who deprived people of access to help when they were in need of it the most. Lauren also explained how the UK passed the gun control legislation immediately after the Dunblane massacre, when a teacher and 16 of his students were killed with handguns.
Love life and boyfriend
Although Lauren has denied these claims, it is widely believed that she was once in a relationship with Justin Long, a famous American actor, comedian and film director.
People began seeing the two together in public in 2016, and they took part in a number of charity activities together, while they also hosted a variety show at Los Angeles' The Fonda Theatre, with all the proceedings going to several charity organizations. The two also travelled to a women's shelter in Nicaragua together, and it was in May 2018 that the magazine "The Guardian" wrote about their relationship, however, Lauren was quick to state that they weren't dating.
Several months later in September, the magazine "People" announced that Justin and Lauren had split, but that they were together from 2016. In October 2018 during an interview with the magazine "Rolling Stone", Lauren stated that she was single.
She hasn't mentioned any other men or women she has perhaps been with, and as of March 2021, Lauren appears to be single, hasn't married and doesn't have children.
Hobbies and other interests
Lauren is a feminist who, with the help of a couple of other women, founded the feminist collective TYCI in Glasgow, Scotland. She can often be heard on the TYCI podcast, and she also writes columns for its blog and online magazine. The collective is helping charity organizations and occasionally holds live events with the proceeds most often going to Glasgow Women's Aid.
So Lauren is a philanthropist, who has worked with many other charity organizations such as Water Aid, Rape Crisis Glasgow and The Yellow Bird Project.
Count to ten ⏰ pic.twitter.com/vpv1nkF1GY

— Lauren Mayberry (@laurenevemay) March 16, 2021
Lauren has also donated money to Amnesty International and Plus 1, and she supports the LGBT community.
She likes to travel, and her career as a musician has taken her to the majority of European countries, while she has also been to various US states, several Asian countries and a couple of African countries.
She is keen on watching movies in her spare time – her favorite actor and actress are Leonardo DiCaprio and Emma Watson, while some of her favorite films are "Shutter Island", "Catch Me If You Can" and the franchise "Harry Potter".
Age, height and net worth
Lauren's age is 33. She has long brown hair and brown eyes, her height is 5ft (1.52m) and she weighs around 100lbs (45kgs).
As of March 2021, her net worth has been estimated at over $1 million.