• Zoe Alexander was born 1989 in Wales and holds British nationality
• She auditioned for series 9 of The X Factor UK in 2012
• Zoe was set up during her X Factor performance and faced hatred from strangers afterwards
• She studies criminal psychology and is currently in a relationship with Jon Yorke
• As of August 2021, her net worth is estimated at close to $1 million
Who is Zoe Alexander?
Zoe Alexander was born under the zodiac sign of Virgo on 6 September 1989, in Caerphilly, Wales. Her ethnicity is White, and she holds British nationality. She is a singer, who was once a Pink tribute artist. Zoe's popularity grew after auditioning for Series 9 of "The X Factor UK" in 2012.
During The X Factor
After two years of Zoe being a Pink tribute artist, she wanted to become something more than that, having her own identity and be 'just Zoe', as she has said in one of her interviews. Even though she loved her job which also brought her happiness, she wanted to do her own thing, and become famous for who she really is.
That was her dream, and the reason why she applied for "The X Factor".
Her parents, who are also tribute artist, went with her to the show's venue. Her dad is a Tom Jones tribute act, and her mother covers Shania Twain.
In July 2012, Zoe Alexander perfomed in "The X Factor" with a song called "So What" by Pink, but she was interrupted halfway through the song by the judges,  Nicole Scherzinger, Gary Barlow, Louis Walsh, and Tulisa Contostavlos, who claimed that she was being too similar to Pink, and wanted her to sing a second song. Zoe then sang Emeli Sandé's song called "Next to Me", but was cut off for the second time.
While they were criticizing her, and telling her that she sounds average, Zoe seemed a little bit confused and in disbelief.
Eventually, the truth came up, when Zoe confronted them, telling the audince that she was told to sing a Pink song by the judges, which they strongly denied, and started defending themselves. Zoe then just left the stage speechless, and threw her mic out of anger. Afterwards, her dad came on the stage while holding Zoe's hand, and she then swore at the judges. After that, she was shown crying and kicking camerman's equipment out of her way.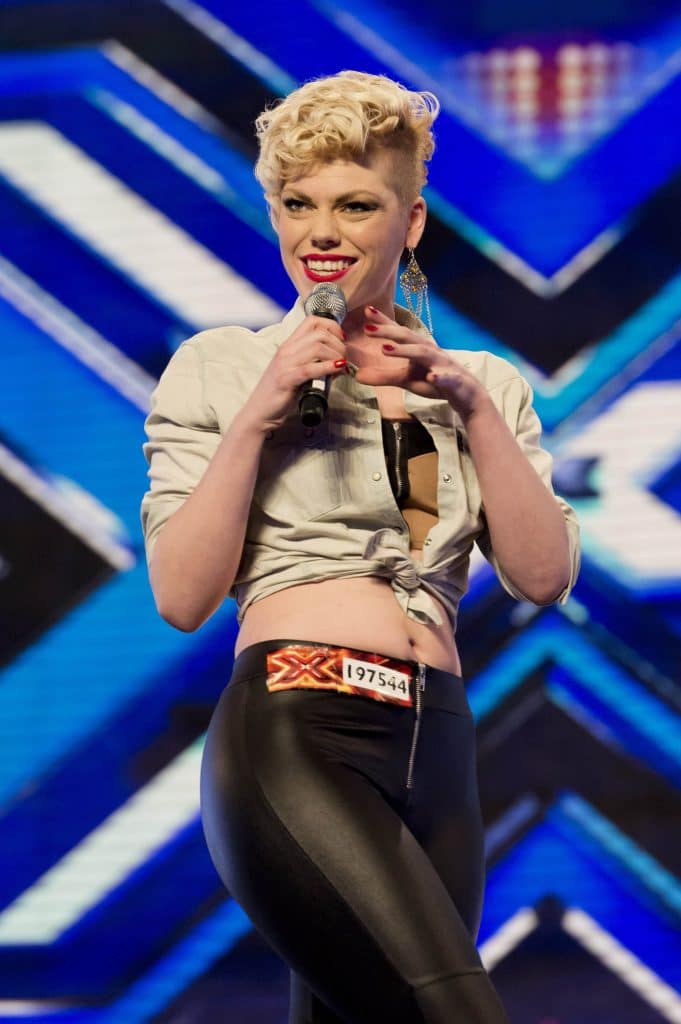 This video was posted onto YouTube and went viral, amassing more than 20 million views but for wrong reasons, since it turned out that all of that was a set up.
After "The X Factor"
Afterwards, once the video was posted, Zoe was faced with enormous hatred. She was often verbally abused by strangers, which affected her deeply, so that she allegedly tried to commit suicide.
However, after several years she eventually gained support, after a TikTok video made by the nineteen year old girl named Devon Rae went viral, and which was viewed more over 10 million times by people who were demanding justice for her.
Davon Rae talked about how Zoe was the most manipulated contestant in "The X Factor" history.
Soon after that viral TikTok video, Zoe spoke about what really happened behind the scenes of "The X Factor", posting a video onto her YouTube channel in July 2020, eight years after her audition, explaining in details how she was set up.
It all started when she was emailing the producers. Zoe obviously mentioned to them that she used to work as a Pink tribute artist in her application for the show. However, when she sent them five songs that she would sing for the show, and that none of them were by Pink, the producers kept insisting that she should sing a Pink song.
They also made it very clear that it was the only way she would be allowed on the show. Zoe showed those emails in her YouTube video as proof.
Once she arrived at the venue, Zoe had a nagging feeling that something was very wrong, because they made her come at six a.m., long before the other contestants, and she was also continuously interviewed by reportes who kept mentioning Pink to her, when she wanted to be just Zoe.
She knew that she was set up once the judges told her to sing a Pink song. Besides, when she was given a second chance, they intentionally played the track in the wrong key and turned off the stage speakers so that she wouldn't be able to hear the music and make her sound bad.
Zoe was in shock when she suddenly realised that she was only brought to the show just to become a laughing stock.
These videos had a huge impact, and because of them, The X Factor UK YouTube channel changed the title of her audition video from "P!nk Impresinator has HUGE TEMPER TANTRUM" to "Zoe Alexander's audition – Pink's So What – The X Factor UK 2012," and turned off comments. They also deleted audition videos which exploit others who haven't spoken up, afraid that it would be used againts them as evidence.
Hobbies and interesting facts
Zoe Alexender is now living such a better life, filled with support and love, very pleased with how things ended. Zoe has said in one of her interviews that she wouldn't reccomend that anyone apply for a reality or talent show such as "The X Factor", because she thinks that contestants in reality shows aren't always seen as real human beings.
Zoe continued to make music, but is now studying for a degree in criminal psychology. It is her goal to one day help the people who have been damaged by exploitation on reality TV.
Zoe is currently in a relationship with Jon Yorke, and loves to go with him to the gym. They also make music together – Zoe sings while Jon's playing the guitar.
She is an animal lover and has two dogs, both border collies.
Age, weight and net worth
Zoe is 31 years old, and she has long red hair and blue eyes. Her body has athletic shape, she's 5ft 6ins (1.67m) tall and weighs around 135lbs (64kgs).
As of August 2021, her net worth has been estimated at close to $1 million.