Who is Mel M. Metcalfe III?
Melvin M. 'Mel' Metcalfe III was born in the United States, however, the actual date of his birth remains a mystery. He is a producer, actor, and cinematographer, known for working on such film titles as "Holiday On The Moon" (1994), "The Art Of The Doll Maker" (1999), and "The Priestess" (2011). He is also recognized for being the ex-husband of Australian-American former model and actress Portia de Rossi.
How rich is he, as of now? Mel M. Metcalfe III Net Worth
As of late 2020, Mel M. Metcalfe III's net worth is estimated at over $2 million,acquired through his successful involvement in the film industry. Moreover, it is assumed that he increased his wealth through the divorce settlement from his ex-wife Portia de Rossi, whose net worth is reputedly as high as $50 million.
Early Life, Family, Nationality, Ethnicity
Mel M. Metcalfe III was raised by his father, Melvin M. Metcalfe II, and his mother, whose name hasn't been revealed to the public. Information about his parents' professions is also unavailable; he has a brother, named Scott Metcalfe. He holds American nationality and belongs to White Caucasian ethnic group.
Career Beginnings
According to his IMDB profile, Mel M. Metcalfe III started pursuing his career in the film industry in the late 1980s, when he made his debut appearance in the role of Marco in the 1989 horror film "Masque Of The Red Death", directed by Roger Corman – the film is based on Edgar Allan Poe's short story of the same title. It was followed by his portrayal of Peasant in the 1992 film "The Shadowed Cry", written and directed by Samuel Vartek.
Rise to Fame
In 1994, Met landed the role of Shadowman in the short comedy thriller film "Holiday On The Moon", for which he also served as a producer as well as a set construction supervisor in the art department. It earned him the 1994 CINE Golden Eagle Award for Amateur Preprofessional. Later that year, Mel was part of the camera and electrical department for Gregory Dark's thriller film "Stranger By Night", and in the following year, Mel produced the narrative short film "Requiem", directed by Chinese-American actress Elizabeth Sung. The film won the 1996 CINE Golden Eagle Award in the category of Student Division: Entertainment – Drama. In 1997, he once again collaborated with Sung, on the short fantasy film "The White Fox", working in the camera and electrical department. During the same year, he produced Phillip A. Boland's short drama film "An Arrest", starring Harry Bennett, Zale Morris, and Danny Grossman.
Continued Success and Directorial Debut
In 1999, Mel M. Metcalfe III made his directing debut with the documentary film "The Art Of The Doll Maker", which he also produced. Thereafter, he worked as a producer for the episode "Smart Roads" of the TV newsmagazine "California Connected", which aired on PBS network in 2003. Four years later, Mel produced the mystery film "The Priestess", written by Vigen Chaldranyan and Armenian screenwriter Anahit Aghasaryan. Mel then worked as a cinematographer on the TV documentary sports series "Who Made You?" (2008).
Projects in the 2010s and Latest Project
In 2011, Mel was a cinematographer on the short thriller film "Together In Heaven", directed by Robert Días and written by Emerson Bixby. His latest project happened in 2014, when he worked in the camera and electrical department as a camera operator for Jeff Swimmer's documentary film "A Golden State Of Mind: The Storytelling Genius Of Huell Howser", for which he also served as an editor.
Appearance and Vital Statistics
The famous filmmaker has short grey hair and blue eyes. Information about his height, weight, biceps size and shoe size hasn't been disclosed.
Relationship with Portia de Rossi
Mel M. Metcalfe III tied the knot with Portia de Rossi in 1996. After being married for three years, the couple parted their ways and divorced in 1999. She would later reveal in her autobiographical book, "Unbearable Lightness: A Story of Loss and Gain" (2010), that they split because her husband left her and ran away with Renee Kappos, the wife of Portia de Rossi's brother Michael Rogers. Besides that, Portia admitted that she married him for a green card. Following the divorce, Mel and Renee walked down the aisle in July 2006. Recently, they celebrated their 14th anniversary.
On the other hand, Portia de Rossi came out as gay when she started dating director Francesca Gregorini in 2001.
The two broke up in 2004, since Portia became romantically involved in a relationship with Ellen DeGeneres; they exchanged their wedding vows on 16 August 2008, and she later changed her name to Portia Lee James DeGeneres.
Who is His Ex-Wife? Portia de Rossi Short Wiki/Bio
Amanda Lee Rogers, better known as Portia de Rossi, was born on 31 January 1973 under the zodiac sign of Aquarius, in Horsham, Victoria, Australia. She was raised in Grovedale, a suburb of Geelong, Victoria by her father Barry Rogers, and her mother Margaret Rogers, who was a medical receptionist. As a child, she featured in various print and television commercials. She attended Geelong Grammar School, and later furthered her education at the University of Melbourne, where she studied Law.
Career Beginnings
Portia de Rossi made her television debut as Giddy in the 1994 romantic comedy-drama film "Sirens", written and directed by John Duigan. Subsequently, she relocated to the United States and settled in Los Angeles, California to further pursue her acting career. She then won the main role of Maria Hunter in the Fox sitcom "New York Daze" (1995-1996), and played Shauna in the film "The Woman In The Moon" (1996). Between 1996 and 1997, she featured as Elana Lewis in The WB sitcom "Nick Freno: Licensed Teacher". Concurrently, in 1997 she guest-starred as Carolyn in an episode of the NBC sitcom "Veronica's Closet", and landed the role of Sorority Sister Murphy in the slasher film "Scream 2".
Rise to Fame
In 1998, Portia de Rossi gained enormous popularity after joining the main cast of the Fox legal comedy-drama series "Ally McBeal", portraying lawyer Nelle Porter until its end in 2002.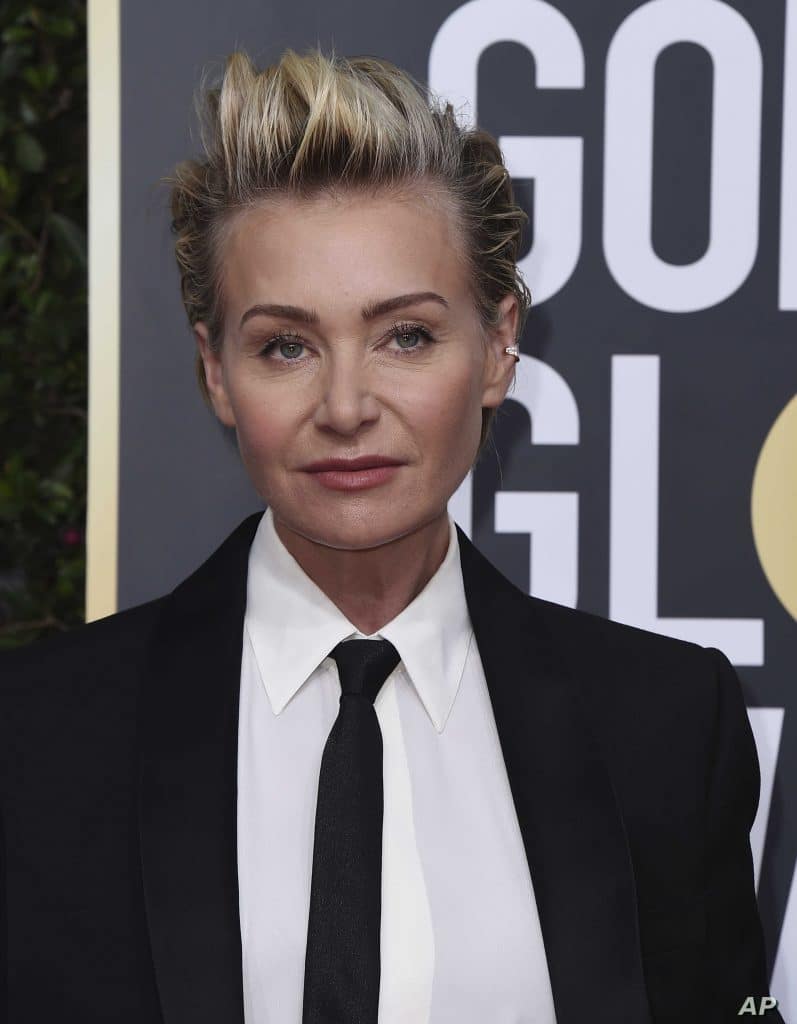 Her performance on the show led her to become a co-recipient of the 1999 Screen Actors Guild Award for Outstanding Performance by an Ensemble in a Comedy Series. She subsequently landed the same role in the "Ally McBeal" spin-off, entitled "Ally" (1999).
Side by side with filming the series, Portia continued to work on other projects. In 1998, she landed the roles of Carla Sparrow in the drama film "Girl", and Lana Collins in the made-for-TV action thriller film "Perfect Assassins". She then featured as Joy in the comedy-drama film "The Invisibles", Sarah in the satirical comedy film "American Intellectuals", and Jennifer Kelliho in the supernatural horror film "Stigmata", all in 1999. Two years later, she played Gina in Bruce Wagner's comedy-drama film "Women In Film", and starred as Tess Tobias in the comedy film "Who Is Cletis Tout?" next to Christian Slater.
Continued Success
In 2002, Portia featured as Jackie Lawrence in the made-for-TV psychological thriller film "The Glow", which was followed by her portrayal of Carolyn Bissette-Kennedy in another made-for-TV film, entitled "America's Prince: The John F. Kennedy Jr. Story" (2003). Between 2003 and 2006, Portia was cast as Lindsay Bluth Fünke in the Fox sitcom "Arrested Development", which earned her the 2005 Golden Satellite Award for Best Actress in a Series, Comedy or Musical. In 2003, she also played Emily Thompson in the thriller film "I Witness", Hilary Hunter in the comedy-drama film "The Night We Called It A Day", and a blind woman in the comedy film "Two Girls From Lemoore".
— Portia de Rossi (@portiaderossi) May 19, 2018
Afterwards, she starred as Kelly in the 2004 musical zombie comedy film "Dead & Breakfast", followed by her portrayal of Zela in Wes Craven's 2005 horror "Cursed". By the end of the decade, Portia was also cast as Olivia Lord in the FX serial medical drama series "Nip/Tuck" (2007-2009) and played Veronica Palmer in the ABC satirical sitcom "Better Off Ted" (2009-2010).
Roles in the 2010s
In 2011, Portia reprised the role of Veronica Palmer in Malcolm Barrett's music video "Verbal: Revenge Of The Nerds". In the following year, she portrayed Lily Munster in the NBC special "Mockingbird Lane", and played Judith Swann in the pilot of the ABC comedy series "The Smart One", produced by Ellen DeGeneres.
She then reprised the role of Lindsay Bluth Fünke in "Arrested Development", released on Netflix in 2013. Thereafter, she guest-starred as Jill in an episode of the NBC sitcom "Sean Saves The World" (2014), and later that year, Portia joined the cast of the ABC political thriller series "Scandal", portraying Elizabeth North until 2017, when her character was murdered.
She also featured as Beth Morgan in the 2015 comedy film "Now Add Honey" and guest-starred as Dr. Cora Wolf in two episodes of the Netflix comedy series "Santa Clarita Diet" in 2017. Most recently, she appeared in three episodes of "Arrested Development" (2018).