• Ashley Marie 'AzMarie' Livingston is an American model, actress, DJ and singer
• She is best known for her portrayal of Chicken in the musical drama series "Empire"
• AzMarie is believed to be currently dating an unknown woman
• She has a net worth of over $700,000
• Raven-Symoné Christina Pearman-Maday is an American singer-songwriter and actress, who is currently working on her new studio album entitled "The Reintroduction"
Who is AzMarie Livingston?
Ashley Marie 'AzMarie' Livingston was born in the San Fernando Valley, California USA, on 28 December 1986 – her zodiac sign is Capricorn and she holds American nationality. She's a model, actress, DJ, and singer, who's probably known best for her portrayal of Chicken in the musical drama series "Empire", created by Lee Daniels and Danny Strong, and which starred Terrence Howard, Jussie Smollett and Taraji P. Henson. It follows a man who has to choose who amongst his three sons will inherit his company which is worth millions; the series aired from 2015 to 2020, and won 29 awards including an Oscar, while it was nominated for 103 other awards.
Early life and education
She was raised in Milwaukee as an only child by her single mother – her father was homosexual. Her parents were best friends, as AzMarie has explained.
She was nine when she became interested in modelling, after she and her father went on a trip to Los Angeles in California, however, she still chose to have a normal childhood, and didn't pursue modelling straight away. AzMarie attended Nicolet High School from which she matriculated in 2004, and she then enrolled at the University of Wisconsin-Whitewater, however, she dropped out after a year and a half to focus on her modelling career.
Career as a model
She launched her career in 2006, and walked the catwalk for various popular brands in both New York City and Los Angeles. Between 2009 and 2011, AzMarie was also featured on the cover page of various magazines, and she participated in more fashion shows, including "Rip the Runaway" and "London Fashion Week".
In 2012, she was invited to compete in the reality TV series "America's Next Top Model: British Invasion", and became popular thanks to her tattoos and her combination of feminine and masculine characteristics. She was eliminated in episode six, placing #9 overall.
Career as a singer
AzMarie's also a singer, who released her debut single "Morning Guarantee" in December 2012. She went on to feature in the music videos "Motivation" by Kelly Rowland and "Moment 4 Life" by Nicki Minaj. AzMarie's debut extended play (EP) entitled "HipHopMelodicPoetry" was released on 31 August 2014, and in the next year released her new single "We Hot".
She hasn't been very active in the music industry since then.
Acting career
AzMarie has appeared in three TV series (including "Empire") and six movies.
She made her debut film appearance in the 2009 hit drama "Precious", which starred Gabourey Sidibe, Paula Patton and Mo'Nique, and follows an overweight teenager who has been mocked and abused since she enrolled at elementary school, who is now pregnant with her second child, and is given an opportunity to enroll at an alternative school, hoping that it could turn her life around. The movie won 113 awards including two Oscars, while it was nominated for 103 other awards. ,
AzMarie made her debut TV series appearance in 2012 when cast to play Ricki in an episode of the comedy "DTLA". The following years saw her play supporting characters in three mediocre movies: the 2015 short drama "The Red Barn", the 2017 romantic comedy "Almost Amazing" and the 2017 short crime drama "Sins of the Father".
In 2018, AzMarie was cast to play Bracka in three episodes of the action horror drama "The Purge", created by James DeMonaco and which starred Gabriel Chavarria, Hannah Emily Anderson and Derek Luke. It follows the life in an altered US when every crime becomes legal for 12 hours. Her most recent role has been her portrayal of Dani in the 2020 comedy drama "aTypical Wednesday", which failed to attract any attention, and received mixed reviews.
AzMarie's currently shooting as the lead character Kasey, for the upcoming short drama movie "In the Gray".
Other credits
In 2015, AzMarie was featured in the documentary movie "The Same Difference", and in 2016, she made a guest appearance in an episode of the talk-show "Noches con Platanito".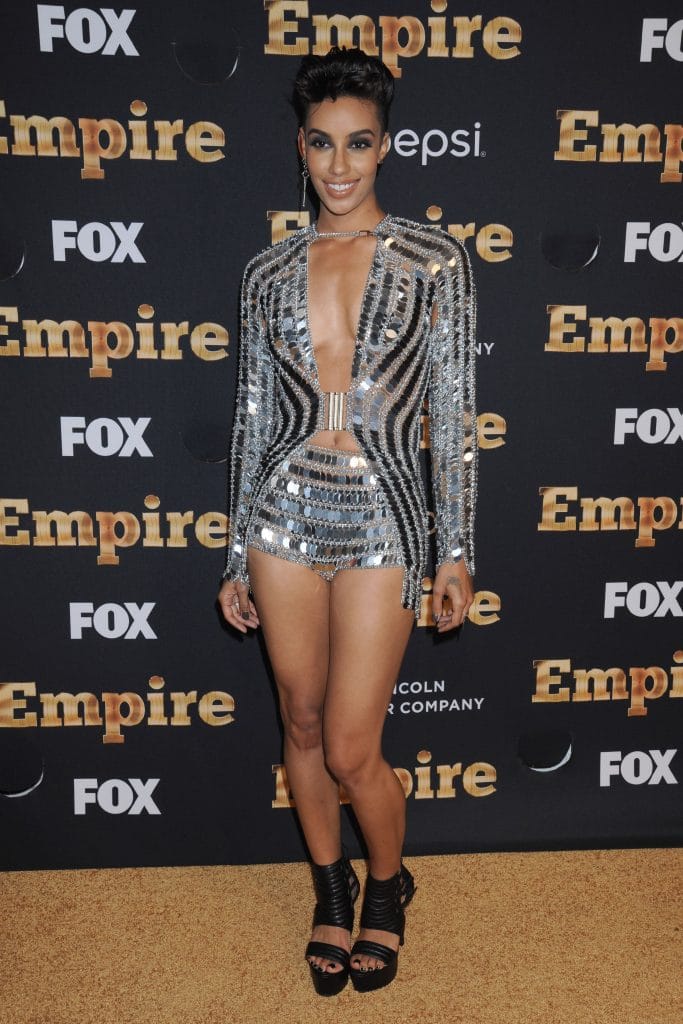 She's currently producing her first short movie "In the Gray" set to be released by the end of 2021.
Love life and former relationship with Raven-Symone
AzMarie has been open about her being a lesbian since she first came under the spotlight, and in 2012 she began dating Raven-Symone, who is a famous American singer-songwriter and actress. The two could've been seen attending numerous events together, and were apparently thinking about adopting children as well. AzMarie and Raven-Symone often spoke about how they were happy that gay marriage was becoming legal in various US states.
However, in 2015 the two split for unknown reasons, and in 2020 Raven-Symone married Miranda Maday, who is a social media manager.
There are rumors circulating the internet that popular model AzMarie is today in a relationship with a mysterious woman, as the two have apparently been seen spending time together on several occasions, while she's also uploaded several pictures featuring them together onto her Instagram account. She has also just recently wished her a happy Valentine's Day.
As of March 2021, AzMarie appears to be dating an unknown woman, she hasn't married and doesn't have children.
Hobbies and other interests
She's a supporter of the LGBT community and fighting for their rights. AzMarie's also interested in charity work and has volunteered with various organizations, mostly those which aim to help underprivileged children.
She hasn't been interested in politics until just recently, when AzMarie used her fame on the internet (around 130,000 Instagram followers) to urge people to vote claiming each vote can make a difference.
She hasn't commented on whom she voted for, however, because she has openly criticized Donald Trump, it's believed that it was Joe Biden.
She loves tattoos, and has many inked all over her body.
AzMarie likes to watch movies in her spare time and her favorite actors and actresses are Chadwick Boseman, Will Smith and Rosario Dawson, while a couple of her favorite films are "Black Panther", "I Am Legend" and "Seven Pounds".
Age, height and net worth
AzMarie's age is 34. She has medium long black hair which she has dyed various colors, and brown eyes. Her height is 5ft 10ins (1.78m) and she weighs around 145lbs (65kgs). As of March 2021, her net worth has been estimated at over $700,000, while Raven-Symone's net worth is reputedly over $40 million.
Got the biggest girl crush on this lady…. Love her #Azmarielivingston pic.twitter.com/EMreH8lk

— Lee Wallace-Connell (@Lovlee2) November 8, 2012
More about AzMarie's ex-girlfriend Raven-Symone
Raven-Symoné Christina Pearman-Maday was born in Atlanta, Georgia USA, on 10 December 1985 – her zodiac sign is Sagittarius and she holds American nationality. She gained recognition in 1989 (aged four), when invited to portray Olivia Kendall in the romantic family comedy series "The Cosby Show" which starred Bill Cosby, Phylicia Rashad and Keshia Knight Pulliam, and follows the lives of a wealthy African-American family. It aired from 1984 to 1992, and won 55 awards including three Golden Globes, while it was nominated for 58 other awards.
Raven-Symoné was raised alongside her younger brother Blaize in Atlanta by their parents Christopher and Lydia Pearman. Her parents pushed her into the modelling industry while she was still an infant, and she appeared in various local print ads.
Aged two, she was signed to a contract with New York City's modelling agency Ford Models, and after a year, her family moved to Ossining in New York.
She became very active in the film industry as soon as she was done shooting for "The Cosby Show" in 1992. She was invited to appear in the popular movie "Queen: The Story of an American Family", which starred Halle Berry, and aged seven, Raven-Symoné launched her singing career. Her debut album was released on 22 June 1993 entitled "Here's to New Dreams", but attracted little attention, and her contract with MCA Records was thus terminated. She went on to appear in various series and movies including the comedy series "Hangin' with Mr. Cooper", and the hit 1994 family comedy movie "The Little Rascals".
In 1996, her father and she launched their company RayBlaze Records, and in May 1999, Raven-Symoné released her new album "Undeniable". The year 1998 saw her appear in the evergreen comedy movie "Dr. Dolittle" which starred Eddie Murph,y while she also reprised her role in the 2001 film "Dr. Dolittle 2".
In 2001, she auditioned for the role of the supporting character Chelsea Daniels in the series "Absolutely Psychic", but instead got to portray the lead character Raven Baxter, and the series was thus renamed to "That's So Raven". It aired from 17 January 2003 to 10 November 2007, and was nominated for two Emmy Awards for Outstanding Children's Program in 2005 and 2007. During those years, Raven-Symoné also worked on her career as a musician, releasing her third album "This Is My Time" on 21 September 2004, which received mixed reviews.
In 2006, she played the lead character in the drama movie "For One Night", and then starred as Melanie Porter in the 2008 family comedy movie "College Road Trip", while the same year saw the release of her fourth studio album "Raven-Symoné".
Some of her most notable performances in the 2010s have been in the comedy series "State of Georgia" in which she played the lead character; the sitcom "Black-ish"; and the independent movie "A Girl Like Grace". Raven-Symoné's currently working on her new studio album entitled "The Reintroduction", set to be released by the end of 2021.
Back in 2013, she retired from acting to study at Academy of Art University, from which she obtained her Associate's degree in fine arts in 2016, while she then came out of retirement.